Let's be honest, it's not always easy to shop for guys. Whether it's a friend, relative, or significant other – nothing ever seems quite right, so I put together this list to try and make your searching a bit easier.
Keep reading to find the best travel gifts for him….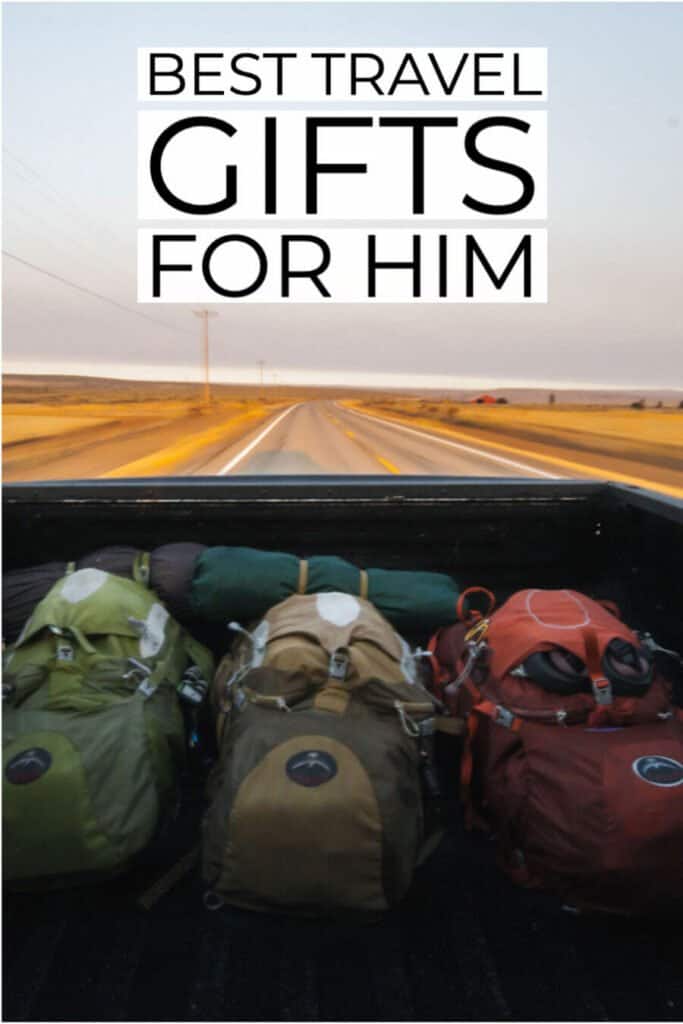 9 Best Travel Gifts for Him
---
(This is the exact one we use) My husband is not the easiest person to buy for but it was an immediate win for me when I purchased him the EasyAcc Portable Charger. He is the type that likes useful gifts so I have bought a lot of these for him.
It's super portable – it fits in any small bag. And I never need to worry about running out of battery time with 20000mAh. You also save time with dual input ports while the power bank can be filled with up in 6 hours – reducing charging time up to 50% which is amazing.
The coolest part is its ability to charge four devices at once with four ports. And comes with "smart technology", meaning it automatically identifies the type of device plugged in and delivers the suitable electric current.
It even has a flashlight in case you find yourself in a power outage, it's so convenient.
With over 2,675 ratings on Amazon, we apparently aren't the only ones who find this product a must have.
Check current prices here.
---
When it comes to men's travel gifts, the EPICKA Universal USB Travel Adapter can't be beat.
You can power four USB and Type-C devices at the same time. It is one of the safest ways to plug in your portable, non-grounded devices. It also has a built-in smart IC chip and quickly charges all your electrics.
He'll be grateful for the surge protection and being able to only need one adapter that works in over 150 countries. It comes with a 2ft charging cable for both Apple and Android!
This adapter rates at 4.7 out of 5 stars on Amazon with 1,393 ratings.
Check current prices on Amazon here.
---
Forget about flying, I won't even leave my house without my Bose Wireless Noise Canceling Headphones!
What I love about them is that they are big enough to fit around your ear which makes them perfect for long haul flights. They are so comfortable – which as we all know is an added bonus when purchasing gadgets for men.
Bose is the best brand to buy if you actually want headphones that will block out all the background noise.
Perhaps a little more expensive – coming in around $340 these headphones are well worth the money. Amazon reviews give them a 4.5 out of 5 stars with a woping 12,718 ratings, awesome!
Purchase here.
---
The Amuvec 4-in-1 charger is a total game changer. It's the simple things in life that seem to make all the difference. He can now charge an iPhone, Bose Noise Cancelling headphones, and even a camera all at the same time with one USB connector.
They're constructed with a super durable nylon braided cord that protects all the wiring. They promote fast charging and because of so many different types of charging ports this cable literally works with everything from Apple products to Android, laptops and beyond.
And perhaps my favorite aspect is the extra long 10ft length, it's so convenient. It's one of the absolute best travel gifts for men..
He will thank you over and over and over for this charger. And you will thank yourself for only spending a few bucks on such a quality gift! It has 4.6 out of 5 stars on Amazon and 528 positive ratings.
Check current prices on Amazon here.
---
I have two pairs of Heat Holder socks and never get on a plane without them. They are warmer than regular fuzzy socks and are also amazing quality. He will like that they are thick – it makes them feel more sanitary than regular socks when wearing them on a plane.
They also aren't too tight – allowing for good circulation plus come in a wide variety of colors. He'll have them for years and they'll still look brand new. They hold up very well.
These are the perfect gift for your favorite travel loving guy.
They have a 4.4 out of 5 stars on Amazon. Read reviews here.
Check current prices on Amazon.
---
Eddie Bauer Men's Adventure Trek Pants are a great way to cut down on bulk when he's traveling.
My husband bought some at Costco and they are seriously the best. Hold your phone, wallet, and other small valuables without the worry of someone stealing them.
They're comfortable, breathable, and allow a lot of movement – making them perfect for long flights and treks around the globe. Plus they're machine washable and you can put them in the dryer.
They come in a variety of colors and sizes, you'll be sure to find him the right option.
Amazon users give these pants a 4.5 out of 5 stars and you can't beat that price tag.
---
The ECOdept Microfiber Quick Dry Travel Towel travels so well, he won't have to worry about it taking up valuable space.
They are quick dry, microfiber towels great for backpackers, hikers, or traveling to beach destinations. It comes in four colors and arrives in a gift box.
He can hang it by the snap loop when he's done, it'll dry quicker than any normal cotton towel. Perfect for when he finds himself in a hurry to pack up quickly after a shower or outdoor activity.
It's also incredibly soft and won't hurt his skin.
This towel received 4.6 out of 5 stars on Amazon with 1,061 ratings.
Check current prices on Amazon here.
---
You can ditch your wallet and go slim with the Smartish phone case. Your ID, credit cards, and cash all fit securely against your phone. It's so nice to have got everything you need in one compact place. Perfect for anyone on the go – especially guys on the go.
It carries three cards plus cash. Has grippy sides, wireless charging capabilities, air pocket corners, and is super protective.
You can actually use a credit card to prop up your phone for watching videos. It's been given 4.5 stars out of 5. Not too shabby.
Check current prices on Amazon here.
---
If your guy likes taking pictures while traveling then a Joby Gorillapod tripod is the perfect gift. Instead of lugging one of those ultra heavy options, this one much more easily will fit in his bag.
They have a 3k option that is great for most small cameras. They claim it holds up to 6.6lbs but mine struggles with 4.4lbs camera and lens set up. There's also a 5K options that holds up to 11lbs. Note – I just upgraded to the 5k one and love it so much better than the 3k for my Sony A7iii camera set-up.
They're very flexible – they "grip, wrap, and stand" just about anywhere. They rotate 360 degrees with rubberized joints and foot grips. Plus they're ultra durable made from anodized aluminium. And he'll rave over the quick plate.
What size should you get? Check out my full review here.
Check current prices on Amazon here.
Conclusion: Do you feel better prepared to purchase your favorite fella a travel gift now? Hope so!