Scotland is an absolutely amazing country to visit. There is simply so much to do and see and my Scotland bucket list just won't stop growing.
The natural greenery and rocky landscapes make people fall in love with the countryside, while the cities and villages are steeped in fascinating history.
There truly is something for everyone.
Scotland is a country within the country of the United Kingdom. Confusing I know, but considering how bloody previous Scottish and English wars of the past were, the rivalry that exists today is a huge improvement.
I've mistakenly heard people say that a trip to the United Kingdom is good enough if you visit London, and while London is a great city in itself, I wholeheartedly disagree that visiting London alone can give you a taste for the UK.
The top things that require a visit in Scotland are…
Top 10 Things to do in Scotland
1. The Kelpies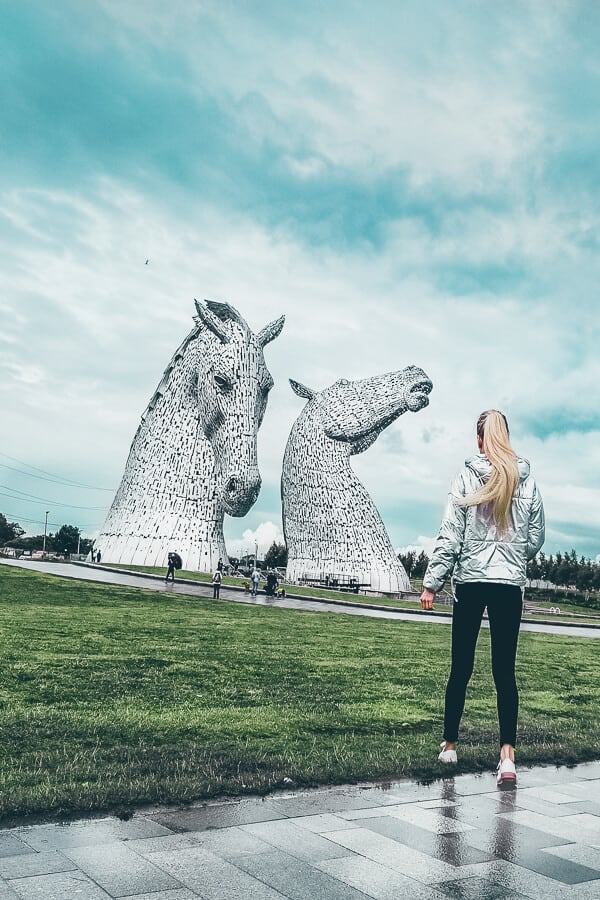 Some people think the Kelpies in Scotland are lame, but who doesn't love gigantic horse heads sticking out of the ground?
This relatively new attraction pays homage to Scottish legends. A kelpie was actually an evil shape shifting water creature that often took the form of a horse, but could turn into a human to lure people in.
The word kelpie just seems so much cuter than calling them people eating water horse demons.
2. Portree on the Isle of Sky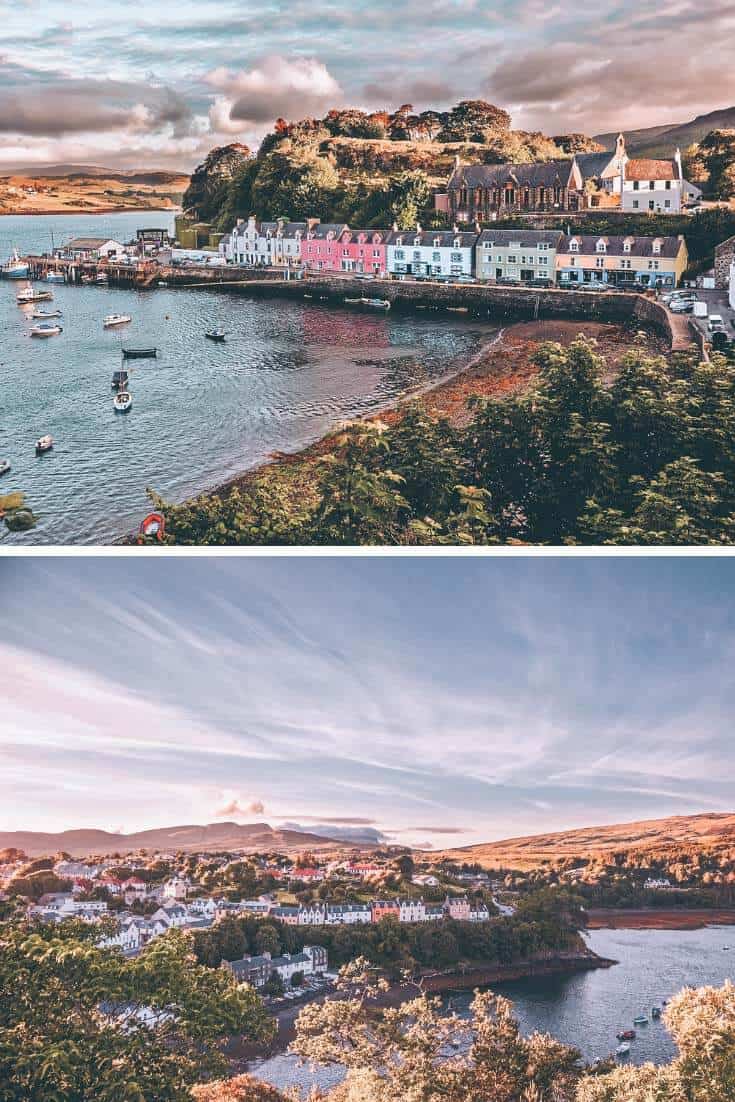 The Isle of Sky is crown jewel of the Scottish Highlands. The island features steep mountains, beautiful villages, historic architecture, and breathtaking cliffs. Portree is the biggest city on the island, but it still seems to have more tourists than locals. The Portree harbor is world famous for its colorfully painted buildings lined up along the water.
The island is accessible by car, bus, or train. Even though all the modes of transportation will get you there, I recommend renting a car so that you can canvas the island at your own pace. My favorite spot is the Neist Point Lighthouse and surrounding cliffs on the western edge of Skye.
3. Visit the Beautiful Stirling Castle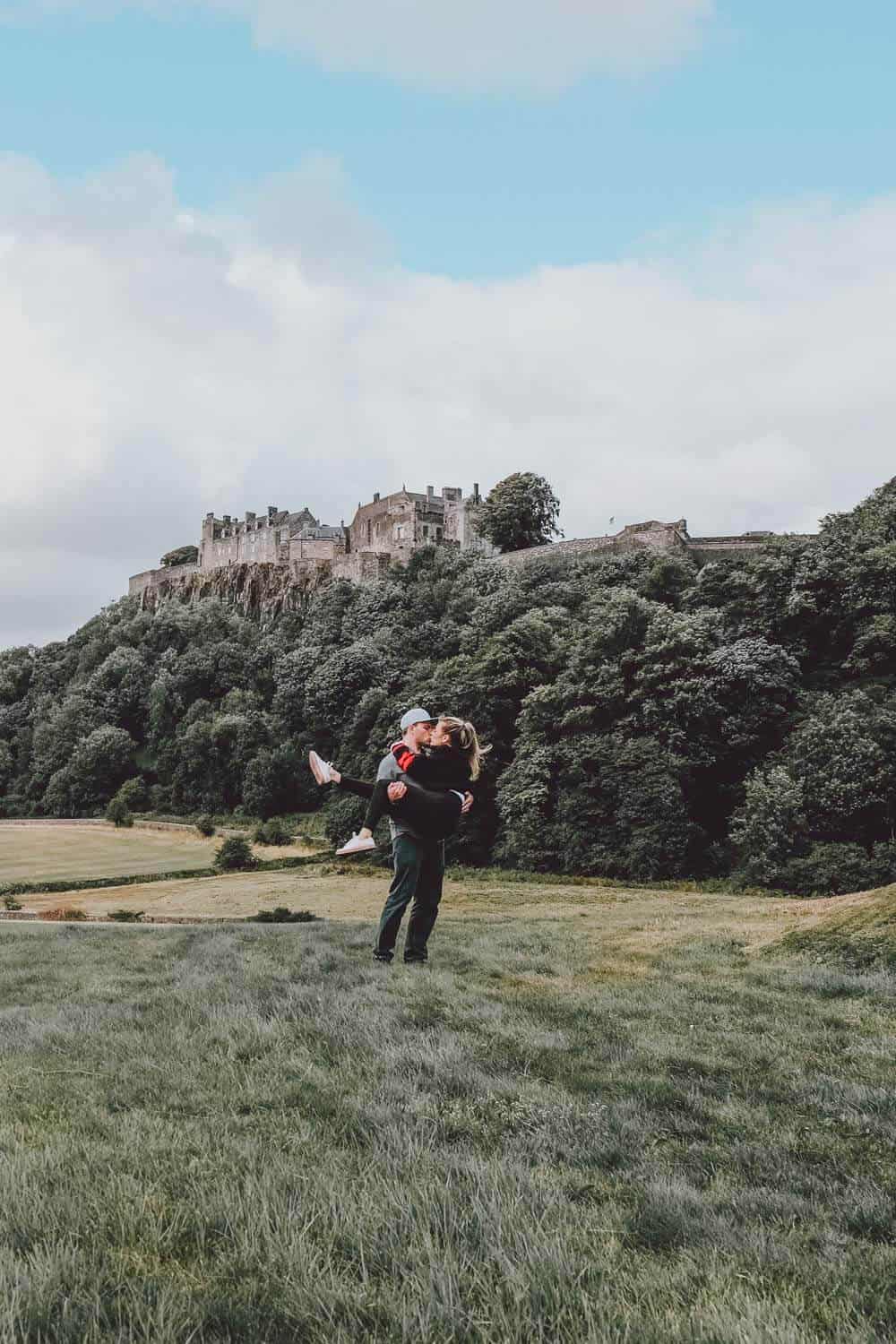 Scotland is home to thousands of castles, but another worth considering a tour of is Stirling Castle Scotland. It dominates the surrounding town in much of the same way that Edinburgh Castle does its city. The difference is that Stirling is also surrounded by farmland, and absolutely cannot be missed as you approach.
This imposing fortress stands on top of a cliff and also makes it obvious to see why it was selected for safety and defense in war.
The tours and sites of Stirling castle are actually cheaper than Edinburgh Castle, and many say that they even ended up liking it more.
Related: Top 10 things to do in Stirling Scotland
5. Edinburgh Castle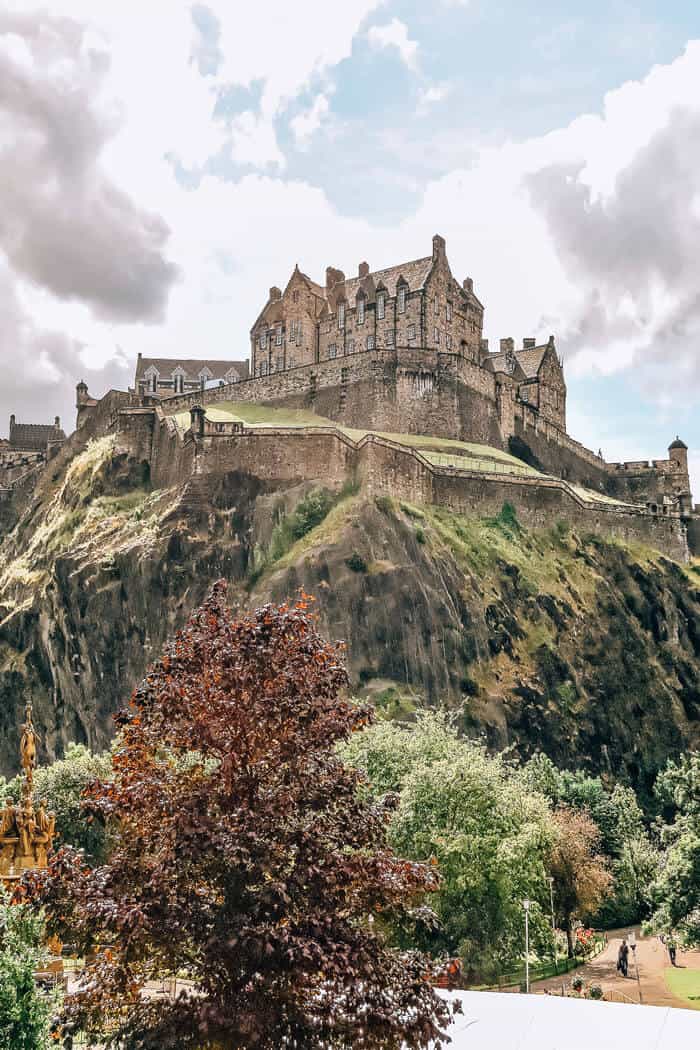 This castle/fortress dominates central Edinburgh. It's imposing walls jut up in the middle of the city while it sits on top of an extinct volcano. Supposedly it has had human occupants since at least the 2nd century. This shows that even back then they knew the coolest places to build, though it was obviously picked for its strategic location.
Edinburgh Castle has been at the center of numerous conflicts, and is said to be one of the most attacked places in the world. Part of what can be toured there is the National War Museum of Scotland.
Trying to decide between visiting Edinburgh or Glasgow, read here to help decide.
6. Golf at the Old Course at St Andrews
In Scotland golf is a big deal! This is likely due to the sense of pride due of inventing the sport and having the oldest course (most sources). What's not being debated is that there are more courses per person in Scotland than any other country in the world, and the most famous is the Old Course at St Andrews. Good luck getting a tee time to play there, but if you are a fan it is definitely worth a visit.
7. Fingal's Cave on the Isle of Staffa
The basalt columns and cave make it obvious why people want to see this in person. The island isn't inhabited, so you have to visit on a boat tour from a nearby island. Thankfully, the tours aren't expensive and the scenery is 100% worth it.
8. Glenfinnan Viaduct on the West Highland Train Line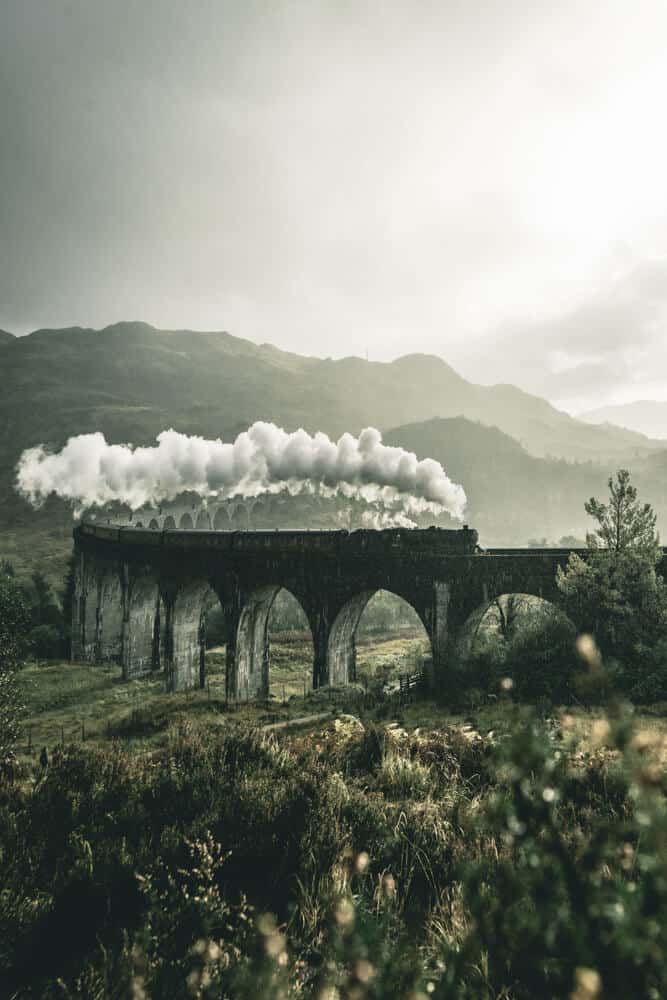 This famous bridge helps transport you across the Scottish Highlands. For Harry Potter fans they think of it as part of their journey to Hogwarts.
This famous bridge helps transport you across the Scottish Highlands. For Harry Potter fans they think of it as part of their journey to Hogwarts. Book your tour on the Hogwarts Express and Scottish Highlands here.
Book your tour: Hogwarts Express and the Scenic Highlands Day Tour from Inverness
9. Royal Mile and Victoria Street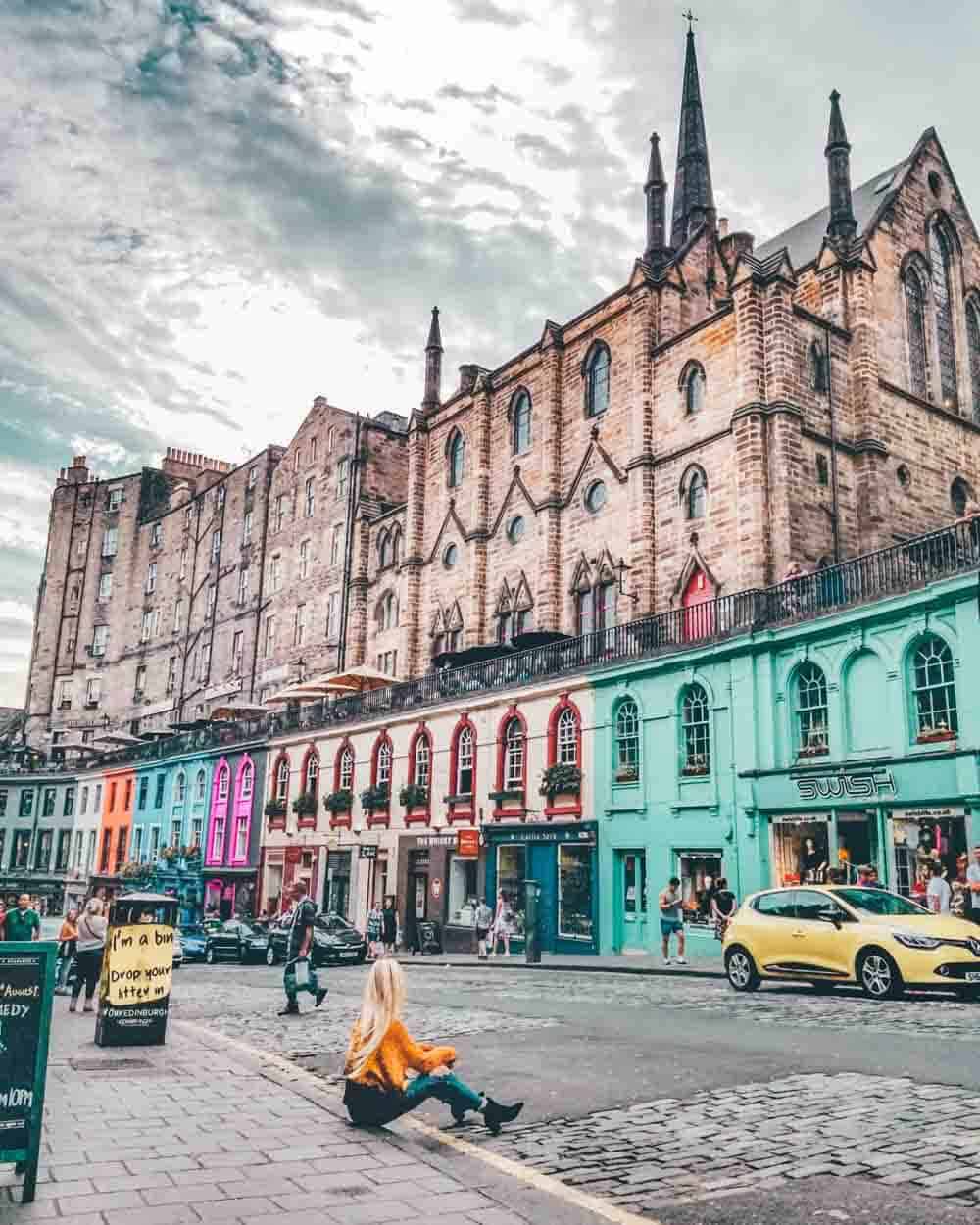 The Royal Mile is in the center of Edinburgh Old Town and connects the Edinburgh Castle and Holyrood Palace. There is nonstop action along this street which not surprisingly features shops, restaurants, street performers, and pubs. One of the most striking sites along the walk is St. Giles Cathedral, the most famous cathedral in the city.
I love the colorful and historic buildings of Victoria Street, which are often said to be the Harry Potter author JK Rowling's inspiration for Diagon Alley.
10. Devil's Pulpit (Finnich Glen)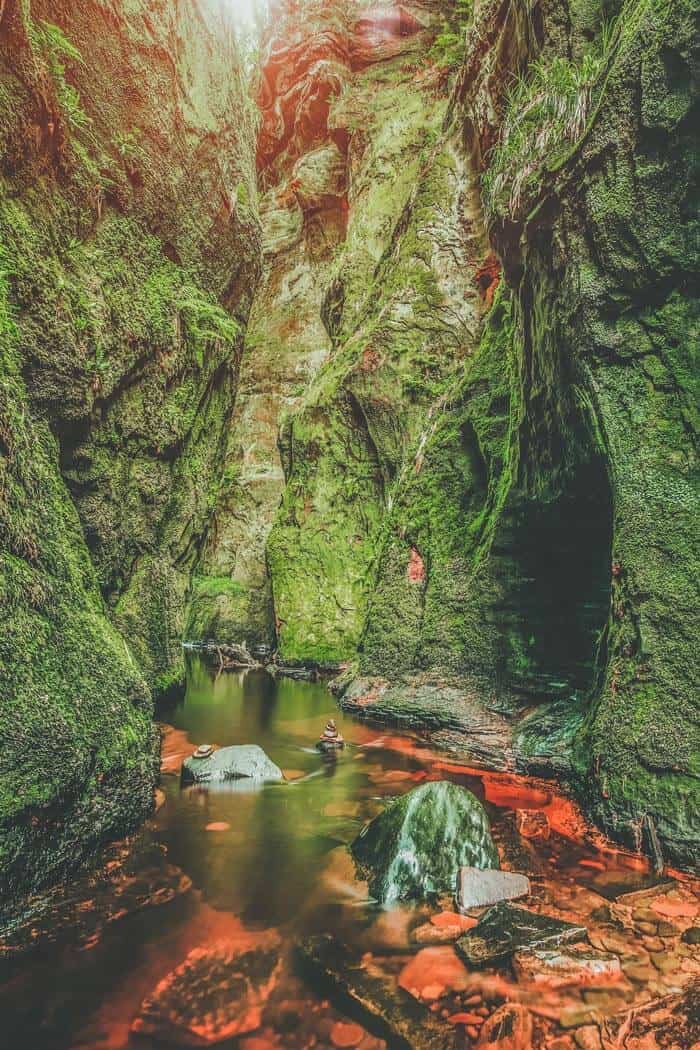 Pictures can never do justice to how amazing this site it. Getting to the Devil's Pulpit is a fun experience in itself. The hike in isn't bad, but getting down into the gorge is a harrowing experience. Incredibly steep steps have been laid out, but you have to hold on to a rope as you descend. Inside the gorge a beautiful stream flows between blood red rock canyon walls.
11. Loch Ness
Loch Ness (loch is the Scottish word for lake) is not actually inhabited by some dinosaur like water monster, and the locals don't actually think it is either (though some did back in the day). Now the talk of "nessie" is just for fun, and an excuse to visit an absolutely beautiful lake.
The hills of the Highlands surrounding this lake make the scenery absolutely stunning. You can hike along the shores or take a boat tour across. Also fun is to explore Urquhart Castle built along the shores.
Book your tour: Loch Ness, Glencoe and the Highlands Small-Group Day Tour from Edinburgh
Book your tour: Loch Ness Glencoe and The Highlands from Edinburgh
This list could easily include 50 other must visit places. What do you think should be on it? Planning a trip but only have 3 days? Read Here to help plan your itinerary.
MORE BLOG POSTS ON SCOTLAND
Traveling to Scotland was a dream come true. These are my most popular blog posts on Scotland to help you plan your trip.
The Most Beautiful Places to visit in Scotland: 28 Mind Blowing Photos Of Scotland
Best Castles in Scotland: The 15 Best Castles in Scotland
Unique Things to Know About Scottish Culture: 10 Unique Things to Know About Scotland's Culture
What to do with 3 days in Scotland: 3 Day Scotland Itinerary
A guide to the two main Scottish Cities – Edinburgh or Glasgow?: Edinburgh or Glasgow, Which City in Scotland Should You Visit?
Beautiful Places to visit on a Road Trip: 20 Pictures of Scotland that Will Help You Plan A Road Trip Through Scotland