Yosemite National Park is one of the crowning glories of the US National Park system. Protected since 1864, this 1,200 square mile area contains plenty of must-see attractions.
If you are visiting this area for the first time, here are 10 of Yosemite's must see attractions.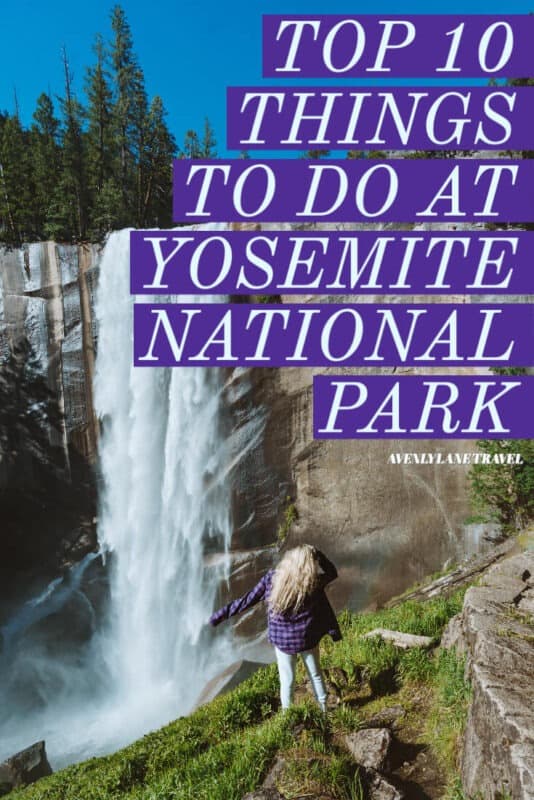 Top 10: Yosemite's must see attractions
1. Yosemite Mist Trail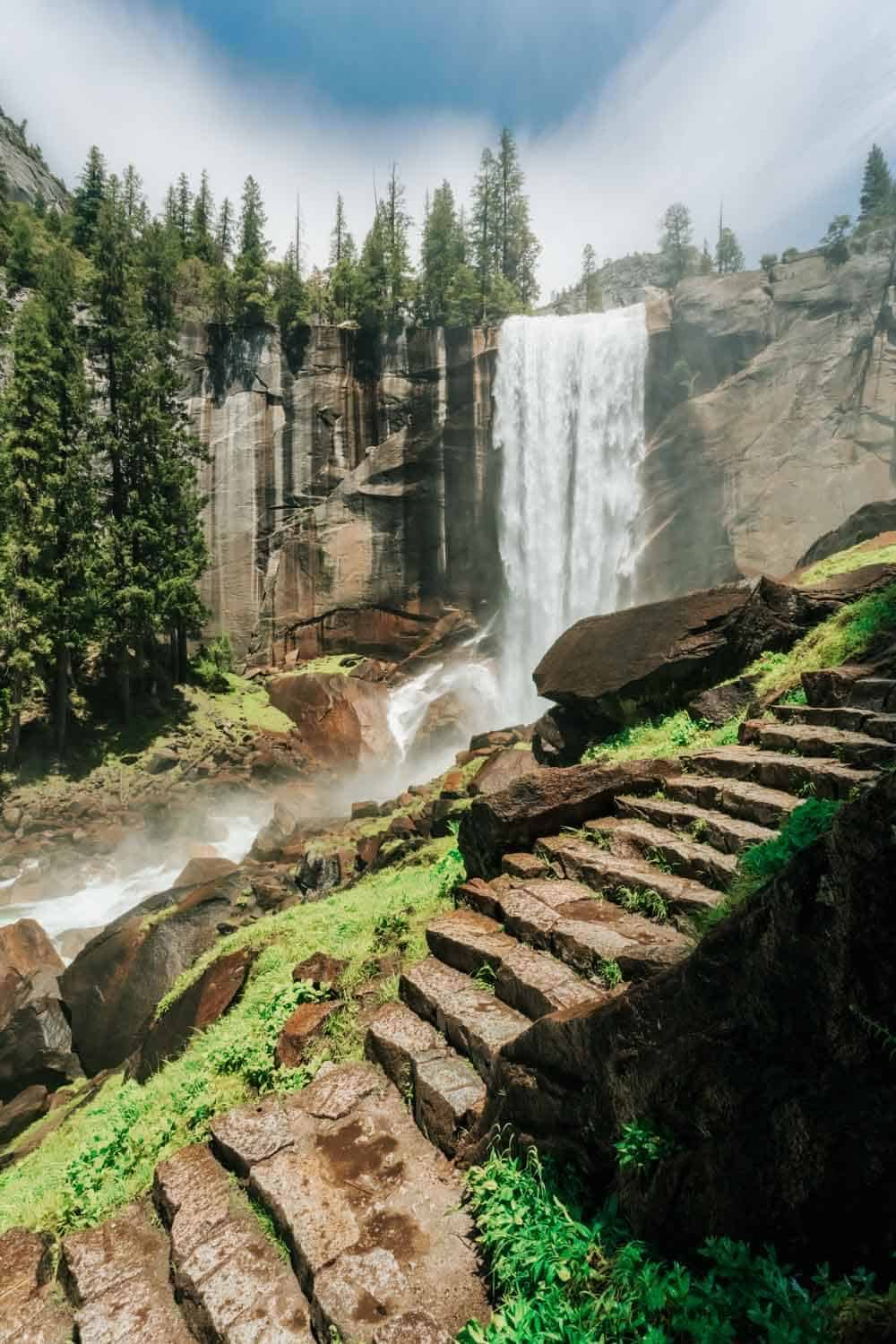 One of the most popular hikes in the national park, Yosemite Mist trail begins at Happy Isles in the Yosemite Valley. On a three mile round trip, you can reach Vernal Falls, and by extending your route to around 7 miles, you can also take in the breathtaking Emerald Pool and make your way to Nevada Falls.
Over the course of this trail, you will ascend by 1,900m before descending back to the valley floor.
The falls are at their best from April-June, though spectacular vistas can be enjoyed over a much longer season. You're unlikely to be alone on this hike – especially during peak season. But there is definitely a reason why this trail is so popular! Start early in the morning for the best experience.
2. Yosemite Falls Hike
This hike to Yosemite Falls is an historic trail (one of the oldest in the park) that takes you up to the top of the famous waterfall, 739 m above the valley floor.
The 1 mile trail switchbacks up through oak woodland onto exposed plateaus that offer truly stunning views over the valley below. The steep, uphill section is followed by a rocky section of around half a mile that will take you to Upper Yosemite Fall, where you can feel the spray of the falls on your face when it is in full spate. From here, you can also hike on to Yosemite Point, for close up views of Lost Arrow Spire and further panoramic views, (additional 1.6 miles) or Eagle Peak, the highest point of the north rim (5.8 miles more).
3. Tunnel View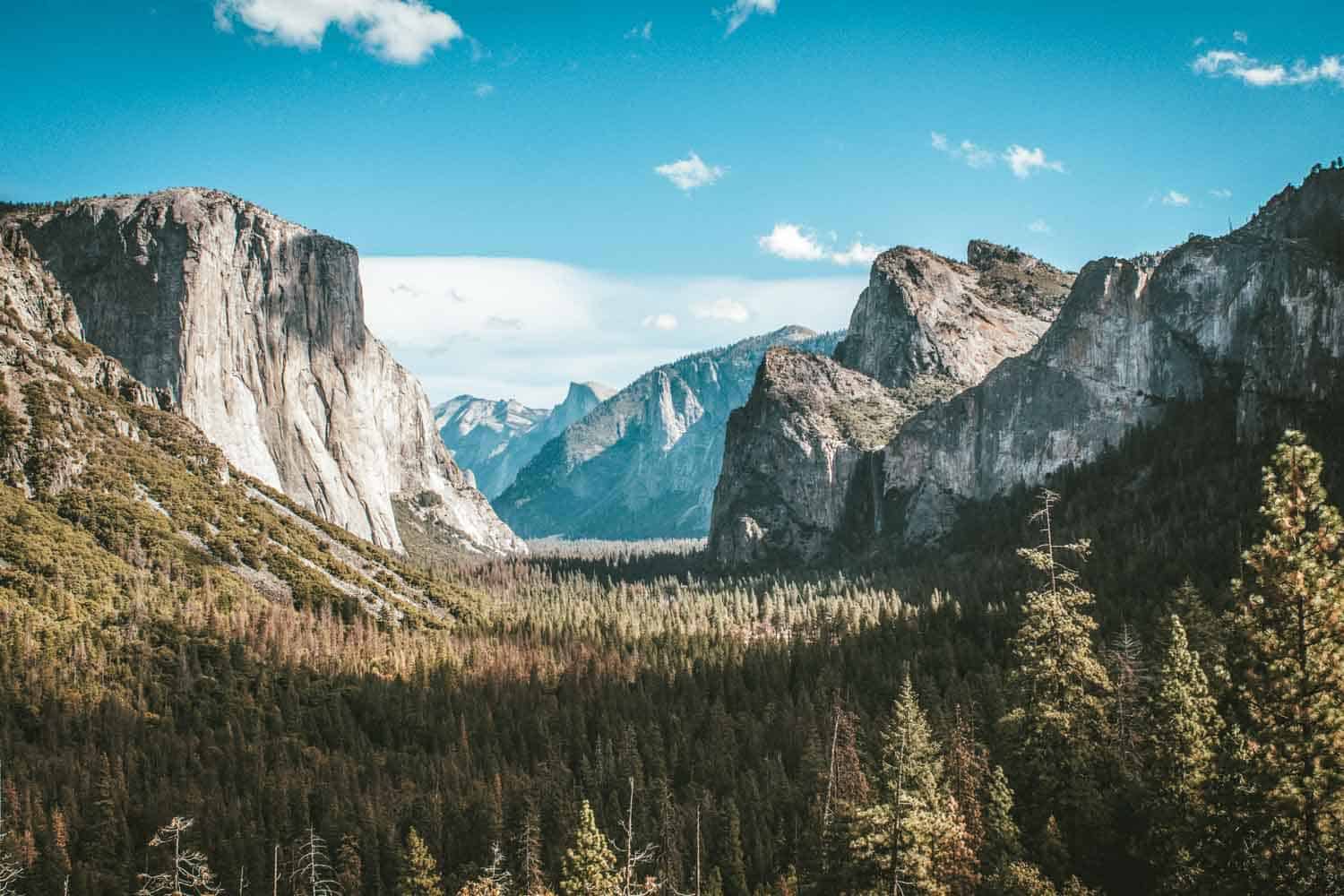 One of the best known vistas of the park, Tunnel View is the name given to this viewpoint. From here, you can take in the majesty of El Capitan and Bridalveil Fall soaring skywards from Yosemite Valley, with Half Dome in the background. This famous view graces many postcards and images of the park. It is located at the eastern end of the Wawona Tunnel along Highway 41.
4. Mariposa Grove
Giants are to be found in this southern portion of the park! Mariposa Grove is the largest grove of giant sequoia trees in Yosemite. Over 500 mature examples of these majestic trees can be found here. A two mile hike on the Washburn Trail or Mariposa Grove Road will lead you to the grove from the parking area.
The easy and accessible Big Trees Loop will allow you to explore the giant sequoia stars including the Fallen Monarch, while the Grizzly Giant Loop Trail is a 2 mile loop that will allow you to hike past other stars such as the bachelor and Tree Graces, Grizzly Giant and the California Tunnel Tree. There are also several other longer trails that will allow you to access upper portions of the grove.
5. Cooks Meadow Loop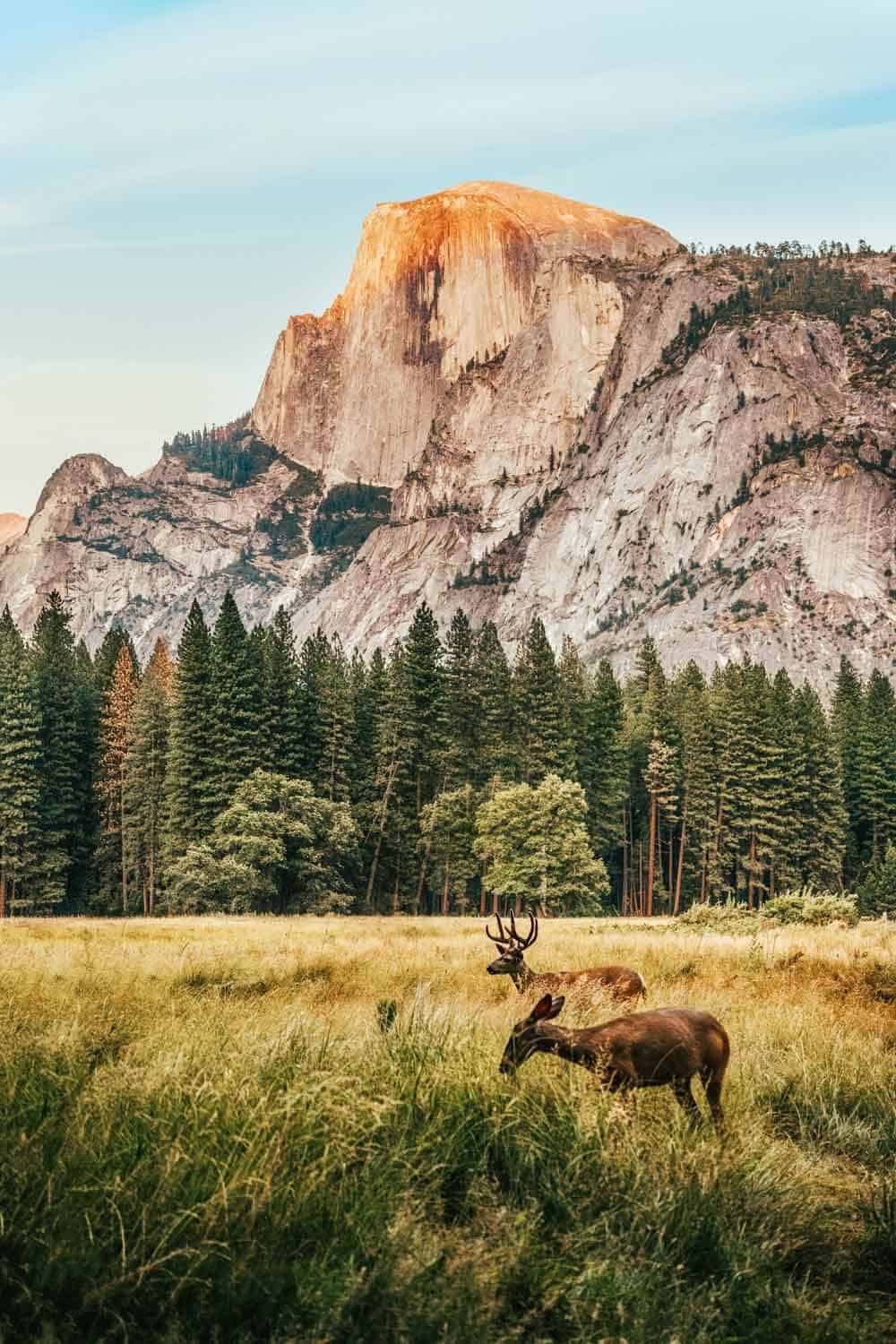 This short and easy, flat, 1 mile loop is a great introduction to the delights of Yosemite Valley. From the Yosemite Valley visitor centre, you can walk west towards Lower Yosemite Falls. Be sure to stop at Sentinel Bridge to enjoy the iconic views of Half Dome reflected in the water below. Follow the boardwalk across the meadow, enjoying the stunning views of Yosemite Falls, Half Dome, Glacier Point and Sentinel Rock along the way. Be sure to stay on the wooden boardwalk, to protect the fragile and precious meadow ecosystem.
6. Yosemite Falls Lower Trail
Another easy trail perfect for a family-friendly hike for first time visitors is Yosemite Falls Lower Trail. This is your opportunity to take a simple 1 mile hike to the base of the impressive Yosemite Falls. In addition to offering stunning views of both the Upper and Lower Falls, the paved loop trail also offers the opportunity to stop off at a number of exhibits which share details of the natural and cultural history of this area.
As with all the hikes on the Valley Floor, this route can be very busy, especially during peak season. But for first time visitors, these easy trails are a must and will make it very clear why Yosemite Valley is such a popular destination.
7. Taft Point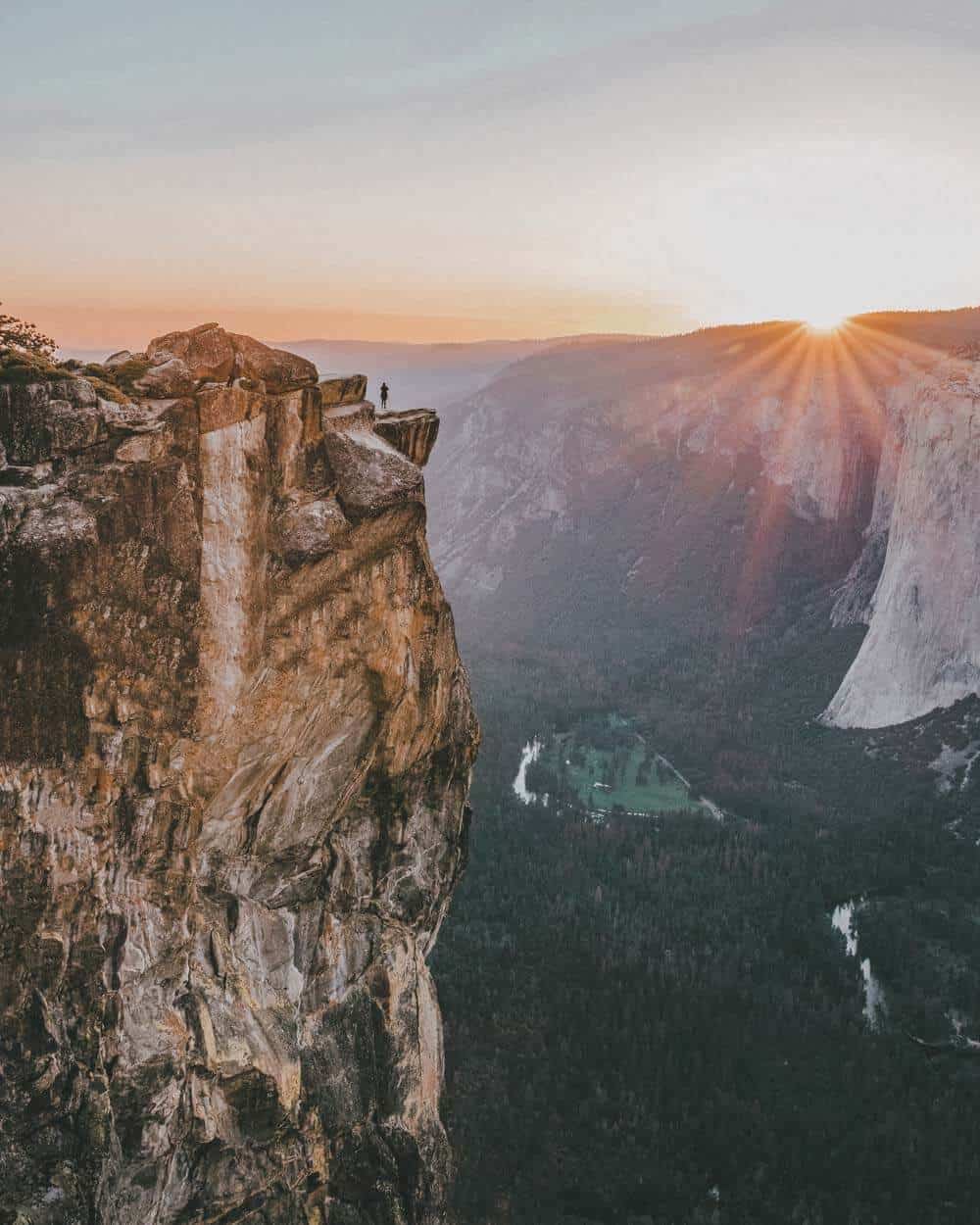 A 2.2 mile round trip hike will take you from Glacier Road to Taft Point. This vertigo inducing spot is a promontory jutting out over Yosemite Valley far below. Not for the faint hearted, this is an easy but steep ascent that will allow you to see enormous fissures in the valley wall up close, and enjoy spectacular views of the valley and El Capital in particular. The views from here of the northern valley wall are truly amazing – just keep your eyes on your feet – it is a long way to fall!
8. Glacier Point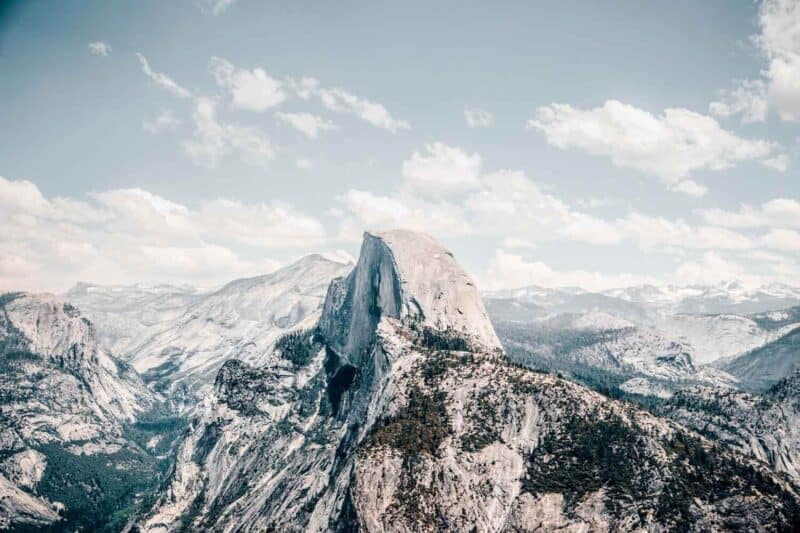 If the ascent to Taft Point is a little too much for you, or you prefer to have a guard rail/ wall between you and the drop, the far more accessible Glacier Point may be more for you. You can reach this spot by car between May and October or November, and enjoy breathtaking views over the Valley 3,214 ft below, Half Dome, Yosemite Falls and Yosemite's high country.
9. The Tioga Road – Olmsted Point
The Tioga Road is a scenic route between Crane Flat and Tioga Pass that will take you through forests and meadows, past tranquil lakes and granite domes. Along this road, Olmsted Point looks down onto Yosemite Valley from a different vantage point. A highlight of the remarkable vista this viewpoint affords is a very different look at Half Dome – barely recognisable from this location.
10. Hetch Hetchy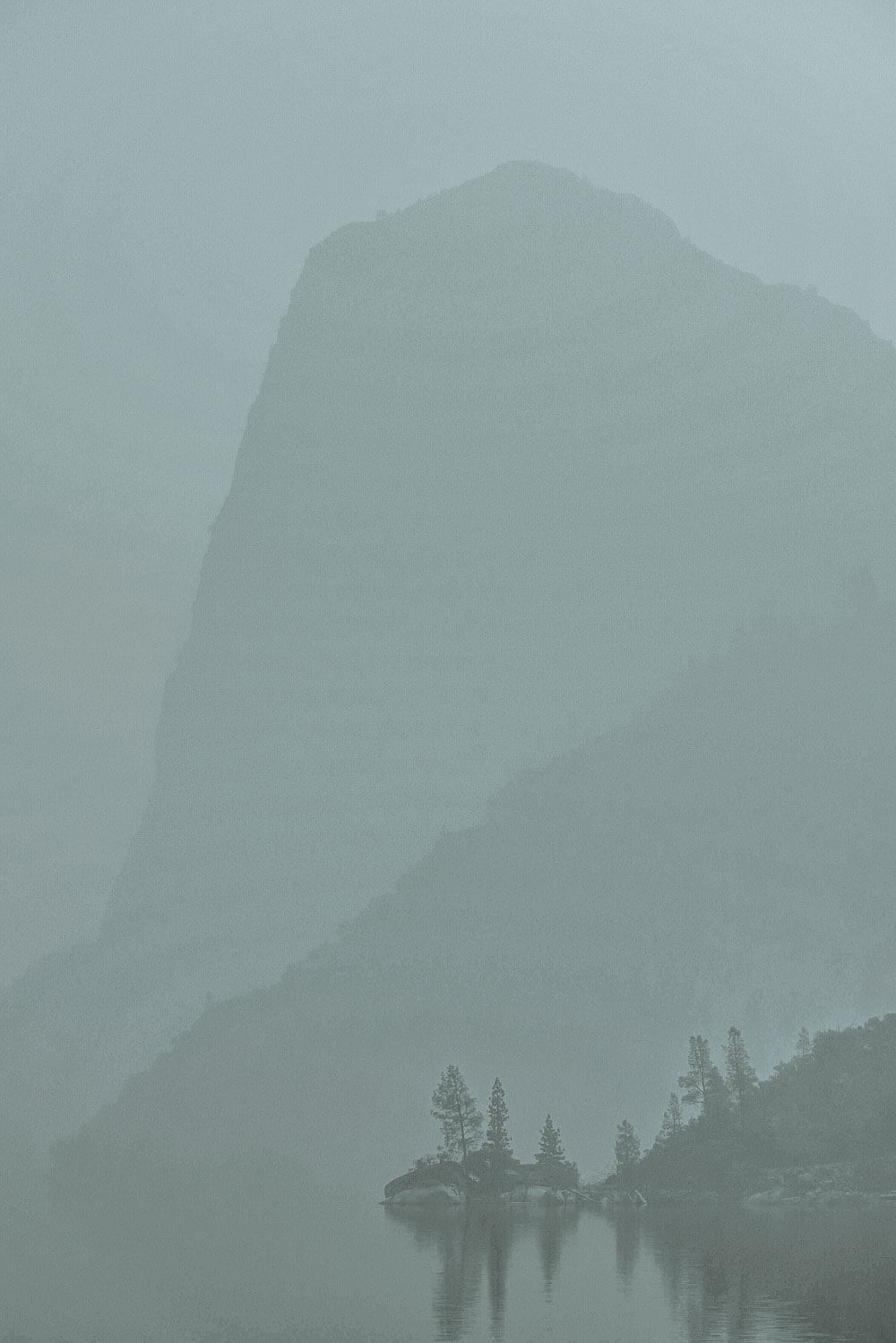 An hour and a quarter from Yosemite Valley, Hetch Hetchy is a hidden hem in the northwest corner of the park. This area offers access to a vast wilderness of hidden canyons, remote lakes and breathtaking peaks. Stunning wildflower blooms and gushing waterfalls in spring are truly a reason to get off the beaten track. Take a 5 mile round-trip hike to see Tueeulala and Wapama Falls. Take on a challenge and summit Smith Peak, or take the strenuous Poopenaut Trail.
Of course, these beautiful places are just a tiny fraction of what Yosemite has to offer. The more you take the opportunity to hike and explore the backcountry, the more you will be rewarded for your efforts.