Rio de Janeiro is my favorite city on earth! This city has a life and pulse that I have never been able to find anywhere else. No one knows how to party like Brazilians, and this is especially evident in Rio!
Beyond the parties, the city is a mix of elements that typically are not combined. There are so many reasons to visit Rio de Janeiro, including it's unique geography. It features some of the most beautiful natural geography in the world, but with urban development sprawling over and through it. There is unavoidable evidence of poverty and crime, but is coupled with absolutely picturesque development and extremely friendly locals.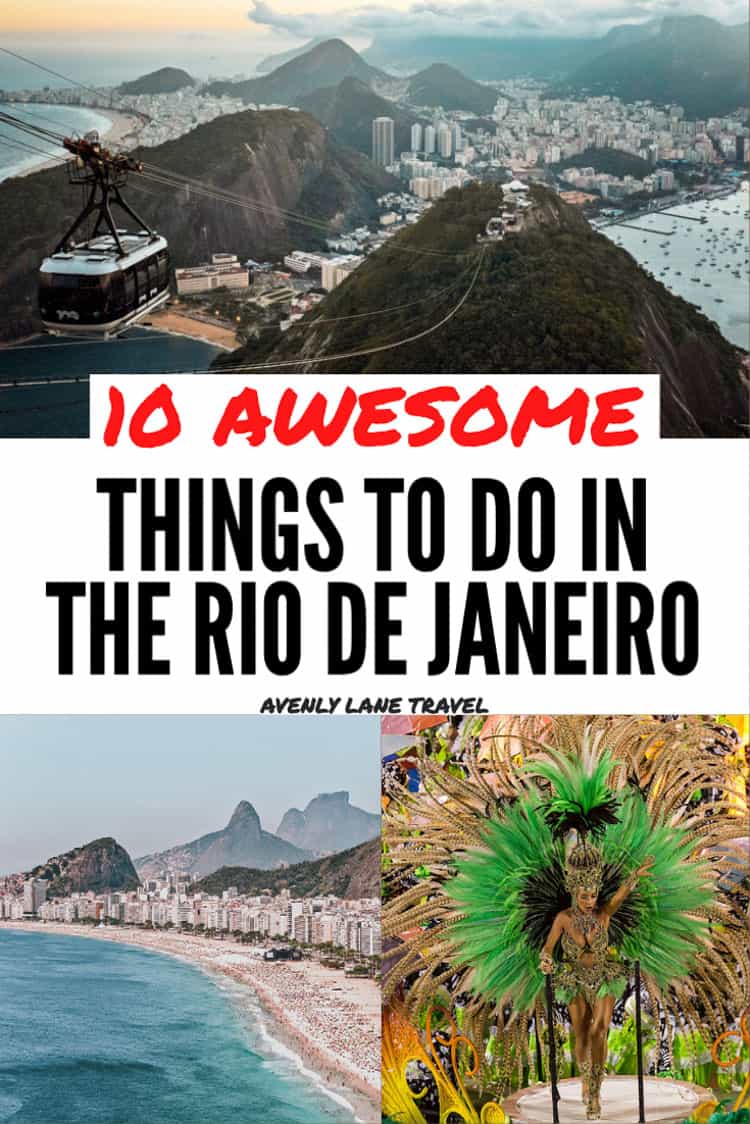 Brazil is not the easiest country to get to as flights can be difficult, and the visa application process is a pain. Do not let this deter you from seeing this incredible city. There are way too many things to see and do in Rio to include in one post, but the list below should give you a great starting point.
Rio de Janeiro Tourist Attractions
Rio de Janeiro is the most beautiful city I have ever seen and the best city to visit in Brazil. Here are the top 10 things to do in Rio.
1. Copacabana Beach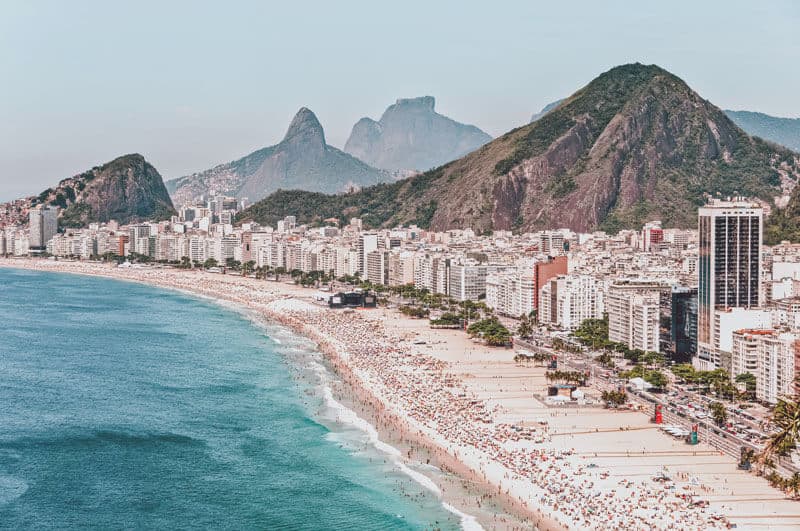 The beaches are a great place to start in Rio. Brazilian women are often described as the most beautiful on earth, and seeing them walk down the beach makes you feel like you are watching a runway fashion show. Brazilian women are famous for their itty bitty string bikinis; this may explain why the word they use for string bikini literally translates to dental floss (fio dental).
Miles of white sand, water in various hues of turquoise and blue, and crashing waves attract thousands of visitors.
Top things to do on the beaches in Rio besides relax on the sand are…
Footvolley – Footvolley is a sport that started on the beaches in Brazil, and is basically volleyball with no hands. Obviously there are correlations to soccer skills. I consider myself to be decently athletic, but attempting to play footvolley with the locals immediately made me feel incredibly awkward and out of place. Regardless, watching this unique game was still enjoyable.
Surfing – Consistent waves, cheap rentals, and great instructors make this an excellent place to learn to surf, or even enjoy watching the experts.
Shopping – There are miles of unique shops, locals that set up tables across the sidewalks, or vendors that will even approach you as you are lounging on the beach to sell you anything from a drink to a new swimsuit. The options are very affordable, but remember to negotiate.
2. Corcovado (Cristo Redentor – Christ the Redeemer Statue)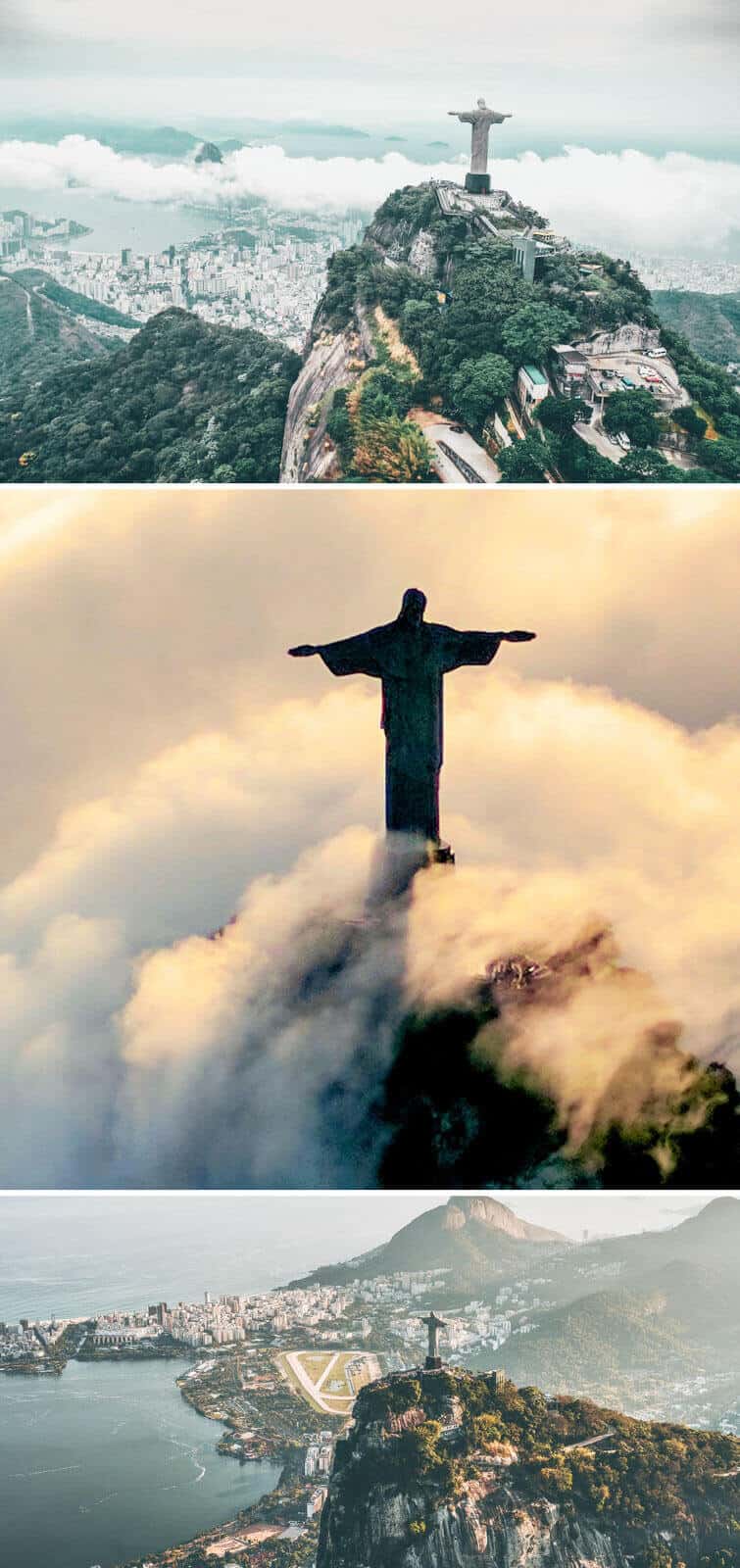 Corcovado is the name of the hunchback style mountain that the iconic Christ the Redeemer Statue sits on. Cristo Redentor (Corcovado) is one of the best places to go in Rio.
This huge monument presides over the city of Rio, and represents the Christian faith of most of the locals. Hiking up the mountain is definitely worth it, and not just for the statue, but the views of the entire city and ocean.
Lightning strikes have knocked fingers off of this statue before (one finger of this statue is easily the size of a person), so be careful during a storm!
3. Enjoying the Urban Mountains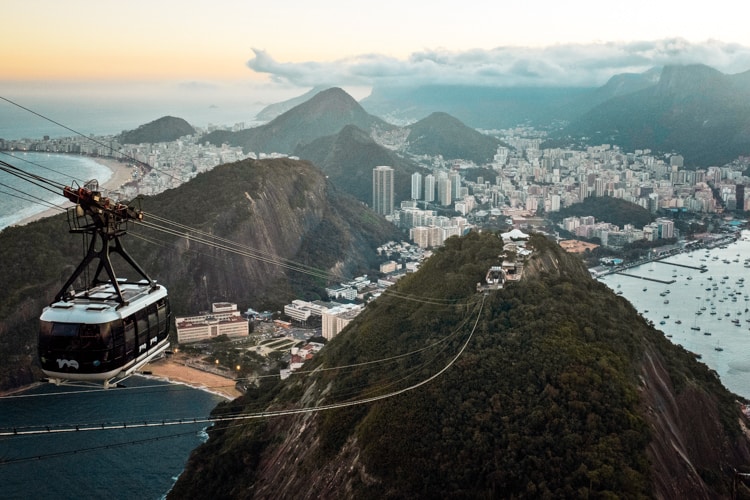 What makes the city of Rio so beautiful is that it is built right around numerous mountains that jut up on the edge of the ocean. Urban development continues to push around and sometimes over the mountains, but there are still a ton of opportunities for leisure left with them.
Top Rio de Janeiro Tourist Attractions in the Mountains are:
Hang gliding and paragliding – evidently the combination of favorable winds and many cliffs make Rio and ideal location for the adventurer to learn to hang glide or paraglide.
Hiking – There are numerous hiking trails on mountains throughout the city. Surprisingly, they can provide a retreat in to nature, even while you are in the middle of a humongous city. Corcovado features some amazing trails with challenging terrain.
Sugarloaf is also known as one of the best urban rock climbing locations in the world, and many climbers can be seen testing their luck. There are many great rocks to scale, all while in the heart of the city.
Various cliffs reach out into the ocean, and allow the adventurous to cliff dive. While I did not partake, there are many fearless that do.
4. Favelas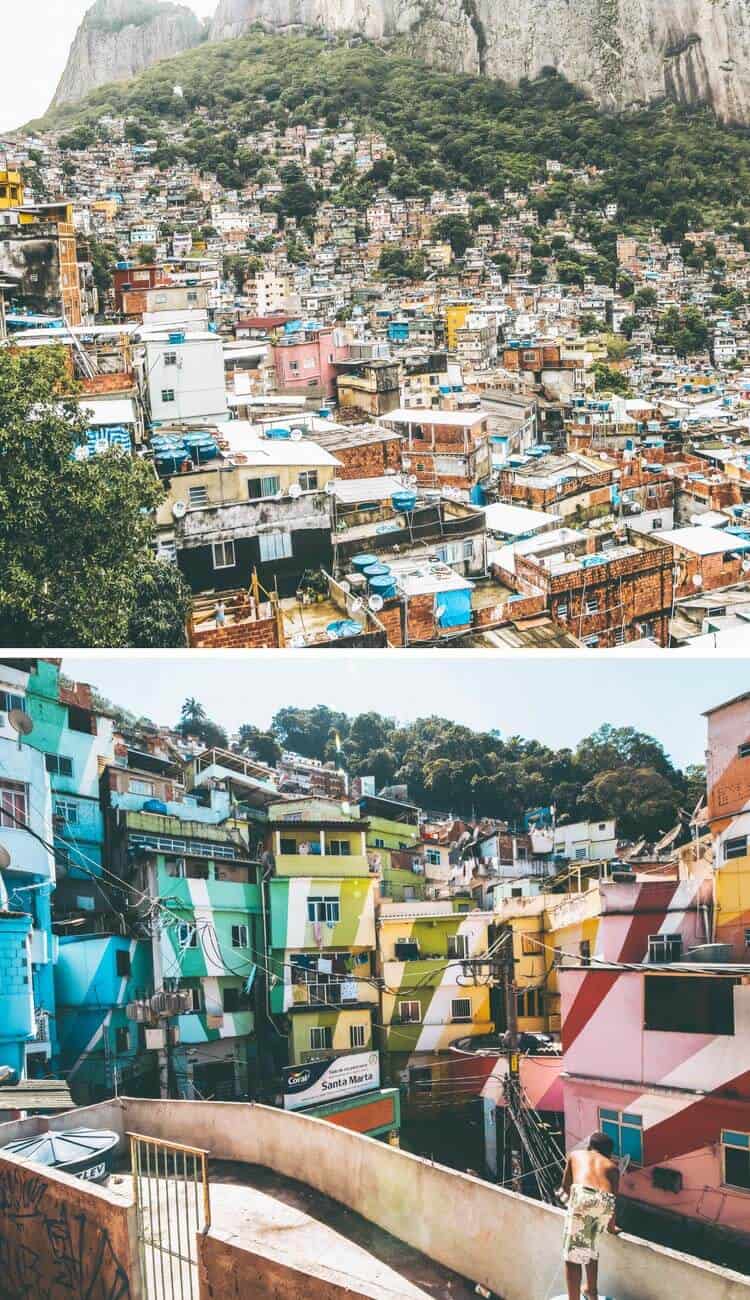 The favelas are slums that are often built straight up the side of mountains in the middle of Rio. The flimsy neighborhoods are built of all kinds of all kinds of random materials and are a testament to the industriousness of the Brazilian people. Seeing these humble yet happy people makes you appreciate everything you do have.
The last time I was in Rio, I was told, "due to extreme crime, do not go in the favelas! Do not go alone, do not go with your translators or tour guides, and do not even go with the police!" Supposedly, in the last couple of years in preparation for the World Cup and Olympics, the police have made a concerted effort to clean drug dealers out of the favelas, and they are safe enough to actually visit.
There are many tour companies that can show you that you are the 1%.
5. Sugarloaf Mountain Cable Cars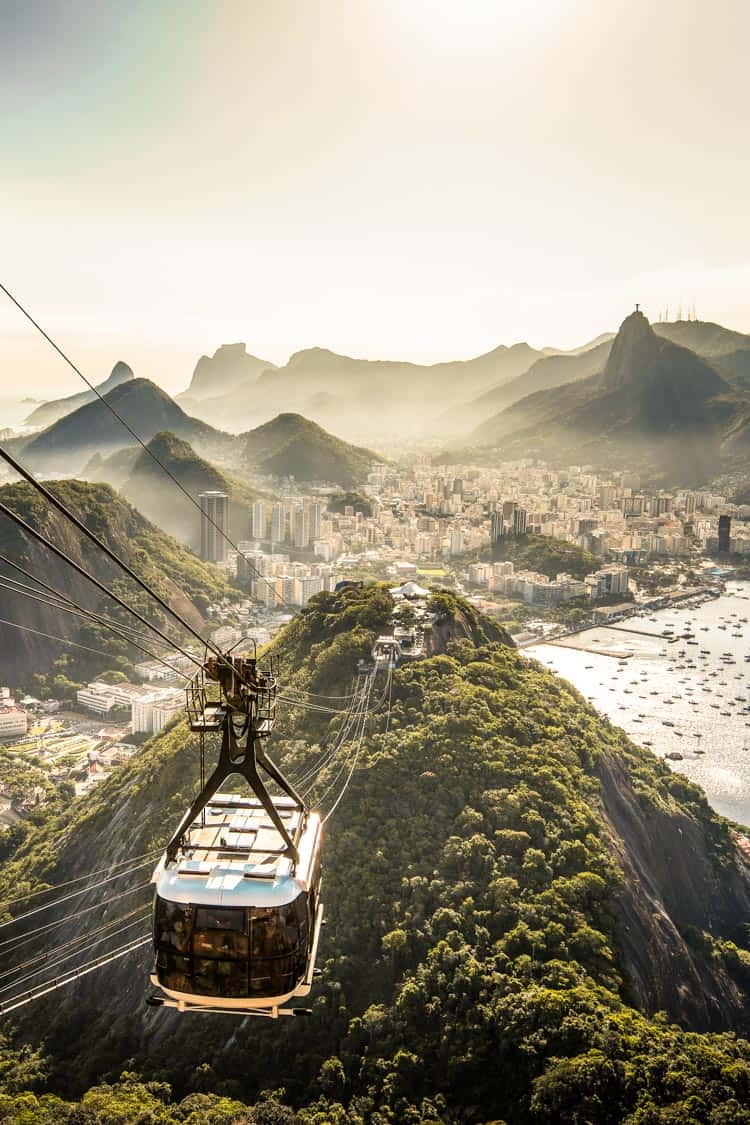 This mountain juts out into the Atlantic Ocean in the middle of Rio de Janeiro, and is another iconic destination. It is most famous for its cable cars that take tourists up to the top, while giving breathtaking views of the city along the way.
The ride isn't for the faint of heart, but once at the top, you can relax at a café, or peruse some of the shops. The first time I went, I mistakenly rode up at night which severely hampered the views.
6. Maracana Stadium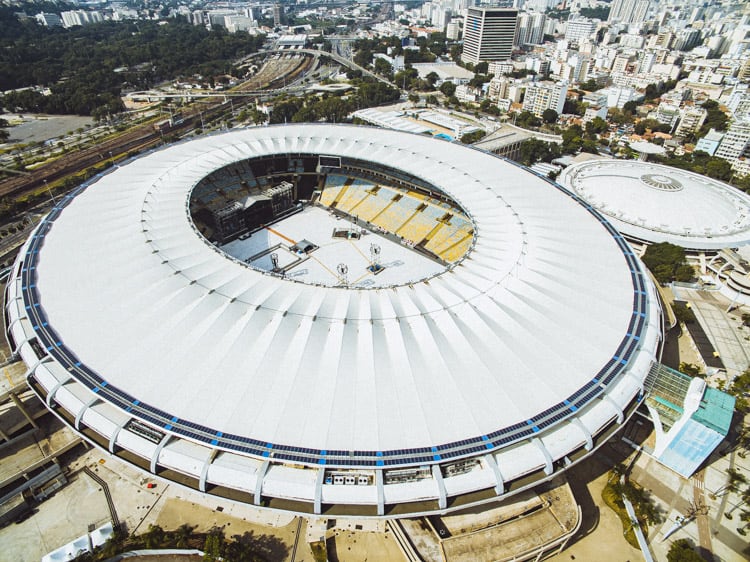 The Maracana Stadium is the biggest religious edifice that Rio has to offer, but the edifice doesn't have to do with the Christian faith, but the other religion of the locals, soccer (football).
This huge stadium has previously seated up to 199,854 (though there are a lot less seats in it now). Even if you are not a soccer fan, it is mesmerizing to watch the zeal of the fans. I watched a game in this stadium and was shocked to see barb wire fences blocking off sections where opposing fans would sit. Games include cheering, screaming, dancing, and the hurling of insults to the opposite side of the fence.
If you want to make instant friends in Brazil, I recommend buying a $5 Brazilian national soccer team jersey from a street vendor and wearing it around town.
7. Carnival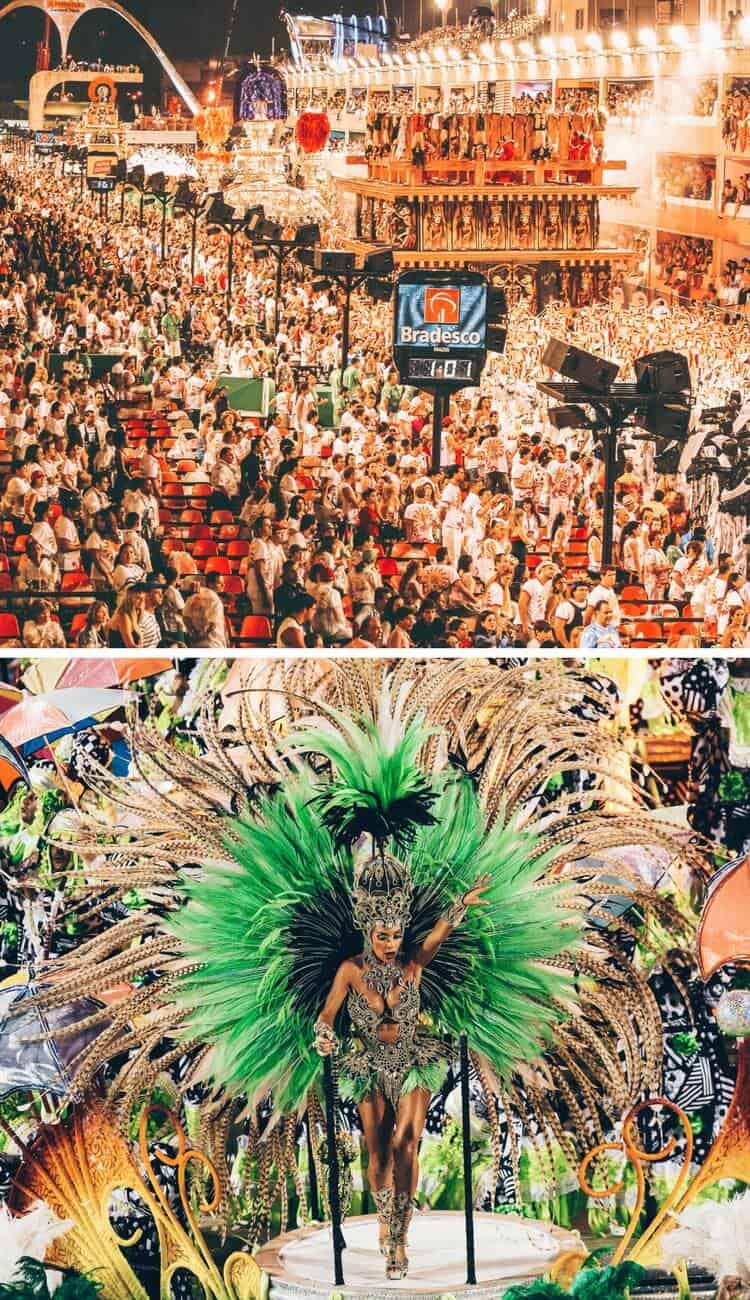 Carnival is a six day party that takes place before the beginning of the Catholic observance of lent, but Carnival is anything but a religious holiday. Even though there are Carnivals around the world, the one in Rio is the biggest and best.
This six day extravaganza is marked by parades, block parties, ridiculous costumes, samba dancers, and free flowing drinks. This spectacle attracts millions of people each year.
8. Jardim Botanico (Botanical Garden)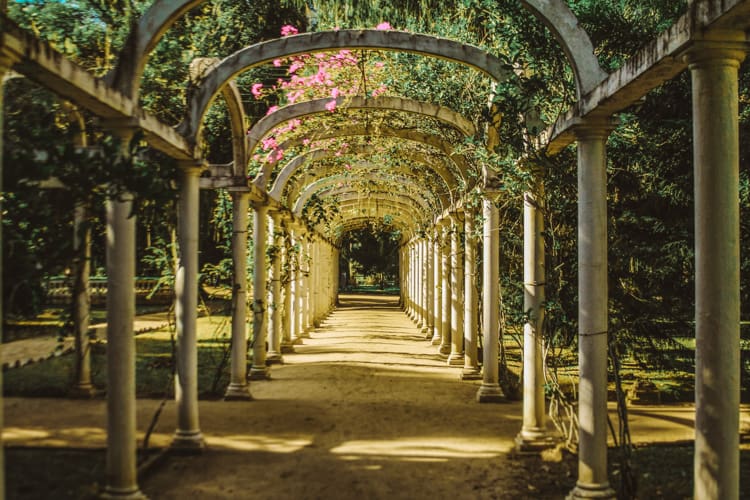 This exquisite garden is located just below the right arm of the Christ the Redeemer Statue. The grounds are immense, so make sure you have your walking shoes and a little bit of time. The site features an incredible variety of tropical plants, many of which I had never seen anything like before. About one half of the park is planted and maintained by grounds crew, while the other half is left in its naturally occurring state. Both halves are worth a tour.
9. Eat
Being an international city, one can find any type of food in Rio, including the omnipresent McDonalds, Subways, and even Taco Bells, but there are so many more great local options. The most common foods in Brazil seem to be rice, beans, tropical juices, and pastries. Being on the ocean, Rio is also an awesome place to get seafood. My favorite Brazilian treat is the churrascaria, which is an all-you-can eat skewered meat restaurant. Waiters endlessly walk by your table offering you freshly grilled meats. Sorry vegetarians, but I can't resist this temptation.
10. Capoeria
A capoeira display is a must see! If you do not know what capoeira is, imagine breakdance fighting, but with the legitimacy of a real fighting style. This ingenious style of dance/martial arts was developed by early Brazilian slaves whose masters opposed them learning how to fight.
The dance disguised martial arts that taught the slaves to defend themselves, while entertaining all those around with music and acrobatics. There are many schools that will put on shows, or even give lessons to those wanting to learn.
One final note, please remember that Brazil was a former Portuguese settlement and that as a result, they speak Portuguese, and not Spanish!