It's amazing to think that Germany has over two millennia of history. So much of it, wonderfully preserved in museums and small villages throughout the country. Located in Western Europe, its landscape is full of lush forests, dazzling mountain ranges, and sweeping deep aqua rivers.
Let's go explore some of the best towns in Germany!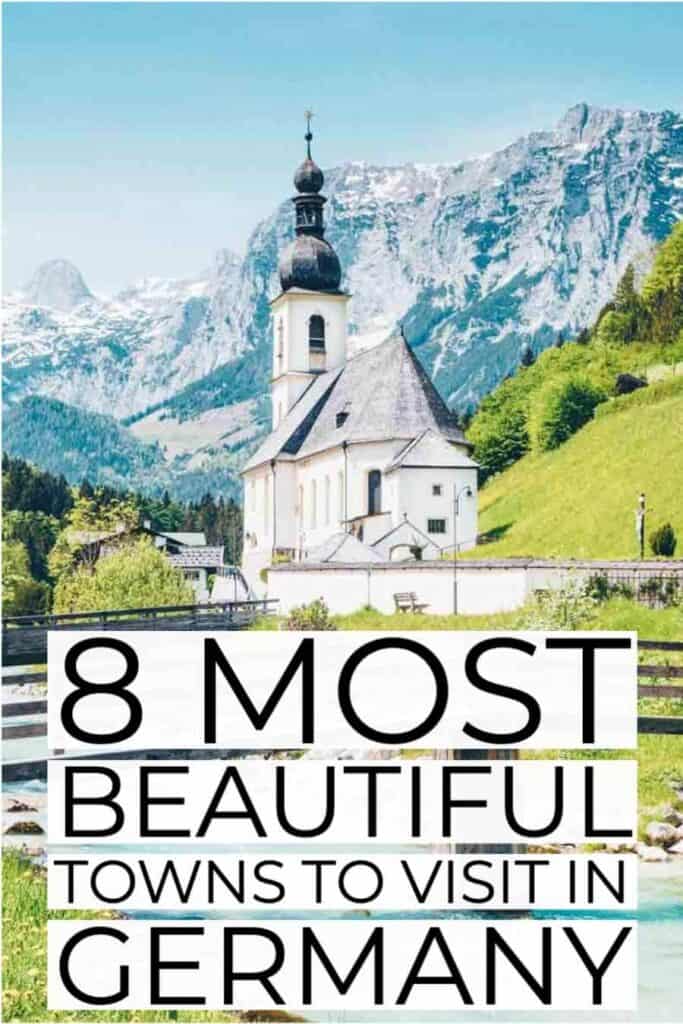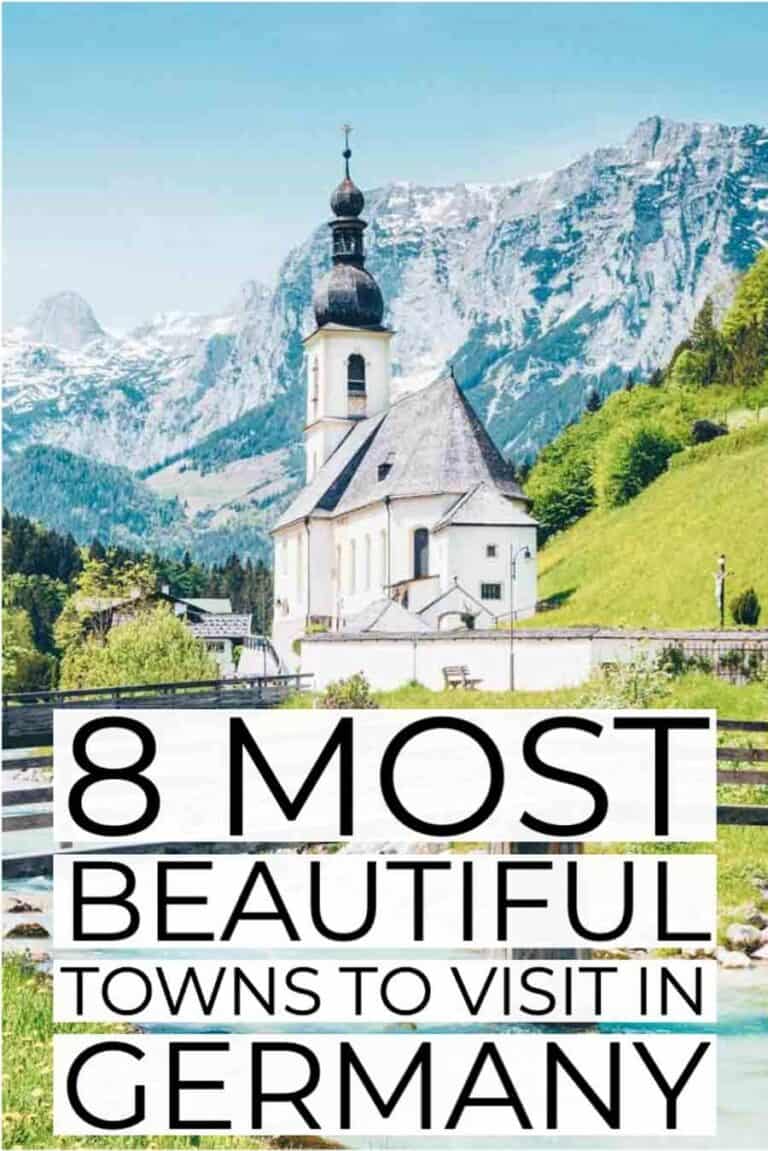 8 of the Best Places to Visit in Germany
Cologne, Germany
Cologne is runs the length of the Rhine River in western Germany, is 2,000 years old (wow), and the region's "cultural hub". Be awe-struck by the beauty of the single most visited landmark in Germany while you're the – the Cologne Cathedral. It has held the reliquary (or container of holy items) of the Three Kings since 1164 and is now a UNESCO site. Many come here on an international pilgrimage.
The Ludwig Museum has multiple Picassos and a large collection of Russian Avant-Garde pieces, there are iconic examples of Pop Art, like the art of Andy Warhol and Roy Lichtenstein. It's so cool to be amongst such famous art pieces.
As you stroll from square to square in the historic centre of Cologne's Old Town the old world atmosphere shines through on streets and plazas like Altermarkt and Heumarkt.
Rothenburg ob der Tauber
Rothenburg ob der Tauber is well known for being well-preserved Medieval town, tourists from around the World come to visit as it's a part of the picturesque Romantic Road through southern Germany.
It truly is one of the best towns in Germany.
If there's one image that represents Rothenburg, it's Plönlein, a "fork in the road" on Untere Schmiedgasse. In the center of the fork is the prettiest building of the group, a narrow half wood planked house with a pointed roof and a quaint fountain in front.
Seriously go see Rathaus, Rothenburg's amazing town hall – it's made of three-story windows, arches, and winding staircases. Every day in the Summer and on weekends in Winter, you're allowed to climb the watchtower to lookout over Rothenburg's rooftops and pretend you're in a fairytale.
After that go discover St. James Church, the city's main Gothic church. Find your way into the western gallery, in which you'll see the artist, Tilman Riemenschneider's absolutely captivating "Holy Blood" altarpiece. The central panel is supposed to illustrate the Last Supper and is framed by plant life with incredible skill.
Dinkelsbuhl Germany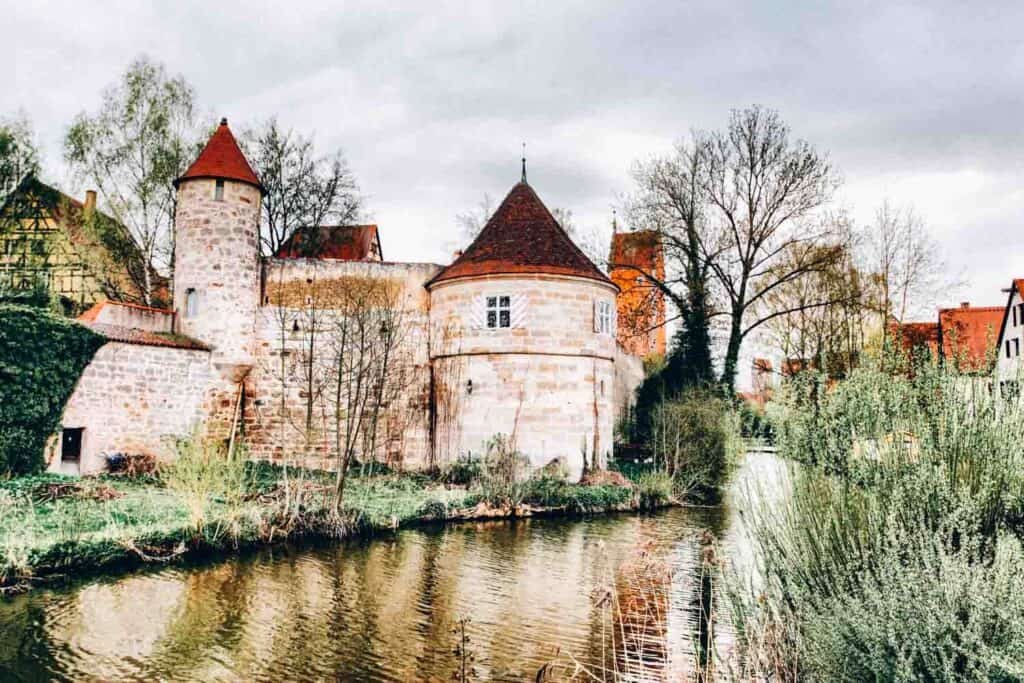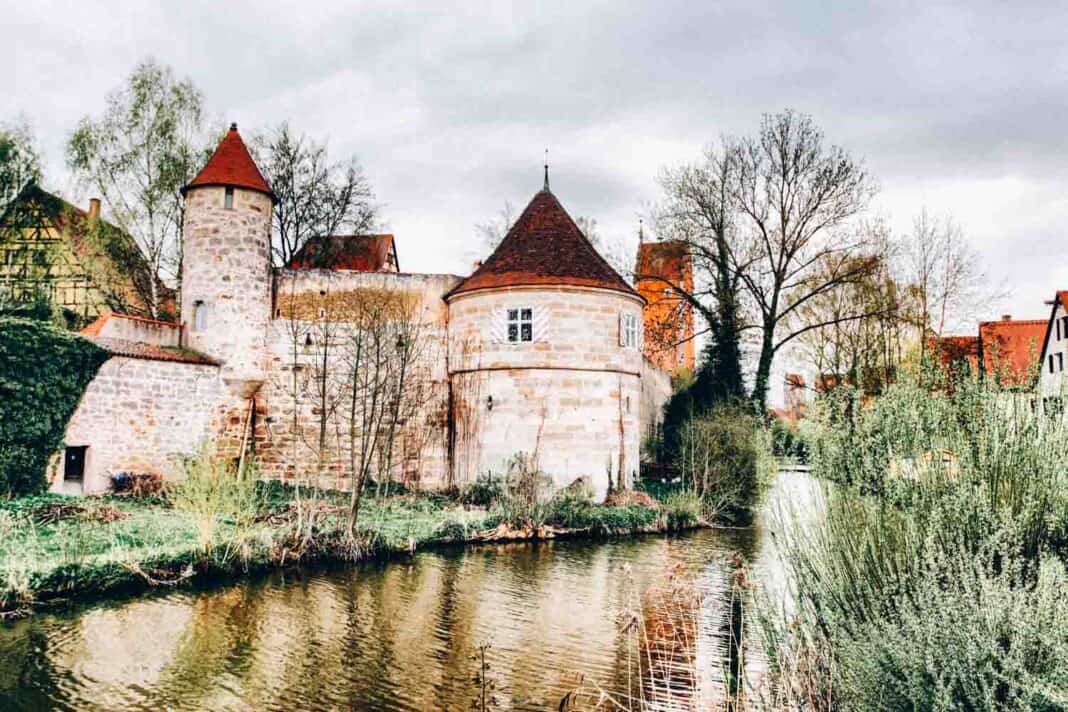 What may be the most romantic stop on southern Germany's Romantic Road, Dinkelsbühl, Germany is a town of Renaissance patrician houses encircled by Medieval walls and sky-scraping gatehouses.
Old Town is so quaint! This 800-year-old townscape, preserved in an almost-original condition, has rows of colorful half-timbered houses, a soaring church, ancient fortifications and gates, and broody patrician buildings.
Haus der Geschichte, the 14th-century ensemble of Dinkelsbühl's town hall, houses the Dinkelsbühl history museum. In the museum portion expect to see paintings, weaponry, woolen cloth trade equipment, sculptures, and more.
The most eye-catching structure in the Weinmarkt is the Deutsches Haus, former residence of the Counts of Drechsel-Deufstetten, and now a hotel and restaurant. Built in the 1400s, has a gorgeous Renaissance-style timber-frame façade with intricate carvings of planets and the Gods.
Hornberg village, Baden Wurttemberg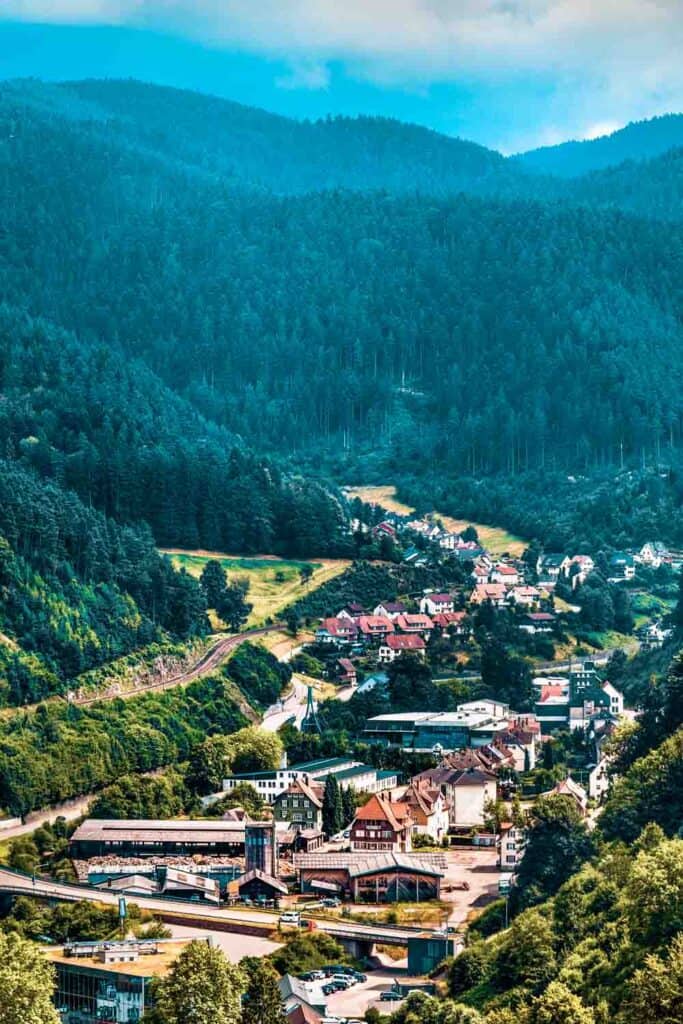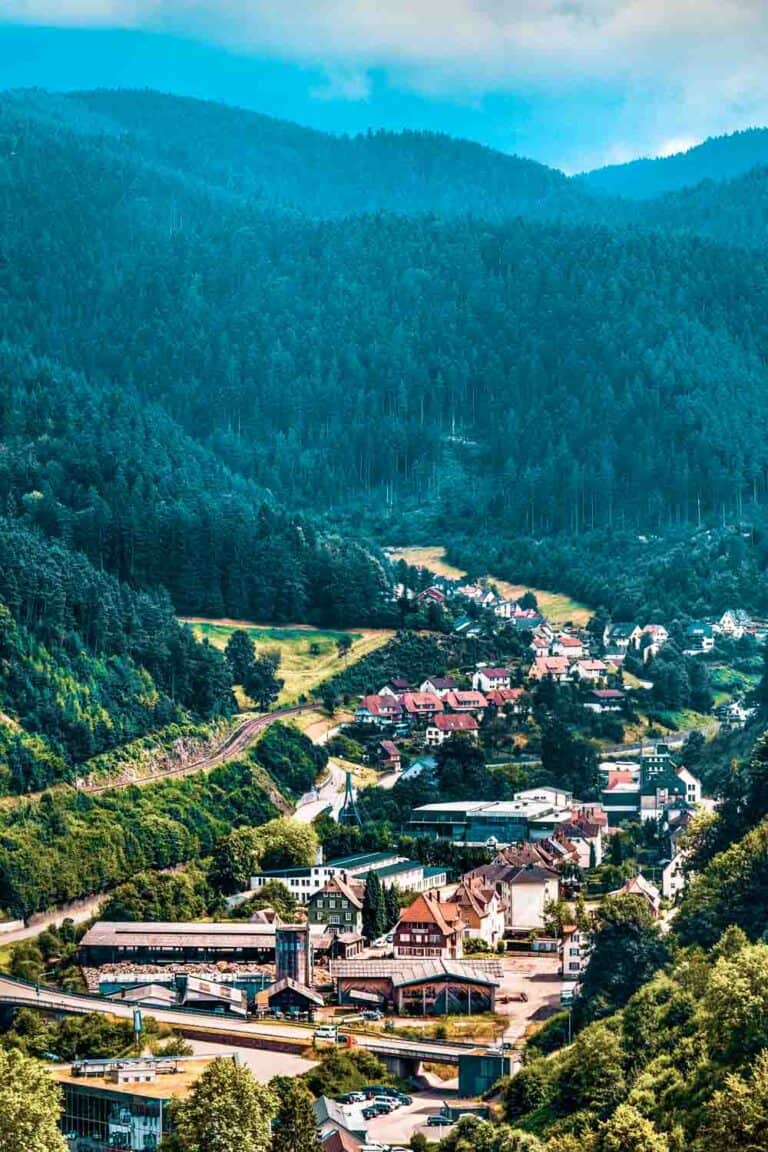 Hornberg is a town in the gorgeous Black Forest, in western Baden-Württemberg, Germany.
Hornberg Castle, the castle of this small village is also located in the beautiful heart of the Black Forest. You can climb the old stone walls, explore Medieval chapels with wonderfully colorful stained glass windows, the go dancing in a large banquet hall lined with sculptures of queens & kings.
A total must see is the House of Black Forest Clocks. That's right, clocks! They are the owners of the world's largest cuckoo clock. The shop has a cafe, and you can devour a piece of flavorful Black Forest cake. Adolf Herr is the owner and loves to greet his guests personally to make sure that all have a special visit and find the perfect clock.
Village Rottach Egern, Germany
The picturesque lake village Rottach Egern is located in Bavaria Germany. If you're hoping for a different type of vantage point try taking a hot-air balloon ride or hop on the Mount Wallenberg cable car – you can even attempt hiking if you'd like.
You'll see cottages, chapels, and many charming old farm houses throughout the different districts, twenty three in all.
If you want to tour around in a more traditional way, don't worry, that's also available. No matter which way you choose to travel – it's lovely.
Heidelberg, Germany
Come for the Baroque architecture and the phenomenal ruins of the Renaissance castle once home to the Imperial Prince Electors of Heidelberg.
Make sure to check out Altstadt – it has many of the things people love about German old quarters; sociable squares with bar terraces at Kornmarkt and Marktplatz, cobblestone streets and a catalogue of historic landmarks.
Don't forget to see the Kurpfälzisches Museum that has painting, sculpture and applied arts, as well as archaeology recording the long human history of the Lower Neckar Valley and Heidelberg's time as the Electoral Palatinate residence.
Fussen, Bavaria, Germany
Füssen is a tiny town in Bavaria, near the Austrian border. Known as a major centre for violin making!
The two most famous castles in Germany (Neuschwanstein and Hohenschwangau) are just a few miles away and can be reached on foot via a series of trails. There is a catch, however – they are strenuous.
Or how about a visit to St Mang's Abbey to see the oldest gresco in the country – dating back to the year 980 – yeah, wow.
Go check out Lechfall if you'd like to enjoy the outdoors in a less intense way than mountain sports, you can take a walk along this river and see the local waterfall.
Lügde, Germany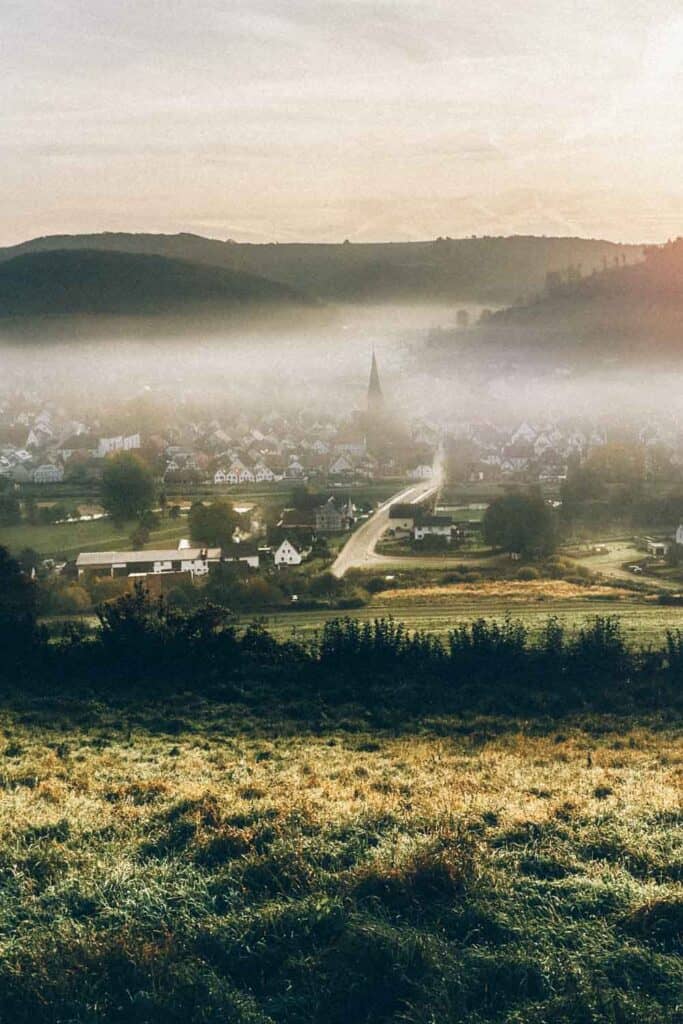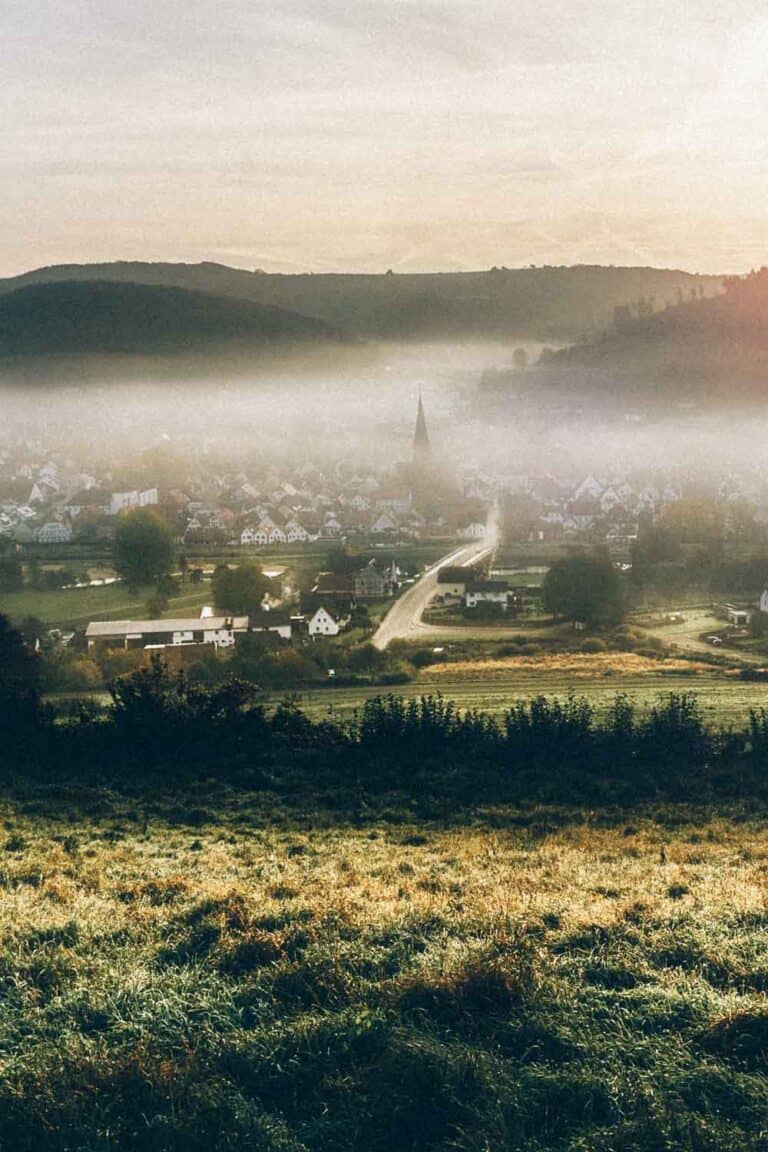 Lüdge is mostly known for the Osterräderlauf (an Easter wooden wheel which is burned down a slope at night in some rural areas). According to folk belief, a good harvest will happen if all wheels roll down the hill as straight as possible. Every year this ancient ritual brings thousands of visitors to the cute, historical old town.
If you're into history – keep in mind that Charlemagne came to live in this pretty little place, in 784. Well okay then. Wow.
Conclusion:
Maybe Germany doesn't have the easiest town names to pronounce (haha) but it definitely has some of the most beautiful ones. I hope you enjoyed this tour of history, art, and nature. Here's to your next germanic adventure!