Here is everything you need to know about the views and hikes Bryce Canyon offers.
Bryce Canyon is a canyon; I know that seems like a duh statement but you would be shocked at how many people don't know what to expect once they get there. If you are one of those people, think of the Grand Canyon, just smaller. Just like the Grand Canyon the views and Bryce Canyon hikes are amazing.
Many people visit the area to see Zion National Park, but don't journey the rest of the way to Bryce. Zion National Park to Bryce Canyon is an easy addition to an already amazing trip. Read on to find out more about the best reasons to visit Bryce Canyon.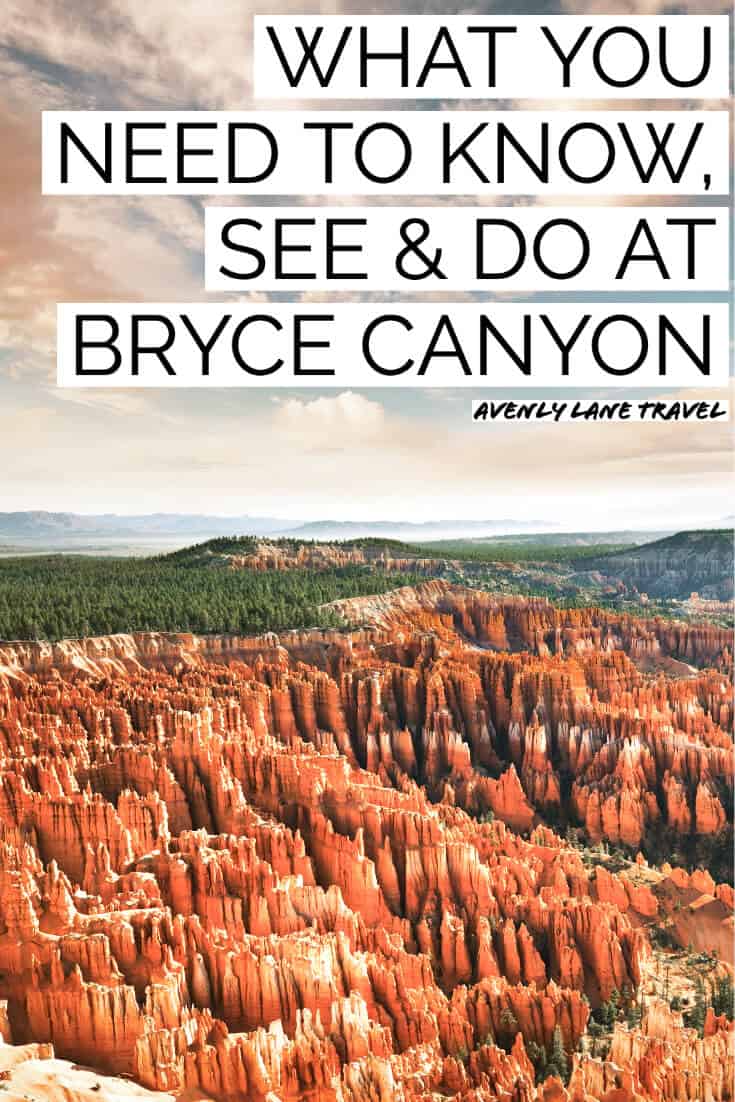 Best Bryce Canyon Viewpoints
For those that don't want to hike, there are 5 amazing viewpoints that you can basically drive to and get out of your car and be there. The top 5 viewpoints are Bryce Canyon Sunrise Point, Bryce Canyon Sunset Point, Bryce Canyon Inspiration Point, Bryce Canyon Bryce Point, and Bryce Canyon Rainbow Point.
Each of these can be the perfect spot to see the Bryce Canyon Sunset. Read more about each of them here.
The Best Hikes Bryce Canyon Offers
Listing the best hikes Bryce Canyon offers gets a little bit confusing because lots of the trails overlap, or start together and then branch off. Generally, the start at the top viewpoints. There are many more than the ones listed below, but below is a highlight of some of the most popular.
Bryce Canyon Trails
Bryce Canyon Trails are typically a lot shorter than trails in other national parks. This means that they are great to do in a day, but don't expect to spend a full week exploring.
Queens Garden Trail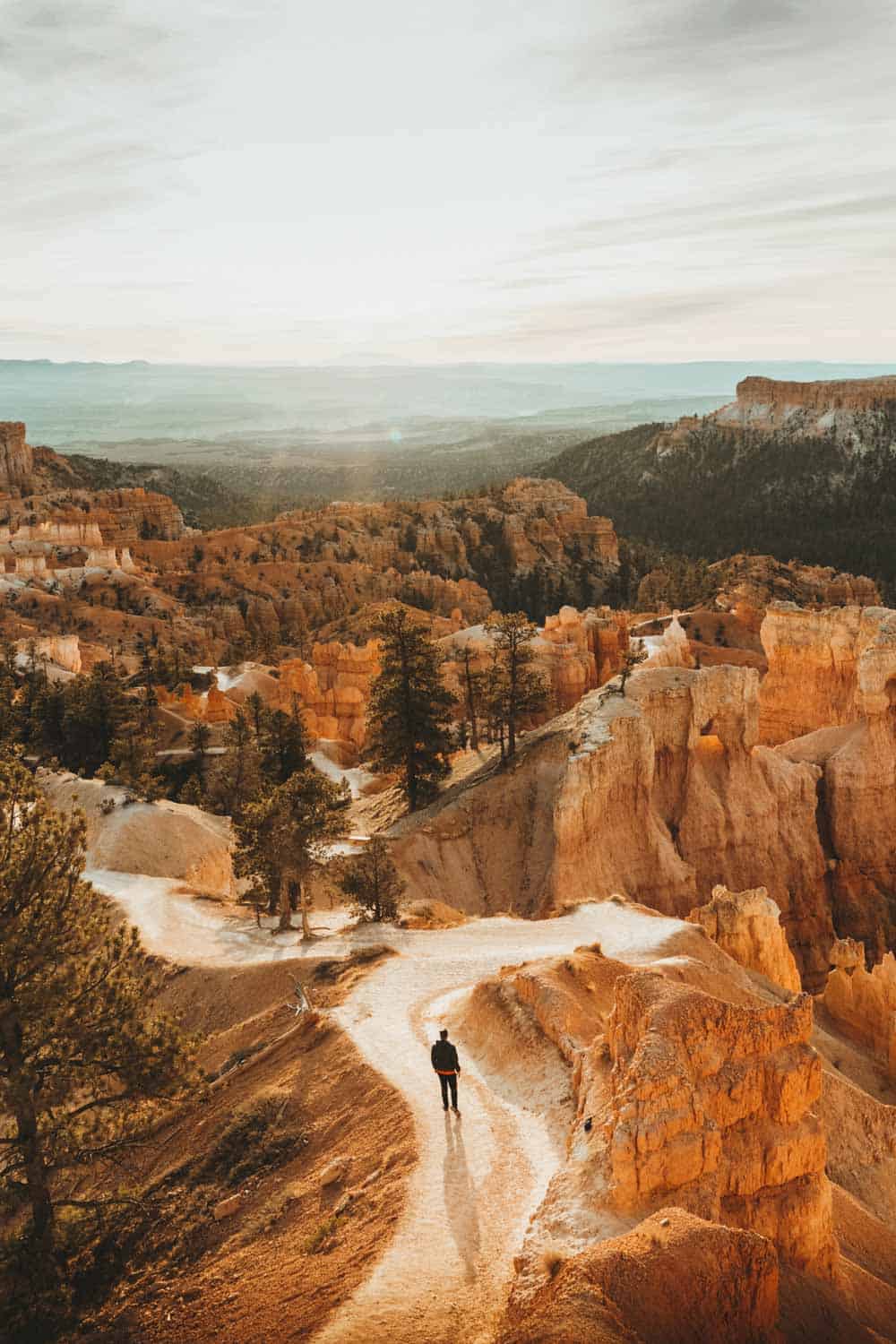 The Bryce Canyon Queens Garden Trail is one of the most famous in the park. It starts near the entrance at the Sunrise Viewpoint and descends into the Bryce Amphitheater. It's only about 1.8 miles, but is exciting for almost the entire duration.
As with a lot of Bryce Canyon hikes there are some steep cliffs off to the side of the trail, so be careful going down it with kids. The hike is basically straight down and then straight up. Not as bad as it sounds.
Navajo Loop Trail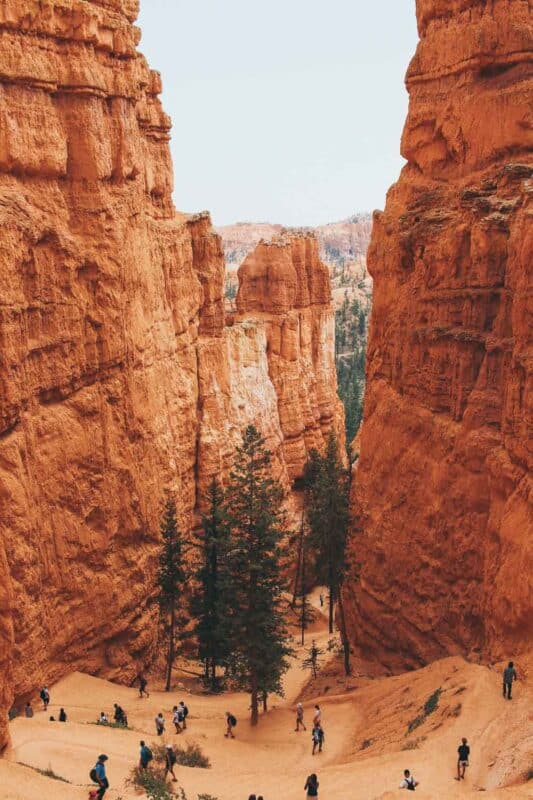 This is one of the most popular of the hikes Bryce Canyon offers. It is only 1.3 miles long, but the things you see along the way are amazing. The pictures speak for themselves, but it is famous for having formations named Thor's Hammer and Wall Street.
Side note – it is only a loop in the summer as snow blocks off parts of the trail in the winter. Even though people flock to this hike, I still recommend it.
Queens Navajo Combination Loop
You can combine the Queens Garden Trail and the Navajo Loop into one hike. The total hike is only 2.9 miles. If you only have time for 1 hike in the park, this is the one to do.
Rim Trail
The rim trail goes by a lot of the other trails so don't get confused. Basically, the Rim Trail just follows the rim of the canyon, not taking you down into it at all and while just get you from viewpoint to viewpoint. The total length is about 5.5 miles.
Bryce Canyon National Park Weather
Just because you are in the mountains of Utah, don't think taht the Bryce Canyon National Park weather will always be cool, it DEFINITELY gets hot. The elevation tends to keep it pretty moderate, but there are days where it will get hot. The average summer temperature is about 80 degrees Fahrenheit.
Also, be sure to check the weather report in the winter since heavy snow can often close many of the trails in the winter, and the average temperature is about 15 degrees Fahrenheit.
Bryce Canyon National Park Elevation
Bryce Canyon National Park elevation is a good bit higher than Zion National Park. At the rim, it is about 8,200 – 9,000 feet above sea level.
Bryce Canyon Hotels and Campgrounds
There are a lot of Bryce Canyon Hotels and plenty of opportunities for camping Bryce Canyon National Park. Make sure you look to see just how close a property really is though as some are still a pretty good distance from the park. Read about the one we stayed at and highly recommend (Ruby's Inn) here.
How to get from Zions to Bryce Canyon
If you want to get from Zions to Bryce Canyon you only need to drive about 1 hour and 20 minutes. Zion National Park is amazing, but Bryce Canyon offers a completely unique perspective on its own, so you definitely should include it on your trip as well.
Bryce Canyon is only a 4 hour drive from Salt Lake City, or a 4 hour drive from Las Vegas. If you are going to be driving through the area, then you have to include it on your itinerary.
Bryce Canyon Map
They give you a map at the entrance of the park (linked here).
Bryce Canyon is an amazing national park. I highly recommend stopping in if you are anywhere close to southern Utah.