The Bryce Canyon Queens Garden Trail is one of the most famous in the park (second to the Navajo Loop Trail – read about that hike here). It's popularity is partly due to the easy access and short distance. It starts near the entrance at the Sunrise Viewpoint and descends into the Bryce Amphitheater. It's only about 1.8 miles, but is exciting for almost the entire duration.
As with a lot of Bryce Canyon hikes there are some steep cliffs off to the side of the trail, so be careful going down it with kids. The hike is basically straight down and then straight up. But don't worry, it isn't as bad as that might sound. While I don't recommend this, for what it's worth, I did the hike in flip flops without issue.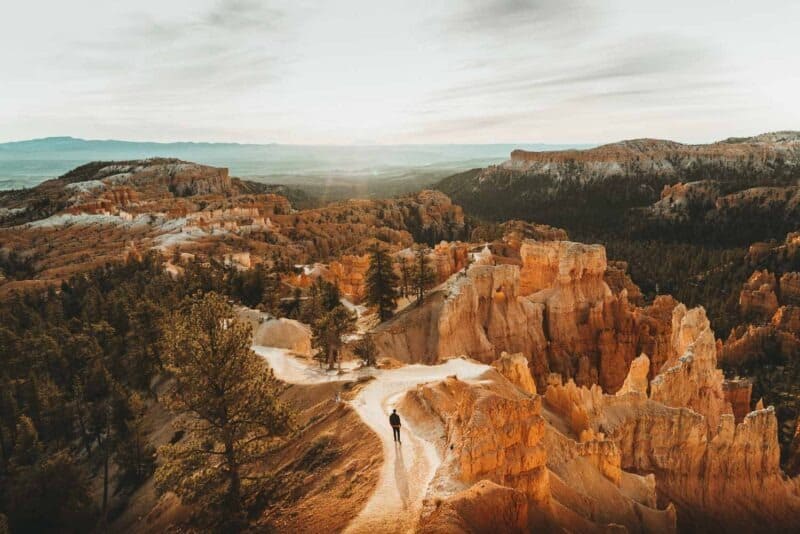 Parking: Parking for the Queens Garden hike can be found in the Sunrise Point viewpoint parking lot. It is also accessible from Sunset Point a little further south.
Difficulty: Easy
Length: 0.9 miles to Queens Garden, 1.6 miles to the Navajo Trail, 1.9 miles to the Peekaboo Trail
Elevation change: 500 feet
Length: 0.9 miles to Queens Garden, 1.6 miles to the Navajo Trail, 1.9 miles to the Peekaboo Trail
Trailhead: Sunrise Point; also accessible from Sunset Point
Best time to go: April-October