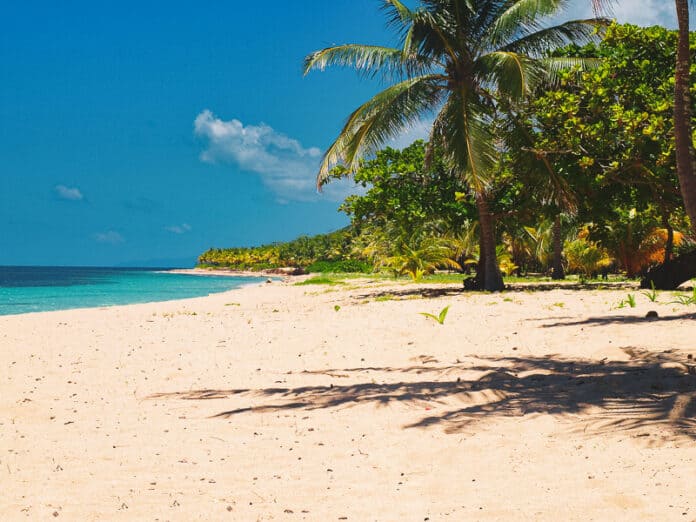 The Beach at Camp Bay Roatan is so underrated!
The beach at Camp Bay Roatan is most underrated on the entire island. Supposedly if you ask the locals what they think of it they will tell you that it is terrible to try and keep word from getting out about how amazing it is.
If you are willing to make the drive to the Far East side of the island you will not disappointed! Roatan is a gorgeous island off the coast of mainland Honduras that sits next to the second biggest reef in the world.
What this island doesn't have is a ton of sandy beaches. For those willing to make the approximately 1 hour drive to the far eastern end of the island, they will be awarded with one of the most gorgeous and sandy beaches, with (this is the best part) almost no crowds whatsoever!
It is so rare to have a beach this nice not be overrun with crowds. It keeps its anonymity due to it being relatively far away from the tourist infrastructure and most Roatan visitors only being on the island as part of a one day cruise stop.
Quick Tips
Known for: only a few locals being on the shore
Water Color: clear turquoise
Good for: avoiding crowds and wide stretch of sand
Not so good for: area amenities
Facilities: trash cans only
Lifeguards: definitely not
Parking: large lot with no charge
Cost: free
Difficulties: part of the road is dirt/crumbling, but still able to be driven in a standard rental car
Camp Bay Location
There is basically one road that goes all the way across the long skinny island that is Roatan. It I definitely not a highway, so it is fairly slow moving. Thankfully there won't be a lot of traffic and the entire island is only about 40 miles long and 3 miles wide.
This beach is at the Far East end of the island. Almost all of the tourism infrastructure and most of the population is on the west side of the island. It takes about an hour to drive here from the center of the island, and about an hour and a half from the western end.
What To Expect On The Beach
The beach is likely to be fairly empty. You will likely only encounter a few other locals that live in one of the nearby fishing villages. You will not find hotels and restaurants, only a couple convince stores in the area.
Roatan has access to world class coral reefs, but doesn't have a ton of sand. Camp Bay Beach is one area that actually has a wide and long stretch of sand for you to spread out on.
On this part of the island the waves are a little bit choppier, but don't expect anything close to crashing waves since that hardly ever happens in the Caribbean.
Potential Drawbacks
The only drawbacks worth noting about this beach are the drive being a little bit bumpy, lack of facilities, and the mosquitos.
There are no real facilities on the beach other than trash cans so be prepared. This means that there won't be lifeguards, bathrooms, and restaurants. There are sometimes vendors available that will set up sun lounger chairs on the beach for a cheap price (about $5) but don't bank on them being there.
There are plenty of trees for you to relax in the shade if the sun gets too bright, but there also are hungry mosquitos at time. Make sure to pack bug spray to help.
The drive also requires the final stretch to be driven on a crumbling/dirt road. This happens on a few places of Roatan, but it is able to be driven in a rental car if you go slow.
Conclusion: Is the beach at Camp Bay worth visiting?
I am shocked that this beach isn't more popular. While it isn't as great for snorkeling as other parts of the island I fully expect the secret to get out and this beach to become more and more popular in short order. Enjoy it while you can before the big hotels and condos inevitably end up going in.