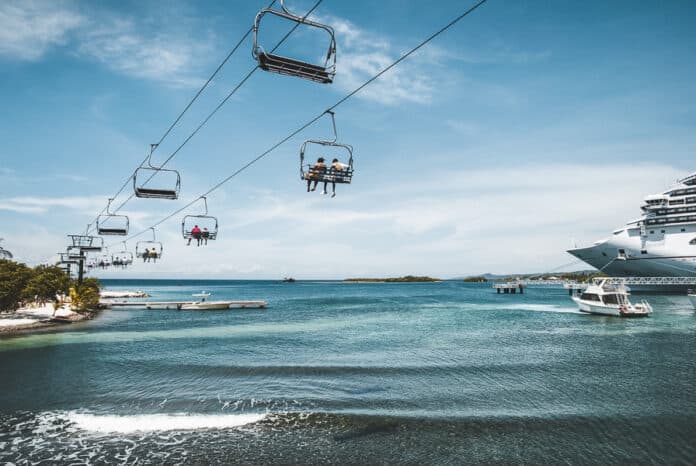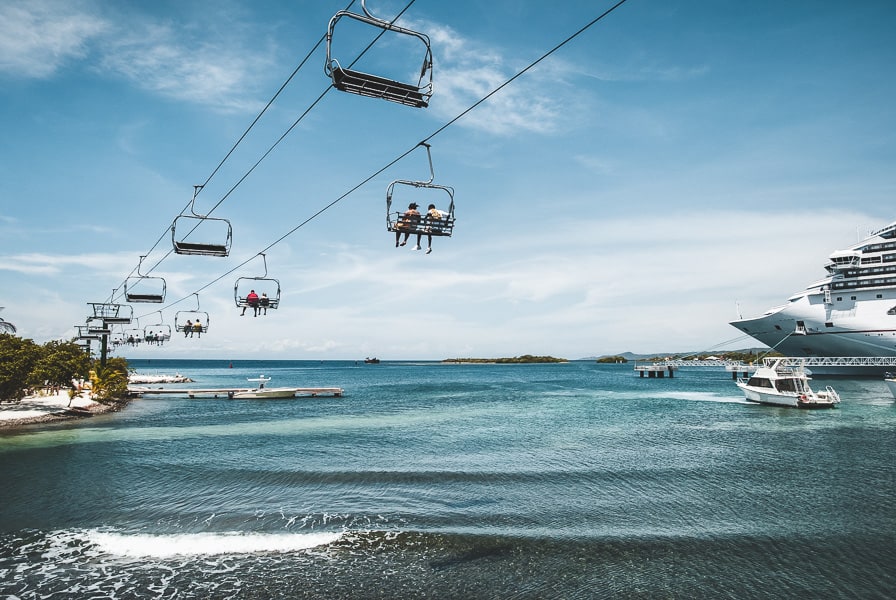 Mahogany Bay Honduras – Everything you need to know before visiting
WTF is up with Mahogany Bay Honduras? There are a lot of confusing things and even misinformation out there about the Mahogany Bay cruise port and Mahogany Beach, so let me help you set the record straight.
First off, Mahogany Bay and Mahogany beach is a private beach and resort area built by Carnival Cruise lines that is only open to cruise passengers. If you are staying on one of the island resorts I'm sorry, Mahogany Bay Roatan is only available for boat passengers as one of their on shore excursions.
Second, yes this beach has a chair lift like you would see at a ski resort to take visitors from the port of Mahogany Bay to the gorgeous white sand and shimmering turquoise water of Mahogany Beach.
This isn't the only unique thing about this area; read on to see what else you need to know about Roatan Mahogany Bay!
Quick Facts
Other Names: Carnival Beach, Mahogany Bay Beach, Mahogany Beach, Mahogany Bay Cruise Port
Known For: Being a cruise stop and excursion launching point. It's gets crowded then deserted.
Facilities: Everything you could imagine at a beach, soft sand, clear water, restaurants, shops, bars, all sorts of water activities, and even a chair lift.
Parking: Big enough for your cruise ship!
Cost: free for cruise passengers, and the Mahogany Bay chair lift is $14 for adults and $8 for kids
Other: Only open to cruise guests
Development of Roatan Mahogany Bay
Carnival Cruise lines spent over $60 million developing this beach complex as a day stop for their cruise passengers. They built up the entire area to make it a perfect pit stop. There are restaurants, bars, lounge chairs, water sports, and access to all other types of island excursions.
Even though they offer a ton of tour packages, a lot of people simply enjoy the sand and never leave the beach (included in your cruise).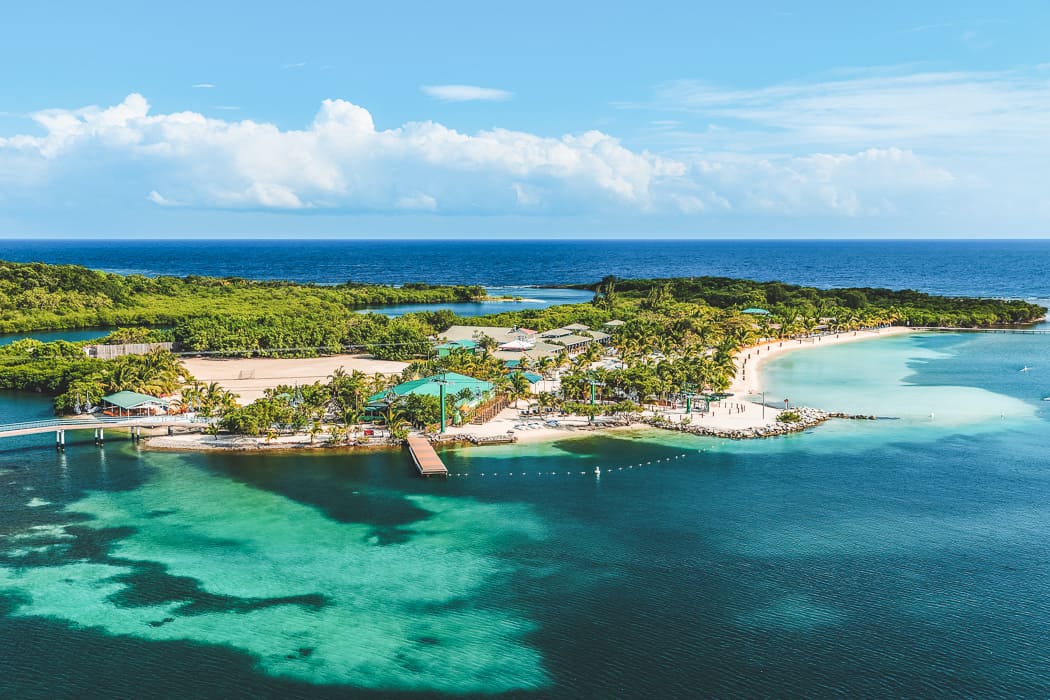 Why does Mahogany Bay Carnival Exist?
Roatan Honduras only has a couple sandy beaches. While the waters off the shore are pristine, there just isn't a lot of sand. Carnival built their own beach so that their passengers would have a place to lounge for the day, otherwise there wouldn't have been enough sand for everyone.
Where is Mahogany Bay?
So where is Mahogany Bay? It is located on the south side of the island of Roatan. Roatan is one of the bay islands that is about 30 miles off the coast of Honduras.
Even though Roatan is part of Honduras, it does NOT struggle with the safety concerns of the mainland part of the country.
If you fly into the island of Roatan you will land at Coxen Hole, which is extremely close to Mahogany Beach.
Getting to Roatan Mahogany Bay Beach
You could drive to Mahogany Bay Cruise Port in 10 minutes if coming from the Coxen Hole airport, but they won't let you enjoy the beach if you do.
Mahogany Bay Cruise Port
Obviously most people get to this wonderful beach by cruise ship. Ships itineraries usually leave a full day at this port, and the beach is in the same complex. For those that want to lounge on the sand they can stay at the shore all day.
Mahogany Bay Chair Lift
The genius Mahogany Bay Chair Lift transports visitors from the ship to the actual beach (from where you get off the ship). You do have to pay to use it, but if you don't want to you can simply walk around. The walk to the beach takes about 10 minutes if you don't want to wait for the chair lift.
It currently costs $14 for adults and $8 for kids round trip. It doesn't actually save a lot of time to take after you take into account paying and getting in line.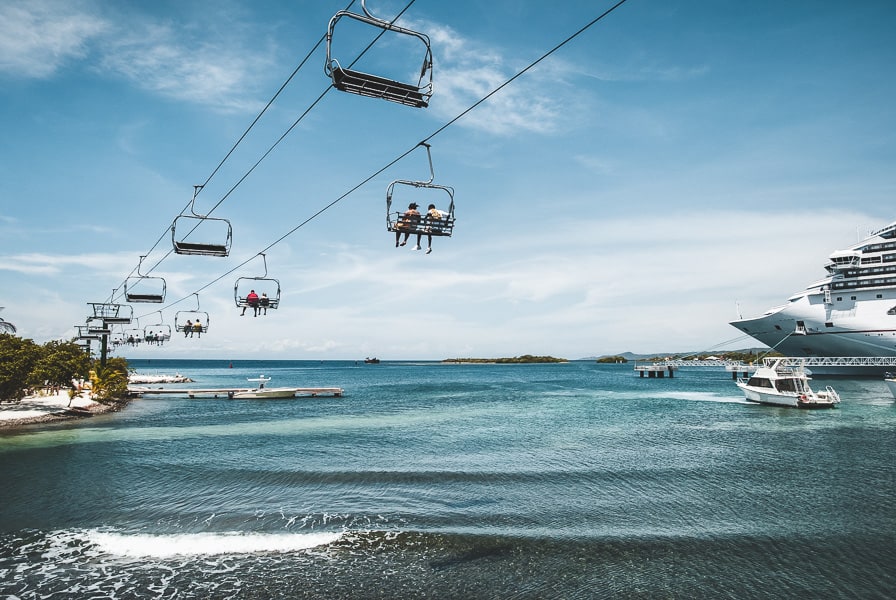 Things To Do In Mahogany Bay
There are a ton of different things you can do aside from lounging on a pretty beach. There are plenty of restaurants, bars, and shoppings for buying the merchandise you would expect. Starting out there are lockers and showers.
There are also rentals of all the water toys and equipment you would want to play with as well (paddle boards, kayaks, snorkel gear etc). There are sand volleyball courts if you are feeling sporty. If you are feeling sick there is even a pharmacy in Mahogany Bay.
There is even WiFi for $5 a day if you want to catch up on your TikTok feed!
Save Money By Booking You Own Excursions Outside The Ship
The cruise line offers a lot of great excursions. There are so many unique and fun things to do on the island, and with it being relatively small you can book an independent tour, get picked up and dropped off back in time to get back on the ship.
Mahogany Bay Snorkeling Excursions
Some of the best recommendations are a snorkeling tour of the Gumbalimba Eco-Adventure and animal park. The world famous Mesoamerican coral reef is just off the shore of the island of Roatan, so the most obvious choice is to snorkel or scuba to see the vibrant underwater sea life.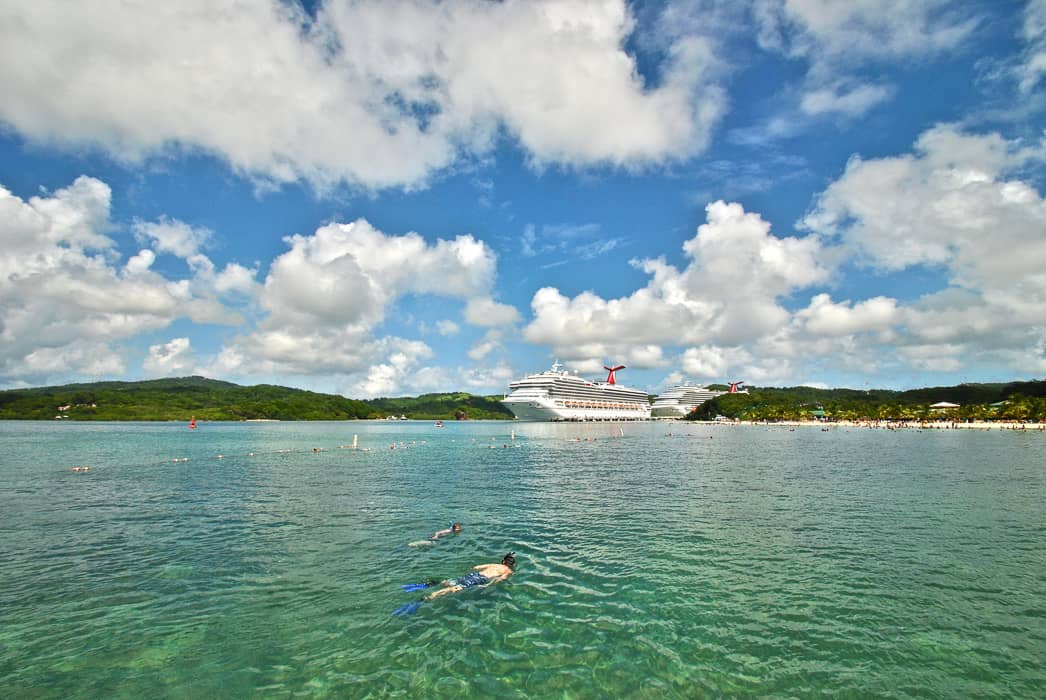 Drawbacks of Mahogany Beach Roatan
When a whole cruise ship disembarks the beach can get packed. Also, not surprisingly the restaurants and bars are more expensive than on other parts of the island.
Roatan is located just off of the second biggest coral reef on earth! When visiting Roatan Mahogany Bay you are so close to the coral metropolis of the Mesoamerican coral reef. It is a shame to not snorkel or dive when in Roatan. The biggest negative of Mahogany Bay Beach is that it isn't on the reef.
Roatan has beaches that are directly on the reef, as in you can swim out to them from the shore and don't even have to book a boat tour.
If you do want to book a tour though, there are great tours available that even leave from Mahogany Bay.
Conclusion on Mahogany Bay Honduras
While Mahogany Beach Roatan is a gorgeous beach, I hate that it doesn't have direct reef access like so many other beaches on Roatan.
If snorkeling and diving isn't of interest to you then this beach should still be perfect for a million other reasons!