Gjógv is a small village in the Faroe Islands with a population of just 49 local residents. There is one hotel, the Gjaargardur Guesthouse Gjogv.
What makes Gjogv so special?
Gjógv has one of the most epic natural harbors in the Faroe Islands. Besides it's incredible natural beauty.
Where is Gjógv located?
Gjógv is located on Eysturoy Island in the Faroe Islands.
Despite being only 40 miles (63 km) from Tórshavn (the capital in the Faroe Islands), this sea side village can leave you feeling like you are on another planet. Completely disconnected from reality and society. It's a rare gem to find in 2023.
How to get there
If you are staying on any of the other islands you will have to drive through an underwater tunnel. The toll for these tunnels is DKK 100 per ($14 USD) drivethrough and will be added to your car rental bill.
Note – There actually is a workaround for avoiding the tunnel fee if needed. There is a bridge that connects Streymoy with Eysturoy Island. I took it on my way home from Gjógv and it saved me some money.
Find the cheapest Rental Cars in the Faroe Islands.
The drive to Gjógv
There are no words to describe the sight I saw driving on Eysturoy Island on my way to Gjógv.
Videos don't do it justice. Photos definitely can't explain it.
I saw hundreds (yes, hundreds) of towering waterfalls falling down gorges, mountains, the side of the road. It was such an unbelievable sight I almost couldn't believe it was real.
How does a place like this actually exist?
And how have they stayed hidden for so long?!
My favorite island so far! (Entry taken from my journal I wrote while there) It feels much more remote than Streymoy (the main island I stayed on).
Note: it was raining the day I drove up so I'm sure the waterfalls get much bigger and more spectacular in the rain.
Where to Stay in Gjogv
There is enough to do in the area that it would be awesome to stay a night or two here.
Parking in Gjógv
From my understanding the only public parking is here.
I was a little confused because other tourists seemed to be parking in the actual town, right by the Gorge but after getting yelled at by a local in another village I decided not to risk it and park where I knew I wouldn't get in trouble.
Best Things to do in Gjógv
Gorge Natural Harbor
Gjógv Church
This church dates back to 1929 and was the first in the Faroes to conduct a sermon in the Faroese language.
Take photos by the river that runs through the village
The day I was there the river was raging! There is a small bridge where you can cross the river or take photos from. I loved this spot.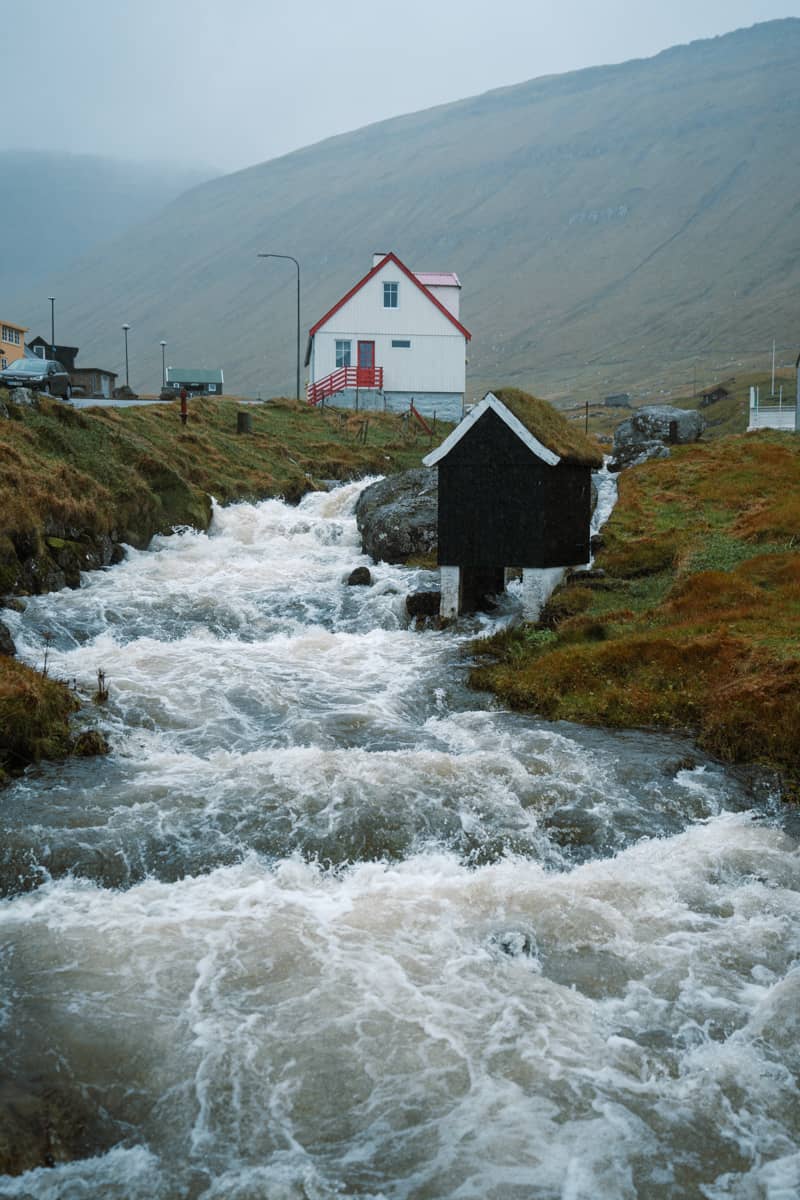 Watch the Rough Waters of the North Atlantic Crash into the cliffs
If you are there during the stormy season (autumn and winter) you are in for a real treat. I sat and watched the waves crash into the mountains for probably an hour. It was just so peaceful. Like nature therapy. It was exactly what I needed.
FAQ:
Gjogv Faroe Islands population
49 people as of 2023.
Other things to do on Eysturoy Island
Hvíthamar is a vantage point above the village Funningur in the Faroe Islands.