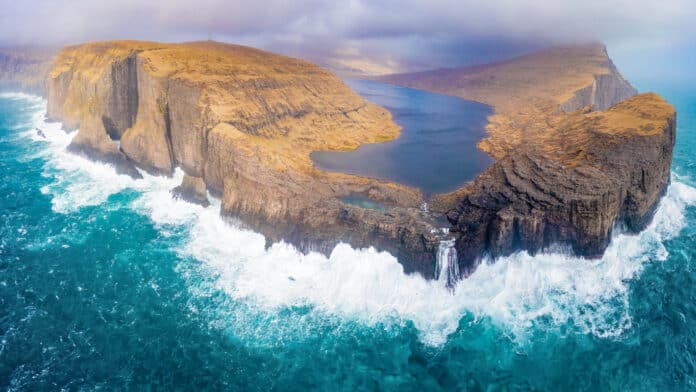 If you know anything about the Faroe Islands, then you have probably seen Lake Sørvágsvatn! This is the lake that literally appears to float above the ocean on top of a rugged cliff. It is also called Lake Leitisvatn, as well the area being called Traelanipia or the Slave Cliffs. Regardless of how you refer to it, this is the spot!
The pictures are truly breathtaking, but hiking to and around this area is even better in person. I recommend it as the top thing to do in the Faroe Islands.
Lake Sørvágsvatn Hike Details:
Location: Vágar Island (15 minutes form the airport)
Trailhead: Trælanípa/Bøsdalafossur car park, Miðvágur | Google Maps
Cost: 200 DKK per person ($28 USD) (ages 16+)
Length: 7.2 km (around 4.5 mile) out and back trail
Route type: Out and back
Duration: 1.5 to 2 hours
Total elevation gain: 110 meters (360 ft)
Difficulty: Easy (the very end of the hike to the viewpoints is quite steep though)
Lake Sørvágsvatn or Lake Leitisvatn?
The names can be a little confusing when trying to figure out this hike.
Lake Sørvágsvatn is also called Lake Leitisvatn.
The two names can and will be used interchangeably. I still have no idea why. If anyone knows, please fill us in below!
The Cliffs – The actual cliffs where you hike to in order to view the lake above the ocean are called Traelanipa, which translates to Slave Cliffs in English.
The Hike – The hike is called Trælanípa and Bøsdalafossur waterfall hike, but it also goes by the Lake Sørvágsvatn Hike.
Hopefully that helps! I was quite confused with what was what when I began my research. If you look at AllTrails, you will see they just mash a lot of the names together!
Trælanípa and Bøsdalafossur Hike Trailhead & Parking
At the trailhead you will see a large parking lot. It is free to park there were plenty of spaces available each time I was there.
The google link below will give you the exact coordinates of the trailhead. I recommend using the exact coordinates I linked below. Google Maps isn't completely accurate in the Faroe Islands.
Exact Location: Google Maps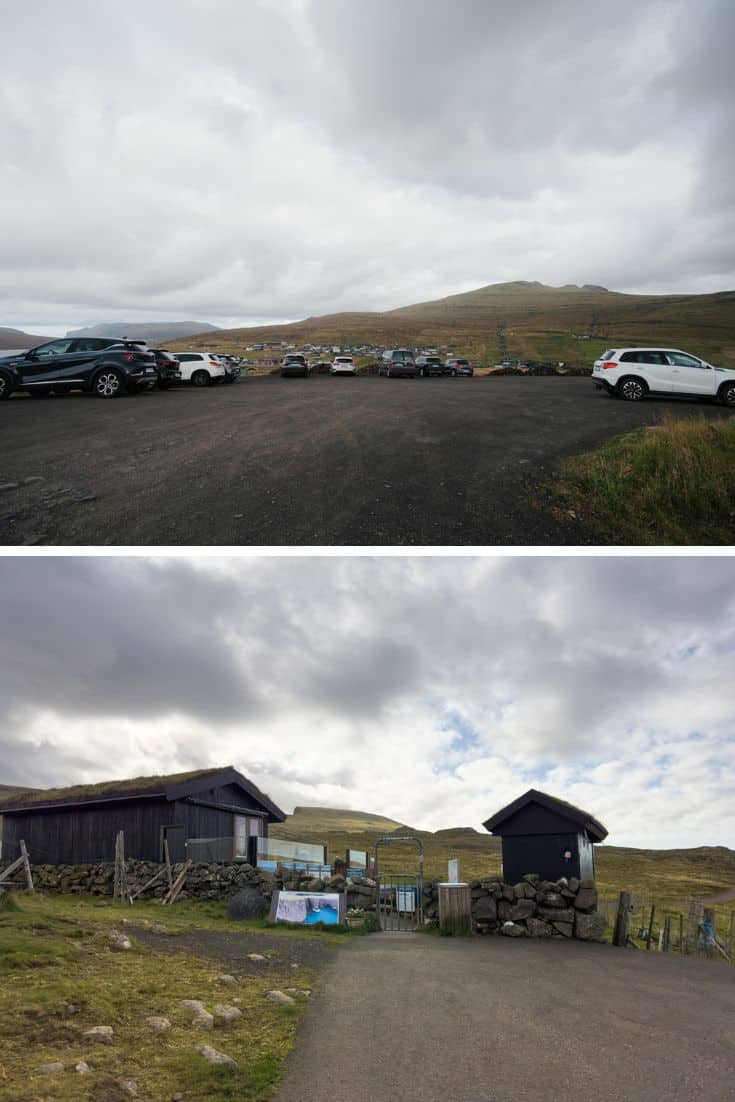 Restrooms and picnic tables at the Trailhead
There are restrooms located at the trailhead. There are also picnic tables and a mini store at the trailhead.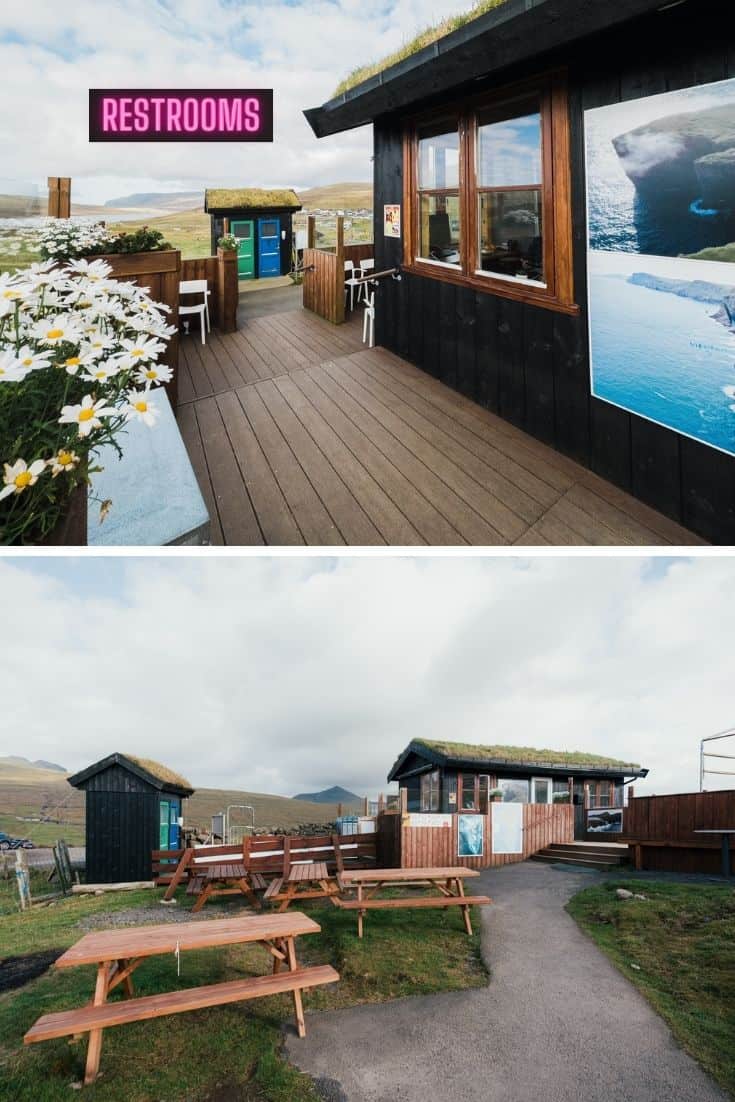 Cost of Hike & How to Pay
When I arrived I felt kind of awkward and did not know where to pay. I wasn't the only one that was confused as another couple asked me where to pay. We quickly figured it out together though.
How to pay
To start the hike you will have to go through the main gate and pay at the register inside the tiny shop pictured above.
Cost: Hiking to Sørvágsvatn will cost you 200 DKK ($28 USD). You can pay with cash or card. The store also has drinks and snacks.
Yes, 200 DKK is a lot, but it is totally worth it! Don't let the price stop you!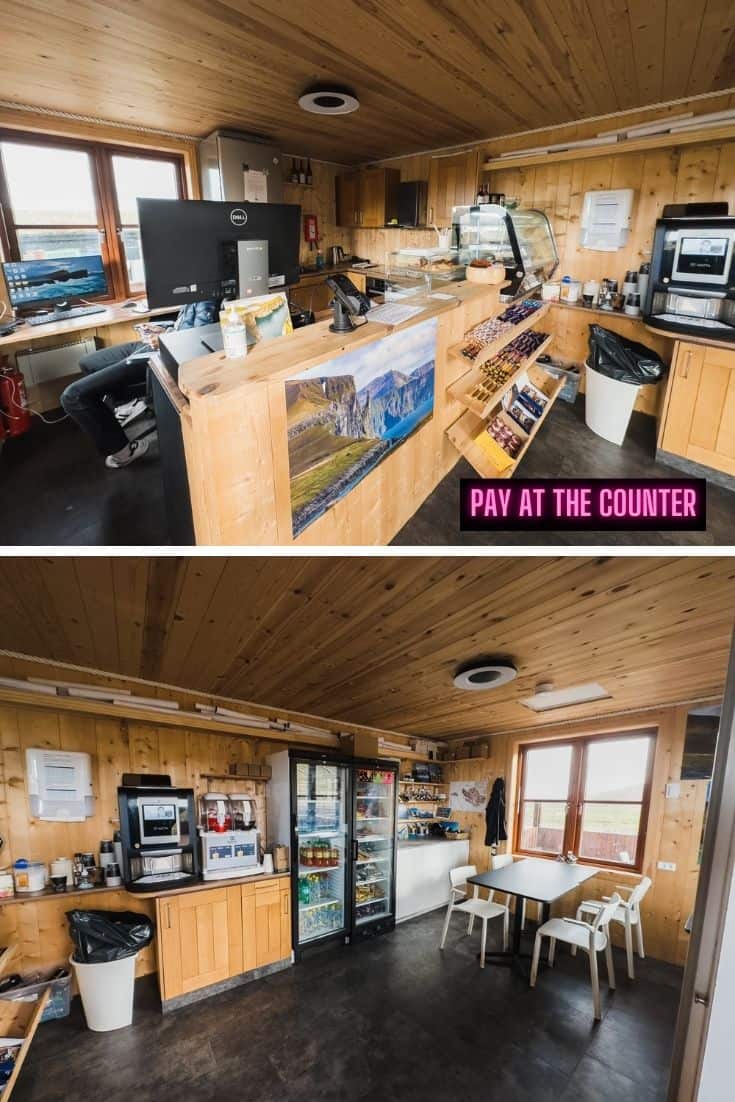 Hike to Trælanípa and Bøsdalafoss Waterfall
Trælanípa translates to Slave Cliff and supposedly got its name from the Viking Age when they use to push disobedient slaves off the cliff. Yikes. Some things are better left untranslated.
The cliffs are a whopping 500 ft (about 152 meters) high! You can check out the video below to see just how high they actually are.
I highly recommend a good pair of waterproof shoes as the path can get muddy if it has rained recently. I wore my waterproof Saloman hiking boots; they've never let me down. Technically they are mens, but they also offer women's sizing.
Beginning of Hike
The hike is easy and almost entirely flat. The path is well paved so you won't ever hit a point where you aren't sure if you are headed the right way.
You will walk along lake Leitisvatn the entire way to the Trælanípa cliffs. I have heard some say the hike to the viewpoint is underwhelming, but I was in awe the entire way.
You will pass a few little streams running down the hill. Usually the streams are not deep enough to get your feet wet unless it is actively raining.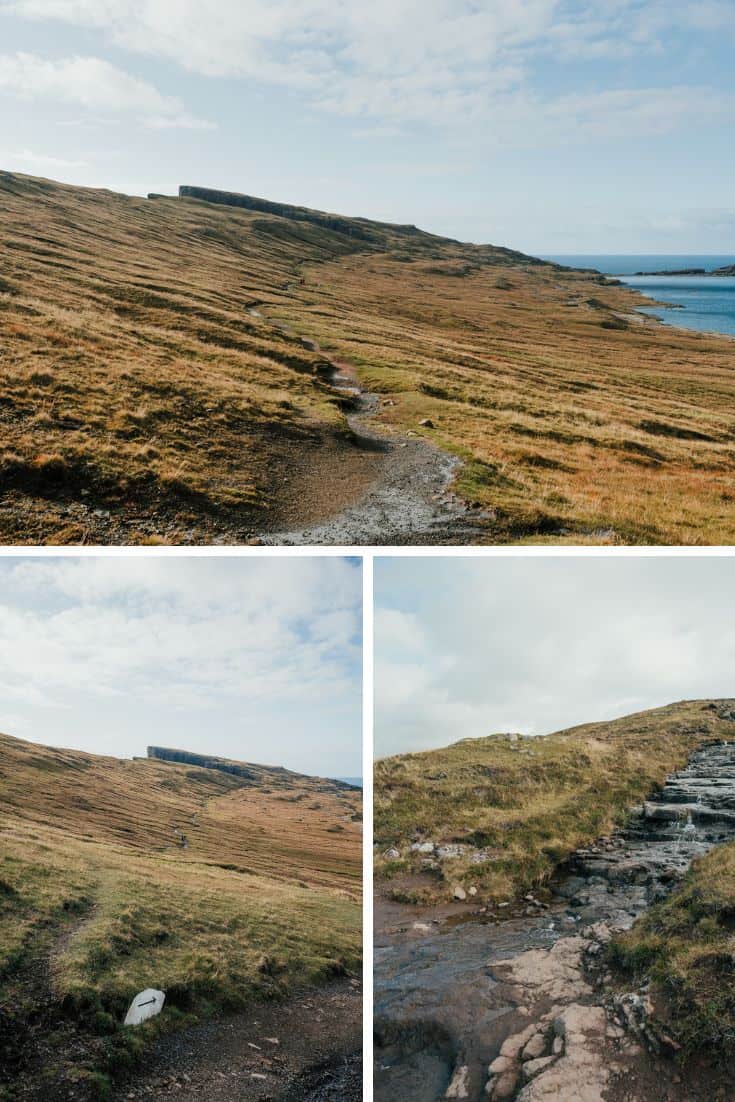 Hike to the viewpoint
This is the only part of the hike that gets steep. I will admit I was pretty winded climbing up the stairs to the top. But wow, the first viewpoint incredible! It is easily worth the hike and small climb. No pain no gain.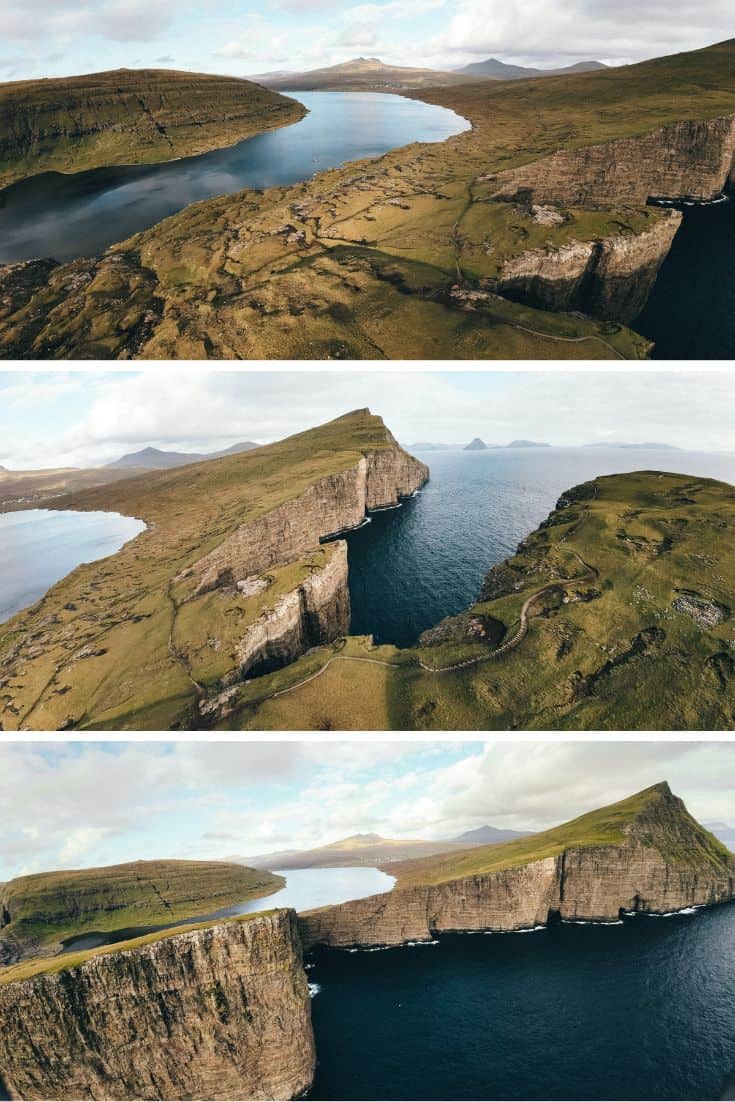 One trail splits into three trails at the first viewpoint
The only time I got confused was at the first viewpoint.
There are multiple paths that will lead you different directions and I wasn't sure which path to take.
Basically two of the paths will lead you up to two separate cliffs and the one path will take you to Bøsdalafossur waterfall. They all end fairly quickly so don't be too worried about choosing incorrectly as it is easy to backtrack.
I recommend taking the time to explore all three paths to get different viewpoints.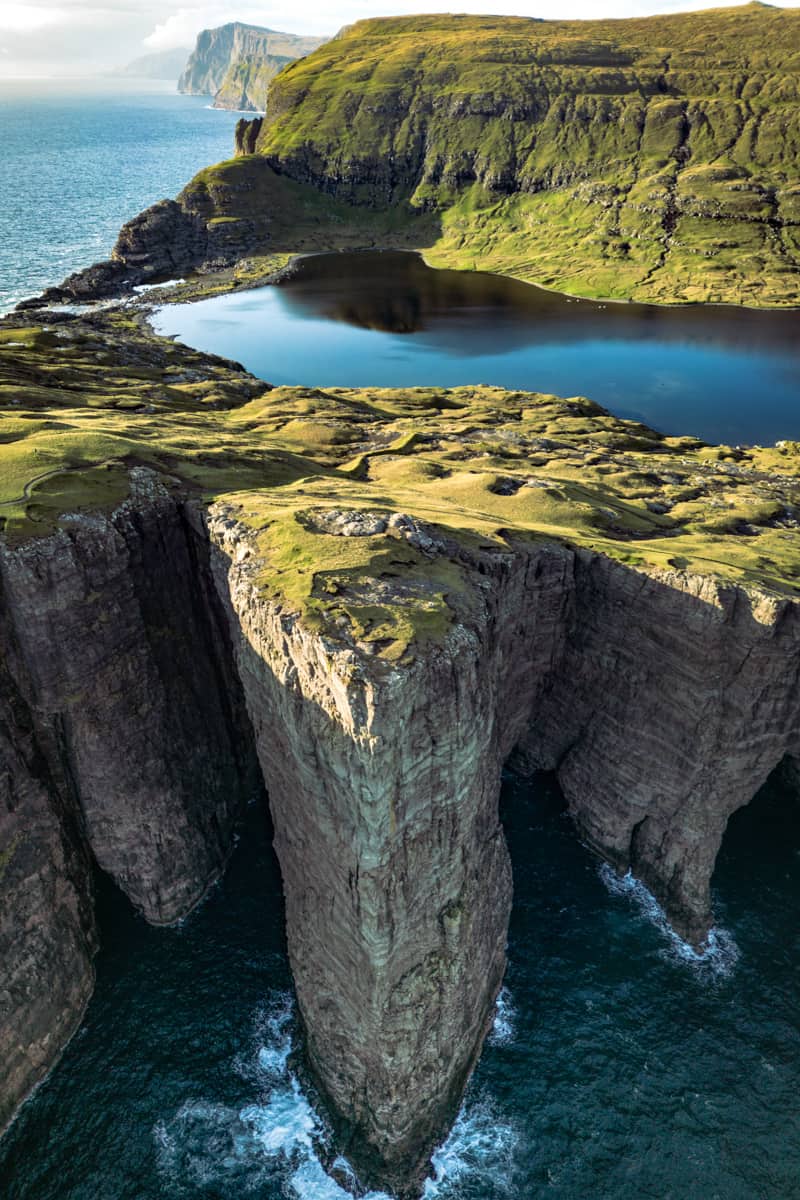 The Hike to Bøsdalafossur Waterfall (Worth it!)
The Bøsdalafossur Waterfall often gets overlooked because it is not "the main attraction." Not me, I was blown away with how cool it was.
The waterfall flows from Lake Sørvágsvatn (also known as Lake Leitissvatn) into the Atlantic Ocean. The falls themselves are 38 meters or about 125 feet high.
What is especially interesting is that lake is about 60 meters or 200 feet deep. This means that most of the lake is actually below sea level. The steep cliffs are holding back a massive amount of fresh water.
How tall is Bøsdalafossur Waterfall
The falls are almost 100 feet high (30 meters).
Bøsdalafossur Waterfall is the outlet of the lake where the water flows into the North Atlantic Ocean. The lake doesn't drain because the mountains that surround it keep the water in.
Hiking to Geituskorardrangur
Geituskorardrangur rock formation is just beyond Bøsdalafossur waterfall. It is 116 meters (380 ft) tall!
The best views of this sea stack are from Bøsdalafossur waterfall.
If you are already at Trælanípa you only need to walk for an additional 10 minutes to be able to see this gorgeous sea stack.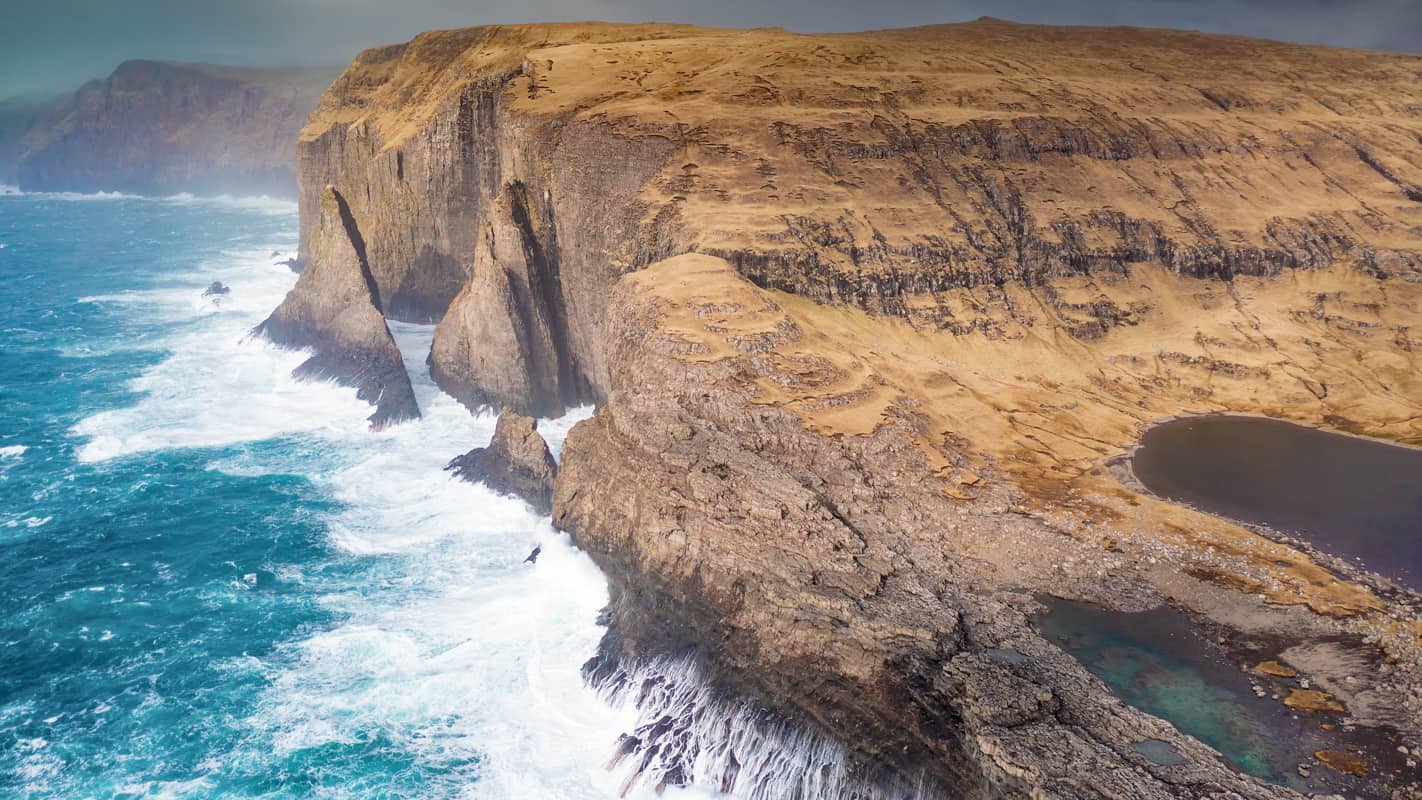 Sørvágsvatn Lake Info
Sørvágsvatn is the most famous Faore Islands lake. Once again, you will walk along Lake Sørvágsvatn during the entire duration of the hike.
Sørvágsvatn is the largest lake in the Faroe Islands, and is also known as "the lake on the ocean."
How deep is Lake Sørvágsvatn?
The maximum depth is about 60 meters or (200 ft) – it is filled like a basin below sea level.
How To Get to Sørvágsvatn
The drive from the capital of Torshavn takes about 45 minutes, while the drive from the airport will only take you about 15 minutes.
How much time should you plan for the hike?
This will depend entirely on your travel style. If you're my husband, you will rush and only take 45 minutes to get there, 10 minutes for photos, and 40 minutes back to rush back to the car.
Total time – 1.5 – 2 hrs
If you are me, I took about an hour to get there taking pictures along the way. I then spent a couple hours at the first couple viewpoints taking more photos, flying my drone, and trying to find new viewpoints. Then headed to Bøsdalafossur waterfall and explored around there until sunset. By the time I was back at my car, it was dark.
I arrived at the hike at 9:30 am and got back to my car around 7 pm.
Total time – Entire day
I loved every second of it. I would say my absolute minimum recommendation would be to give yourself at least 2 hrs. Most travelers would probably be fine with 2 to 4 hrs there.
Conclusion: Is the Lake Sørvágsvatn hike worth doing?
The hike to Trælanípa and Bøsdalafoss waterfall was my favorite hike in the Faroe Islands.
Also, don't sleep on the Bøsdalafoss waterfall. I almost didn't go because it wasn't "the main attraction", but it was way cooler than I was expecting. I am so glad I went!