You may have seen Petra in the movie Indiana Jones and the Last Crusade. In the movie you see Harrison Ford entering an absolutely gorgeous building carved out of the side of a gigantic rock. Everyone that sees it is instantly impressed; the effect is even more powerful in person.
Petra Hotel Recommendations
Of the places we stayed near Petra, this was my favorite and a place I would love to return to:
Where to Stay in Petra: BEST OVERALL – One of the best hotels in Petra is the Petra Marriott Hotel. It offers you luxury accommodations at an affordable price. Check out the latest prices and more details.
The location was perfect! This hotel is directly on top of a mountain looking down at the Petra complex. The views are spectacular.
The property was luxurious, the staff was amazing, and the on site restaurants had delicious options that satisfied my super picky husband and my food allergies!
Not only does the complex have an affordable pool and spa (w/ saunas), but they also had local artisans come through and make their crafts just outside the lobby. We couldn't help but stop and stare.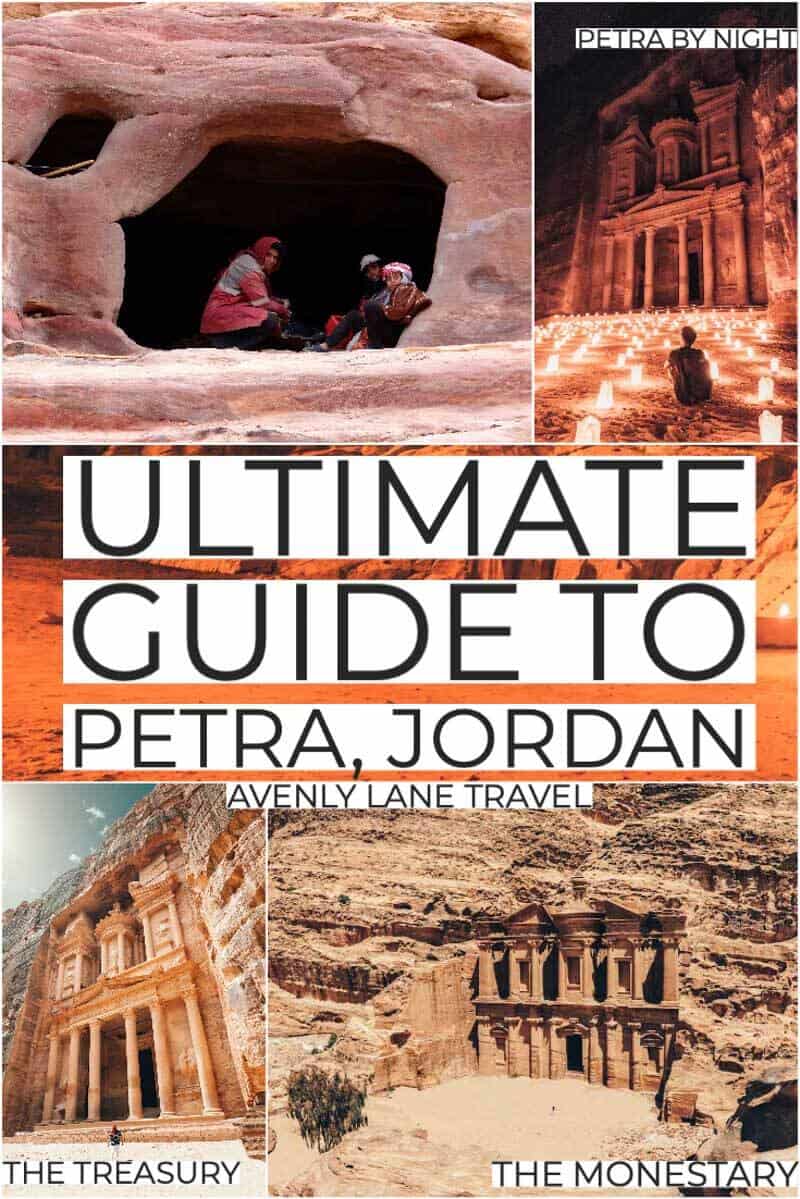 Who built Petra?
The CITY of Petra was built by the Nabataeans in the 6th century BC – i.e. it is really old! Most of the world had no idea the entire complex existed until it was "discovered" in 1812.
What's Inside Petra?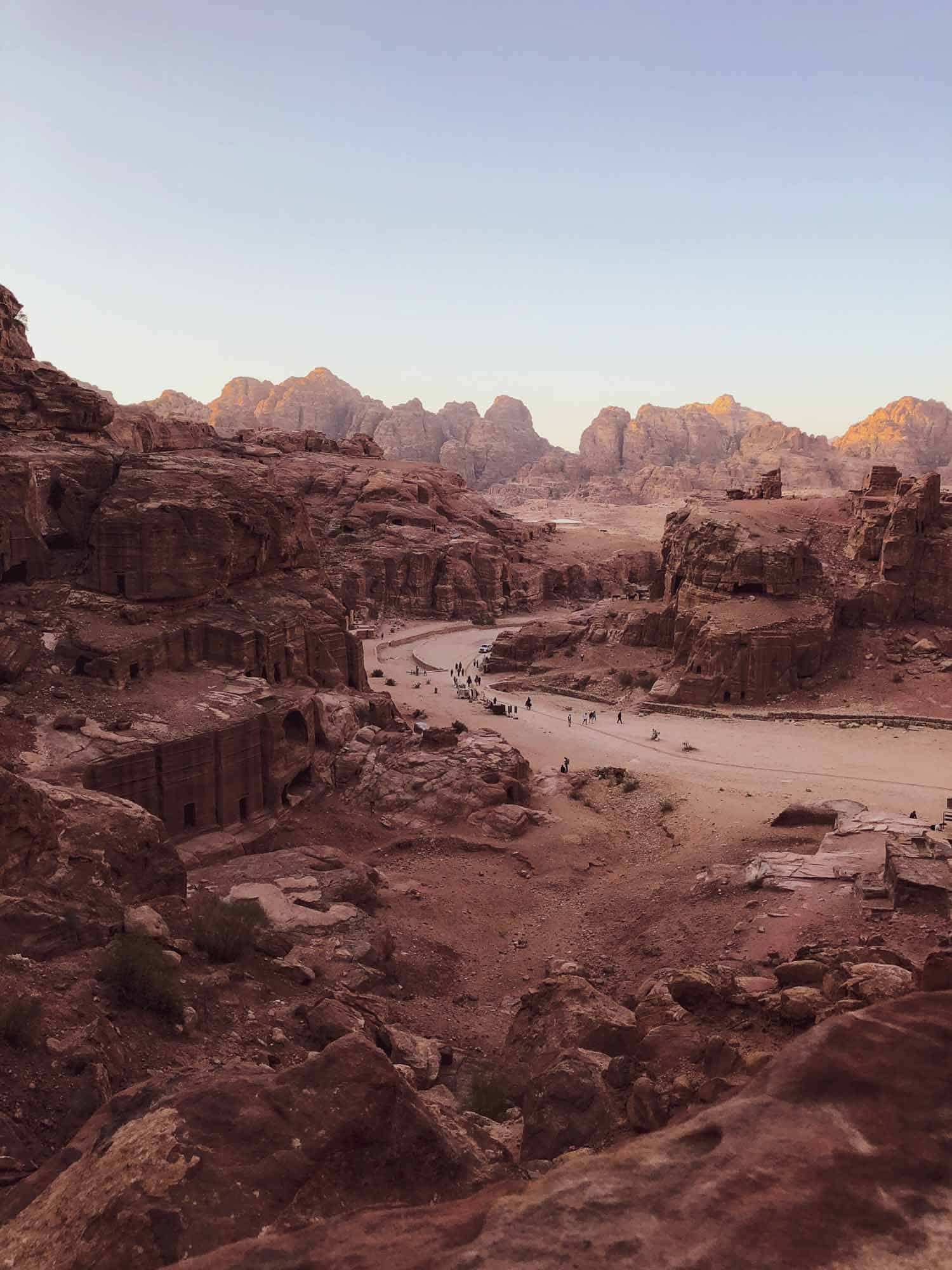 So what's inside Petra? And what can you expect when you walk in? What they don't tell you in the movie is that the beautiful building carved out of the side of a gigantic rock is only part of a much bigger city complex. The building you most commonly see is call The Treasury, but this gigantic complex (Petra city) has much more to explore.
The Petra Monastery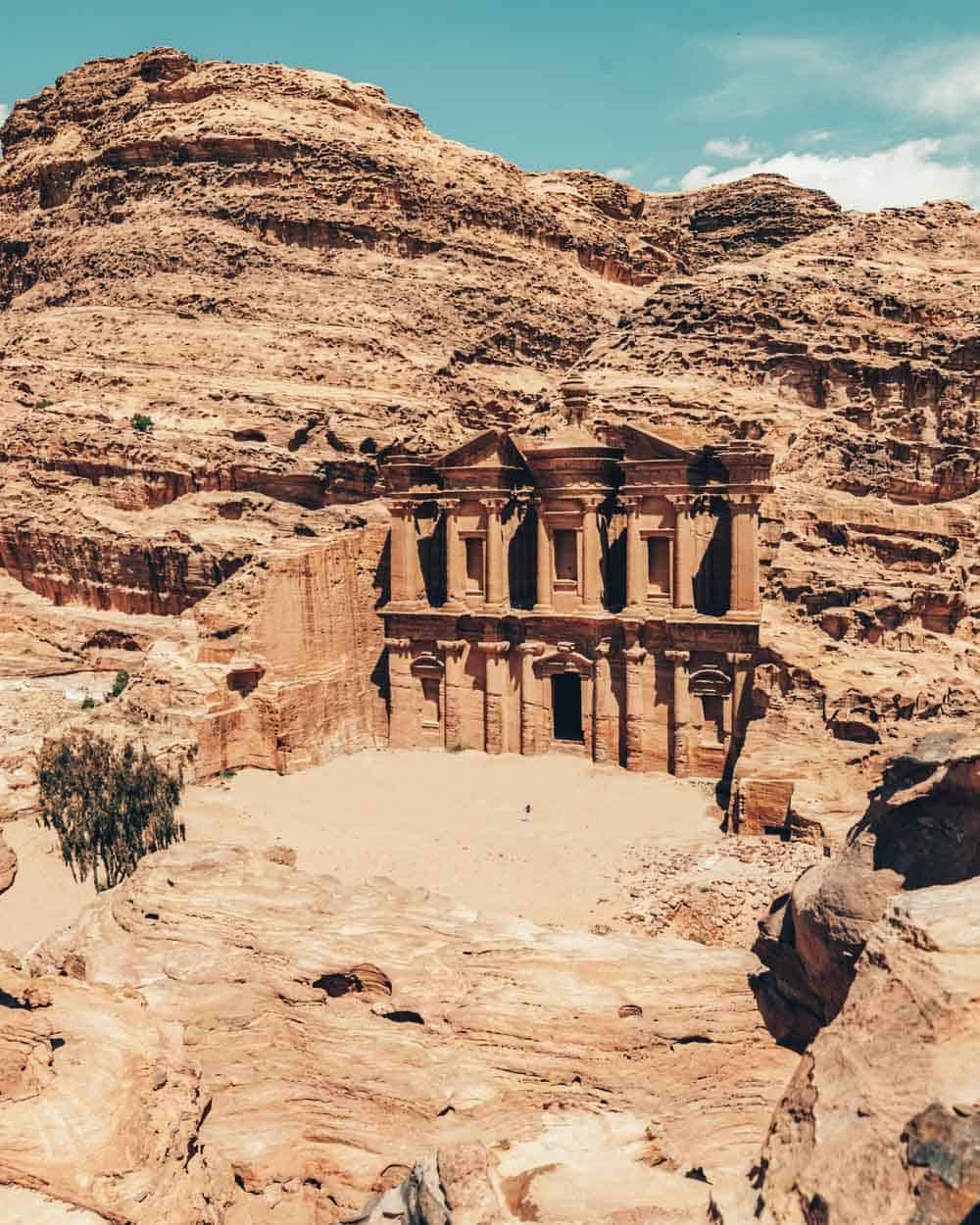 Some of my favorites besides the treasury are the Petra Monastery and the Amphitheater, as well as some of the lesser known hidden caves along the way.
The hike from one end to the other is about 4 miles (6.5 km) and takes a couple of hours. It really isn't too strenuous, but is absolutely worth it.
Once inside Petra you can expect to see lots of donkey's and camels.
Read >> Is Petra By Night Worth it?
Petra by Night – Is it worth it?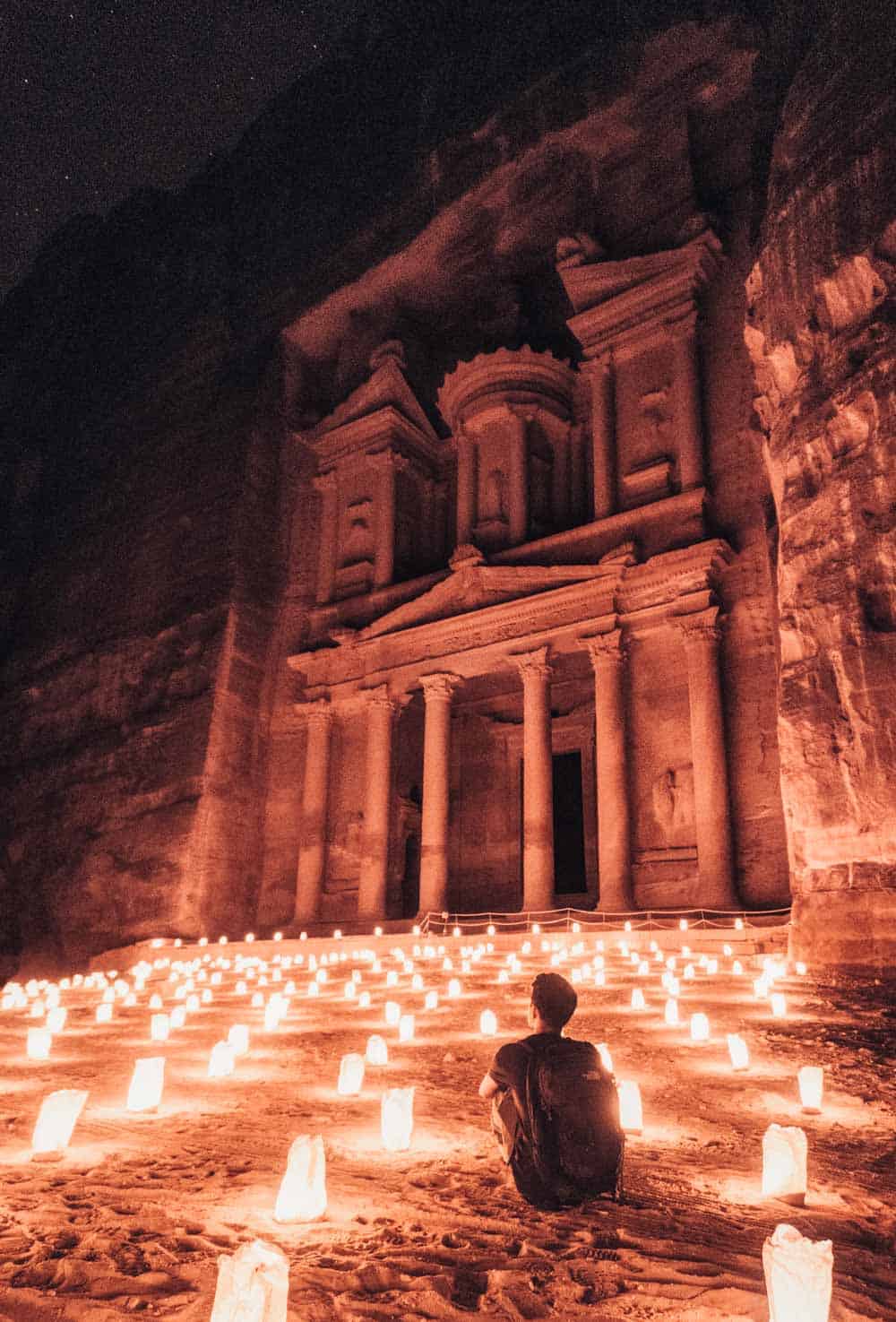 Yes, 1,000 times yes! The Treasury looks and feels completely different at night so I highly recommend you pay the extra $25 USD and see Pertra by Night.
You may have heard that for an extra charge you can go back into the complex at night on certain days of the week. The experience is completely different, and 100% recommended.
Read Next: Petra by Night: What you Need to Know Before You Go
Inside Petra: Drawbacks
I don't want it to seem like there are really any reasons to not plan on Visiting Petra, but there are a couple things you should prepare for.
Hustling Sales Guys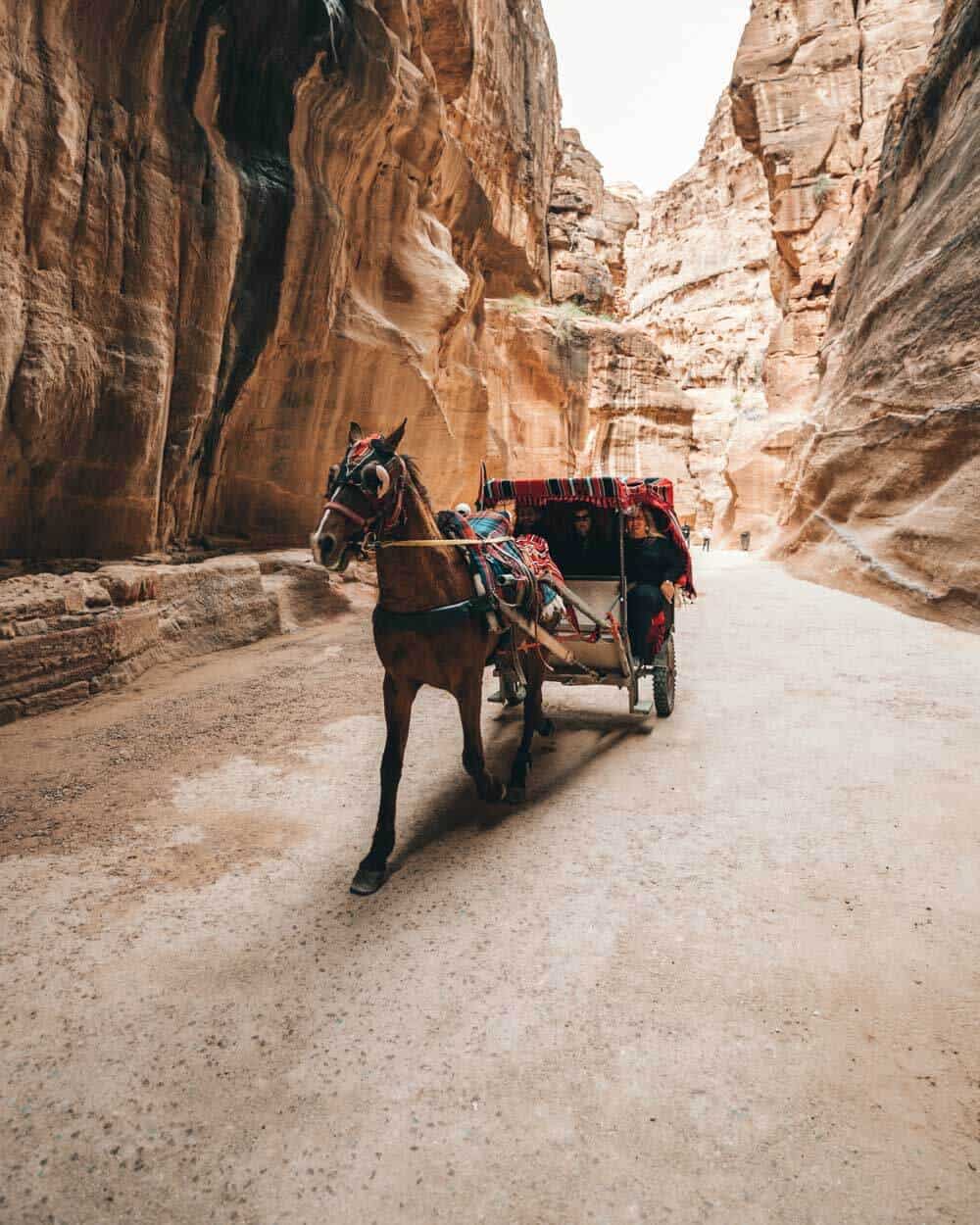 There will be all kinds of people trying to hustle you. They will try to sell you postcards, trick you into riding a donkey or camel by saying it is included in your price of admission, but don't fall for it. I read that the hustling would be a lot worse, but a simple no causes most people to leave you alone.
You can't go in the Treasury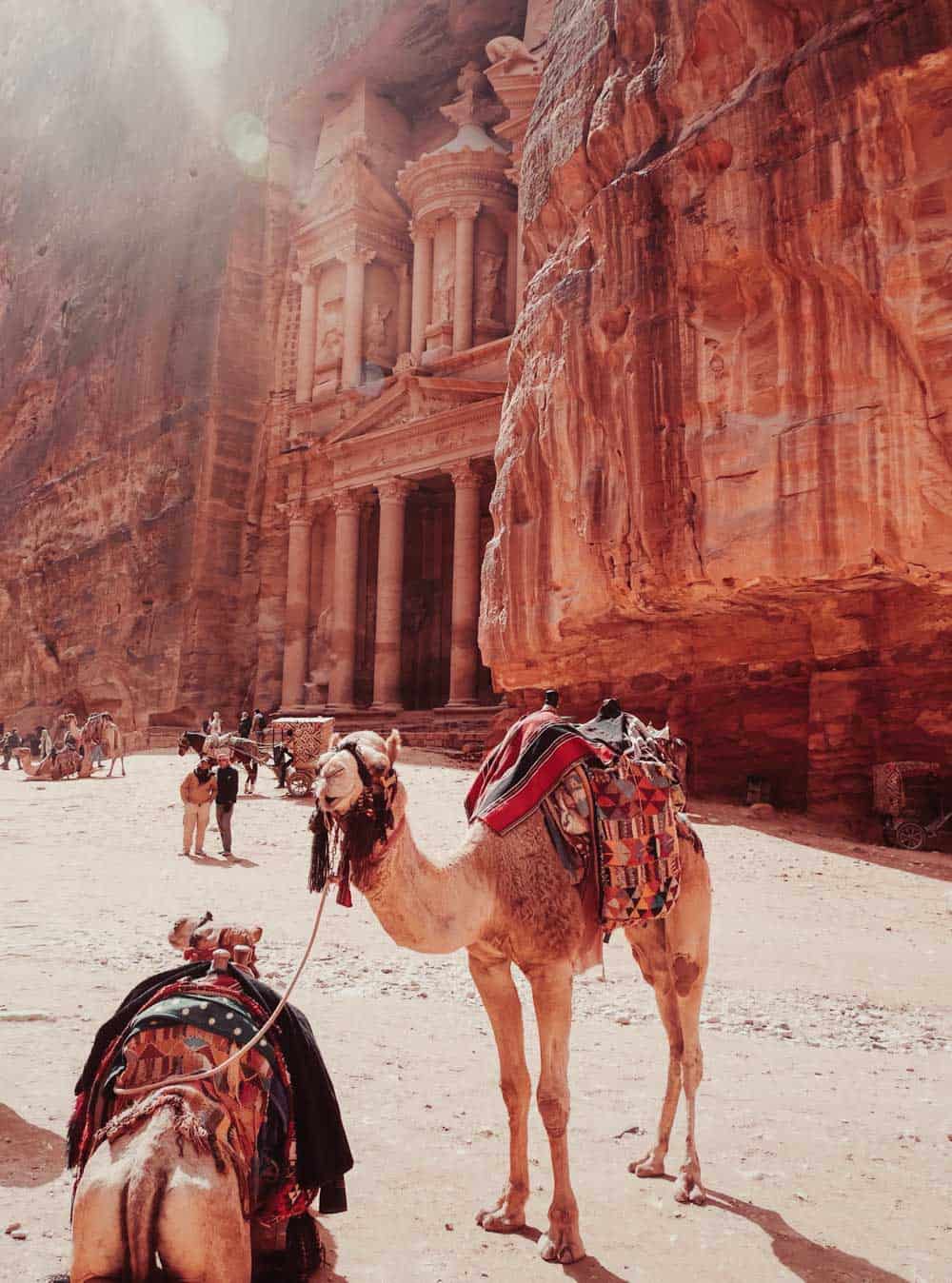 Even though Indiana Jones went into The Treasury you can't. It is blocked off, and besides it doesn't like it goes in very far anyway. I took a peak inside and it was just a huge empty room with extremely high ceilings.
What is the Petra Entrance Fee?
Entering the complex is expensive if you go in and out of the country on the same day (costs approximately $127 USD).
If you are willing to stay in Jordan longer, or buy the Jordan Pass the Petra entrance fee goes down dramatically. We paid $70 each for our day passes and $25 for our Petra By Night passes. Read what you can expect at Petra By Night here.
Should you hire Petra Tour Guide?
You can easily hire a Petra Tour Guide at the complex, but I recommend exploring on your own. They provide a great map of Petra that makes it easy to follow.
How to get from Amman to Petra
The easiest way to get from Amman to Petra is to rent a car. Car rentals are not very expensive and Jordan is very safe to drive. The drive to get from Amman to Petra is about 3 hours.
If you don't feel comfortable driving in Jordan then there are bus routes available and tours. Tours are by far the most popular ways to get from Amman to Petra. If you don't want to bother with any of the trip details and don't mind having limited time inside Petra, then a tour might be a good option for you. If you go by bus the drive will take about 4 hours. The price will be around $15 USD for the bus. (Not the tour)
Conclusion
You have to visit the Petra complex. I spent two days exploring, but can say that it is one of the few places in the world I would love to explore again.