Is Petra By Night worth it?
If you thought visiting Petra during the day was amazing, just wait until you see Petra at night.
You can't visit Petra without going to Petra at Night. Heres everything you need to know before you go.
The CITY (not just single carved building) of Petra absolutely deserves its designation as one of the new Seven Wonders of the World. Not that familiar with Petra, read our full guide to visiting Petra before diving into this post.
What most people don't know is that on certain nights of the week you can go and see Petra at night. Even though you can't explore to entire complex, it is absolutely worth making the hike from the Petra Visitor Center to The Treasury.
Where to Stay in Petra: The Best Hotels in Petra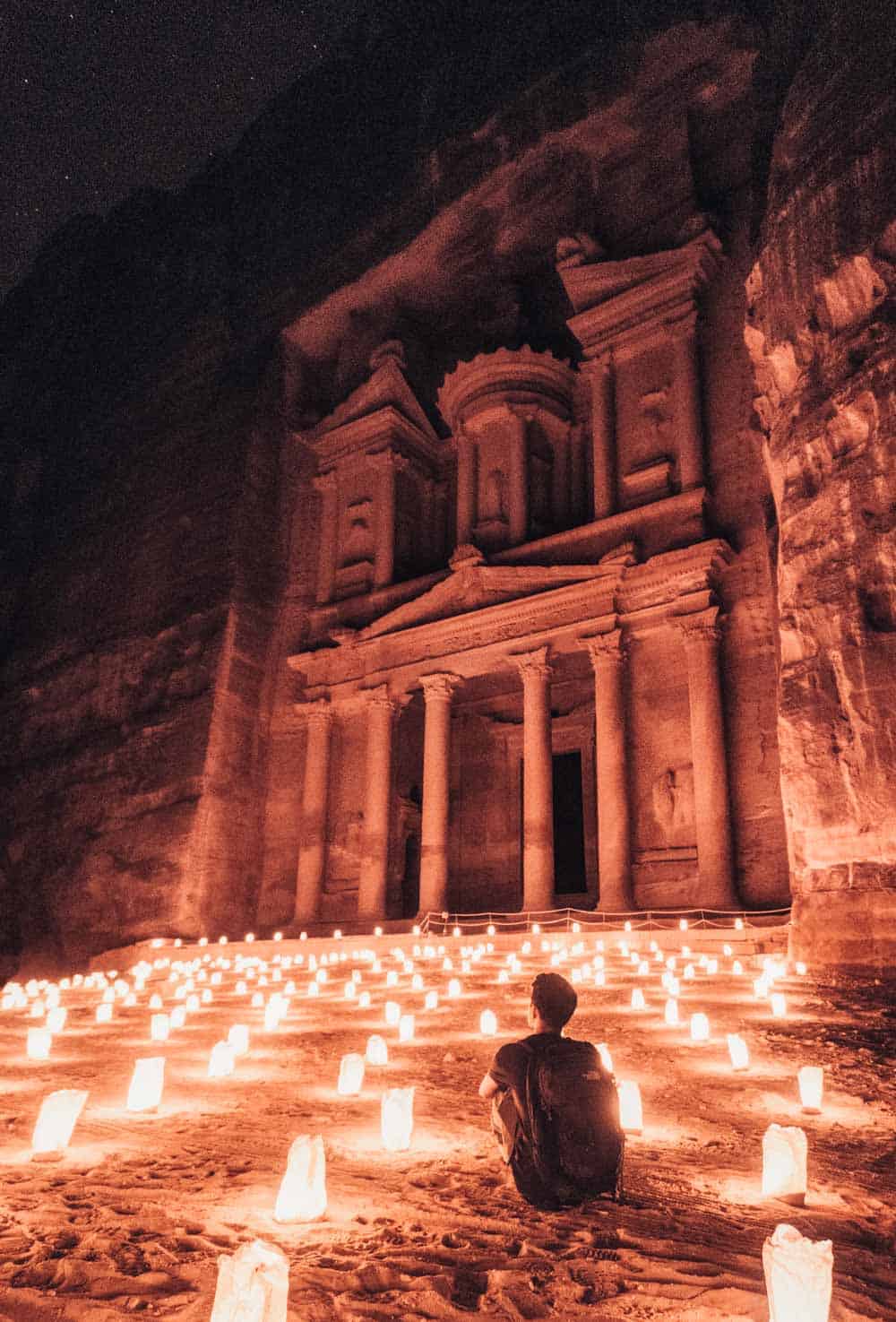 Quick Tips for visiting Petra by Night
Day pass is currently $75 per person
Petra at night pass is $25 per person
$200 total for the day pass and night passes for 2 people
Children under the age of 10 are free.
You can not buy a Petra by night pass without having a day pass. If you arrive at night (like we did) and want to see Petra by Night you can buy a day pass for the following day at the same time you buy your Petra at Night tickets.
The best hotel in Petra is the Petra Marriott Hotel (This is the exact hotel we stayed in) The location is amazing and the views are breathtaking.
Petra Night Tours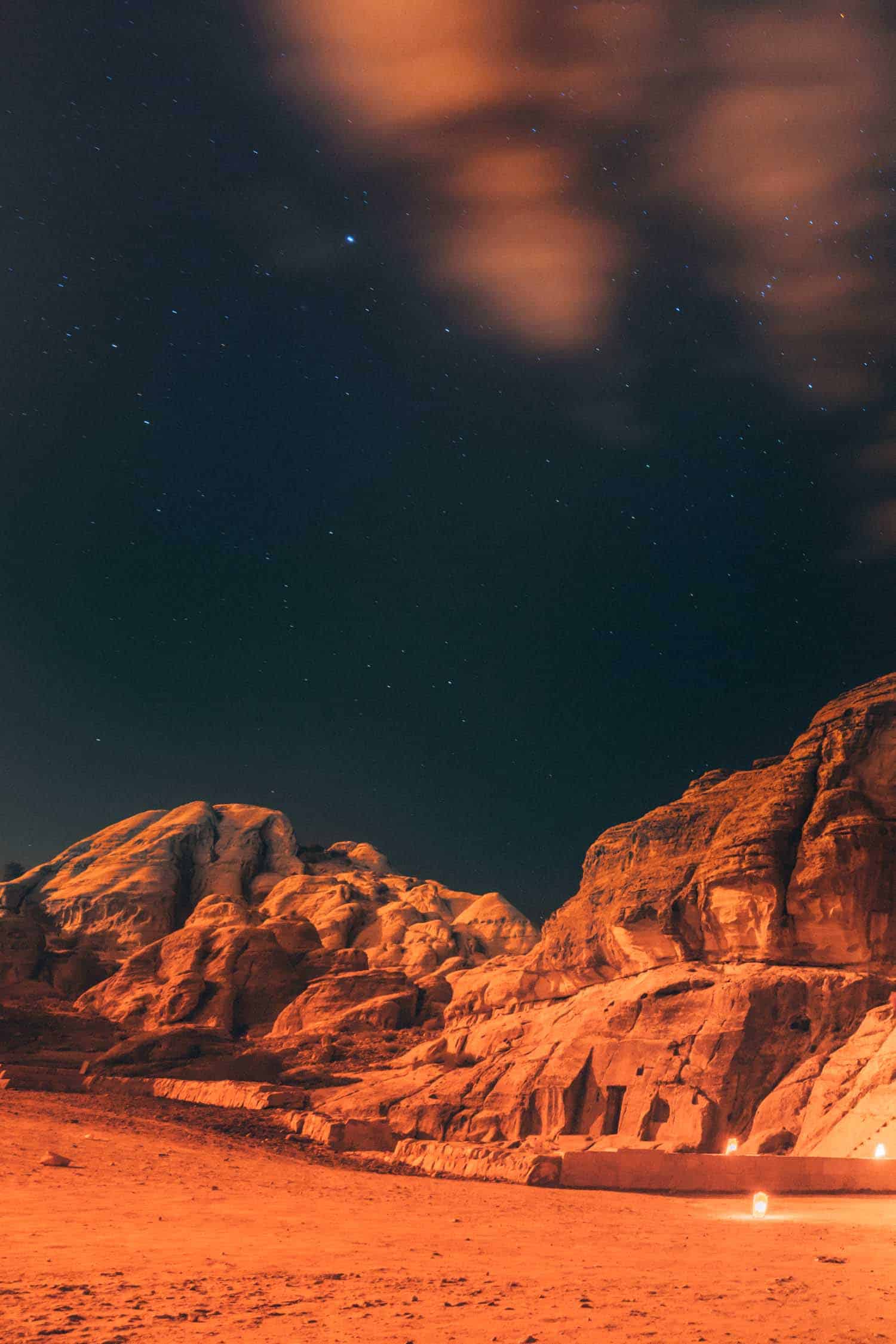 It is just over a mile, but the hike takes you through an amazing slot canyon. What is even more amazing with Petra at night is that they light up the entire hike with candles along the way. The result is an incredibly peaceful and reverent feeling. People hiking can't help but whisper along the way.
Do you need a Petra tour guide?
No. There aren't guides for the Petra Night Tours, but once you get to The Treasury there is a local Bedouin cultural show including traditional music.
Read >> Where to stay in Petra
Petra By Night Schedule
We arrived in the evening and the park was closed. We came back to the ticket counter at 7pm after checking into our hotel, bought our night passes for the show that evening and day passes for the next day. You can line up at the entrance and they will open the gate at 8pm. You can begin the 20 min walk to the Treasury. The show started at 8:30pm.
I do recommend getting there early to ensure you get the best "seats" aka, spot on the ground. We got there early so we didn't have anyone in front of us during the show. It was amazing.
Petra by night is available every Monday, Wednesday, and Thursday and lasts about 2 hours.
Petra By Night Tickets
It costs an extra $25 USD (on top of your day admission). The cost is so worth it. The experience at night is completely different than during the day, so make sure to plan your trip on a day where they are open at night.
Petra By Night Hike
The simple hike from the Petra Visitor Center only takes about 20 minutes, but you can expect it to take a lot longer if you have a camera with any night photography capabilities. We were the first ones in and the last ones out.
If you get the chance to visit Petra at Night, make sure you do not miss out!
Petra Hotel Recommendations
Of the places we stayed near Petra, this was my favorite and a place I would love to return to:
Where to Stay in Petra: BEST OVERALL – One of the best hotels in Petra is the Petra Marriott Hotel (See photo below). It offers you luxury accommodations at an affordable price. Check out the latest prices and more details.
The property was luxurious, the staff was amazing, and the on site restaurants had delicious options that satisfied my super picky husband and my food allergies!
Not only does the complex have an affordable pool and spa (w/ saunas), but they also had local artisans come through and make their crafts just outside the lobby. We couldn't help but stop and stare.
MORE JORDAN & PETRA BLOG POSTS
Visiting Jordan was the highlight of my year in 2020. (Yes, we got there just before COVID hit) These are my most popular blog posts and guides from Jordan and specifically Petra to help you plan your trip.
Complete Guide to Visiting Petra: Inside Petra Jordan: A Wonder of the World
Where to Stay in Petra: The Best Hotels in Petra
Guide to Hiking The Monastery at Petra: The Monastery at Petra Hike: Is it worth it?
Top Places you Can't Miss in Jordan: Top 10 Things to do in Jordan