Maho beach in St Maarten offers the ability to lounge on a picture perfect beach while airplanes come in to land just over your head! I guess you could say it is one of the most extreme beaches in the world! The photos are wild.
This Airplane Beach is world famous for people coming to relax and feel the jet blast!
There is no where else on earth where you can lounge on such a mind blowingly beautiful beach while being within feet of airplanes landing.
Maho Beach St Maarten Info:
Other Names: Airplane Beach
Where: Saint Maarten, just the the end of the SXM airport runway
Facilities/Amenities: restaurants, bars, and an international airport
Best for: being within feet of a landing plane (especially between noon and 3 pm)
Cost: Free
Excursions: To see Maho Beach and visit Orient Beach, too, consider this half-day tour. Check out more Maho beach shore excursions here.
Saint Marteen Name Clarification
Whether you see it written as St Maarten, St Martin, Saint Martin, or even Saint Marteen, it is all referring to the same place, the 1/2 Dutch and 1/2 French island in the Caribbean.
Where is Maho Beach?
Airplane Beach is located on the Dutch side of St Martin in the southwest corner. This is exactly where the landing airplanes come in on approach from.
The runway to the airport literally starts just beyond the sand of this perfect beach.
Getting There
Most people come to Saint Marteen as a cruise stop, but more and more people are beginning to boom trips to this island specifically, and staying for an extended time.
Regardless of how long your are staying, access shouldn't be difficult.
Walking to Maho Beach from the Airport
Time: 15 minutes
Distance: .5 miles
Difficulty: Easy (flat entire way)
On our first trip to Saint Martin we only had a few hours at the airport on a flight layover. We knew of the world famous airplane flyover beach, but didn't think we would have time to get there.
Luckily we looked up the distance and decided to walk. It was much easier than expected.
The entire walk took us less than 15 minutes and was only about 1/2 a mile. The airport isn't huge so you can walk right out of it and down a straight road directly to the beach. See photo below for more details on the walk.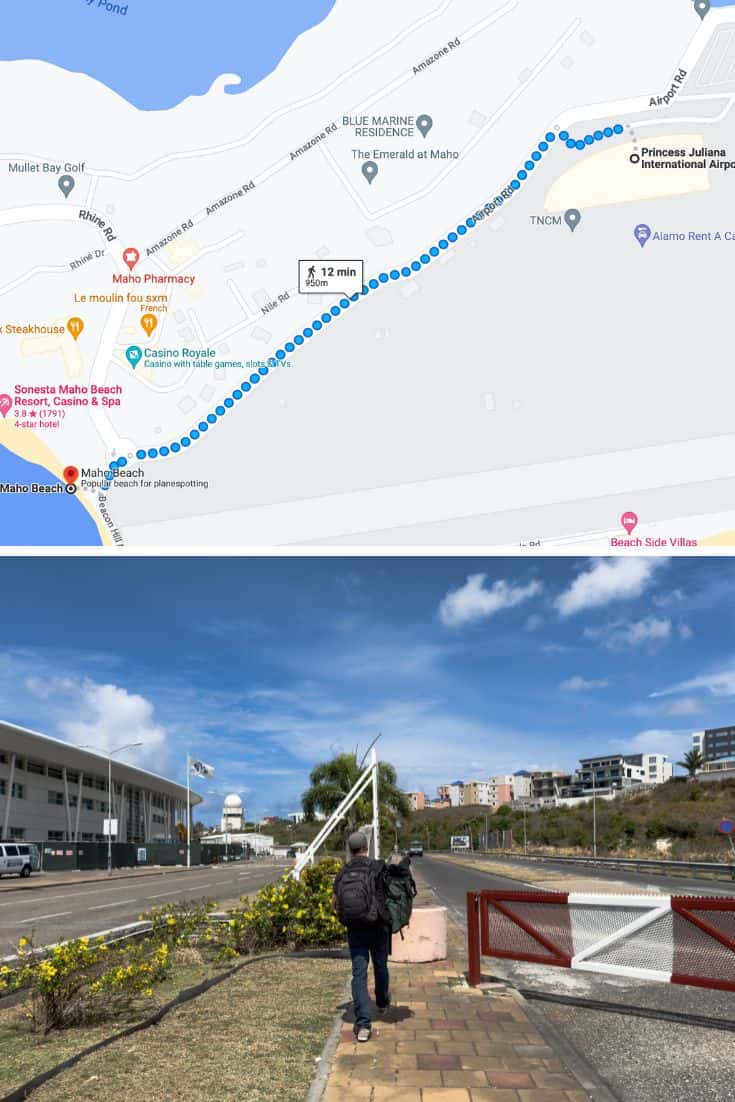 What to Expect at Maho Beach St Maarten
First off, the beach really will look as pretty as the pictures show. The gorgeous clear blue waters of the Caribbean really do roll up onto a shore of soft white sand.
The beach stretches down further than I expected, with only one part of it being directly on the runway.
There is basically ZERO shade so unless you are staying at the beachfront Resort that offers chairs and umbrellas for its guests be prepared to be out in the hot sun.
Is Maho Beach safe?
Yes and no. People get hit by flying debris all the time. There's big warning signs not to stand immediately behind the jets, however, some people still do it. It's actually quite thrilling to stand off to side and watch.
If this beach was in the United States you probably wouldn't be allowed to stand that close. Just make sure you take precautions.
POTENTIAL DANGER READ BEFORE VISITING
Warning, the jet blast from the landing planes can actually be pretty strong. There are YouTube videos of it blowing some poor person into a curb and also blowing people into the fence. The jet blast is no joke so you definitely need to be care.
When to Visit
The best time to visit is when the biggest planes are landing. You should check the specific schedules, but in general the big planes land between noon and 3:00 pm.
Even if you don't go during those hours you can still see smaller planes take off and land.
Amenities
There are a couple of restaurants and bars on the beach. Shockingly their prices are fairly decent as well.
There were porta-potties on the beach, though I'm not entirely sure if they belonged to one of the outdoor restaurants or not. Either way you couldn't pay me to go in one of those.
There are also a number of all inclusive resorts that back up to the beach, but their amenities (swimming pools, lounge chairs etc) won't allow access to non guests.
Rent a chair from Sunset Bar and Grill
The Sunset Bar and Grill located on Maho Beach offers beach chair rentals for $10 per chair, which includes use of the pool. Definitely worth it if you plan on spending a few hours there.
Swimming Conditions
The wave conditions vary, but in general it is a great spot to swim. The waves aren't usually that big and there is a nice sandy bottom so your feet won't get hurt on rocks.
Maho Beach Snorkeling
Surprisingly, this beach does have pretty good snorkeling on calm days. The calm waters make it perfect for easy entry snorkeling and a great variety of fish close to shore.
Crowds
You can almost always guarantee an audience at this beach. This means that it might not be your first choice to lounge on. A lot of people just show up to take pictures, so you might want to find another beach to relax on, or go further down towards the resorts.
Where to stay in St Maarten
The Sonesta Maho Resort Hotel, is right on Maho beach! It is all inclusive with good food and drinks included your whole stay!
Maho beach Parking
There are a number of parking spots on the side of the street. You shouldn't have a problem snagging one.
Even though a lot of people don't rent cars you should consider it. They are generally fairly cheap and allow you to see the entire island. Make a reservation in advance by using my link here to lock in a cheap price.
FAQ:
Conclusion: Is Maho Beach worth visiting?
Yes! While I didn't want to spend all day on Maho Beach St Martin I did absolutely love the experience. It's truly wild to have a gigantic plane fly just over your head!