Bavaro beach is one of the best beaches in Punta Cana! It is over 30 miles long and has endless amenities, rentals and tours available the entire stretch. It is surrounded by tall palm trees and gorgeous white sand throughout.
We stayed at a beachfront resort here and we loved it!
Where is Bavaro Beach?
Bavaro beach is located in Punta Cana in the Dominican Republic. It is about a 20 minute drive from Punta Cana International Airport (PJU).
How to access Bavaro Beach
Bavaro beach is massive, white sand stretches for an astounding 30 miles and is one of the longest beaches in the Caribbean.
Most of the access is through resort properties but you can enter through various shopping areas as well.
Throughout the Bavaro Beach stretch you will find that different sections of the beach are often referred to their own names, such as, El Cortesito, Los Corales, Jellyfish and Bibijagua.
It can be a bit confusing if you don't know this one the front end. But it actually makes it easier to navigate once you understand the layout.
Parking
There are numerous lots available for parking. The locals will typically charge $5 to park at their private lot. Most of the resorts offer free parking on site.
Crowds
Although Bavaro beach is one of the most visited beaches in Punta Cana, its length still allows for relaxation.
Where to stay on Bavaro Beach
Top Rated Tours from Bavaro Beach
---
El Cortesito (Bavaro Beach)
El Cortesito is my favorite beachside village in Bavaro.
If you are not staying in one of the numerous resorts in this area you can gain access through various bars, and colorful alleyways. Shopping in this area will include beach clothing shops, local artwork, wood carvings and more.
Once you make your way to the beach you can enjoy fresh drinks at the beachside bars, choose from a variety of water sports activities or just swim and sunbathe.
Los Corales Beach Bavaro
The Bavaro Beach stretch known as Los Corales is home to some of the more luxurious beachfront properties as well as private villas.
You can expect lots of water sports, beachfront bars,
Los Corales Amenities
There are various restaurants that offer lounge chairs to their guests.
Playa Bibijagua
Bibijagua Beach (Playa Bibijagua) offers great easy access to Bavaro Beach.
The two closest resorts to this beach are the Lopesan Costa Bávaro Resort, Spa & Casino (5 star resort) and the Grand Palladium Punta Cana Resort & Spa.
You can rent a variety of water sports here including kayaks. This is also a popular hub where lots of tours leave from making it the perfect starting point.
Tropical wooden color houses and entrance to the beach, Playa Bibijagua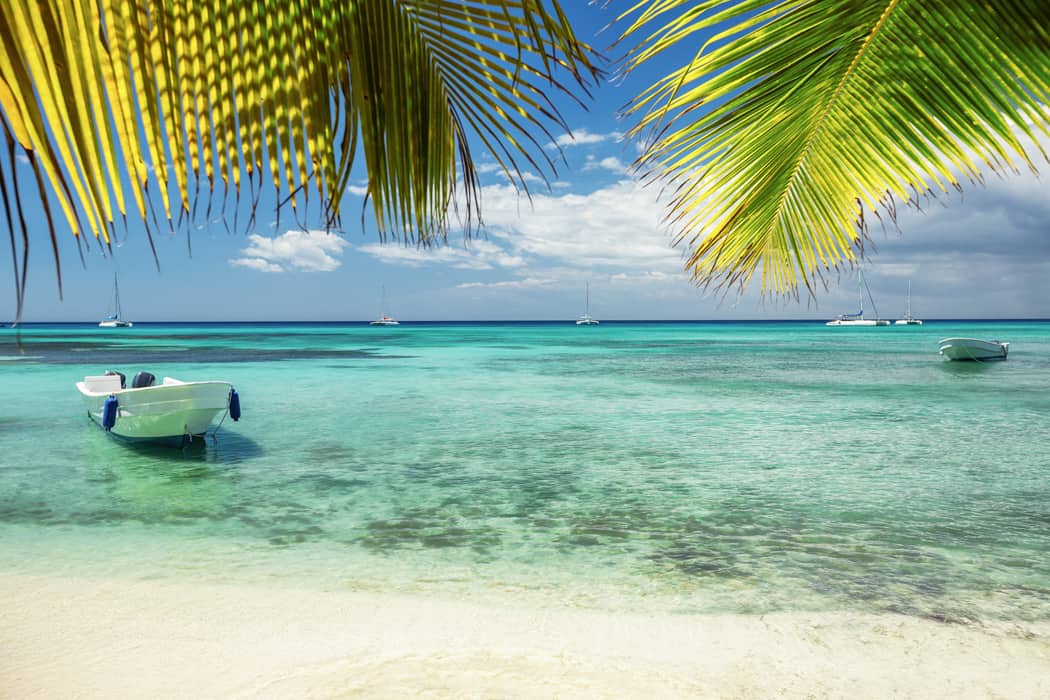 What to Pack for the Dominican Republic
Reef safe sunscreen – The sun is strong in the Dominican. You definitely need a good sunscreen. I am obsessed with this one by Shiseido. No one does sunscreen like the Japanese and Koreans. It goes on so smooth and I love that it is a stick, so you don't have to get your hands all gross and sandy when reapplying throughout the day. Buy here.
Swimsuit – Obvs. This one is my favorite from SKIMS. It is more of a sporty look which I love. The only annoying thing is they sell out really fast so stock if definitely limited. Get it while you can. Trust me, it's amazing. Buy here.
Sandals – These Havanas are the best flip flops I have ever used! I have 3 pairs and have used them for years and they are still going strong! Buy here.
FAQ:
Is Bavaro Beach safe?
Bavaro beach is definitely safe. It is filled with tourists year round and authorities go above and beyond to make sure everyone is safe in the area.
Can you swim in Bávaro Beach?
Yes! This beach has calm waters and is one of the best beaches to swim at in Punta Cana.