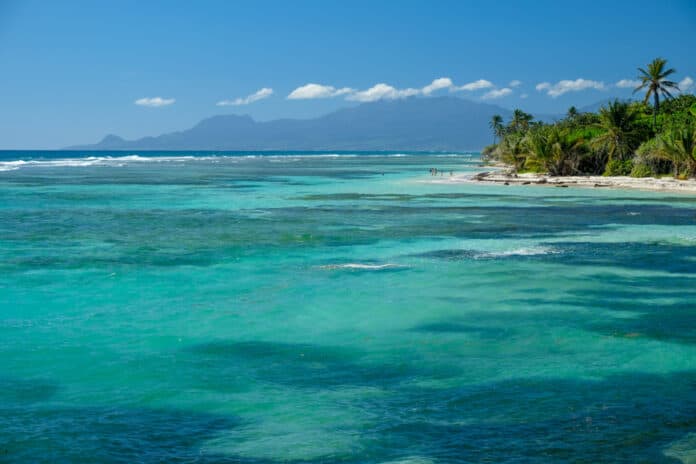 Of all the cool beaches on Guadeloupe I think Plage de Bois Jolan is special. There are a lot Guadeloupe beaches that give you soft sand and access to clear blue waters. This beach offers something unique.
I'm not a French speaker, but I've heard that Plage De Bois Jolan translates to the "wooded beach." The name is fitting because my favorite part of this beach is that the woods go directly up to the shore in a number of different places.
The trees approaching the shore create a bunch of different nooks for people to lounge in the shade away from everyone else (even if they are just a couple of trees away). It makes you feel like you are on your own private island.
Plage de Bois Jolan Quick Tips
Where: Sainte-Anne, Grande-Terre, Guadeloupe (Southern side)
Best for: Relaxing shallow waters, less crowds, snorkeling, and trees creating mini shelters along the shore
Known for: shallow waters (perfect for little swimmers) and the plentiful amount shade
Amenities: No showers and no bathrooms, unless there is one in the only beach restaurant
Cost: Free
Parking: One lot at the entrance, but lots of extra spaces if you drive down the dirt road that is parallel to the beach
Where is Plage de Bois Jolan Located?
Plage de Bois Jolan is located on the island of Grande-Terre in the Sainte-Anne region of Guadeloupe. It is on the southern tip of the island.
If you drive directly here from the airport at the center of the island the drive will take you about 40 minutes. I highly recommend renting your own car so that you can get to places like that that might not be included in every tour.
Thankfully, even though this beach isn't in the heart of town, it is still really close to Sainte-Anne.
Parking
There is actually plentiful amount of parking at this beach, which unfortunately can be a rarity with Guadeloupe's beaches. You will see a main parking lot when you pull into the beach. This lot will often fill up, but I don't recommend you park here if there is space.
Instead of parking in the main lot at the entrance, head down to your left (further east) along the dirt road. All along the road there are access points to the continuing beach. We drove down a little ways and found our own access point and private mini beach area.
What To Expect Once There
Aside from the wide and sandy open space at the entrance of the beach the sand is a bit narrower as you go down. I don't mind the sand being a little bit less narrow because there are also trees that come out to the shoreline.
The trees are an amazing perk because they can provide shade if you want to escape the punishing sun, or even if you are just looking to dry your towel or keep sand off of your clothes you can hang them on the branches.
Beach Amenities
This is one area where this beach can be lacking. Aside from a couple vendors and one restaurant there aren't a lot of amenities.
There aren't dedicated restrooms and showers that we saw.
Plage De Bois Jolan Snorkeling
Since the water is calm and shallow you can get some great snorkeling here. In the shallows, you may spot sea urchins, queen conch, and lots of small fish.
I like that this beach is beginner friendly. Even though I've snorkeled a pretty good amount I still feel like a beginner!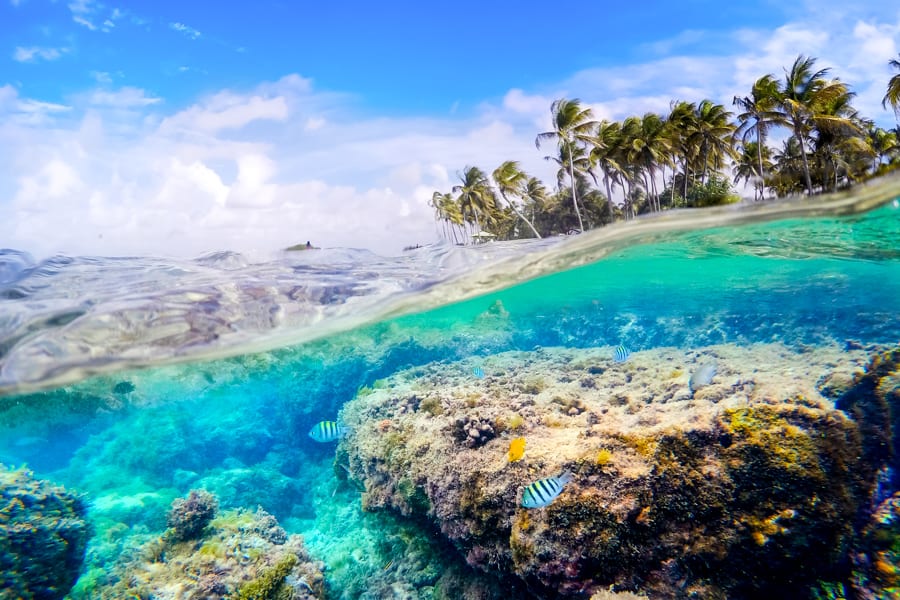 Pros and Cons
Pros
Lots of shade
Calm, clear waters
Lots of parking available
A couple vendors and one restaurant
Cons
Not immediately close to town
No restrooms or showers
Conclusion: Does Plage de Bois Jolan up to the hype?
When we were in Guadeloupe it felt like we spent the entire time rushing around from amazing beach to amazing beach. I think it is worth noting that there is only one beach we went back to for another afternoon. That beach was Plage De Bois Jolan!
We absolutely loved the feel of having our own private tree canopy to cover us up as we wanted to get away from the bright sun.
Things to do near Plage de Bois Jolan in Guadeloupe
Plage du bourg
Plage de de la Caravelle (12 minutes away)