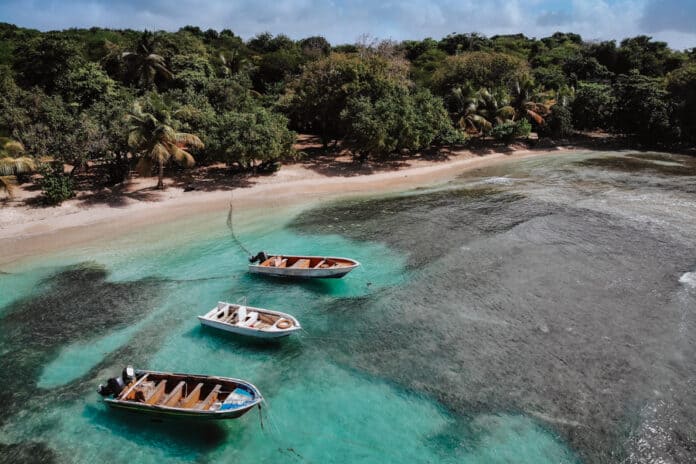 We went to Guadeloupe eager to explore the relatively undiscovered beaches, especially by people from North America (even though it is in the Caribbean, it mainly attracts Europeans). The very first beach we went to was Plage de Petite-Havre; we were NOT disappointed.
Shockingly, there isn't a lot of development and tourism infrastructure around this gorgeous beach. This is fitting of a lot of top places in Guadeloupe, but we were still expecting more as we drove up to this amazing beach.
The calm clear water looked even better in person than it did online. There were a bunch of other people there, but the beach was big enough that we still had plenty of space to spread out on. Also, there was a canopy of trees for us to put our stuff under and periodically escape into the shade.
We LOVED that it stays relatively shallow a ways out allowing you to sit and relax in the water. It absolutely helps Guadeloupe live up to its reputation as a home of amazing beaches.
Plage de Petit-Havre Quick Facts
Sand & water color: White sand and clear turquoise water
Other names: Beach of Petit-Havre, Little Haven Beach
Best for: Relaxing in the water, swimming, and limited snorkeling
Known for: In Plage de Petit Havre, green iguanas are frequently seen in the water, and surfers just outside of the protected cove
Facilities: public restrooms, showers, and a few huts with restaurants/bars
Lifeguard: none
Cost: Free
Parking: small free lot at beach, but additional street parking if you are willing to walk a little bit
Name Translation
Plage de Petit-Havre translates to Little Haven Beach. The name is 100% fitting as it is definitely a little haven away from regular life.
Where is Beach of Petit-Havre located?
Little Haven Beach is located in the town of Le Gosier on the southern coast of Grande Terre in Guadeloupe. Le Gosier isn't overrun with tourists, but they are most assuredly familiar with them in the area.
If you are coming from the airport the drive will take you about 35 minutes, assuming there isn't traffic. Unfortunately, with one main road around the island traffic can get a little congested at peak times, though it is more of a slow down rather than a stand still.
That being said, you should still rent a car so that you can see all the parts of the island. If you make a reservation in advance here it'll help you lock in a lower price.
Parking
There is a free parking lot directly in front of the beach, but the spots there do fill up fast. If these spots are full you can park along one of the streets coming into the beach. The walk is a little annoying, but it shouldn't take you more than a few minutes.
What you can Expect at Plage de Petit-Havre
This small but not dinky beach is less popular than some of the big Guadeloupe Beaches (like Plage de Grande Anse or Plage de la Perle.
What I love about this beach is that the trees go right up to the sand at various points (similar to Plage De Bois Jolan). This allows you to hang your clothes and towels on the branches to help them dry and not get too sandy.
Supposedly, this is a beach where iguanas hang out on the shore and sometimes even swim in the water. While we didn't see any while there, we've heard that it is a common occurrence.
Another huge perk of this beach is that the water is shallow out much further than normal. It generally doesn't have waves crashing onto the shore. This combination allows you lounging in the water for extended periods of time. Lots of people would wade out into the water with their drinks.
You will also likely see a few surfers trying to catch waves just outside of the protected cove. This isn't the best surf spot in the area though. For that you should head to Plage De Sable.
Snorkeling
The snorkeling is not as good as some of the other beaches in the area but at Plage de Petit Havre, green iguanas are frequently seen in the water. Yes, that is slightly terrifying.
The water is shallow for some distance, but the life on the sea bed is unfortunately quite lacking.
There is a lot of sea grass; it feels almost like you are snorkeling through a field! To see the best snorkeling at this beach you will have to swim out a little further (about 200 yards) to where the waves begin to crash to see the sea grass.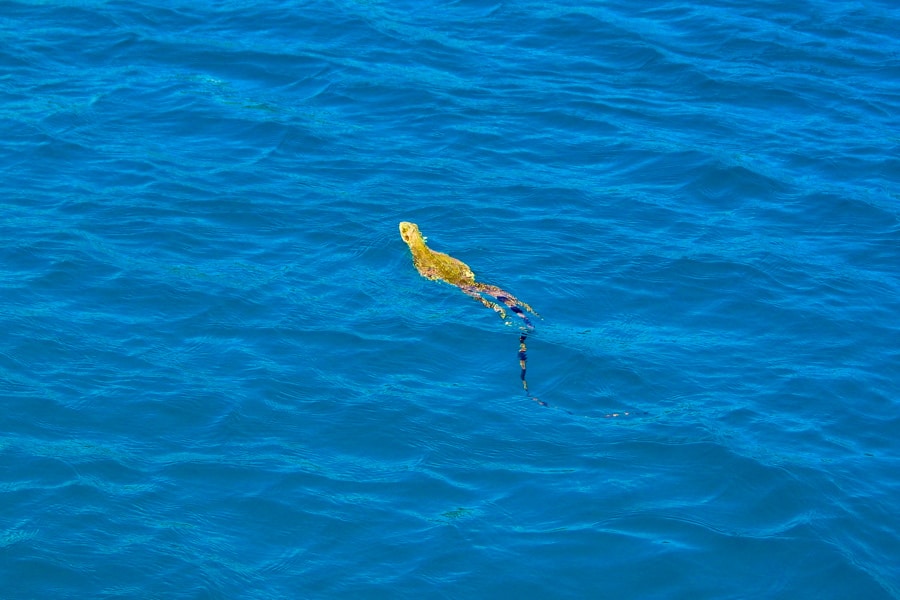 Pros and Cons
Pros
Lots of shade
Showers, restrooms, and a restaurant/bar
Generally peaceful and "loungeable" water
Cons
Limited space
Limited parking
Steep walk down to the beach
Crowds
Sand isn't quite as nice as some of the other beaches in Guadeloupe
Conclusion: Does Plage de Petit-Havre live up to the hype?
This is an amazing beach that I would happily return to. That being said, I wouldn't call it my absolute favorite of the Guadeloupe beaches.
Things to do near Plage de Petit-Havre
Arranged in order from closest to furthest away.
Plage des Salines
Plage de Saint-Félix
Plage du bourg
What to Bring to the Beach
Travel towel – So much easier to pack these quick dry microfiber travel towels than go without or be forced to buy one once there. We always travel with at least two of them.
Dry Bag – There are some lessons you just don't want to learn the hard way. Ruining your phone, camera, or other valuables at the beach is a very expensive lesson to learn. This dry bag is amazing and works for any and all water activities.
Reef-safe sunscreen – The sun here can be very strong. Make sure to wear a reef safe sunscreen or a rashguard.
Rash guard or long sleeve swim top – I wear the one from Skims and I love not having to worry about getting burned when I am out in the sun ALL DAY. Free people also has some amazing rash guards you can shop here.
Backpack or waterbottle sling – I am obsessed with my Beis travel backpack. I never travel without it. It is seriously the perfect size. Not too big, not too small. If you don't want to bring a full backpack this waterbottle sling is my absolute favorite. It fits a waterbottle, iPhone 14 pro max, plus some extra space for bars or snacks or your wallet.
Packable snacks – I always travel with these That's it bars from Amazon. OMG, they are sooo good and only have a few minimal ingredients.