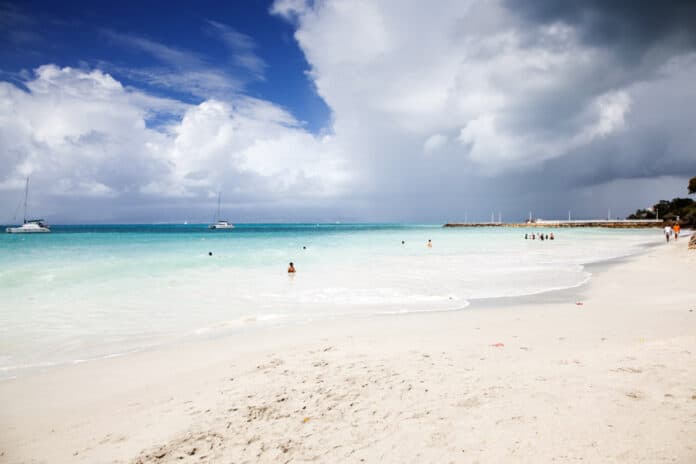 Guadeloupe has a lot of cool beaches. The islands are a cool destination because they are "European while in the Caribbean." It is also really cool that the islands are not built up with gigantic high-rise hotels.
You will mainly find boutique hotels or AirBnBs to stay in on the sparsely populated island. There are a number of beaches on the island that feel like they are a good ways away from population centers.
Plage De La Datcha is NOT one of those beaches that feels remote. It is smack in the middle of the town of Le Gosier. This isn't a bad thing though, if you come to this beach you still get the pretty white sand and gorgeous turquoise water.
Plage de la Datcha Quick Tips
Sand & water color: White sand and clear turquoise water
Other names: Le Gosier Beach
Known for: Turquoise waters and fine white sand (and having everything in Le Gosier close by)
Swimming conditions: Generally calm waters for all level swimmers
Facilities: Showers and restrooms
Lifeguard: none
Cost: Free
Parking: medium parking lot and nearby street parking
Where is Plage de la Datcha located?
Plage de la Datcha is located in the town of Le Gosier on the southern side of island of Grande Terre in Guadeloupe. Grande-Terre is one of the two "main islands."
Parking
There is a decent size parking lot just off the beach. It is free to park in. If the lot fills up, there is a decent amount of street parking as well.
What you can Expect at Plage de la Datcha beach
First off, it will look just as pretty as the pictures. The sand is amazing and the water really is the piercing turqoise blue!
That being said, don't expect to have this beach to yourself. Its proximity to the city means that there is almost always going to be someone walking by, no matter how early or late in the day you show up.
View of the Gosier Islet
From the beach you will have a perfect view of the mini Gosier Islet.
Several small affordable restaurants and bars nearby (on the beach).
Canoe rentals nearby
Swimming Conditions
Generally the water is calm. The calm water makes it great for swimmers of all abilities. I always appreciate this as I'm not the strongest swimmer in the world!
Area Amenities
In terms of amenities this beach has about as much as you can get in Guadeloupe. There are restrooms, showers, as well as a number of restaurants, vendors, and even a couple bars nearby.
Pros and Cons
Pros
Amazing fine white sand
Turquoise waters
View of Gosier islet
Several affordable restaurants on the beach
Cons
Can get crowded
Can have sargassum (a large brown type of seaweed)
What to Bring to the Beach
Travel towel – So much easier to pack these quick dry microfiber travel towels than go without or be forced to buy one once there. We always travel with at least two of them.
Dry Bag – There are some lessons you just don't want to learn the hard way. Ruining your phone, camera, or other valuables at the beach is a very expensive lesson to learn. This dry bag is amazing and works for any and all water activities.
Reef-safe sunscreen – The sun here can be very strong. Make sure to wear a reef safe sunscreen or a rashguard.
Rash guard or long sleeve swim top – I wear the one from Skims and I love not having to worry about getting burned when I am out in the sun ALL DAY. Free people also has some amazing rash guards you can shop here.
Backpack or waterbottle sling – I am obsessed with my Beis travel backpack. I never travel without it. It is seriously the perfect size. Not too big, not too small. If you don't want to bring a full backpack this waterbottle sling is my absolute favorite. It fits a waterbottle, iPhone 14 pro max, plus some extra space for bars or snacks or your wallet.
Packable snacks – I always travel with these That's it bars from Amazon. OMG, they are sooo good and only have a few minimal ingredients.
Conclusion: Is Plage de la Datcha worth visiting?
If you want all the perks of being in a city, then you can't go wrong with this beach. There are plenty of restaurants, bars, and shops in the area. You could easily make a whole day out of being in this area.
There are just so many beautiful Guadeloupe beaches. While I prefer a remote beach where I can avoid almost everyone, if I was looking to lounge and then lunch, Plage de la Datcha would be on the list.
Things to do near Plage de la Datcha
Several small restaurants and bars nearby.
Anse Tabarin
Ïlet du Gosier