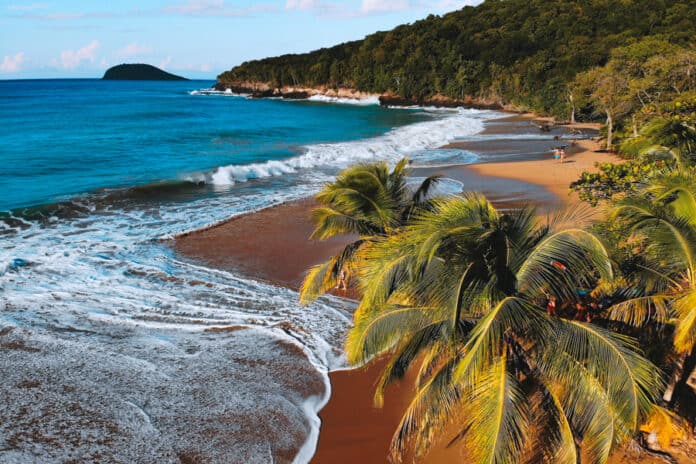 Plage de la Perle is a popular public beach on the northwest tip of the main island of Guadeloupe.
For those not familiar, Guadeloupe is a group of islands in the Caribbean (just beyond Puerto Rico) that officially belong to France and are home to some truly amazing beaches. With it being a French overseas territory the islands are a unique blend of island and European culture in North America.
Plage de la Perle is an amazing beach for good reason. It is large, has gorgeous sand gentle rolling waves of stunning blue water, and a very relaxed and friendly vibe from the visitors and restaurants/bars along its shores.
This is easily one of the best beaches on the west coast of Guadeloupe.
For the non-French speakers (like myself) the name translates to Pearl Beach. And yes, calling Plage de la Perle Beach is silly since you are basically saying Pearl Beach Beach.
For fans of "Death in Paradise" TV show you may recognize the inspector's shack on this beach. I have never seen this show, but I know a lot of people like it.
Plage de la Perle Quick Tips
Sand & water color: Golden sand and clear blue water
Other names: Perle Beach, Pearl Beach
Best for: walks along the beach, swimming, waves, great restaurants and bars
Known for: Being one of the most beautiful beaches on the island
Facilities: Showers
Swimming conditions: Waves are not usually too rough.
Lifeguard: none
Cost: Free
Parking: Medium difficulty to find a spot, but the lot is close to the beach.
Where is Plage de la Perle located?
It is located on the northwest side of the main island of Guadeloupe. If you think of the island being in the shape of the butterfly, you are on the top left wing.
If you are driving here from the airport it will take you about 45 minutes. It is about 5 minutes from a couple other great beaches, Plage de Tillet and Plage de Grande Anse.
Address: Rifflet, 97126, Guadeloupe
Parking
This is the biggest downside of visiting this beach. The number of parking spots are limited. That being said, even if the spots are full you can find a space a little bit up the road and walk down.
While Guadeloupe is known for its easy of access and many isolated beaches, the brief walk is worth it to visit this one.
What you can Expect at Plage de la Perle beach
One of the most beautiful beaches in Guadeloupe.
Stunning water, soft sand, and light waves. Generally the waves are quite gentle, though people have reported that at times the current can get quite strong.
Plenty of palm trees for shade.
Shockingly not very crowded.
The beach is where the inspectors house is built on series Death in Paradise.
Pros and Cons
Pros
Gorgeous golden sand beach
Clear water
Not as crowded as other beaches in the area
Lots of space
Waves
When the sky is clear, you will be able to see Montserrat.
Cons
Conclusion: Is Plage de la Perle worth visiting?
One of the best beaches on the island!
Things to do near Plage de la Perle
Jardin Botanique de Deshaies (Beautiful Botanical Gardens)
Plage Manbia
What to Bring to the Beach
Travel towel – So much easier to pack these quick dry microfiber travel towels than go without or be forced to buy one once there. We always travel with at least two of them.
Dry Bag – There are some lessons you just don't want to learn the hard way. Ruining your phone, camera, or other valuables at the beach is a very expensive lesson to learn. This dry bag is amazing and works for any and all water activities.
Reef-safe sunscreen – The sun here can be very strong. Make sure to wear a reef safe sunscreen or a rashguard.
Rash guard or long sleeve swim top – I wear the one from Skims and I love not having to worry about getting burned when I am out in the sun ALL DAY.
Free people also has some amazing rash guards you can shop here.
Backpack or waterbottle sling – I am obsessed with my Beis travel backpack. I never travel without it. It is seriously the perfect size. Not too big, not too small. If you don't want to bring a full backpack this waterbottle sling is my absolute favorite. It fits a waterbottle, iPhone 14 pro max, plus some extra space for bars or snacks or your wallet.
Packable snacks – I always travel with these That's it bars from Amazon. OMG, they are sooo good and only have a few minimal ingredients.