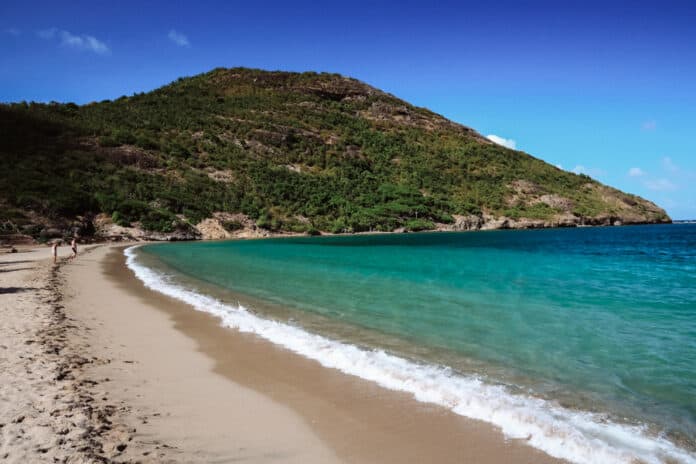 Plage de Pompierre (The largest beach on Les Saintes islands)
The most largest and most popular beach on Les Saintes islands (Terre-de-Haut). Backed by palm trees, this sheltered beach in a deep cove has picnic facilities & decent good snorkeling.
Plage de Pompierre Quick Tips
Water color: Clear blue
Sand color & quality: Fine golden sand
Sun cover: Good. Lots of palm trees on the beach
Good for: Snorkeling and swimming
Not so good for:
Swimming conditions: calm, great for most swimmers
Other names: Pompierre beach
Facilities: There are two restaurants near the beach and picnic tables
Lifeguard: none
Cost: Free
Parking:
Available tours: N/A
Where is Plage de Pompierre located?
Plage de Pompierre is located in Terre-de-Haut island about 9 miles south of Guadeloupe.
The beach is about a 20 minute walk from town.
The islands of Les Saintes are located just 9.3 miles (15 km) from the south coast of Guadeloupe.
Les Saintes Guadeloupe is made of nine islands:
Terre-de-Haut (Where Plage de Pompierre is located)
Terre-de-Bas
Grand-Îlet
Les Roches Percées
Îlet-à-Cabrit
La Redonde
La Coche
Les Augustins
Le Pâté
How to get to Plage de Pompierre
If you are on the main island of Guadeloupe you will have to take a ferry over from Basse-Terre to Terre-de-Haut.
Once you dock on the island the best way to get around is by bike, scooter, golf cart or by renting a tiny-car.
You can also walk. The island is not that big. You could technically walk from one end to another in about an hour. But, I still recommend at least renting a bike. It's hot and just a lot faster than having to walk everywhere.
What you can Expect at Plage de Pompierre
Large enough not to feel crowded (Pain de Sucre, for example was really crowded and lacked much shade)
Lots of shade!
Picnic tables
Warm clear water
Great views
The beach can be known to have a Sargassum problem (aka lots of gross seaweed on the shore) Check before going.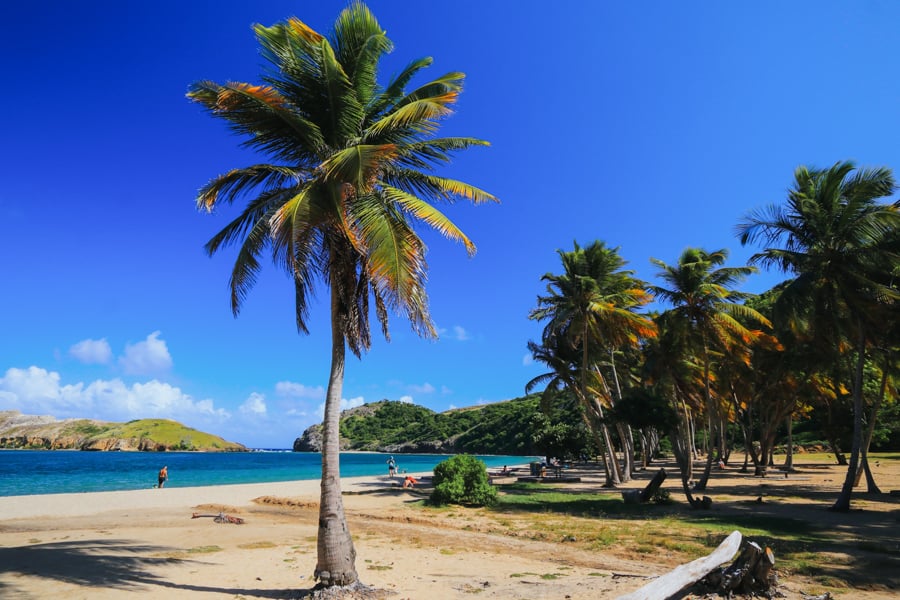 Swimming Conditions
Overall pretty calm. Protected from wind and waves with the islands around it.
Snorkeling
The best snorkeling is located to the far left of the beach. If you swim to the little island just across the bay, there are some good snorkeling spots there as well.
Don't forget your mask if you plan on snorkeling. I like this one you can buy on amazon. It isn't the cheapest set, but not the most expensive either. I have tried out a few sets and honestly, they were miserable to use. They fogged up right away making it so I couldn't even see clearly. Apparently this is common with snorkeling gear. Thankfully, this mask is fog proof.
Facilities
There are no restrooms or beach chairs for rent here. Pretty standard for Guadeloupe beaches.
There was a small restaurant up the little street from the beach where you would be able to get lunch or beverages, bit none on the beach itself.
There are one or two beach bar/shacks en route and enough space to park your scooter or golf cart if you decide to travel via those means.
Conclusion: Is Plage de Pompierre worth visiting?
Yes! Definitely one of the must see beaches on Terre-de-Haut island.