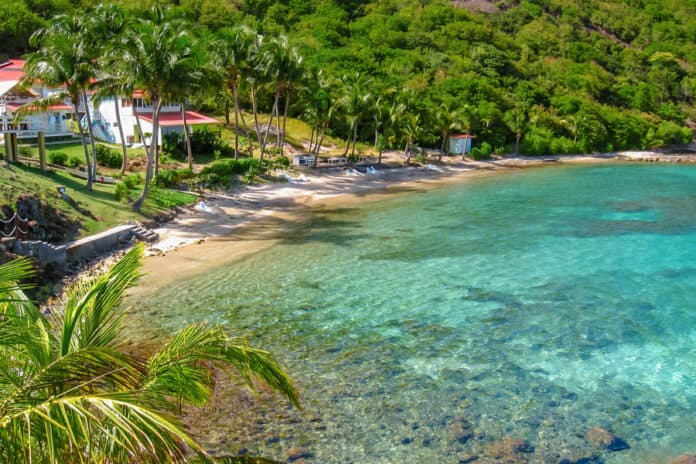 The tiny beach of Plage du Pain de Sucre also known as Sugarloaf beach (in English) is located in Les Saintes archipelago in Guadeloupe.
Plage du Pain de Sucre Quick Tips:
Water color: Clear, turquoise blue
Sand color: Golden brown, fine
Good for: Snorkeling
Not so good for: Spreading out (small beach)
Swimming conditions: Good for most swimmers
Other names: Sugarloaf beach, Plage Pain de Sucre, Pain de Sucre
Facilities: none
Lifeguard: none
Cost: Free
Parking:
Available tours:
Where is Plage du Pain de Sucre located?
Located on Terre-de-Haut island, Guadeloupe.
How to get there
Les Saintes archipelago is located about 15km south of Guadeloupe (Basse-Terre).
It is easily reached by day from Trois-Rivière, where several boats depart daily.
Once you arrive in Terre-de-Haut, you will still have to travel just over a mile (2 km) to reach the Pain de Sucre beach.
You can rent scooters, bikes, or mini-cars in order to get to the beach quickly. If you decide to walk from the port it will take you about 40 minutes to reach the beach by foot. I don't recommend walking because of the heat, and extra time and energy it will take you. But good to know it is an option if you want to!
Parking
Be there before 10:00 am, the beach fills up quickly.
You will follow a small rocky path to get there.
After about 650 ft (200 meters) of walking you will reach the beach.
What you can Expect at Plage du Pain de Sucre
Small beach with great snorkeling
Best snorkeling on each side of the beach. (Center of the beach is the worst for snorkeling)
I recommend arriving before 10 a.m. that is when all the tourists arrive by boat. The beach will go from practically empty to overwhelmingly full very quickly.
The weekends are worse for crowds.
Gorgeous places to watch the sunset.
Swimming Conditions
Good for most swimmers. Overall the water is pretty calm.
Snorkeling in Les Saintes
Plage du Pain Sucre is definitely one of the best snorkeling spots on Les Saintes. Especially Terre-de-Haut island.
You can snorkel directly off the beach. Expect to see the corals right off shore with a multitude of small colorful fish.
Where to enter the water for the best snorkeling
I recommend entering the water on either side of the beach. The center of the beach is the least interesting in regards to sea life.
The best snorkeling spots are along the rocky sides, located on either side of the spot that the underwater life is the most abundant.
Central
The central part of the beach is mainly composed of seagrass and sandy bottoms. This is also where the boats are parked, be careful in this area. It's also not the best spot for snorkeling.
Both sides of the beach
On either side of the bay, you will be able to go from seeing a plethora of fish between the Alcyonacea, sponges and corals that have colonized the rocky bottoms of the ocean.
Don't forget your mask if you plan on snorkeling. I like this one from amazon. It isn't the cheapest set, but not the most expensive either. I have tried out a few sets and honestly, they were miserable to use. They fogged up right away making it so I couldn't even see clearly. Apparently this is common with snorkeling gear. Thankfully, this mask is fog proof.
Facilities
Available tours in the area
Conclusion: Is Plage du Pain de Sucre worth visiting?
Yes!
Things to do near Plage du Pain de Sucre
Plage de Pompierre – another great beach on Terre-de-Haut island