Saksun is a village located on the island of Streymoy in the Faroe Islands. To be honest, calling it a village is being generous since the population is only 9 people. Whether it should qualify as a "village" or not doesn't matter, since its natural geography is truly breathtaking.
Saksun is a perfect location to see the traditional Faroese grass roofed houses, waterfalls, and then begin a gorgeous canyon hike leading to a black sand beach.
The tides can affect whether the trails are available or not, so make sure you plan ahead to enjoy this epic hike.
Also, one quick warning, the people of the Faroe Islands are known for being super friendly, but the one Saksun resident we met was quite grouchy to have people constantly taking pictures next to his property and told us he felt like a "zoo animal."
I felt a little bit bad for him, but at the same time I wanted to warn him that word is getting out just how beautiful this area is and more people were likely to come.
What to see in Saksun
Saksun Village
grass-roofed houses
Pollurin Lagoon
Pollurin Waterfall
Saksun lagoon walk
Saksun Waterfalls
Saksun Location
Saksun is on northern side of the island of Streymoy. This is the biggest of the Faroe Island islands. That being said, the whole island is only about 144 square miles. This island is also home to the biggest city in the islands (Torshavn). It is only a 45 minute drive from Torshavn to Saksun.
What makes Saksun so Special?
In my opinion, the best thing to do in Saksun, and what makes it stand out above all the other villages in the Faroe Islands is not the grass roof homes or waterfalls (although those are amazing as well). It is the Saksun Lagoon walk to the black sand beach.
This hike was unlike anything I have ever done before. It was so unique I felt like I was on another planet.
Yes, you have to pay a small fee, but omg it is so worth it. Trust me, you can't find anything else like it. l'll include all the details you need to know on this hike below.
Saksun Faroe Islands Map
Saksun Hikes
There are two main hikes in Saksun. The Ut á Lónna (Saksun Lagoon Walk) and the hike from Saksun To Tjornuvík.
1. Ut á Lónna (Saksun Lagoon Walk) – Approximately 5km
The Saksun Lagoon walk is a 2.8-mile out-and-back trail. It will take you to an amazing, remote black sand beach! Make sure to go near low tide or you won't be able to access it.
When the tide is too high the trail is covered with water.
Saksun Lagoon Walk Cost
It costs 75 DKK to do this hike, or about $10.50 US. I hate having to pay for any hike, but trust me this one is worth it.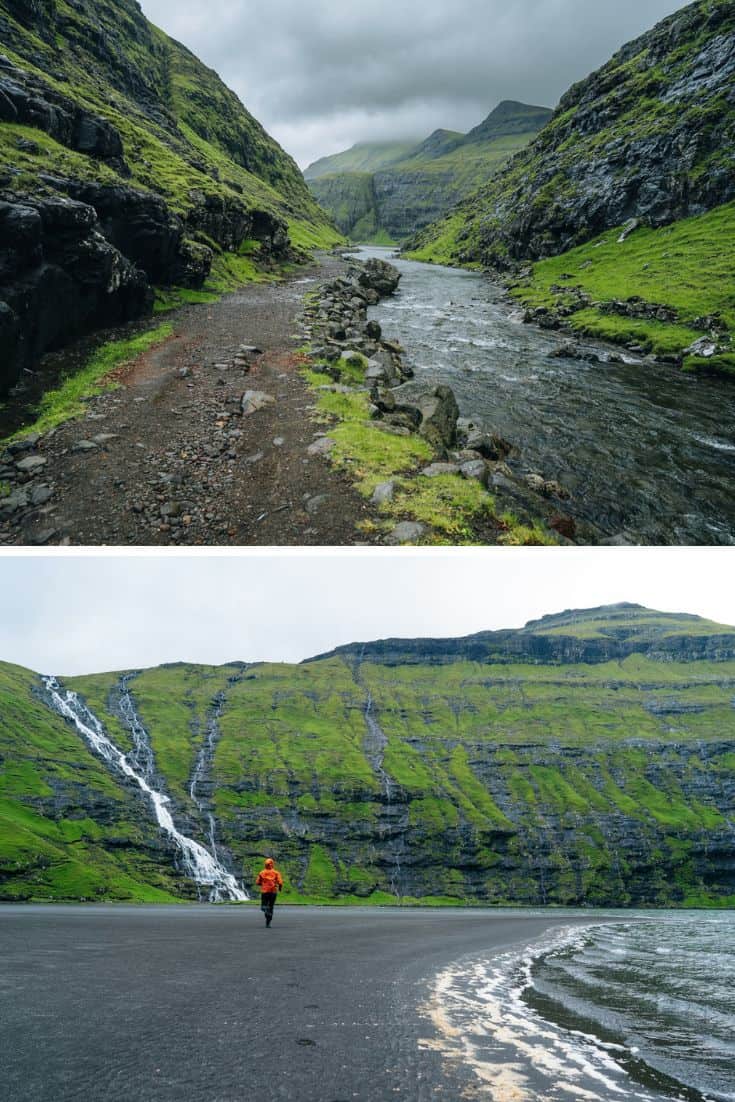 2. Saksun To Tjornuvík Hike
Tjornuvik is another charming village in the Faroe Islands. It is also much bigger than Saksun.
For those that are a little bit more adventurous you can go on a 7 km/4 mile (one way) hike between these two villages. Unless you want to get creative by dropping a car off at the other end, you may have to do a 14km/8 mile hike.
While on this hike you will go up and down mountains, observe mountain lakes, cross over streams, and see tons of sheep!
Saksun Waterfalls
There are numerous waterfalls in the village of Saksun. You can't miss them coming down the mountains. They will grow in volume dramatically during and after rain.
1. Pollurin Waterfall
Where To Stay In Saksun
There are currently (2023) only two options for accommodation in the tiny village of Saksun, and it's debateable whethere they are actually in the village or not. That being said, they are worth checking out.
Here are two options we recommend in Saksun:
Turf house in Saksun with panoramic view
Cottage
If you aren't interested in staying in Saksun, I recommend checking out the capital city of the Faroe Islands, Torshavn, since it is only 45 minutes away from Saksun and the site of lots of restaurants, grocery stores, and other attractions..
The capital is a small city of only 13,000 residents, but they are well accustomed to visitors with lots of things to see and do.