This Tailwind Review will answer all your questions on the Pinterest scheduling tool created by Tailwind App.
In the few years I have been blogging I have used 4 different Pinterest schedulers. Viraltag, Board booster (RIP), Tailwind, and Pinterest scheduling (yes, Pinterest now has a way to schedule pins straight from Pinterest).
Right now, I can say with 100% confidence that Tailwind is the best option for a Pinterest scheduling. Here's why…
Tailwind Review: Is Tailwind Worth It?
For me, Tailwind is not only worth it, it is an essential tool for my success with Pinterest.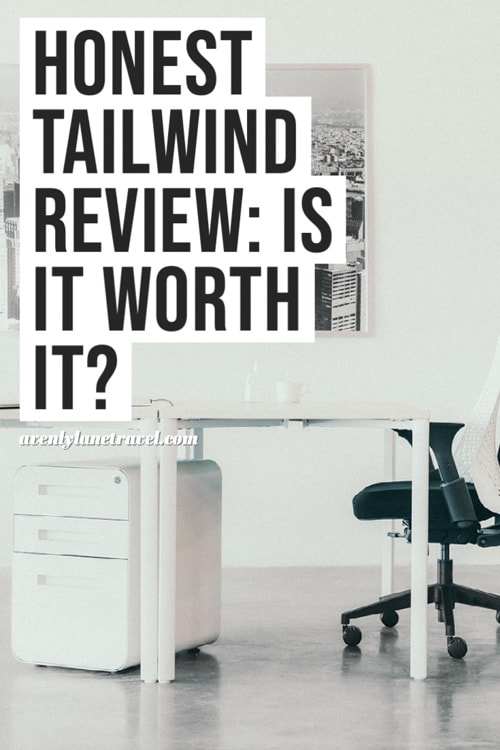 What is Tailwind?
Tailwind is a Pinterest scheduler and marketing tool that allows users to manage their Pinterest account from one centralized platform. This is known as the Tailwind app. Recently they have also expanded to Instagram as well.
How to sign up for a Tailwind Free Trial
You do not have to pay anything to get started, no credit card required with the Tailwind FREE Trial. Click here to get your free trial.
Now that you have your Tailwind free trial, let's talk about how much Tailwind costs after the free trial is over.
How much does Tailwind Cost?
The cost of Tailwind is currently $9.99/month for the Pinterest Plus plan when paid annually or $14.99 if you purchase the monthly plan.
Basically, if you pay for the entire year in advance you will save $60. You will pay $119.88 when billed annually.
What are the best Tailwind Features?
The best and most used Tailwind features are…
Scheduling your posts quickly and efficiently.
Set intervals which allows you to schedule 1 pin to go out to 5 different boards 1 week apart.
Gives you access to exclusive analytics that will help you review and tweak your Pinterest strategy.
Benefits to Using Tailwind for Pinterest Scheduling
Here are some tips and tricks into the benefits as well as how to use Tailwind.
Using Tailwind allows you to have a more "hands off" Pinterest Strategy
Tailwind saves you time!
Pinterest, like everything else on earth, is competing for your time. If you aren't careful, you may end up spending more time on your Pinterest strategy than you need to.
Pinterest rewards users that pin new content regularly. This means sharing new "fresh" pins to Pinterest anywhere from 10-40 times per day.
If you don't have a scheduler you are basically Pinterest's b*tch. Having to log into Pinterest multiple times per day to Pin new content. Not using a scheduler is not effective (for most people) and not an efficient use of your time.
Tailwind is an approved partner with Pinterest – Why it matters!
The fact that Tailwind is an approved partner with Pinterest means that Tailwind follows all of Pinterests rules. Not only do they follow the rules, they have the full support of Pinterest.
Tailwind even has safety nets in place on their platform to protect its users from unknowingly breaking Pinterests ever changing rules that could result in penalties for your account (i.e. your pins not getting shown) or even worse, your account getting shut down.
Tailwind protects you from unknowingly becoming a spammer & going against Pinterest's best practices.
Pinterest doesn't like it when you "spam" their platform. Sounds simple enough, the only problem is what is considered "spam" on Pinterest changes throughout the years. Strategies that were once encouraged have now become discouraged. It can be hard to keep up with all the changes Pinterest makes which is where Tailwind comes in.
They stay up to date with all of Pinterest's best practices and help you to stay on track as well.
One example that could get you into trouble is if you pinning the same pin to 30 different relevant boards. If you do this regularly Pinterest could stop showing your pins in people's feeds.
If you try to schedule the same pin to more than 10 boards Tailwind will stop you. It won't only stop you, it will tell you exactly when and where you pinned that pin.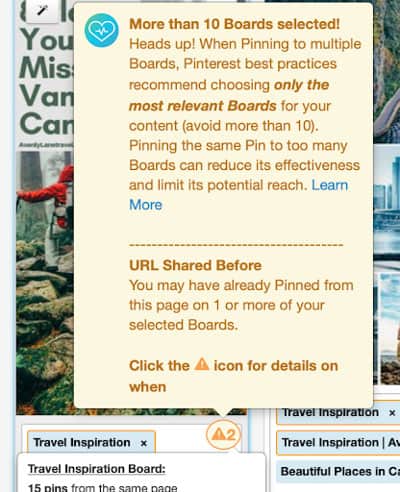 I absolutely love this feature because it can be so hard to keep up with all the rules and rules MATTER! If you want Pinterest to like you, aka pushout more of your content to Pinterest users then keep the rules.
Tailwind will also tell you how many pins you have linking back to the same url in each of your boards. This is information and analytics you can currently only access in Tailwind. This comes in handy when you are rescheduling old posts and want to make sure you are not pinning the same pins to the same boards over and over.
No other platform (that I know of) including Pinterest has analytics like this.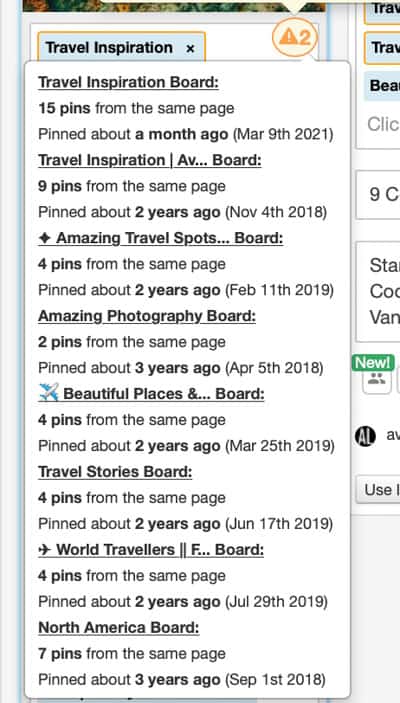 Tailwind gives you the ability to Schedule an Unlimited Pins in Bulk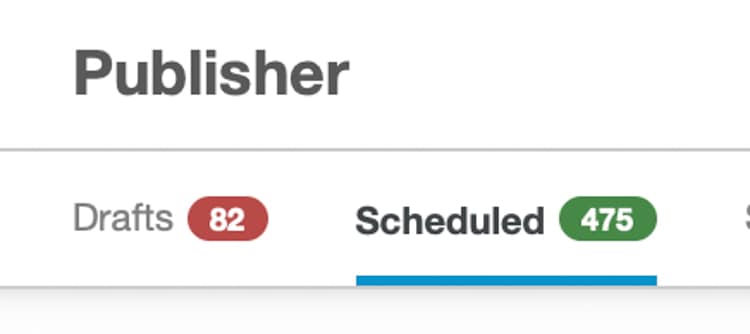 One of the best Tailwind features is the ability to schedule unlimited pins. I currently have 475 pins scheduled to go out over the next 6 months in my Tailwind account.
Why is this a game changing feature? Because I will now be able to "set it and forget it".
I can now go on vacation and not think once about scheduling pins in Pinterest. I won't have to worry about the upkeep of manually pinning.
I won't have to log into my Pinterest account daily or even weekly to update my account.
Planning on taking some time away from your blog for a while? No worries. With Tailwind you can schedule an unlimited amount of pins at any given time. You can schedule them to go out over the next year if you want.
Board Lists

Tailwind allows me to get the most amount of work done in the least amount of time. How do they do this? A few ways. One way is with board lists.
A Board List is a group of related boards in the same category; example, Canada, Canada | Avenly Lane Travel, Beautiful Places in Canada, Alberta, Canada Travel that you can schedule the same pin to with one click.
Board lists are a major timesaver when scheduling the same pin to multiple related boards.
Essentially, with a board list you won't have to select 5 different Canada boards individually. Using my Canada Board List I can schedule all Canada boards with one click.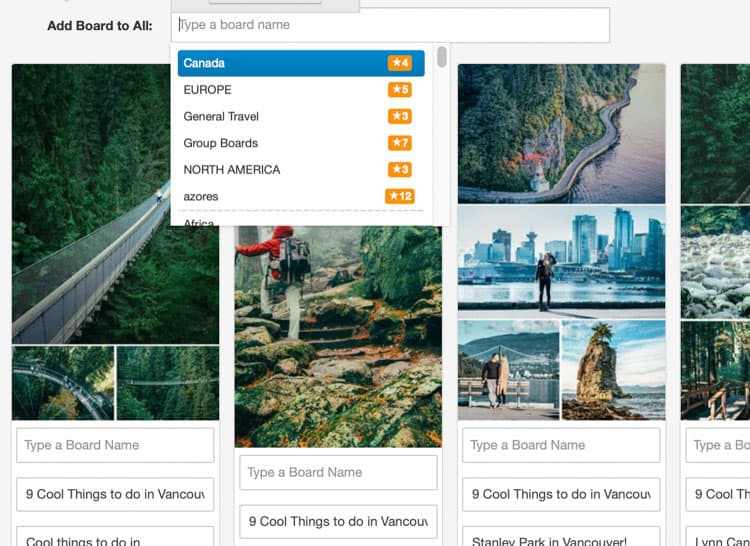 Tailwind Board Insights

Tailwind Board Insights help you know which boards are getting you the most repins. you should keep pinning to and which boards you should archive.
You can filter the results between group boards, regular boards and private boards. This will allow you to see how many Pins were pinned to that board in the last 30 days (you choose the amount of time), followers, repins, comments, as well as the virality and engagement scores.
When scheduling my pins I intentionally try and target the most popular boards since these boards have the highest chance of yielding the most click throughs and repins.
I also use board insights to clean up my Pinterest account. Throughout the years I have created so many Pinterest boards that I just never pin to. Seeing the board insights help me see which boards I need to "archive".
Weekly email reports
In addition to the Tailwind dashboard, you also get a free high-level performance summary delivered to your inbox every week. You can choose whether or not you want to be sent these emails and how often. For example you can get a monthly email or a weekly email.
I like getting these emails because I do most of my Pinterest scheduling in bulk – meaning I do not log into my Tailwind account or Pinterest account very often. The email report helps me stay somewhat in the loop on what is happening with my Pinterest account.
Weekly or Monthly email reports will show you:
Total pins to date
The number of new pins added over the last week
Totally repins to date
Number of weekly/monthly repins
Total followers
Number of new followers from the week
Recent pin activity
Recent repins/shares from your website
What is included in the Pinterest Plus Plan?
1 Pinterest Profile
Unlimited Scheduling – Essential!
15 Free Pins in Tailwind Create (Tailwind Create is an easy way to create pins for Pinterest)
5 Free Tailwind Communities
Tailwind Communities (Used to be known as Tailwind Tribes)
There are other features like Tailwind Communities but I have never used them so I can't really speak to them. If you google Tailwind Communities you will be able to find a ton of great articles on how to use Tailwind Communities to grow your blog traffic.
Con's to using Tailwind
The Tailwind App site can load slow – If you have a slow computer or a slow internet connection it is going to take you a while to schedule your pins. The scheduling page can be very slow once you have a lot of pins in the queue.
Auto-renews – I HATE anything that auto renews. I know they are the norm but I still hate it. I always forget when things are auto-renewing and it drives me insane. Whether you sign up for the monthly plan or the yearly plan make sure to set a calendar reminder so that you can make sure you want to renew before you get charged.
Amazing Customer Service
Speaking of auto-renews, I had 4 Tailwind plus accounts and I lost track of them all. I had one I was not using but it auto-renewed before I thought to cancel it. I emailed Tailwind telling them my situation and asked them if there was anyway they could refund me? To my surprise they responded immediately and agreed.
If you have any questions or problems with Tailwind you can email their customer service and they will always get back to you quickly. It's quite nice to have that kind of support.
Conclusion: Is Tailwind Worth it?
Not only has Tailwind made it a million times easier to post regularly to Pinterest, they also have created an amazing analytics and tracking tool to help you drive more traffic to your website.
For me, not only is Tailwind worth it, it is an essential tool for my success with Pinterest.
I get over 10+ million monthly views to my travel Pinterest account here and millions of Pinterest referrals to my blogs each year. For $9.99 per month I make tens of thousands. I would say it is worth it.
Is Tailwind going to be worth it to you?
That depends….you still have to put in the work. If you are you going to sign up and ignore it, then it is not worth it. You still have to remember that you have a Tailwind account and use it. If you want to get serious about growing your business, Tailwind is the absolute best tool for Pinterest scheduling on the market today.
These are my personal results, but Tailwind also publishes the Typical Results of Tailwind for Pinterest/Instagram Members every year, so you can see exactly what the average growth rate looks like for their members.
• Typical Results for Tailwind for Pinterest members can be found here
• Typical Results for Tailwind for Instagram members can be found here
Did you guys find this Tailwind review helpful? I hope you did. If you did don't forget to share it to Pinterest for later! Hover over the image below to Pin it to Pinterest.