Switzerland is one of the most beautiful countries on earth—few who have visited Europe would argue with this. After all, where else can you find such a combination of mountainous views, sparkling rivers, and charming architecture?
If you are lucky enough to visit Switzerland in your lifetime, don't settle for the usual tourist sights. Branch out to feast your eyes on Switzerland's loveliest locations!
Even in Switzerland, the most beautiful of views take a little more effort to discover. Don't miss out on the chance to see some of the world's most gorgeous locations!
Keep reading to discover the most beautiful places in Switzerland.
10 Most Beautiful Places in Switzerland
Here are ten beautiful places in Switzerland that should be on your bucket list.
1. Lucerne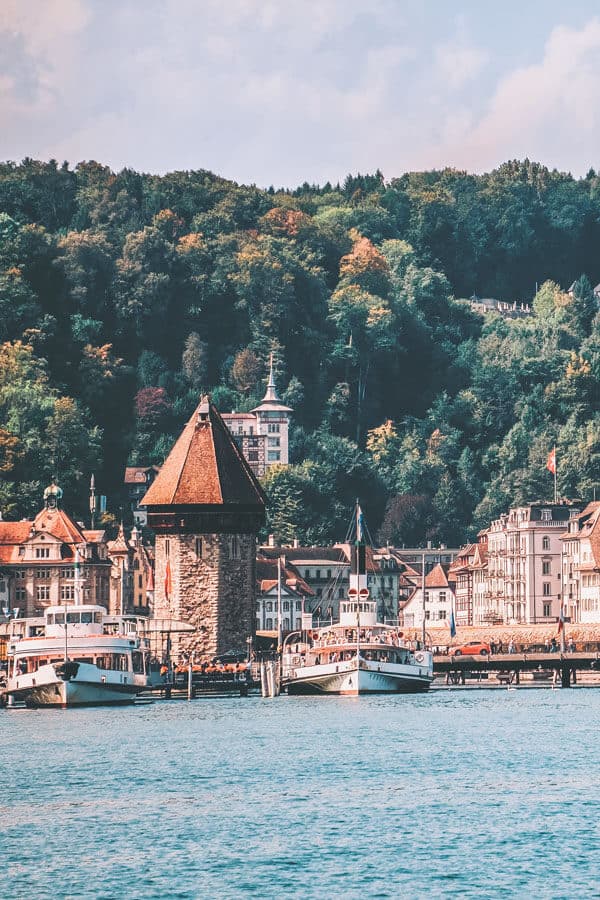 Lucerne is one of the most scenic places in Switzerland. A visit to beautiful Lucerne will quickly whisk you back into time! This lovely town maintains its medieval vibe, thanks to well-preserved historic buildings and a feeling of remoteness.
Visitors love to spend time here not only for the antique charm, but also for the views of Lake Lucerne and the imposing mountain backdrop. Not to mention it is one of the most beautiful places in Switzerland in summer. Do you agree?
Book your tour: Mt. Pilatus Self-Guided Trip: Lucerne's Landmark Mountain
Book your tour: From Lucerne: Day Trip to Jungfraujoch – the Top of Europe
2. Gruyeres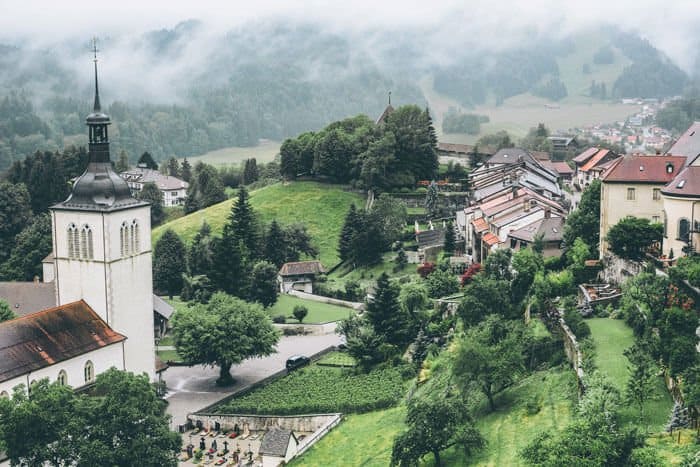 Gruyeres is most famous for its famous cheese of the same name, but there are many additional reasons to visit this historic town. Most obvious is the castle, which sits on a hilltop and rises high above the other centuries-old buildings.
You can visit this castle, then walk through the cobbled streets to sample local cheeses and other delicious delicacies.
3. Interlaken Switzerland
If you want to experience Switzerland beauty at it's finest, go to Interlaken. Immerse yourself in the most captivating of Switzerland's natural world when you take a vacation to Interlaken! As you may be able to tell by the name, this popular resort town is located in between two lakes. Beyond the lakes, mountainous slopes soak high above the village, offering a natural feel and wonderful views.
Take it all in by stopping at the observation deck, riding the train, or taking a hike. If you are feeling a little 'extra' you can go tandem paragliding in Interlaken!
Flying tandem with an experienced pilot, soar over the beautiful town of Interlaken.
The best part is you don't have to have any experience. Hotel pickup and drop-off in Interlaken is included. If you are interested in learning more you can book this activity in advance you can click the link below.
Click to book this activity now: Paragliding Experience in Interlaken The views from above are INCREDIBLE)
4. Aare Gorge Canyon Walk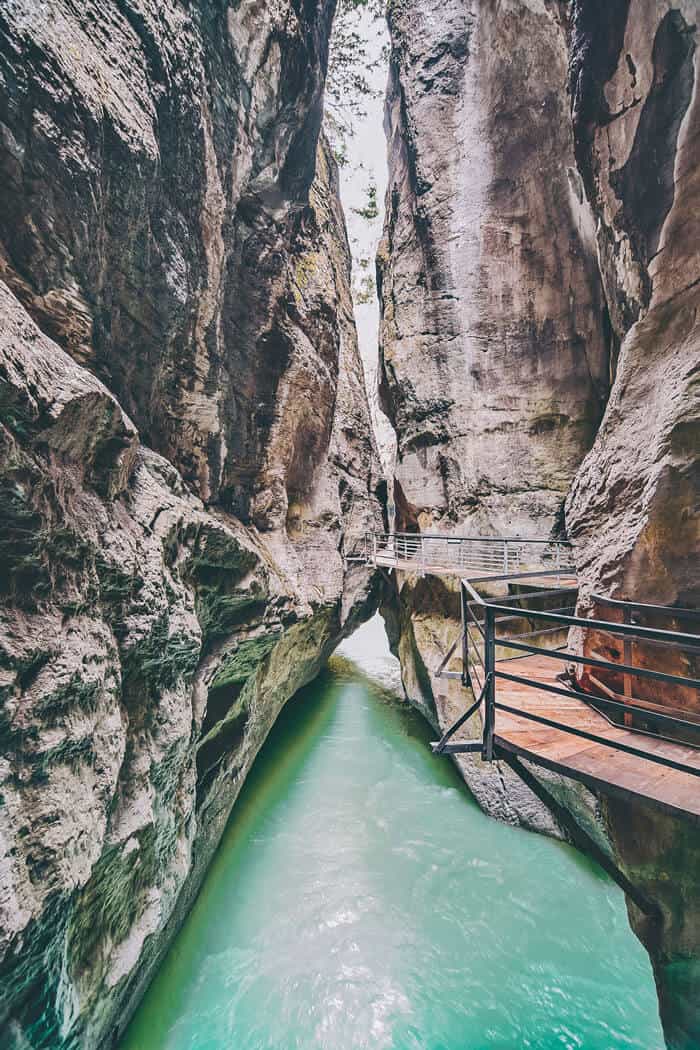 As far as adventures go, this is one of Switzerland's most incredible! Here, the blue Aare River has carved a deep gorge into the limestone, creating a natural work of art. You can walk along the river with the help of footpaths and bridges. Don't forget your camera!
Be sure to enjoy Aareschlicht, an especially scenic part of the river near the town of Meiringen in the Bernese Oberland region of Switzerland.
​5. Valle Verzasca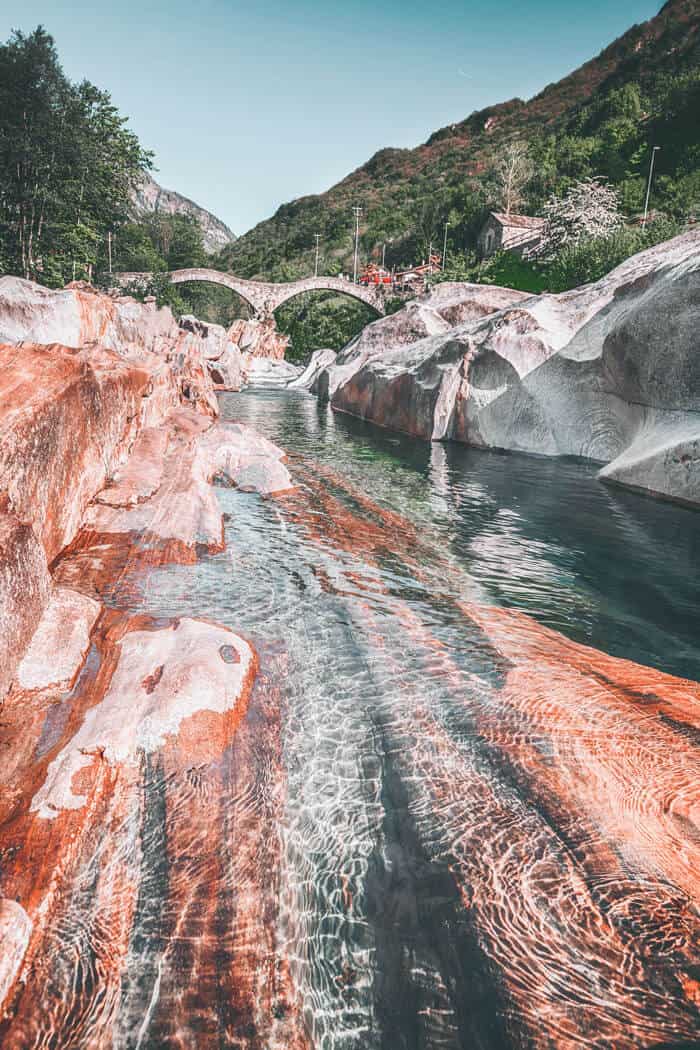 Valle Verzasca just may be the most gorgeous place in Switzerland! Here, an emerald green river flows over perfectly smoothed rocks, carving out surprising shapes and hidden natural hot tubs. Take a hike along the edge of the river to see new sights around every bend. Don't be afraid to leap in—this is one of the best swimming areas you'll find in Switzerland! If you're brave, you can even try cliff jumping.
6. Zermatt City and Matterhorn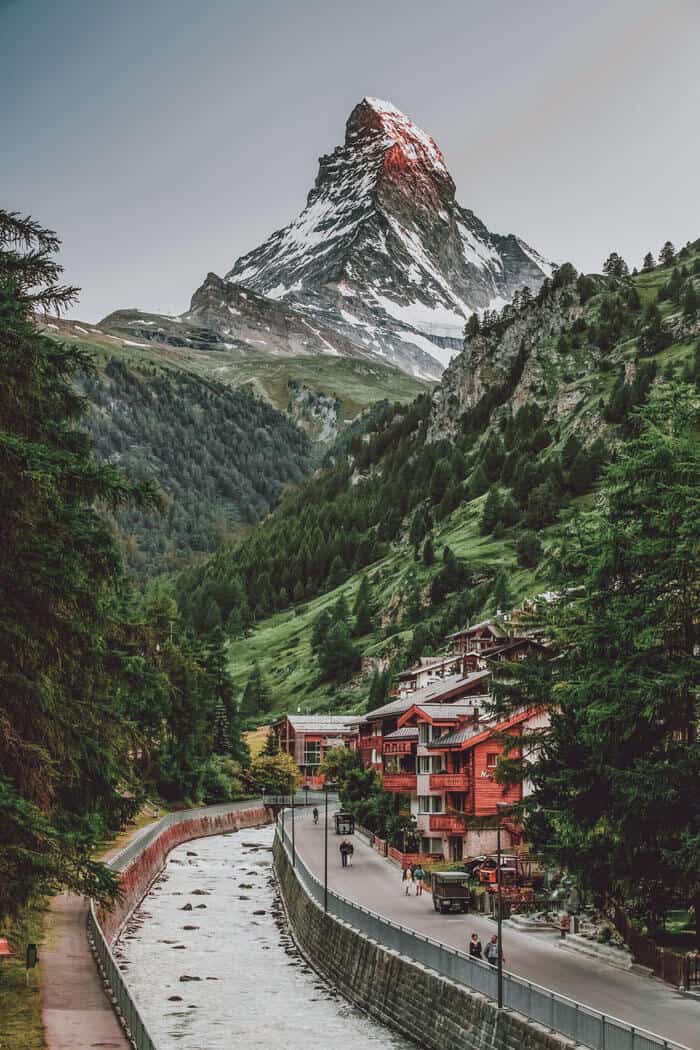 Zermatt City is the best-known city in Switzerland—or at least the city with the best-known views. If you've always dreamed of gazing at the iconic silhouette of the Matterhorn, then Zermatt must find a place on your travel bucket list.
The city is a tourism base for all things Swiss—food, culture, skiing, biking, hiking, and (of course) mountaineering. Don't let the tourist element scare you away! You'll be hard pressed to find better mountain views anywhere else.
7. Lauterbrunnen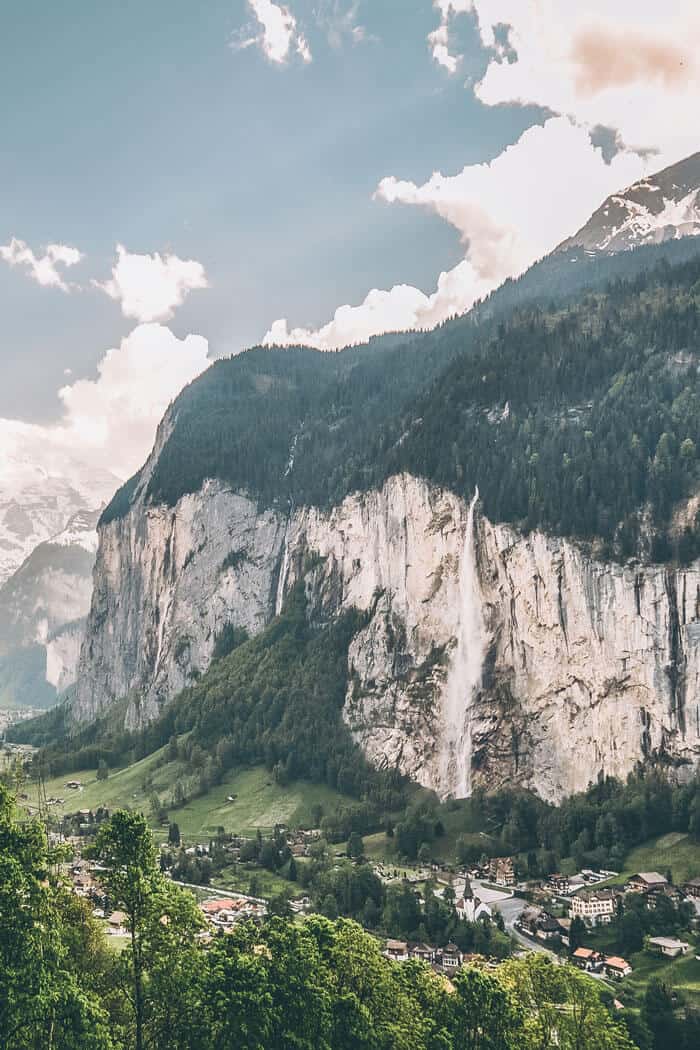 For a getaway in the Swiss Alps, look no further than Lauterbrunnen. This lovely village in nestled into one of the most picturesque areas in the Alps, and it offers amazing views that could convert anyone into a romantic. However, the most stunning aspect of the town is not the mountain views, but the local waterfalls.
Staubbach Falls in Lauterbrunnen
Staubbach Falls cascades hundreds of feet down a sheer rock cliff, just beyond the streets of the town. Take a stroll among the charming historic buildings to take in both the old-time feel of the town and this thundering natural wonder!
Book your tour: 6-Hour Guided e-bike tour to Lauterbrunnen 72 Waterfalls Valley and Swiss Picnic
Book your tour: Paragliding Over the Swiss Alps from Lauterbrunnen
8. Neuchâtel, Switzerland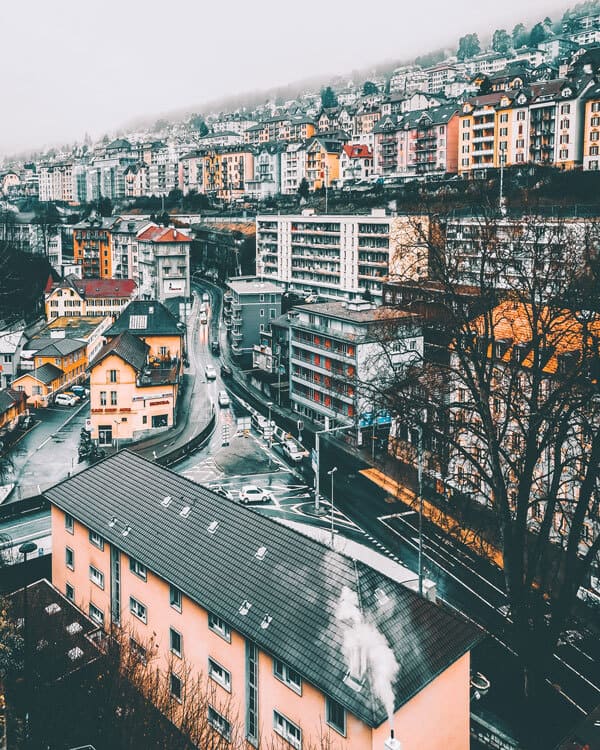 Imagine life in the shadow of a 12th Century castle. If you lived in Neuchâtel, Switzerland, you would spend every day gazing at this fortresses' strong, artistic architecture! The medieval town sprawls out beneath the castle walls, offering locals and visitors alike plenty of things to see and do. Stroll through the timeless Old Town district, take a boat on the lake, or check out one of the many museums.
9. Gurtnellen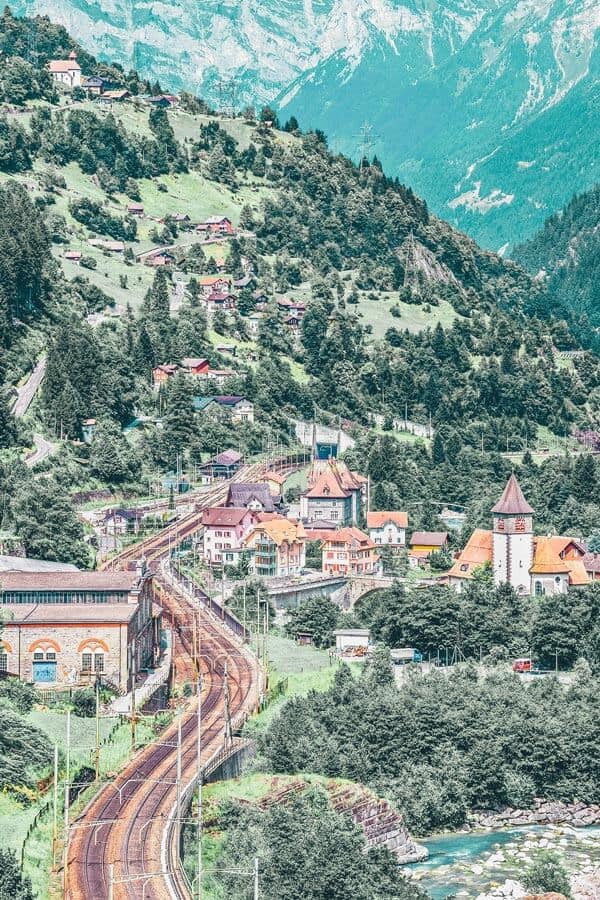 Gurtnellen lies hidden in a verdant valley in Canton Uri. Unless you know where to go, you'd never find this little village on your own! However, the town's breathtaking beauty makes it one of Switzerland's most worthwhile alpine destinations. Take a scenic train ride to the quiet village, where you'll find idyllic historic homes and inspiring views of the soaring mountain peaks.
10. Berggasthaus Aescher-Wildkirchli, Weissbad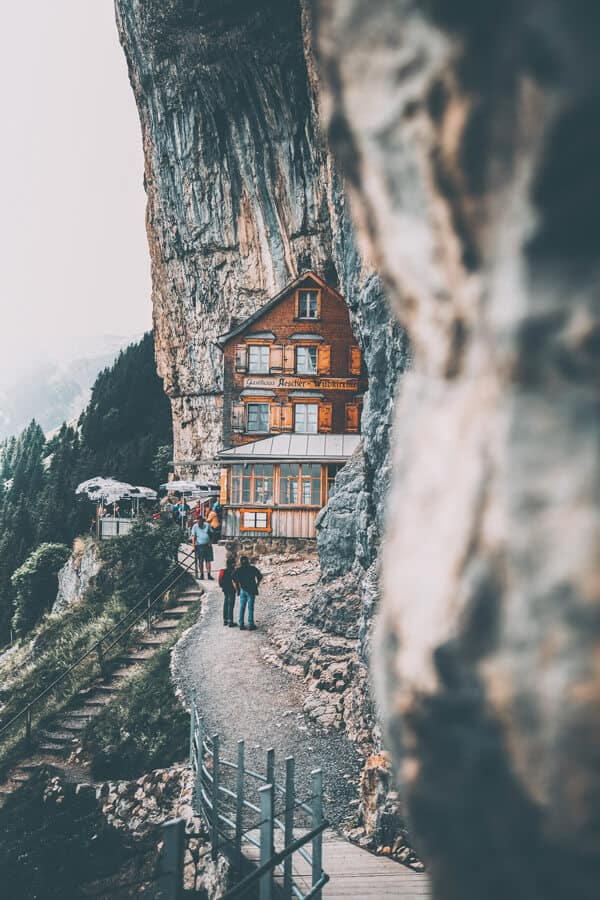 A trip to Berggasthaus Aescher-Wildkirchli is one lunch date you'll never forget. Although Switzerland is full of darling eateries and marvelous views, this guesthouse combines both into one stunning, unrivaled package. When you arrive here, you'll likely wonder how the guesthouse was ever built. It's located high up in the side of a steep mountain, thousands of feet from the valley below. You can't drive here—you have to take a cable car or make a trek up the mountain! Although arriving at the top takes some planning, the experience and the views are more than worth it.
From mountain peaks to deep river gorges, Switzerland offers unrivaled beauty for anyone who ventures into the mountains. These incredibly beautiful Swiss destinations are well worth a trip!
If you visit any of these incredible places, you'll think that you've stepped into the setting of a fairytale. You must visit at least a few of these places before you die. If you had to pick just one, which would you visit? Let us know your favorite destination in the comments!
If you enjoyed this post (I hope you did!) don't forget to share it with your friends! You can pin the most beautiful places in Switzerland by hovering over any of the images! Thank you so much for reading.
By Breana Johnson
Visiting Switzerland? READ NEXT: