Kanaha Beach Park – Underrated beach near the airport in Maui
Kanaha Beach Park is totally unique and underrated! I think it gets lost along the way because of its location and unique elements. It is not located close to any of the big resort areas on Maui. In fact, it is right next to the airport. One of the best places to pass time before getting on a plane to leave Maui.
This beach is most famous for being an ideal location to windsurf or kitesurf. While I don't do either one of those extreme sports, I extremely enjoyed watching others do them.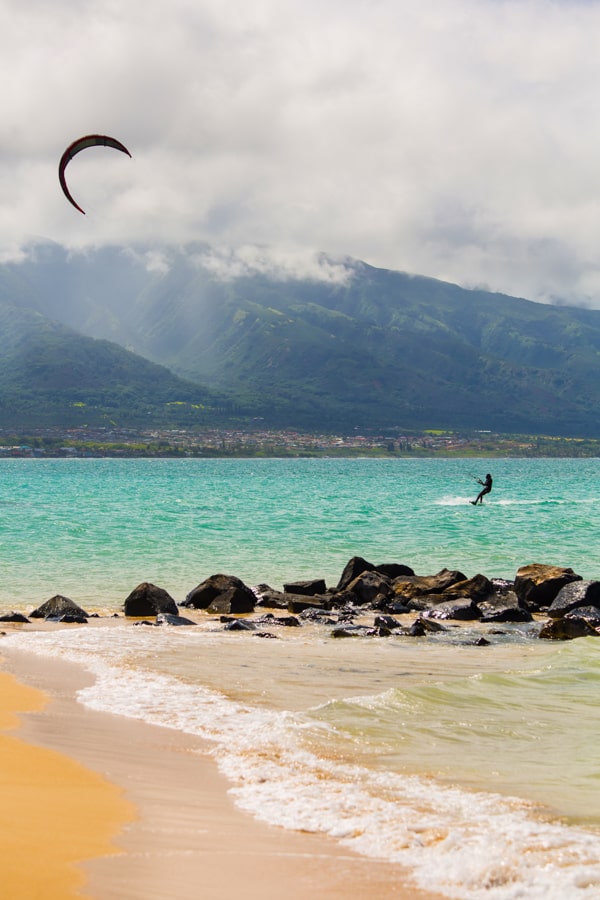 Kanaha Beach Park Quick Facts
Other Names: Airport Beach Maui, Kanaha Beach Park, NOT Kahana Beach
Best known for: Wind that is perfect for windsurfers and kitesurfers
Also available: beautiful sand and rolling waves
Day and time I visited: multiple days, morning, afternoon, and evening
Facilities: Bathrooms, showers, picnic tables, pavilions
Lifeguard: Yes
Cost: Free
Parking: Plenty
Open from: 7 am to 8 pm
Location: 4 minutes from the Maui Airport
Called Airport Beach of Maui for a Reason
This beach is located right next to the airport.
Literally you could walk there straight from your flight.
It is on the north side of Maui.
It is close to the Kahului area where you will find a lot of the most abundant shopping (Costco, Walmart, etc).
It is a perfect location to kill some time if you end up with extra time to hang out before your flight takes off.
What to Expect at Kahana Beach Park
Windsurfing
While this beach isn't known to most Maui tourists, it is famous amongst the extreme sports crowd. The Kahana Beach Park windsurfing opportunities here are not available almost anywhere else.
The volume and intensity of the wind make it an absolute perfect location for windsurfing and kitesurfing.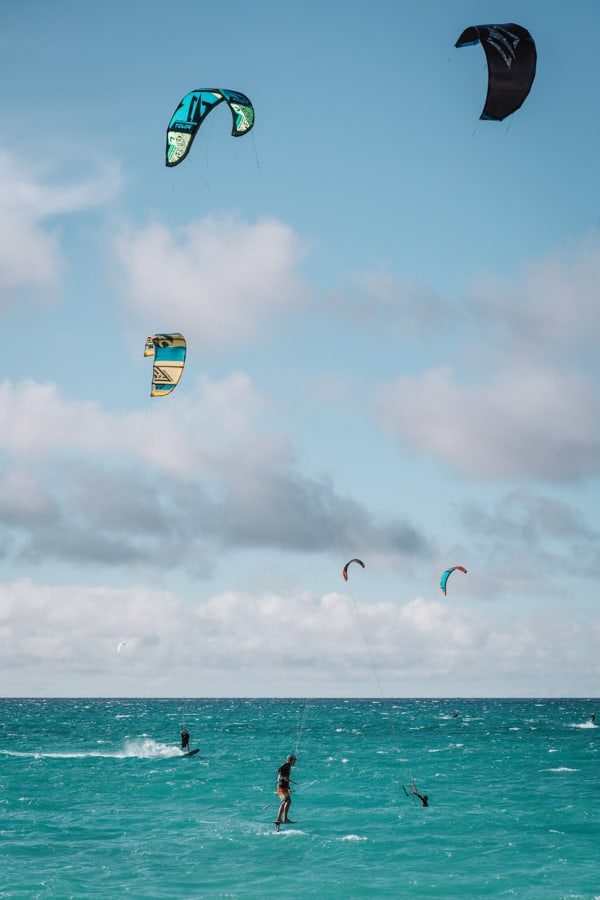 Difference Between Windsurfing and Kitesurfing
Full disclosure I had no idea what the difference between the two sports was until I researched it on the trip. Both are extreme sports that involve standing on a surf type board and a sail. The difference is that in windsurfing the sail is directly attached to the board and in kitesurfing the sail flies up in the air as a kite.
Windsurfers really can harness the wind to skim across the water quite fast.
Kitesurfers seemed to be even more extreme to me as they can use their kite/sail to ultimately jump way high out of the water to do tricks. Seriously, I was people jumping over 10 feet in their air while being pulled along by their kite sails.
It was a TON of fun to watch.
Want to See if Conditions are Right? Check the Kanaha Beach Beach Cam
The Kanaha Beach cam shows what the current conditions at the beach are like (here). Evidently the windsurfers keep track of this because one afternoon as I was lounging on the beach the wind picked up and within 30 minutes wind and kite surfers started pouring onto the beach!
Parking
There is plenty of parking available and one of the even more appealing aspects of it is that it is free.
Facilities
There are restrooms, showers, lifeguards, pavilions for picnics, as well as sand volleyball available. There are even boat rentals in the area if you want to push out and row into the waves.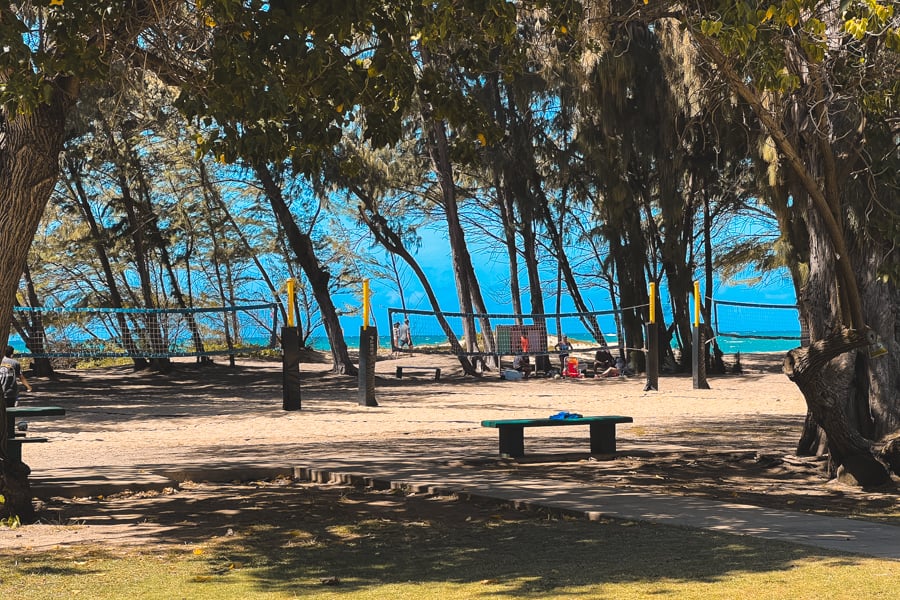 Negatives
I love this beach, but there are a couple of things you should be aware of before you go.
Windy
The exact thing that makes this beach so unique and awesome for the wind or kite surfing is exactly what probably keeps most beach goers away. It seems like it is windy all the time.
At times the wind got strong enough to blow sand into my face. While it didn't turn into a full blown sandstorm, it did feel like my skin was getting gently exfoliated.
Cloudy
This side of the island isn't as popular for beach lounging because it often is more cloudy than the other side.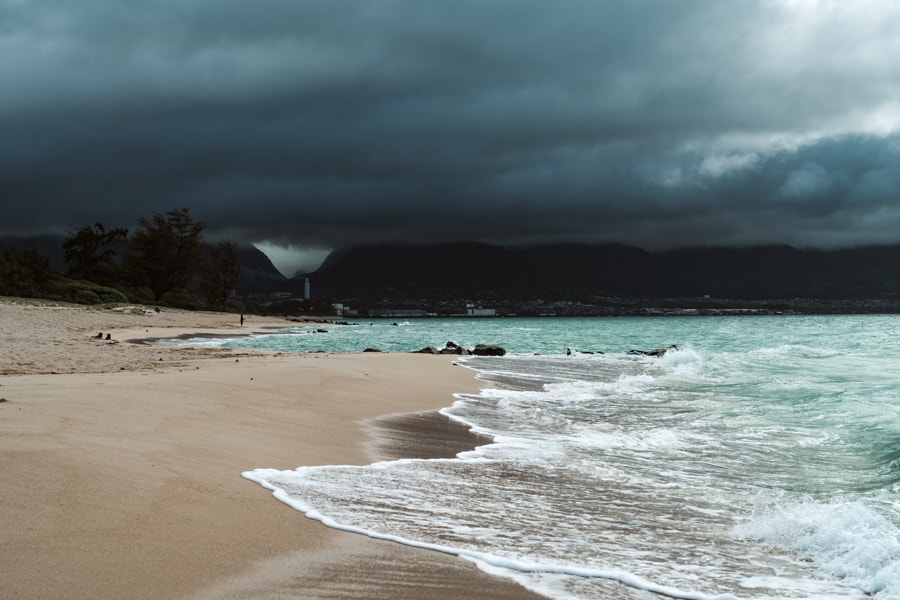 Airplane Noise
While I think airplanes flying overhead are actually kind of cool, the noise of them taking off and landing isn't exactly relaxing.
Nearby Attractions
As I mentioned the airport is obviously close to Kanaha Beach Park.
It is also close to all the shopping of Kahului that most people want to do once they land (Walmart, Costco, restaurants, etc).
Conclusion: Go Visit Kahana Beach Park Maui
Even if you swing by for just a few minutes to watch the wind and kite surfers in action, you won't regret the experience. It is fun to watch these talented athletes and you will only be seconds out of the way on your trip to the airport!
What to Bring to the Beach
Travel towel – So much easier to pack these quick dry microfiber travel towels than go without or be forced to buy one once there. We always travel with at least two of them.
Dry Bag – There are some lessons you just don't want to learn the hard way. Ruining your phone, camera, or other valuables at the beach is a very expensive lesson to learn. This dry bag is amazing and works for any and all water activities.
Reef-safe sunscreen – The sun here can be very strong. Make sure to wear a reef safe sunscreen or a rashguard.
Rash guard or long sleeve swim top – I wear the one from Skims and I love not having to worry about getting burned when I am out in the sun ALL DAY. Free people also has some amazing rash guards you can shop here.
Backpack or waterbottle sling – I am obsessed with my Beis travel backpack. I never travel without it. It is seriously the perfect size. Not too big, not too small. If you don't want to bring a full backpack this waterbottle sling is my absolute favorite. It fits a waterbottle, iPhone 14 pro max, plus some extra space for bars or snacks or your wallet.
Packable snacks – I always travel with these That's it bars from Amazon. OMG, they are sooo good and only have a few minimal ingredients.