No trip to Maui would be completed without getting to see the famous honu (sea turtles)! You can spot them in a lot of places around the island, but it can be hit and miss whether you actually catch them in a certain area.
Hookipa Beach is famous for being the best place to see turtles in Maui. For some reason they consistently rest on the shore of this gorgeous little cove beach.
Hookipa Beach (AKA Turtle beach) is the best beach to see turtles in Maui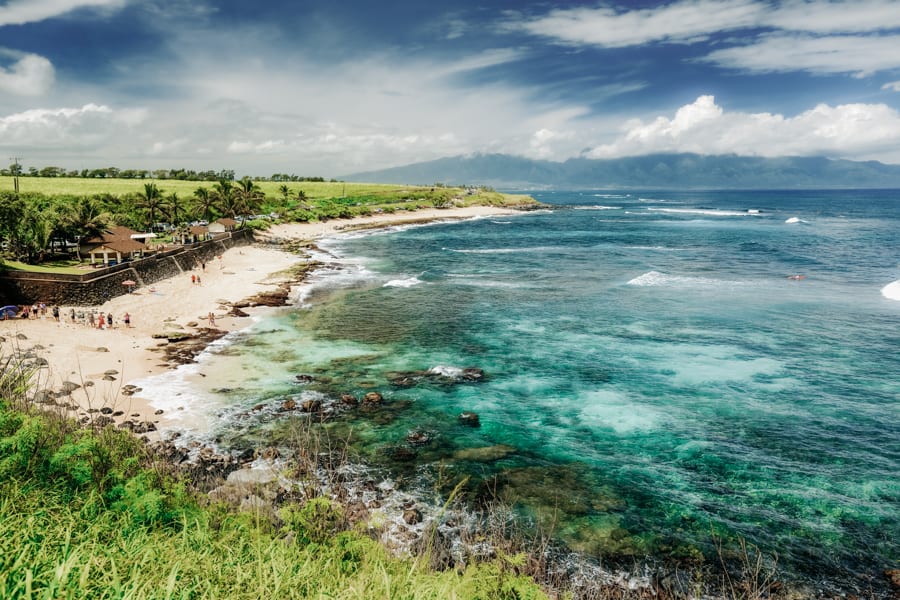 Hookipa Beach Quick Facts
Hookipa Beach Location
One great thing about Hookipa Beach is you are virtually guaranteed to end up nearby; this is because it is fairly close to the airport. Regardless of where you are staying, you are very likely to come in and out through the airport which likely makes a quick detour possible.
It is about 10 miles east of the airport as you head towards the Road to Hana. It is a very easy drive that usually takes about 20 minutes as you head towards the east side of the island.
What to Expect
A gorgeous cove beach that tends to be covered in TURTLES!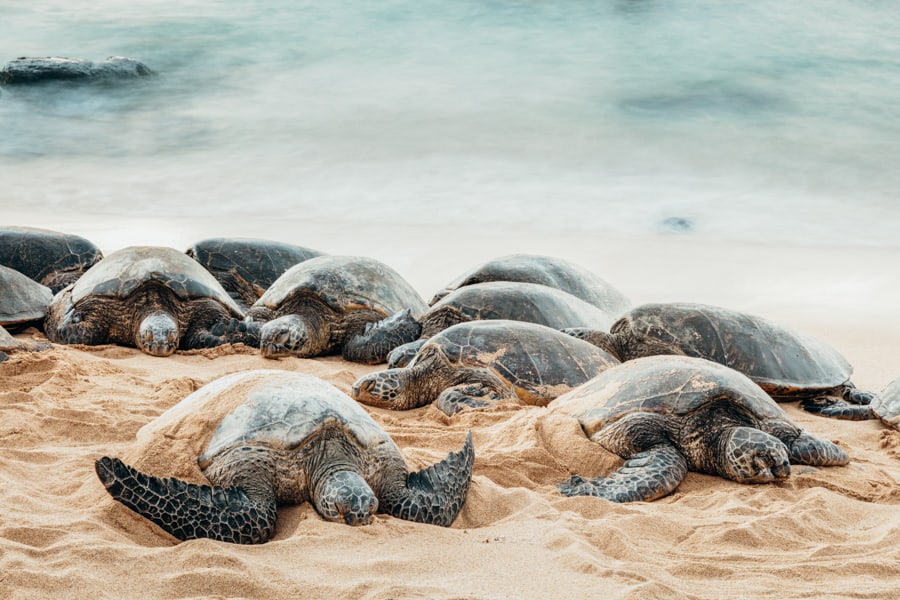 Waves for Surfing
While the size of the waves can vary, generally this beach is known for having waves that crash against the shore. One of the times I was there I got to watch a children's surf competition. The consistent but not too large waves made it the perfect site for the smaller surfers to catch a wave.
Cove/Rocks for Snorkeling/Kids
There are rocks making small coves that are perfect for kids to swim in and some introductory snorkeling. The waves in the area generally make this a forgettable snorkel spot, but the protected areas are nice to get a feel.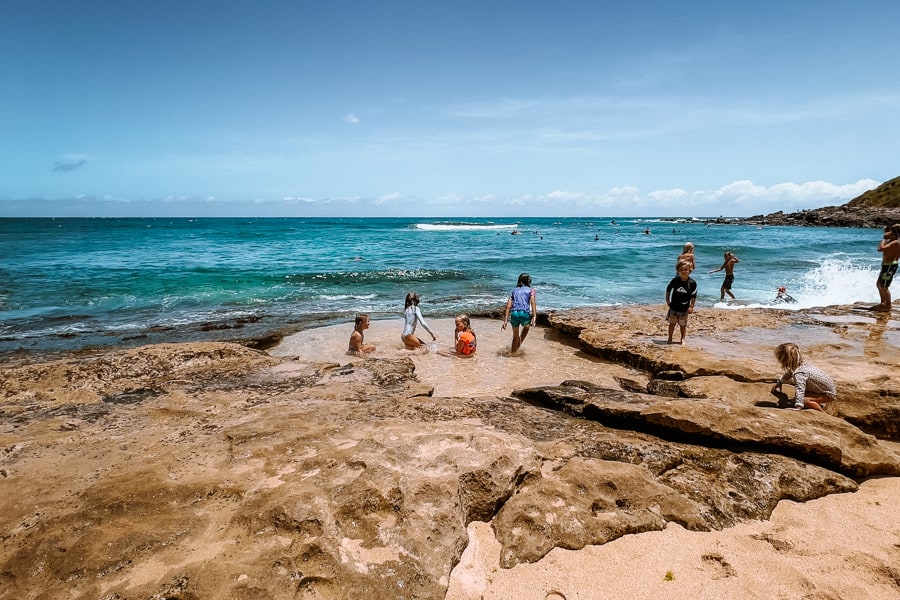 Hookipa Lookout
Don't want to lounge on the beach? If you continue to the east end of the beach you arrive at the Hookipa Lookout. This rocky outcropping gives phenomenal views of the beach and out into the Pacific Ocean.
Parking
Shockingly there is a decent amount of parking for a relatively small beach. Even if all the spots are full, there are shoulders off of the highway that you can park along and make the short walk down.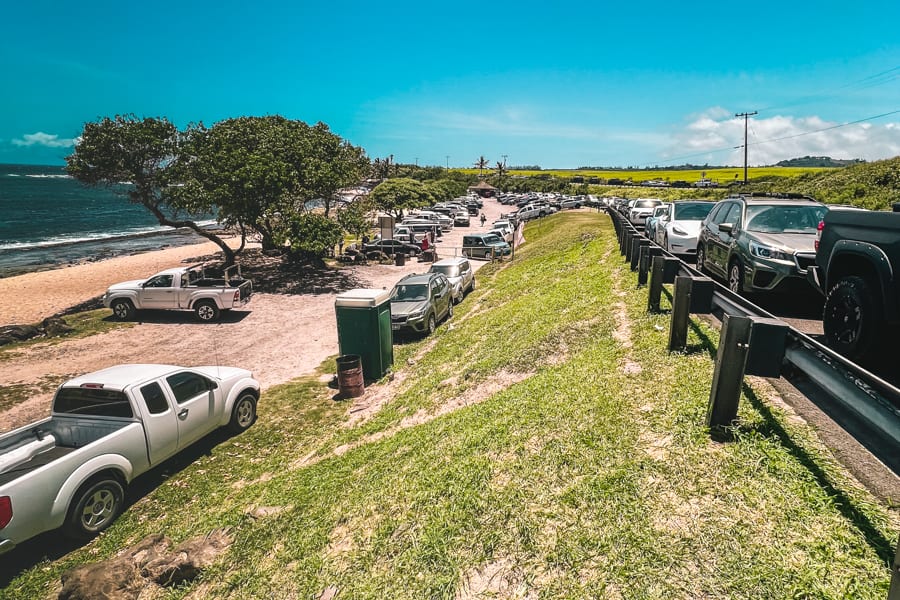 Nearby Attractions
While in the area there are other nearby attractions that you need to make sure to include in your itinerary. You are almost at the beginning of the Road to Hana with its tons of alluring stops.
One other nearby attraction that is rarely mentioned is the windsurfers at Kanaha Beach Park. The wind at this unique beach makes it perfect for windsurfing. If you are not a windsurfer, you can still enjoy watching the extreme athletes in action.
Negatives
It's not all perfect at this beach, though it is still amazing.
Crowds
You likely aren't the only one that wants to see the turtles. This beach tends to attract a lot of different visitors.
Windy
This side of the island tends to be windier than other parts of Maui. While the breeze can be really nice on a hot day, it can make lounging less comfortable.
Conclusion: This is the Best Place to See Turtles in Maui
If you don't catch them elsewhere then you need to swing by this beach to likely be able to see turtles. The famous sea turtles often sun along the shore or swim peacefully in the water.
Final Reminder: Don't Touch the Hookipa Turtles
I thought it was well known that it is essential that you not touch the turtles and give them their distance. Evidently that isn't the case as I saw stupid tourist dive into the water and attempt to pet the Hookipa turtles.
What to Pack for Maui
Planning a trip to Maui? Here are our best MAUI BLOG POSTS:
My husband and I have been to Maui a couple times and have written up more blog posts to help you plan your trip. These are my most popular blog posts and Hawaii travel guides to help you plan your trip. I hope it helps!
Maui general trip planning
Maui Beaches
Maui Hikes & Lookouts
Maui Waterfalls
Everything else