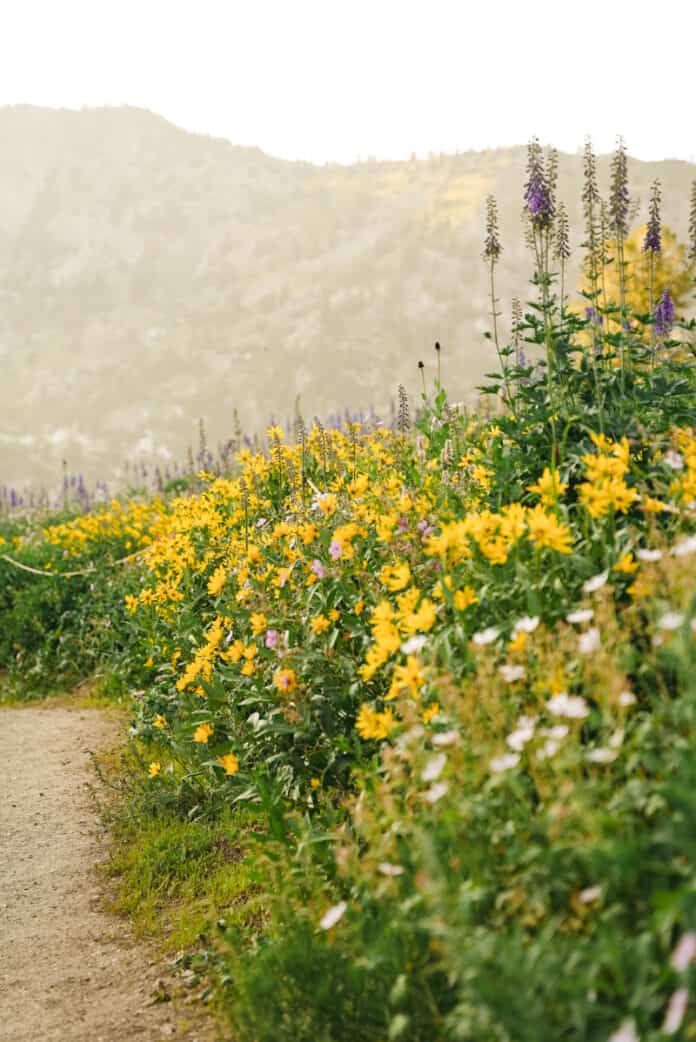 Utah is a state known for its epic outdoor experiences. Not only is it a top winter ski destination, but it has some of the best hikes on earth. You can see rugged mountains, gorgeous fall leaves, and roaring waterfalls. What many people miss is the amazing wildflower season!
During the summer months the Albion Meadows Trail in Utah becomes one of the best places to view wildflowers in the US. Trust me, this hike is a must see! It is located in Little Cottonwood Canyon just outside of Salt Lake City. The trailhead is at an elevation of nearly 9,000 feet, yet it is still one of the easiest hikes in the area (Albion Basin).
Albion Meadow Trail Details:
Distance

– Varies, but 3.6-miles if you do the entire trail (i.e. there is an amazing payoff almost the entire way so you don't have to finish it)

Duration

– 2.5 hours average to complete

Difficulty

– Easy to moderate

Elevation gain

– 744 ft

Family friendly

– Yes!! All ages. Great hike for kids

Cost

– $10 amenity fee per vehicle

Foot Traffic

– Can get very crowded to moderately crowded

Other

– No dogs allowed
Tip – If you have an extra hour to hike, Cecret Lake hike is also an absolute must.
What makes The Albion Meadows Trail so special?
One word. Wildflowers! During the last couple weeks of July into early August you can see the most spectacular display of over 120 species of wildflowers.
You also don't have to hike miles and miles in order to see them. The beginning part of the trail is basically the highlight of the hike. This is what makes it especially amazing for families and kids.
The immediate payoff from the parking lot also makes it attractive for photographers and even brides to be. I've seen more than a few brides posing for some amazing photos.
What to Bring
You should bring, sunscreen, a hat, and water. You do not need hiking boots for the trail as it is paved, unless it is raining. With heavy rains this trail can get really muddy and slippery as the dirt rolls over the pavement. If this is the case, I highly recommend wearing waterproof hiking boots.
Make sure to bring a jacket because it at over 9,000 feet elevation the weather, even in the summer, will be much colder othan at the bottom of the canyon.
Note – I just did this hike during the first week of August and it was 54 degrees F. Check the weather here before going.
Where is the Albion Meadows Trail located?
Albion Meadows trail is located in Little Cottonwood Canyon in Albion Base Utah. This trail is also located in Alta Ski resort. It is just a few minutes away from the suburbs of Salt Lake City.
How do I get to Albion Meadows trail?
The easiest way to get to the Albion Meadows Trail is to drive all the way up Little Cottonwood Canyon where you will wait in line at the toll booth. It will cost you $10 to enter and a little bit of a wait. The two times I did this hike, the wait was 30 minutes on the weekends, 15 minutes during the week.
Why should you wait in line and pay?
I recommend waiting in line and paying the fee because it will save you a one mile uphill hike to reach the Albion Meadows Wildflowers.
If you don't mind that mile long uphill hike you can skip the line and park at the Albion Grill. The trail begins is directly behind the grill.
Albion Meadows parking
There are three parking lots. The first parking lot after the toll booth is the Albion Meadows Trailhead parking. This lot fills up quickly but there is a second lot labeled the Cecret Lake Trailhead where you can also park.
Parking along the side of the road is not permitted.
Facilities
There are bathrooms at each of the parking lot trailheads. They are maintained very well.
Albion Meadows Trail: What to Expect
The trail begins right from the parking lot. You do not have to complete the entire trail to see the best of the wildflowers. They begin right off the parking lot at the trailhead.
You can go as far down the trail as you like, but it is not necessary to complete the 3.6 mile out and back trail to see the best of it.
You can expect to see amazing views of the mountains and wildflowers. Even if it is crowded, there is still so much space to spread out so you can take photos without others being in them.
You will also find interpretive signs on lower portion addressing history, geology, and wildlife.
This should go without saying, but don't pick or trample on the wildflowers.
Albion Basin Wildflowers
The best time to see the Albion Basin Wildflowers is the end of July and the beginning of August. They don't last very long so make sure you time this one right. The best time of day for viewing the wildflowers is early morning or evening. I was there right before sunset and it was spectacular. I couldn't have asked for better lighting.
What you will see: More than just wildflowers
Flowers – high-elevation meadows with fields of paintbrush, columbine, lupine, Jacob's ladder, penstemons. Over 120 species of flowers are located in the Albion Meadows.
Hummingbirds galore – I was shocked at the amount of humming birds I saw – they were everywhere! I probably saw about 30 hummingbirds on the trail. We were even able to get up close and personal with them to take photos and videos. This was an unexpected highlight of the hike.
Other animals – Moose are often seen on the trails in Albion Basin.
Albion Basin Photography
This is one of the best places to take photos in all of Utah. The wildflowers and ease of access make it very popular among photographers. You will see a plethora of people taking wedding photos, family pictures, and engagement photos.
They have numerous designated spots where you can take pictures close to the wildflowers without having to trample on them.
If you are a photographer wanting to improve, I recommend checking out this Private Photo Workshop and Sightseeing in Wasatch Mountains.
Restaurants nearby
​​Hungry? If you want to find a popular locals spot I recommend trying the Porcupine Grill. It's actually located at the mouth of Big Cottonwood Canyon, but it is only a few minutes up the road. Another amazing choice is Akasaka Sushi on 6196 Highland Drive.
Little Cottonwood Canyon hikes
Other hikes located in Albion Basin Utah are Crecet lake hike (pronounced secret – the most Utah spelling ever).
Cecret Lake Interpretive Trail – signage, no mountain bikes allowed.

Cardiff Pass/Twin Lakes Pass to Brighton

Collins Gulch to Germania Pass

Germania Pass via East Greeley