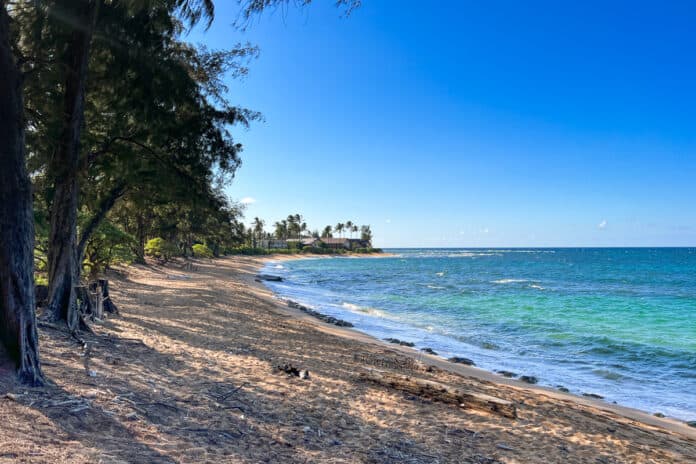 Wainiha Beach Park is a practically un-swimmable beach on the north shore of Kauai (year round). Wainiha means "unfriendly waters" which is quite fitting. There is no snorkeling, no reef, and no swimming, so why would you want to visit this beach? In certain circumstances, it could still make sense.
There are a lot of fantastic beaches on the north side of Kauai. Depending where you are staying, it can be a bit of a pain to drive here.
If you make it all the way up to this part of the island, there are better known nearby beaches that most will continue on to instead.
That being said, if you know what to expect at Wainiha Beach Park you may still choose to stop and enjoy the experience! It can be a good option for ease of access and avoiding crowds.
Wainiha Beach Park Quick Info:
Other Names: Wainiha Bay Park
Where: north shore of Kauai, close to Tunnels Beach and Ke'e Beach
Facilities/Amenities: none
Best for: less crowds
Not So Good For: swimming and amenities
Cost: free
Parking: a few side of the road spots
Where is Wainiha Beach located?
Wainiha Bay is located on the northern shore of Kauai. It is directly off of the Kuhio Highway.
How to get to Wainiha Beach
If you are coming from the Lihue airport it will take you about 1 hour to drive here. If you want to go all the way to Ke'e Beach the drive will only take you about 10 minutes more.
Wainiha Beach Parking
There isn't a dedicated parking lot, but there are a couple of different pull off areas directly to the side of the road. Altogether there are only about 10 parking spots right off of the shore.
They do tend to fill up though, so you could get stuck parking further up the road and having to hike back.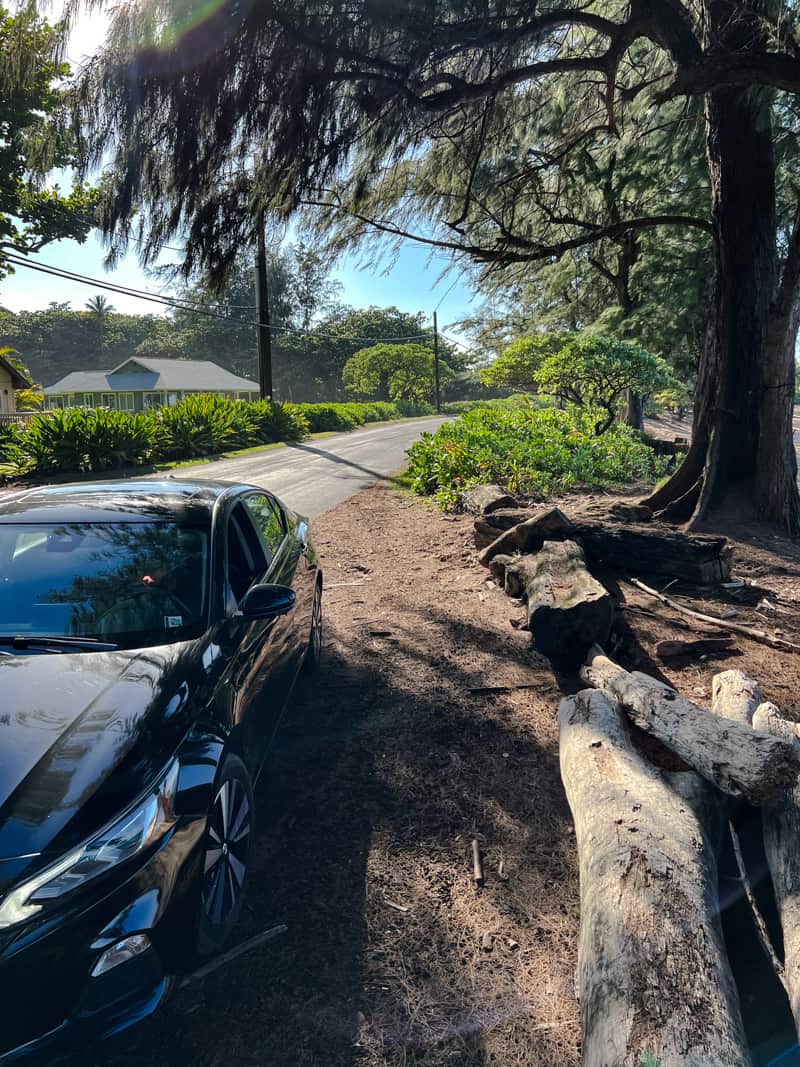 What you can Expect at Wainiha Beach
Like most do the Kauai beaches, this one is quite pretty. It's not quite as well maintained as some of the others, which means that there are going to be periodic piles of driftwood lining the shore.
There are generally waves crashing in to the shore though, so even though the water is quite a beautiful blue it's not often clear because of the constant churning.
Swimming Conditions
The water is rough and dangerous. There are signs up that tell you NOT to swim here.
Even if the waters look harmless, there are strong currents that will pull you away.
Unfortunately, this means that Wainiha Beach snorkeling or surfing isn't possible.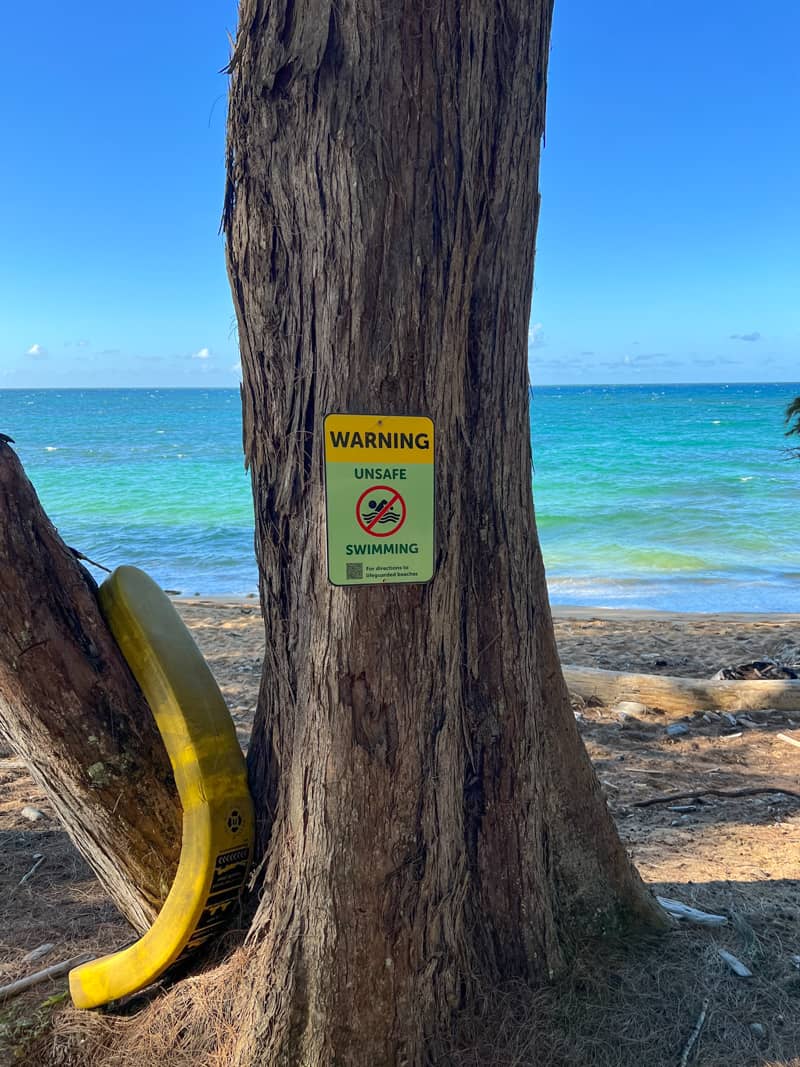 Amenities
There are no amenities at this beach. No showers, no restrooms, no lifeguards, and not even trash cans.
Why Would You Still Visit If You Can't Swim Here?
Even though you can't swim you may still want to hang out here. This part of the island gets crowded, and there is a decent sized stretch of sand that you can spread out on.
It is still relaxing to lay on the sad and listen to the crashing waves. Even with the no swim restriction there will still likely be a few other people on the beach.
There is unfortunatley no snorkeling here and no reef. I mean, it's kind of hard to snorkel when it's too dangerous to even swim. Instead, I have included the best snorkeling beaches on Kauai below.
Other good snorkeling beaches in Kauai:
---
Things to do nearby
Some absolutely phenomenal beaches are located nearby. I nightly recommend visiting them if in the area. My favorite is Tunnels Beach that is only about 5 minutes away.
The super popular Ke'e Beach is only about 10 minutes away, but remember that beach requires a reservation/permit to access.
Lumaha'i Beach is only 2 minutes away (.7 mi).
You are also fairly close to the Queen's Bath and Hideaway Beach – another one of my favorite beaches.
Where to Stay on The North Shore of Kauai
There are two main areas where you can stay on the north shore of Kauai. Those areas are Princeville and Hanalei.
Princeville Resort Area – Understanding the basics of each area will help you book. Princeville is a super well manicured master plan type of community more than a town. Check out all the hotels in Princeville here.
Think of it like a country club golf community that just so happens to be on a few beaches. It's beautiful, perfectly manicured and maintained, and especially attractive to retirees and people looking for high end condos. You can get more info here.
Hanalei Resort Area – The Hanalei town area is the more "happening" place. There area tons of bars, restaurants (and food trucks), and shops in the area. Check out all the hotels in Hanalei here.
Hanalei also borders one of the biggest and all around beaches on Kauai (Hanalei Beach), though the downside is that it isn't as quiet or master planned and not as quiet as Princeville.
I love both areas, but for my tastes I'm willing to sacrifice a little bit of super upscale feel of Princeville for the walkability access to everything in the Hanalei town area. You can get more info here.
Conclusion: Is Wainiha Beach Park worth visiting?
This beach is still pretty to look at and enjoyable to lounge on, however it isn't my choice if I'm in the area, though I wasn't disappointed when I ended up there. I prefer a place I can swim and snorkel to escape the sun.
Planning a trip to Kauai? Read everything we know about Kauai here:
My husband and I have been to Kauai many, many times and have written up more guides to help you plan your trip. These are my most popular blog posts and Kauai travel guides to help you plan your trip.
Kauai Beaches
Best Beaches for Snorkeling on Kauai
Best Cliff Jumping in Kauai
More awesome beaches
Kauai Hiking Guides
Read about all the hikes we have done in Kauai here.
Read all other posts on Kauai here.