Arena Gorda Beach or Playa de Arena Gorda translates to Fat Sand Beach. The name is fairly descriptive as it is made up of a fat stretch of white sand. What the name doesn't describe is the gorgeous waters gently rolling on to the fat stretch of sand.
Like most of the Punta Cana beaches, Arena Gorda has fine white sand and a turquoise sea with blue/green tones. It's gorgeous.
There are a number of all-inclusive resort properties that back up to the beach. We stayed in the Hard Rock Resort Resort and Casino Punta Cana directly on Arena Gorda.
Arena Gorda Beach Quick Info:
Where: Northern part of Punta Cana, Dominican Republic
Amenities: Lifeguards – bathrooms, restaurants, bars available at the hotels
Best for: Swimming, walks along the beach, sand sports
What makes Arena Gorda Beach so special?
One thing that really makes this beach stand out is how much sand there is. From our hotel to the shore was actually pretty far because the sand seems to go on forever! This was the only beach that we saw in Punta Cana like this. Once again, it makes the name of Fat Sand Beach even more fitting.
The wide sand help provide ample space for beach activities. There was space for soccer, volleyball, and other sports.
Where is Arena Gorda Beach located?
Arena Gorda Beach is located in the north of Punta Cana, in the Dominican Republic.
Playa El Cortecito Beach is 5.4 km (3.3 miles) away. This was another one of my favorite beaches in Punta Cana with the tallest palm trees I have ever seen. Check them out here.
How to get there
The easiest and most common way to reach this beach is to stay at one of the beachfront hotels that will give you easy access. That's what we did and it was amazing.
You can access if you aren't staying at one of the hotels, you just have to find the access points between the properties. There are a few as the beach stretches for a long ways.
Top Beachfront Resorts in Arena Gorda
Hard Rock Hotel & Casino Punta Cana – All Inclusive – This is where we stayed and we loved it. It was definitely the nicest hotel we've stayed at in all of our trips to the Dominican Republic. The unlimited free room service is amazing.
Other hotels with high reviews:
Iberostar Grand Bavaro Hotel
Ocean Blue & Sand Beach Resort – All Inclusive
Majestic Mirage Punta Cana, All Suites – All Inclusive
Majestic Elegance Punta Cana – All Inclusive
Majestic Colonial Punta Cana – All Inclusive
What to Expect at Arena Gorda Beach
Gorgeous white sand, turquoise blue water, and swimmable waves.
The seaweed was not bad at all. They clean up the sand daily which helps a lot. There are often waves, but they typically aren't big. They are fun to play in. Little kids would likely enjoy as well.
You will likely see vendors walking along the beach trying to sell the typical wares. One unique vendor was selling pictures with a monkey or parrot that was on his shoulder.
Crowds
The sand is so wide that this beach feels like it's empty! This is a huge advantage of this beach. One of the days we set our towels up directly on the water and we felt like we were the only ones around.
Of course there will still be people on the beach, it just never feels crowded, even on the busiest weekend days.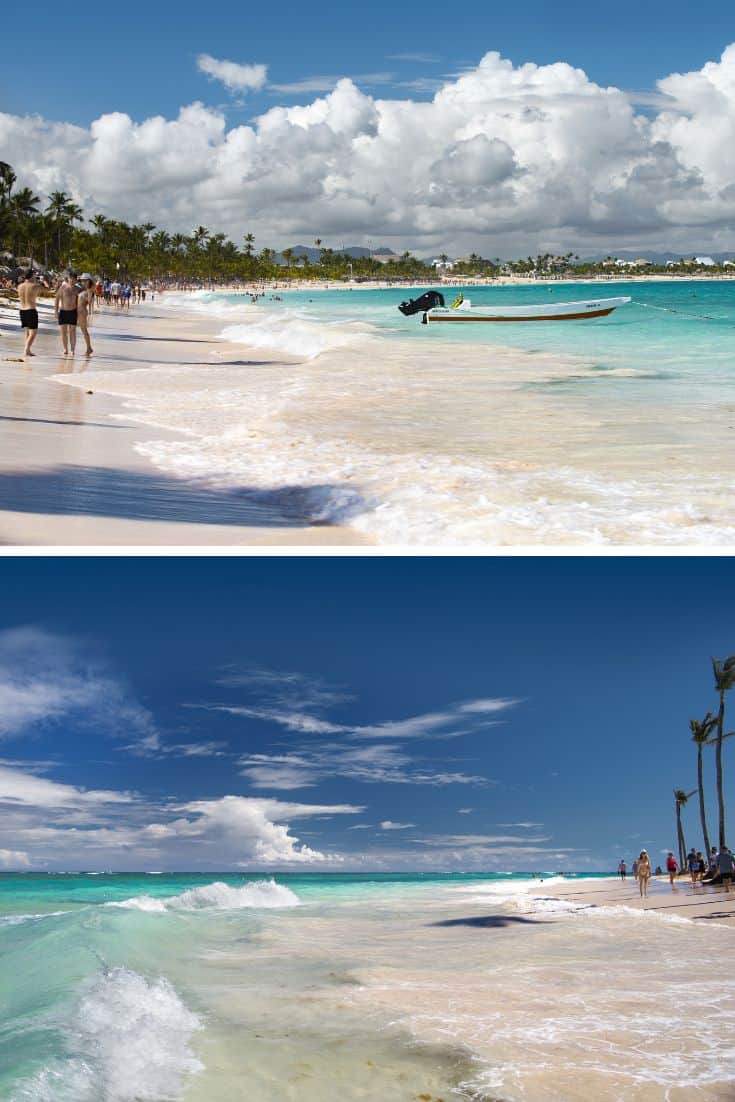 Arena Gorda Snorkeling
The waves make this beach a poor choice for snorkeling. Even if the waters are calm Arena Gorda snorkeling would result in little sea life.
Conclusion
This is an AWESOME beach, especially if you can book an all-inclusive along the shores!
What to Pack for the Dominican Republic
Reef safe sunscreen – The sun is strong in the Dominican. You definitely need a good sunscreen. I am obsessed with this one by Shiseido. No one does sunscreen like the Japanese and Koreans. It goes on so smooth and I love that it is a stick, so you don't have to get your hands all gross and sandy when reapplying throughout the day. Buy here.
Swimsuit – Obvs. This one is my favorite from SKIMS. It is more of a sporty look which I love. The only annoying thing is they sell out really fast so stock if definitely limited. Get it while you can. Trust me, it's amazing. Buy here.
Sandals – These Havanas are the best flip flops I have ever used! I have 3 pairs and have used them for years and they are still going strong! Buy here.