Want an intimate cove beach that you have a great shot of having entirely to yourself? Getting to this beach takes a little bit of effort, but if you take that effort, you are guaranteed to be well rewarded.
It's not very often that something can be described as a "virgin beach" in the age of Instagram, but shockingly this is it!
Getting to this beach involves a 3 hour drive from Cabo to La Paz, and then another 35 minutes from there. Also it is important to note the last two miles have to be hiked or driven on a bumpy dirt road.
El Saltito Beach (Playa El Saltito in Spanish) is an awesome, remote beach in Baja California Sur located 12 miles (20.3 km) from the La Paz city center.
This beach is accessible through private property, and you may find a guard waiting by the gate to keep track of how many people are on the beach.
El Saltito Beach Quick Info:
Where: La Paz, Mexico
Amenities: None, only nature
Best for: Swimming, sun bathing, kayaking
Available excursions:
Access: the last couple of miles are on a bumpy dirt road. We rented a 4wd, but we did see a bold visitor take a regular sedan to the beach
What makes Playa el Saltito so special?
El Saltito is truly a rare and magical place where you most likely will not have to share the sand with anyone!
It has some of the clearest water I have ever seen (and I have explored a lot of the Caribbean).
FYI – In case you were wondering, Virgin Islands has the clearest water I have ever seen.
El Saltito is also famous for being one of the few beaches in Mexico to register the phenomenon of marine bioluminescence.
This beach is also ideal if you are into wild camping or traveling with pets.
Where to stay in La Paz
There are plenty of accommodation options in La Paz, that will suit any budget. To be honest, it's more difficult to find an expensive hotel than it is a cheap one. If you are looking for luxury, many grand hotels also await. Explore all the top rated hotels in La Paz here.
For snorkeling – The La Concha Beach Hotel & Club is one of the best hotel picks for those who love easy access to snorkeling. The resort offers snorkeling, diving and canoeing tours. You can rent all your snorkeling great from the hotel! There is a reef you can access from either the beach or at The Cortez Club Dive Shop. Check prices here.
Where is El Saltito Baja California Sur located?
El Saltito beach is located 12 mi (20.3km) from La Paz city center.
How to get there
The best way to get there is to rent a car (rent here for dirt cheap rates), you could ride a bike there. Another option if you don't have a car is to take a taxi. The only problem with a taxi is it can be quite expensive.
It is located .3 mi (1/2 km) or so from the paved road.
If you don't have 4X4 you can park on the land side of the dunes and walk over the dune to the beach.
How to Access the Beach
Located on private property, pay the man there a few bucks to enter.
Parking at El Saltito
This beach is easily accessible and parking is located right on the beach.
What to Bring to the beach
There are zero amenities and zero shade. Anything you might want for the day needs to be brought with you. Bring your drinks, towels (I recommend these travel towels), chairs, and snorkeling gear because there's absolutely nothing on this secluded beach except sand.
Most importantly, don't forget umbrellas and sunblock, because there is no shade anywhere in sight.
What to Expect at El Saltito beach
Water: Crystal clear turquoise water, calm, stays shallow far out, easy entry.
Length: 500 meters (1,640 ft) so long.
Sand: Golden sand
Sea Bottom: Sand
Swimming conditions: Great! Very calm
Cover: Absolutely none! Bring an umbrella if you want any shade.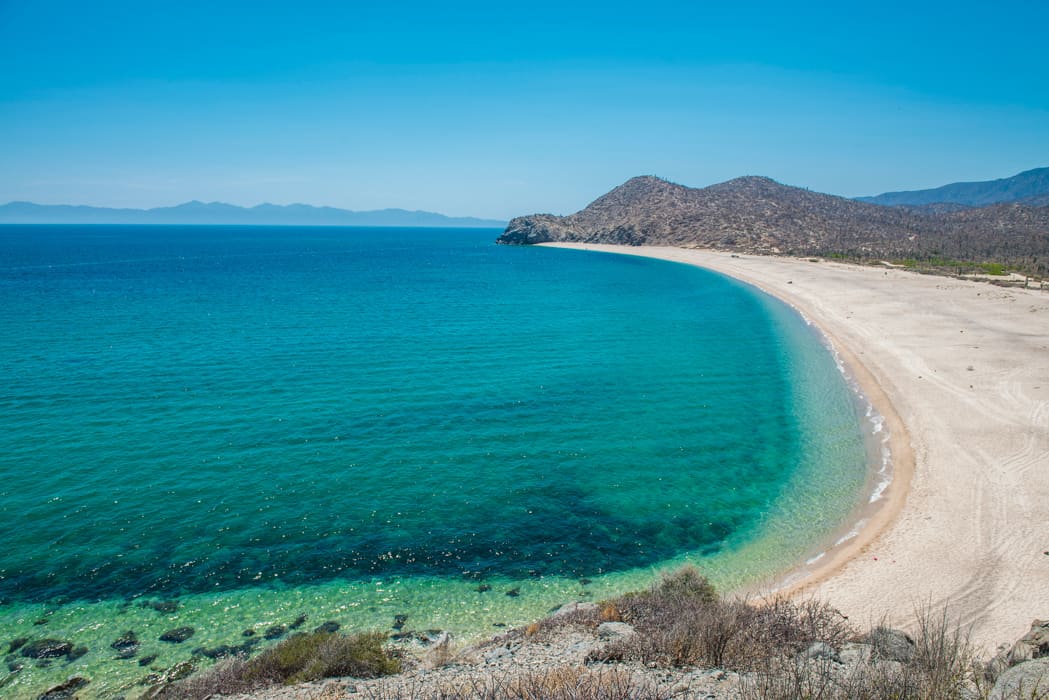 Swimming Conditions
The water is clear, calm and shallow making it perfect for swimming. Just watch out for jellyfish!
Playa Saltito Snorkeling – Is it any good?
The snorkeling here is actually pretty decent.
Where is the best snorkeling at El Saltito?
The best snorkeling can be found at the rocky points at each end.
The northwest wall of the beach is easiest to access and explore. There you will be able to find large rock and coral formations extend away from the wall into the bay.
Here you can find Octopus (if you are lucky), Chinese Trumpetfish and Moorish Idols to name a few.
There is also a tiny island and nesting sanctuary for seabirds that is located 5 minutes away in a kayak that has some amazing snorkeling.
The sun is relentless out here so be sure to protect yourself, and the reef, by using only reef safe sunscreen!
I also recommend wearing a long sleeve swimsuit or top like these ones from Skims. (I have 3 of them and wear them all the time! It is so nice to have that extra sun protection without having to constantly worry about reapplying sunscreen.)
Free people also has some amazing rash guards that are great for snorkeling.
Most Popular Tours in La Paz
---
Playa el Saltito bioluminiscencia
Bioluminescence can only be seen at night. Since this beach is so remote they can be visible.
But…the visibility of this phenomenon is 10x better in the water with a snorkel and mask.
Other nearby beaches worth checking out:
Playa Muertitos
Playa El Rosario
Playa Puerta Cortes – hotel beach only accessible for hotel guests.
Playa El Caimancito
Playa El Coromuel
Conclusion: Is El Saltito worth visiting?
Absolutely! It is such a cool beach and definitely one of my favorites in La Paz behind Playa Balandra which is one of Mexico's most beautiful beaches.