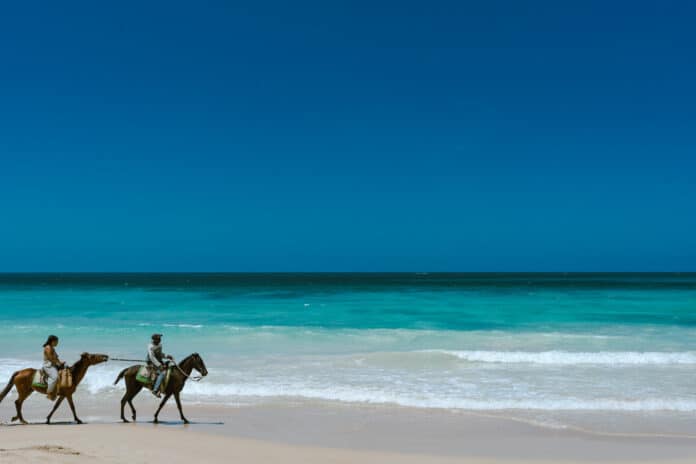 Macao Beach (or Playa Macao in Spanish) is an unreal Dominican beach! Not only is it amazing, but it's easily accessible and features all the amenities you would want without requiring you to book an all-inclusive.
Most of the best Punta Cana beaches have all-inclusive resorts built up and down them. This is super convenient if you book one because you can likely have an awesome trip without leaving your resort. If you don't book an all-inclusive though, it can be much more difficult.
Playa Macao somehow doesn't feature a ton of all-inclusives along its gorgeous shores (only one main one). This ultimately means hardly anyone visits! The stunning beach and lack of crowds made it me and my husbands favorite beach in Punta Cana.
Macao Beach Quick Info:
Where: Punta Cana, Dominican Republic (35 minutes north of the main Punta Cana area)
Amenities: A few restaurants and vendors on the beach
Rentals: Boogie board, paddle board rentals, chair, and umbrella rentals.
Cost: Free
Parking: free street parking
Available excursions: Surf lessons
What makes Macao Beach so special?
The Dominican Republic has so many amazing all-inclusive resorts that guests tend to spend their whole trip on. The cluster of resorts means that most of the visitors cluster in these areas.
The people clustered at the resorts is a HUGE advantage for those looking to avoid the crowds. Most people never leave their resort property, which leaves tons of open space for you on Playa Macao!
At the main entrance you will find other people an amenities that you can take advantage of, BUT if you are willing to walk a couple hundred yards along the sand you will find yourself almost entirely along on your own stretch of pristine beach!
Sacrifice the Amenities of an All-Inclusive?
I love a Dominican all-inclusive! For those looking for unlimited food and drinks, I include some of my favorite recommendations below!
While the beaches that back up to the most popular all-inclusive resorts are technically public, it can be hard to access them. Parking can be hard to find, the amenities can be for registered guests only, and even the entrances can be hidden.
If you are trying to save some money or have another sort of accommodation, you can still have an epic beach experience. Playa Macao is your ticket!
What To Expect At Playa Macao
Even amongst all the amazing Dominican beaches, Playa Macao is my favorite!
It offers a wide stretch of gorgeous sand and perfect clear blue water. There is even a cliff line making the views even more striking! Honestly, the pictures just don't even do it justice. It's one of those beaches you have to see to understand.
If you are looking to stay in Punta Cana, without staying in the busy part of Punta Cana then you might what to look into staying at one of the Macao Beach resorts. There are not many to choose from but that is actually what makes Macao beach so special and more remote.
The beachfront Dreams Macao Beach Resort is the best resort and the one I would choose.
*Best Option, Beachfront – Dreams Macao Beach Punta Cana is the most popular one located right on the beach. This is the best hotel in the area simply because of the location. You are literally steps away from one of the most beautiful and remote beaches I have ever seen. Book here.
Read the Dreams Macao reviews here.
Where is Macao Beach located?
Macao Beach, or Playa Macao, is a located in Punta Cana, in the La Altagracia east region of the Dominican Republic, between Bavaro and Uvero Alto.
It is roughly a 30-35 minute drive from the main resort area in Bavaro, Punta Cana.
Macao beach Parking
Parking is free and easy. There is a lot right off the beach and we didn't have any issues getting a spot. Beach access is also FREE. If a local tells you you have to pay, he is trying to scam you.
When we arrived to park there was a section of parking closest to the beach that was barricaded off. My husband asked if it was free and he said yes. He moved the barricade and we gave him $1 USD for a tip.
When you go to leave the locals have to move the barricade. It is kind of a weird set up and I wasn't really sure what was going on, but they did not give us any problems. When they saw we were leaving he ran over and moved the barricade. (See photo below)
I definitely got the feeling that it was just a random local who was trying to run the parking lot for money.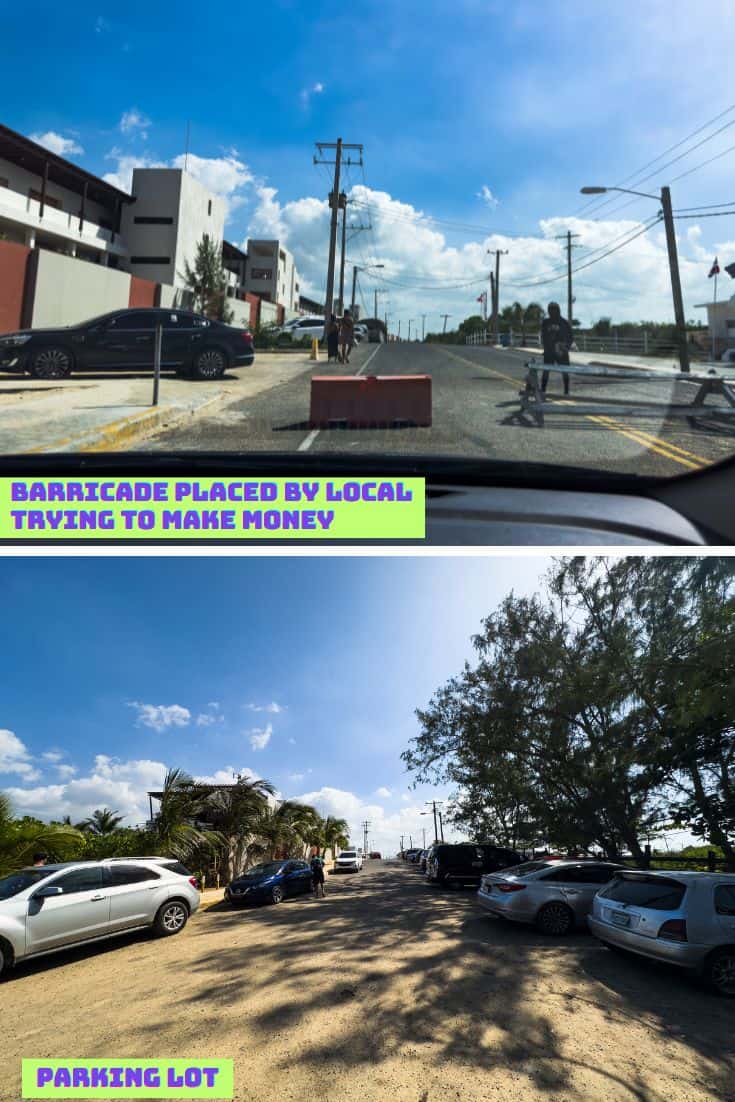 What to Expect at Macao Beach
Sand: Fine golden sand
Swimming Conditions: There are waves and currents that can at times get dangerous. Good for body boarding, surfing and swimming.
Length: Macao beach is about 3 miles (4km) long
Cover: There are palm trees for shade or you can rent an umbrella and beach chair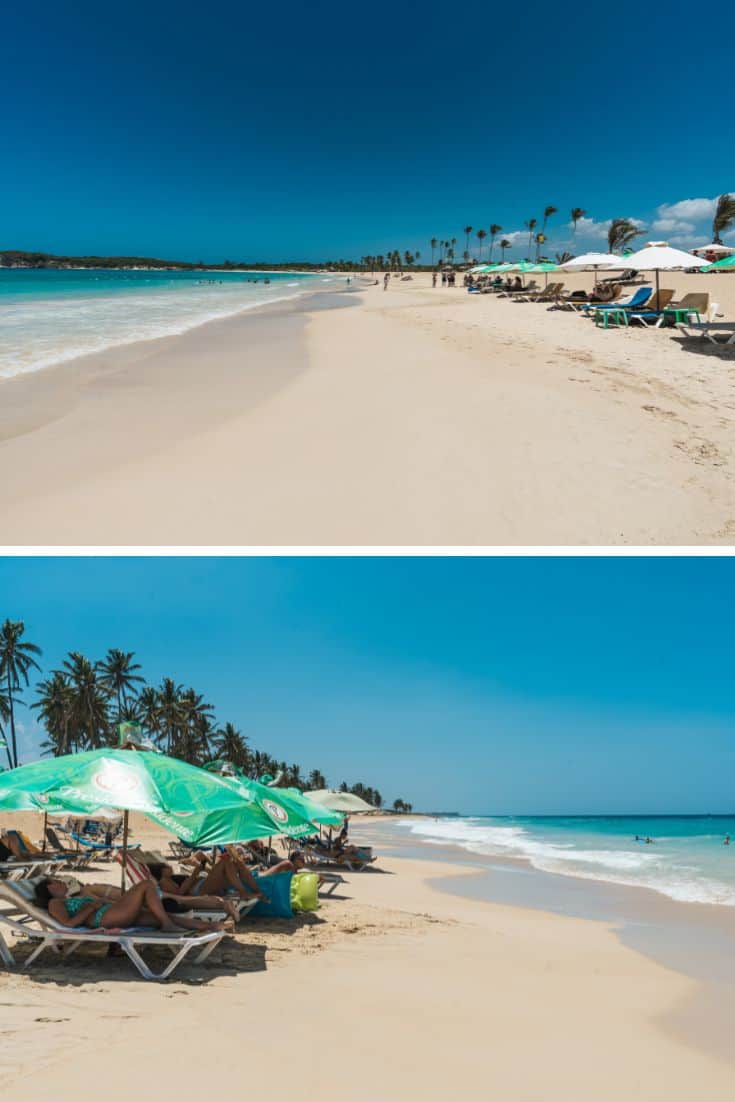 Swimming Conditions
When we were there (June) the waves were honestly perfect! It was easy to swim and enjoy the water. There were lots of kids boogie boarding and some trying to surf. At times, I have read the waves and currents can get really strong. So be careful.
Beach Vendors
There are beach vendors walking up and down the beach trying to get you to take a photo with a monkey or a parrot for money. This is the same on all the beaches we went to in Punta Cana and La Romana. We always said no and they moved on pretty quickly.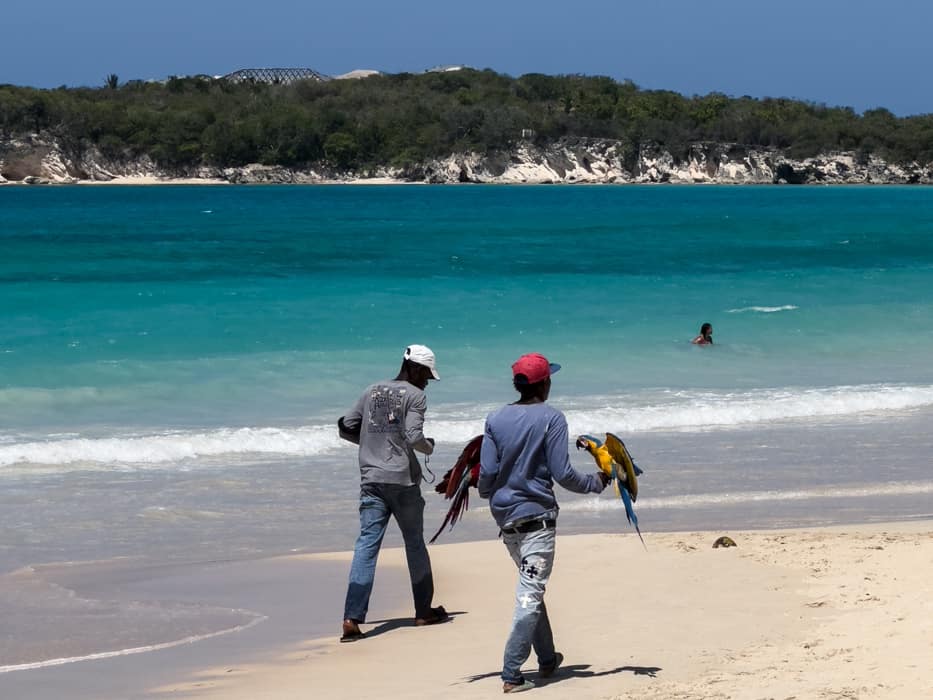 Macao Beach is one of the best Punta Cana surf spots
If you are interested in Dominican Republic surfing Macao beach is perfect for you. This is one of the only beaches in Punta Cana that has waves large enough for surfing.
Macao Beach Surf Lessons
Whether you're wanting to take surf lessons or already an expert surfer, you'll be able to catch some waves here. You can also rent a boogie board or paddle board to ride the waves.
If you are interested you can book your surf lessons here.
Macao Beach Private Surf Immersion (Multiple-Days Lessons)
Amenities
There are paddle board and boogie board rentals, bathrooms and restaurants with picnic tables.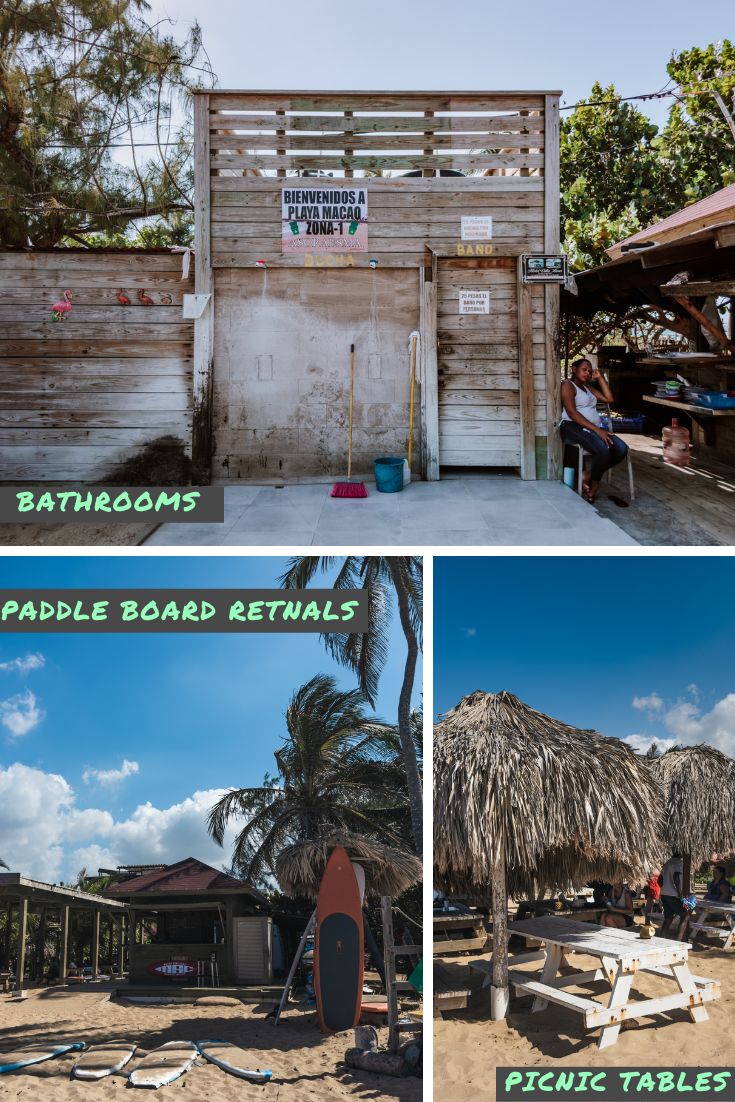 Avoiding crowds
There are not a lot of resort hotels on the beach which means hardly anyone visits! However, in order to truly avoid the crowds you will need to walk further down the beach.
The beach is 3 miles long and almost everyone is located right at the entrance. Walk a couple hundred yards down and you will have your own little piece of paradise.
Best Macao Beach Excursions
There are a number of beach excursions and activities offered here.
Things to be aware of before visiting
The locals can come on strong
The entrance of the beach is full of people trying to sell you things. It can feel overwhelming but if you show them you are really not interested they back off. Or just completely ignore them, they will go away.
They also (from my experience) did not speak very much English.
There was a man trying to sell me an umbrella and beach chair and he followed me a ways down to the beach. Finally I said, "I only speak English" and he just walked away. I never felt threatened or unsafe, just something to be aware if you are going.
I was also a solo female walking in so I felt like I must have looked like an easy target. My husband walked in after me and no one tried to sell him anything.
Tip when dealing with solicitors – Don't engage and don't be afraid to be rude. Walk away, ignore them, tell them no, be bold, etc. If you come across as too friendly or interested at all they won't leave you alone.
Macao Beach vs Bavaro Beach
Macao beach is very different from Bavaro beach. Bavaro has whiter sand, calmer waters, and is way more crowded due to the endless hotels located directly on the beach. There is also not a ton of sand.
Macao beach is more remote, has rougher waters, and has much more of a wild beach feel. Locals also visit this beach.
Bavaro beach is 30 mi long and Macao beach is 3 miles long.
There are palm trees at both beaches that provide some shade but the palm trees at Bavaro are like 100 ft tall. They were pretty cool to see. The palm trees at Macao were pretty basic.
You can surf and take surf lessons at Macao beach. Bavaro is so calm it doesn't even really have waves but it makes for great wading in the water. There is no wading at Macao because of the waves.
Playa Macao FAQ:
Is Macao Beach safe?
Yes! It is very safe to visit. I would just use common sense and don't stay too far away from any valuables.
Is Macao Beach public?
Yes, it is a public beach and free to access.
How far is Macao Beach from airport?
It is located 35 minutes from the Punta Cana International Airport.
How far is Macao beach from Bavaro beach?
Driving from Bavaro beach to Macao beach is 30.1 km (18 miles).
Depending on where you are staying on Bavaro beach it will take you about 30-35 minutes to get from Bavaro to Macao Beach. Check out the map below to see the directions.
The drive is easy, practically no traffic once you leave the Bavaro resort area. Basically a straight shot. You do not need 4 wheel drive. The roads are paved. If you are still nervous about driving out to this beach you can check out this YouTube video I made of the drive here.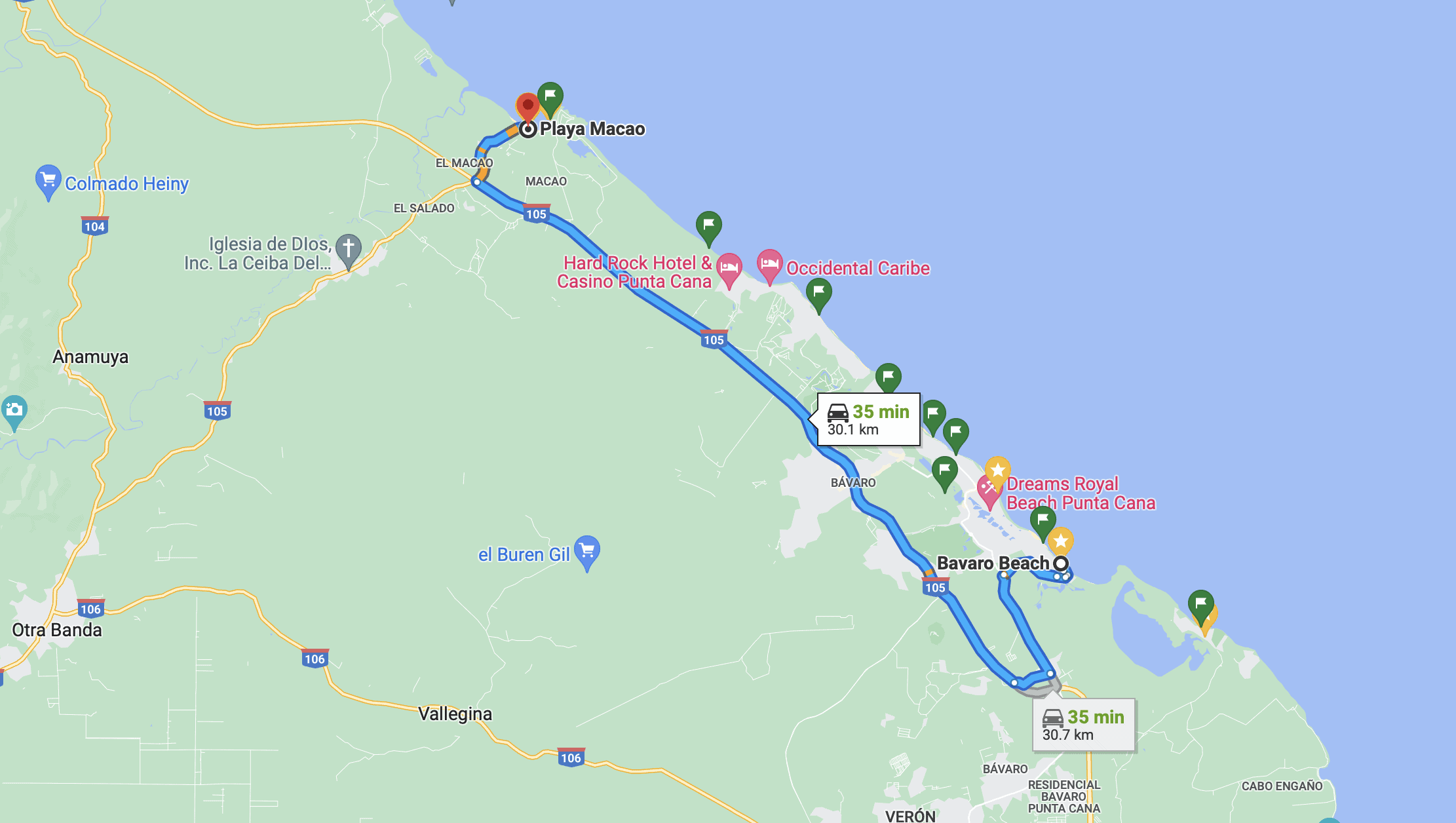 What to Pack for the Dominican Republic
Reef safe sunscreen – The sun is strong in the Dominican. You definitely need a good sunscreen. I am obsessed with this one by Shiseido. No one does sunscreen like the Japanese and Koreans. It goes on so smooth and I love that it is a stick, so you don't have to get your hands all gross and sandy when reapplying throughout the day. Buy here.
Swimsuit – Obvs. This one is my favorite from SKIMS. It is more of a sporty look which I love. The only annoying thing is they sell out really fast so stock if definitely limited. Get it while you can. Trust me, it's amazing. Buy here.
Sandals – These Havanas are the best flip flops I have ever used! I have 3 pairs and have used them for years and they are still going strong! Buy here.