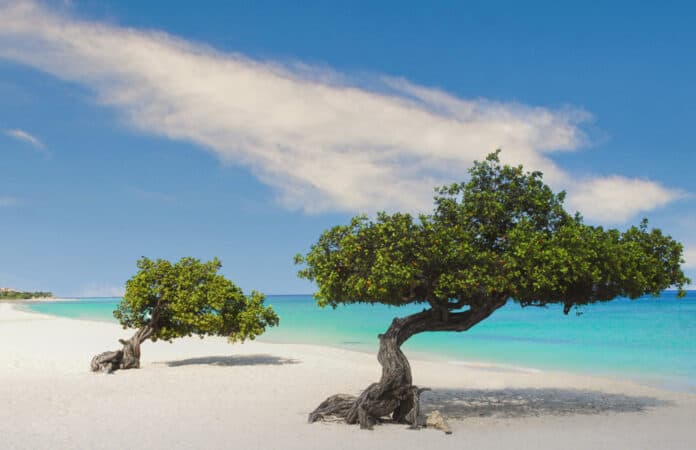 Eagle beach is one of the best beaches in Aruba. Even if you don't know it, almost everyone has seen pictures of this beach. It is world famous because of the unique trees on its shores.
The iconic Fofoti trees (Divi Divi trees) grow directly on the beach. Yes, it is quite rare for trees to be able to survive directly next to and sometimes in salt water!
Because it's not every day you get to see trees in the middle of a beach, this beach has made it onto postcards and Instagram Stories around the globe. Read on to see why it is even better to visit in person!
Eagle Beach Quick Tips
Water color: Clear Turquoise blue
Sand quality: Fine white sand
Swimming conditions: Excellent with a relatively calm water.
Facilities: everything available in the adjacent area. Restaurants, bars, hotels, and shopping
Lifeguard: none
Cost: Free
Parking: Lots of free parking lots along the beach.
Available tours: Jet Ski Rentals, Catamaran Sail with Snorkeling Semi-Submarine Expedition
Where is Eagle Beach located?
Aruba is not a big island. You can drive the entire thing in about one hour. It is only a 15 minute drive from the airport to get here. The capitol city of Oranjested is where the airport is.
Eagle Beach is in the heart of one of the main hotel and tourist areas, but it isn't the area with the biggest hotels and highest density of tourists. That would be the Palm Beach area that is just a bit further north.
This beach is on the north west side of the island. This means that it is also a perfect place to see an incredible sunset.
How to get to Eagle Beach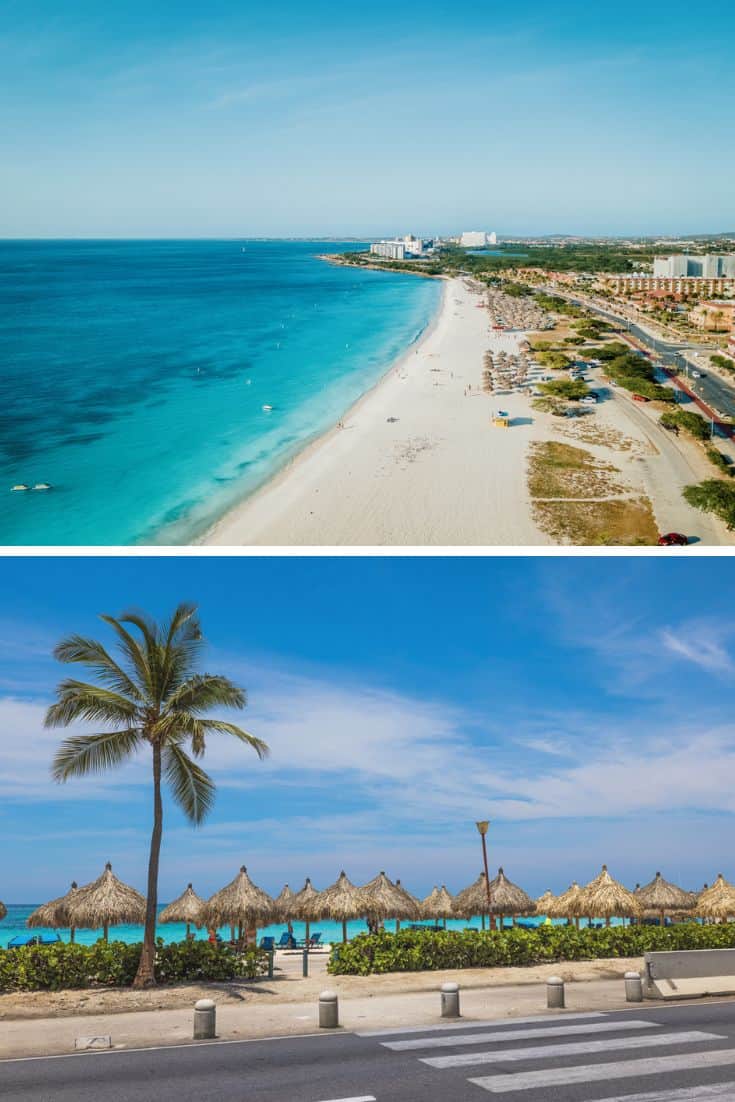 Parking
A huge benefit of Eagle Beach is that it is easily accessible. I have never seen such an amazing beach in my life with such abundant parking. There were plenty of spots to parallel park along the shore. I also love that I didn't have to pay for parking.
Even if all the spots directly along the shore are full, there are additional spots just off the shore on the nearby streets.
What you can Expect at Eagle Beach
Aside from picturesque views there is actually a ton to do on Eagle Beach. The obvious of soaking up the sun and splashing in the water is obviously the top priority, but there are plenty of other ways to have fun.
There are so many cute and delicious restaurants, bars, and even shops if you are looking to spend some money. If you are looking for more adventure I highly recommend booking a Jet Ski Rentals, or snorkeling boat tours.
Just north of the beach there is this awesome Butterfly Farm. Highly recommend stopping by if you are in the area.
The only thing that I would say you can't expect here is big waves. If you are looking to surf, this beach likely isn't for you. The waves are typically quite gentle!
Photo Shoots
Not surprisingly the beach is a fantastic photo spot. Not only do people often wait in line to take pictures at the famous trees, but we saw multiple photographers on the shores posing different groups.
We saw a couple getting wedding pictures, a full family posing, as well as the ubiquitious Instagram models.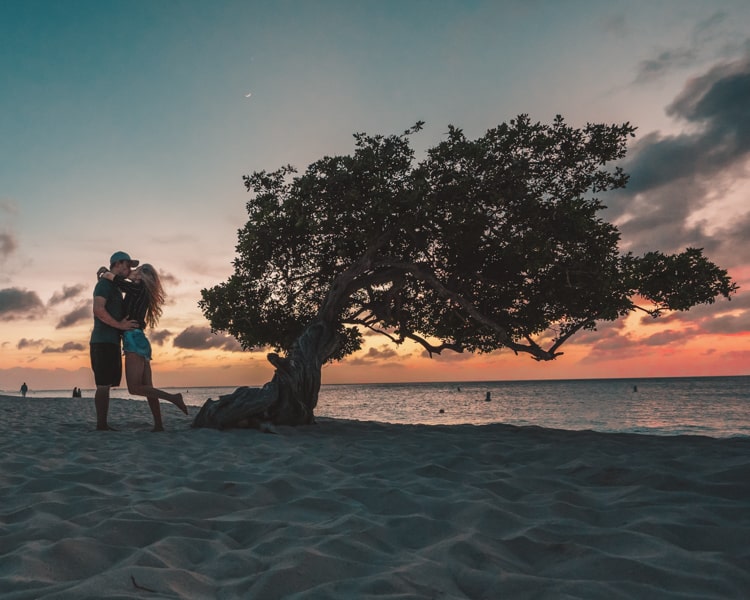 Divi Divi Trees
This tree is on the far north side of Eagle Beach. You can tell which way the wind usually blows based on the way it has grown.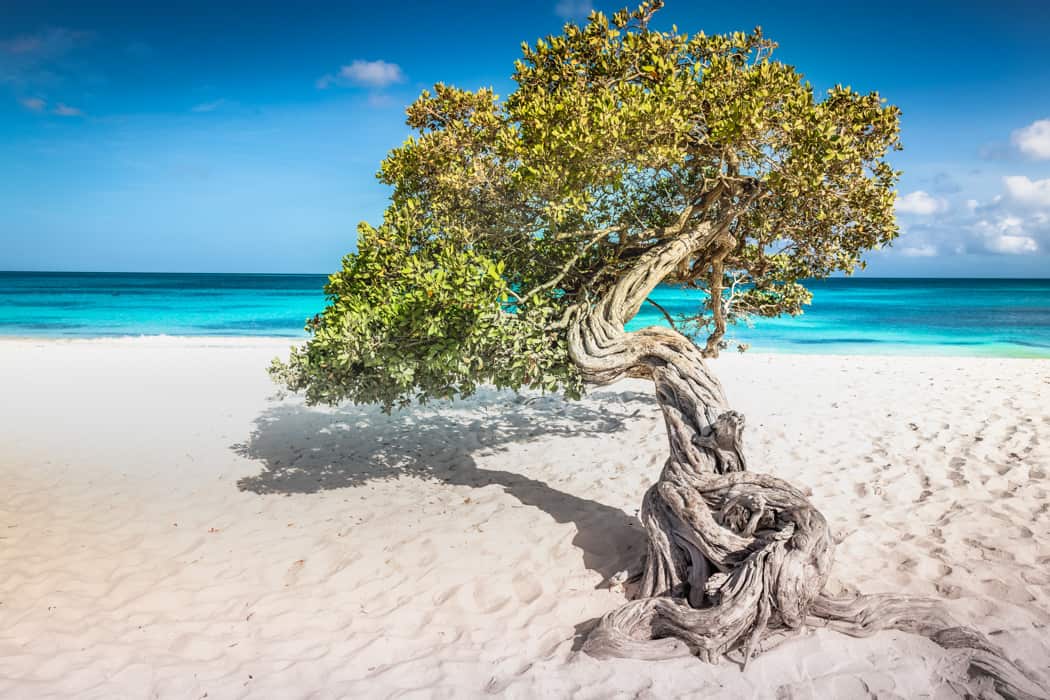 Eagle Beach Snorkeling
Sea turtles are often spotted on the shores and in the water. If you want to go out on the water and snorkel in some of the best spots on the island you can always take a boat tour out. I recommend this snorkeling boat tours.
Swimming Conditions
Excellent with a relatively calm water. Lots of the Caribbean only has big waves during a storm, and that is ESPECIALLY true here.
New Years Celebration
We spent a New Year's Eve on Aruba. Let's just say, I have never been so up close and personal to a fireworks show in my life. It was awesome!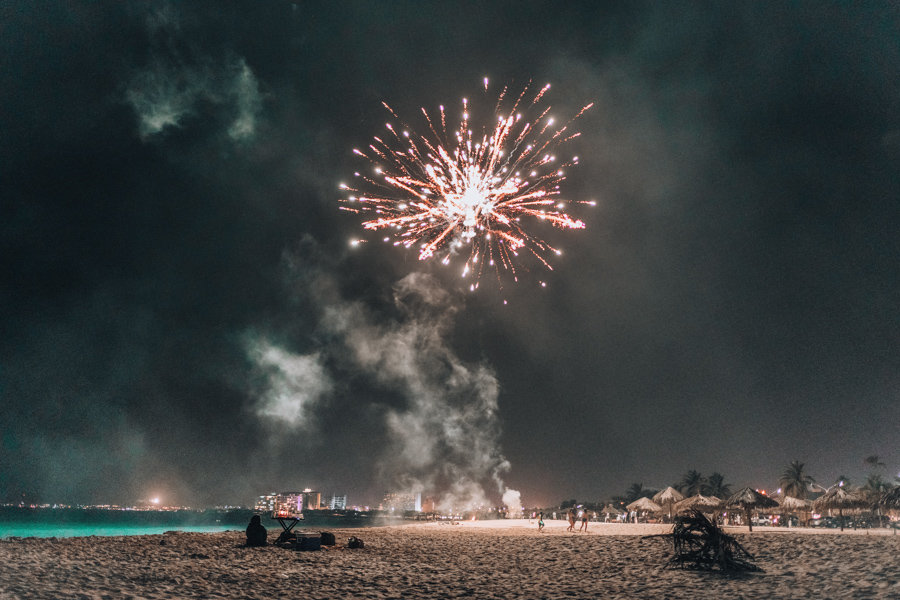 Lots of Awesome Water Activities to do –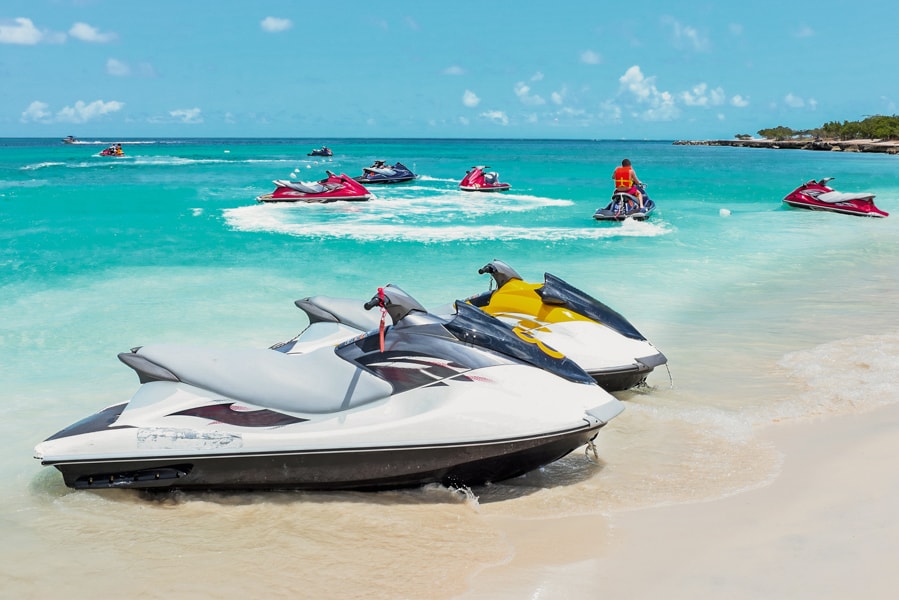 Where to Stay Near Eagle Beach
There are a ton of nice hotels along the shore.
Conclusion: Is Eagle Beach worth visiting?
Yes! If you are visiting Aruba you 100% need to stop by.
Things to do near Eagle Beach
Manchebo Beach (5 minute drive away)