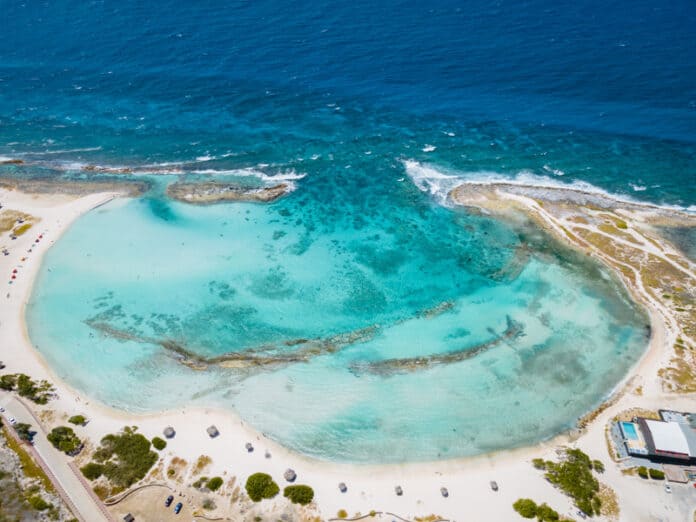 Baby Beach, officially known as Klein Lagoen (lagoon), is the perfect spot for kids and families! This manmade lagoon creates calm and shallow waters that are a phenomenal place for kids to splash and play in all day.
What makes this beach even better is that the beach is still stunning. There are clear turquoise waters and soft white sand that make it extra appealing for adults as well. You can also snorkel at Baby Beach.
It is a little bit away from the main tourist hubs on the island, but the extra effort will be rewarded if you are looking for a spot that's perfect for everyone in the family!
Baby Beach Aruba Quick Info
Water color: Clear turquoise water!
Sand quality: Fine white sand
Good for: Families
Not so good for: Avoiding the crowds
Swimming conditions: Excellent for all swimmers. Calm and shallow.
Other names: Officially known as Klein Lagoen.
Facilities: Cabanas and beach chairs are available for rent. Beach beds, windscreens and snorkel gear are available at a rental fee. Complimentary huts are placed throughout the beach to protect you from the sun.
Lifeguard: none
Cost: Free
Parking: Free large lot right next to the beach
Available tours:
Where is Baby Beach located?
Baby Beach Aruba is located on the southern end of the island. This is the exact opposite area of most of the hotels and tourist infrastructure. You drive just beyond San Nicolas to get there.
Remember, Aruba isn't that big though so it is only a 30 minute drive from the main airport, and only 45 minutes from the main tourist and beach areas (Palm Beach hotels).
How to get to Baby Beach
There are a few different ways to get there. Driving in Aruba is easy, and most rental cars on the island are not that expensive.
We rented a car and we're so glad we did! We would not have been able to half of the things we saw if we had not rented a car in Aruba.
If you don't want to drive there you have other options though. There are busses as well as tours. One of the easiest ways to get there and back is by taking the Baby Beach Day Roundtrip Tour with transportation included.
Baby Beach Parking
A huge benefit is that there is a large parking lot with plenty of spaces. Even when the beach is busy you should be able to find a spot. This is a huge perk as I HATE struggling to find a spot.
Why is it called Baby Beach?
Baby Beach is the nickname of the beach. It earned this nickname because the manmade lagoon blocks the waves and leaves a pool of calm, shallow, and warm water. The result is an absolutely perfect place for kids to safely be contained in to enjoy.
The rocks definitely block the waves from coming in and also keep it clear for those looking to snorkel.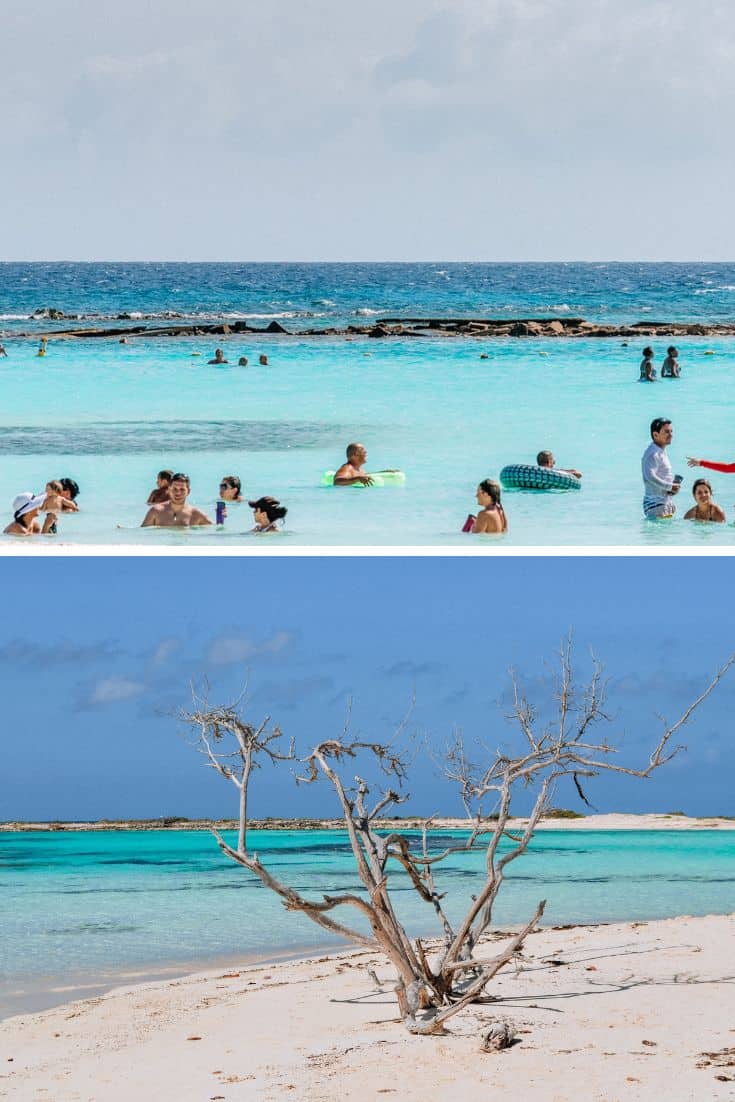 Can you see Venezuela from baby beach?
Most people don't realize just how close Aruba is to Venezuela. The tip of the island is only about 15 miles from the mainland of Venezuela. As long as it is clear you can actually see the country from Baby Beach.
Read also: 13 Things to Know Before Visiting Aruba
What you can Expect once there
As the pictures show you can expect calm waters in a manmade pool. Even though the beach is a ways away from the biggest tourist areas, there are still likely to be others there. While it won't be overrun, there will likely be other families (and locals) enjoying the beach.
You will almost always find amazing crystal clear turquoise water that is calm and shallow.
Swimming Conditions
As previously mentioned, the lagoon blocks the waves from coming into the shore along most of the beach. For those looking to have more of a swimming pool experience they can get it here.
The water level at Baby Beach is generally between knee and waist-deep, making it a perfect place for kids to swim.
Towards the end of the bay, the water gets deeper and the current gets stronger. It is probably prudent to keep the kids away from this area.
Baby Beach Aruba Snorkeling
The Baby Beach snorkeling is not the best on the island. Accessing the reef would require you to go outside the bay and it is just too dangerous to do so as the currents can get really strong and pull you out.
Snorkeling in the bay is fine, but there isn't much there other than sand, sea grass and fish. You will be able to see a number of fish which is still fun.
For those who would like to explore some of the best Aruba snorkel spots (with equipment provided for them) a tour should be considered.
I recommend the guided Mangel Halto and Baby Beach Snorkeling Tour. These two beaches are some of the absolute best on the island.
Snorkeling Rentals
The do offer snorkeling gear rentals at Baby Beach. It is super nice to be able to rent snorkel gear when visiting, as it's a pain to own and pack if you are only going to use it sporadically.
Facilities
Even though this beach is away from the main tourist areas, you still get access to a lot of amenities on this beach. There are beach loungers available to rent, as well as snorkel gear.
There are even little beach huts/pavilions that you can use for free.
There are also local dive shops, restaurants, and bars offering additional opportunities. If you are looking for something directly on the beach you will find small concession stands as well as restaurants at each end of the beach.
Conclusion: Is Baby Beach worth visiting?
If you are looking for an all around gorgeous beach that caters to families then you should go to Baby Beach. Even though it is a bit of a drive to get there, it is a place that you can comfortably spend an entire day.
Things to do near Baby Beach Aruba
Rodger's Beach (2 minute drive away)
Bachelor's Beach (3 minute drive away)