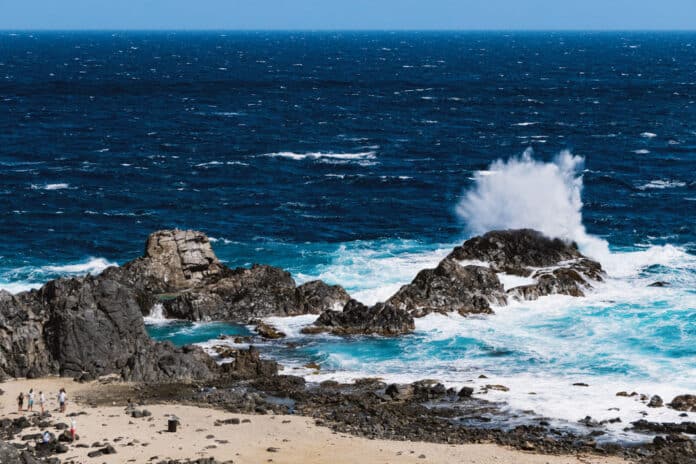 Natural Pool Aruba (AKA Conchi Natural Pool)
On the eastern side of Aruba jagged rocks create a unique and super cool formation. They rocks block the waves but still let water into to create a "natural pool." It is kind of hard to get a feel from pictures alone, but it is an awesome place to hang out and take a swim.
For those visiting Aruba, you have to visit this amazing swimming spot. It is a perfect place to escape the sweltering Caribbean heat!
The pool is in the heart of Arikok National Park, the national park that makes up about 20% of the main island of Aruba. There are a ton of different reasons to visit this park, but the natural pool is a must see in Aruba!
What is the Natural Pool?
The Natural Pool is swimming pool of ocean water that is blocked from crashing waves. It is a perfect place to chill and take a swim.
The Aruba Natural Pool is also known as "Conchi" which translates to bowl. Bowl is a good way to describe the pool because it is basic a bowl cut out of volcanic rock.
Even with waves crashing on the shore, the "volcanic rock bowl" is generally protected and has calm waters that you can lounge in.
Don't get to comfortable though as the pool has to get filled somehow! Waves will crash over the rocks and splash into the pool. Usually they aren't aggressive enough to knock you over, but be careful when swimming.
Where are the Natural Pools located?
The Natural Pools Aruba offers are only about 30 minutes away from the main tourist area/Eagle Beach. While it is only a 30 minute drive, getting there isn't quite that easy.
Accessing the Natural Pools is more difficult because it is in the middle of Arikok National Park, and there isn't really a road you can drive up to in a normal car.
The pool itself is on the western side of the island, about in the middle. From where the main road ends it is about 2 and a half miles to the coast/pools.
Arikok National Park Cost
The park is $11 per person to enter. With so many different things to do in the park this feels like a bargain.
The Natural Pool is also located right next to Boca Keto beach (also highly recommend).
How to get to the Natural Pool Aruba?
Getting there is half the fun. There are a few different ways you can access, but my favorite is what we did; we rented 4-wheelers and drove through the park directly up to the pools.
We picked up our 4-wheelers in the middle of town and had to drive through regular traffic on the 4-wheeler (a little weird) but once we got to the park it was amazing.
If you want to hike in and out of the park, you can expect a 4.8 mile hike over some up and down terrain. You can read more about hiking it here.
There are also tons of tours that will take you there if you don't want to navigate on your own or have to ride a 4-wheeler through traffic. There is even an option to get there on horseback.
There are so many tour options if you don't want to bother with rentals and navigating on your own. Check them out below.
Can you get to the Natural Pool in a car?
Yes. But it would have to be a jeep or other 4 wheel drive car with high wheel clearance.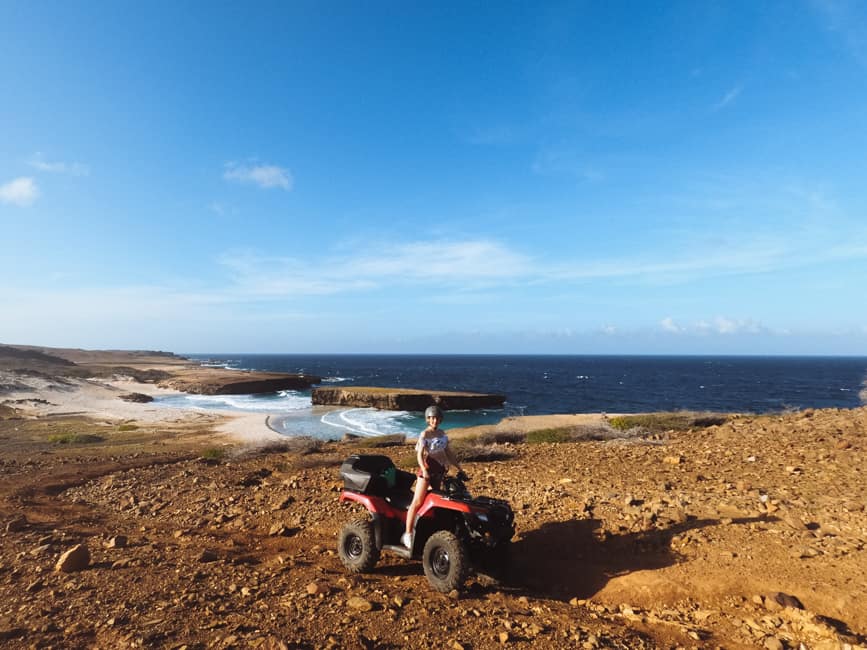 Can you swim in the natural pool in Aruba?
Yes! This is a great place for swimming and snorkeling. Just be sure that you wear proper footwear. Bare feet on the jagged rocks will not work. I just kept my tennis shoes on because I did not have sturdy sandals like these Teva hiking sandals. Water shoes would also work.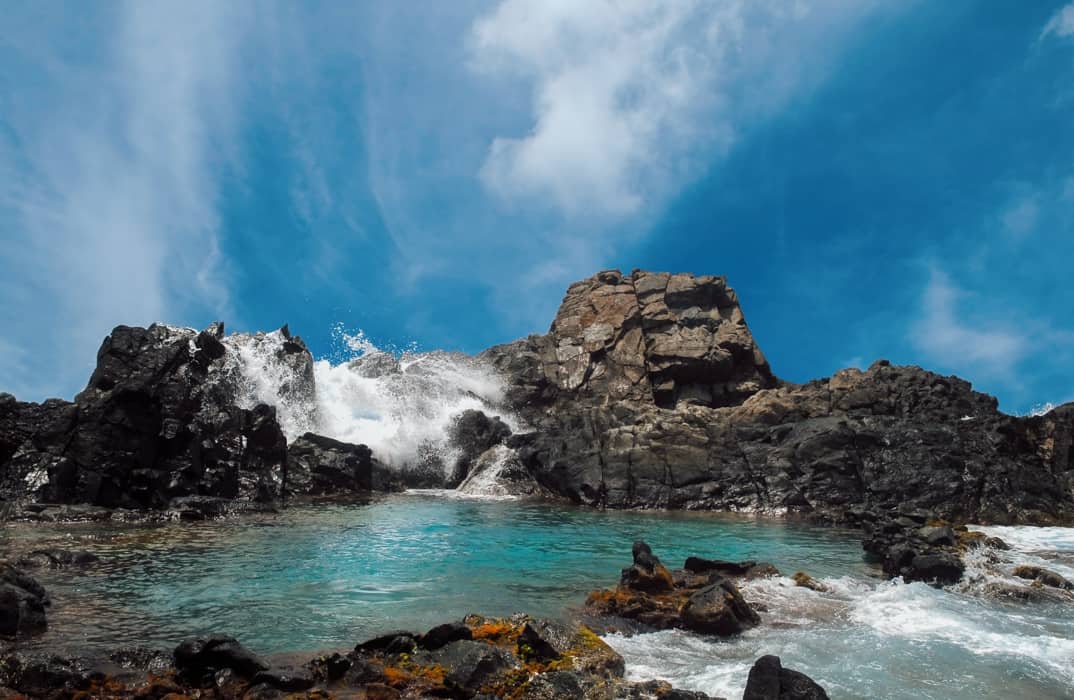 Other things to know before you go
There is often vendors selling drinks and snacks at the Natural Pools.
WEAR SUNSCREEN!
Sturdy shoes are a must.
It is roughly a one mile walk to Daimari Beach.
Bring Water.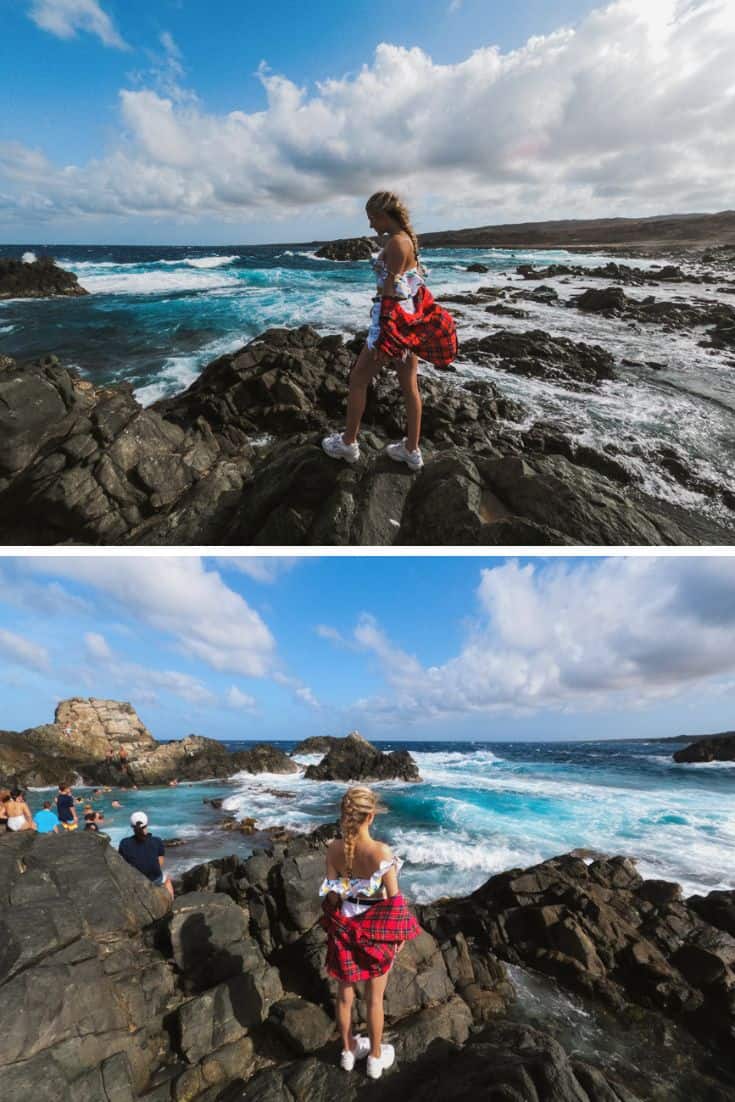 Negatives to visiting the Natural Pool?
Honestly, the only negative for me was the crowds. At the peak times of day and on weekends it can get a little crowded.
Is the natural pool in Aruba worth it?
Absolutely (even with the crowds)!