The Faroe Islands are home to some of the best waterfalls on Earth! There are so many littered throughout the islands that they aren't all named. Especially after a good rain (which happens all the time) you can help but see the water pouring down the rugged cliffs of these islands.
The biggest, most famous, and arguably most impressive is Fossa Waterfall. It is located on the eastern side of the island of Streymoy.
Not only is Fossa the largest waterfall, but it is also one of the easiest to access. It doesn't require a hike, and is located directly off the side of one of the main roads. It is free to park, easy to enjoy without a required hike, but offers some amazing hiking options if desired, and is in an area that you are allowed to fly a drone.
Fossá itself is 140 meters high (460 ft) and cascades down multiple levels. If you are feeling slightly adventurous it is easy to hike up to the higher levels to enhance your views.
Fossá waterfall Quick Info:
Where: Eastern side of Streymoy Island, Faroe Islands
Cost: Free!
Visited on – Weekday and weekend
Wait time – No wait
Nearby: Only a 15 min drive from Torshavn.
Address: 7W2C+CWV, Haldarsvík 440, Faroe Islands
Fossá waterfall Location
Fossá waterfall is located on Streymoy island, in the Faroe Islands. Streymoy is the biggest of the Faroe Islands, and it is also the home of the capitol and the biggest city, Tórshavn.
Fossa is about a 45 minute drive from Tórshavn. If you are staying in Torshavn (where we stayed) then you will not have to pay any tolls to get to this waterfall (huge perk).
How to get there:
The easiest way to get there is by rental car. The waterfall is located directly on the side of the main road. There are busses that canvas the Faroe Islands, but I highly recommend renting your own car.
How much do rental cars cost in the Faroe Islands?
The price of rental cars in the Faroe Islands will obviously vary depending on when you go.
To give you an idea, I was there for 9 days and my bill came out to about $600, but could easily have been $400 if we didn't have to pay extra for two drivers and an automatic transmission. That price included all the added fees for going through tunnels.
Also, for a European country I was shocked at how cheap gas was there. It cost about $40 USD to fill up our tank, which was less than $4 per gallon.
Parking
There is also free parking lot directly off the side of the road that fits about 6 cars. You can't miss it.
If the small parking lot fill up you will see other cars parked along the side of the road further down.
Fossá waterfall (Full Guide to Visiting)
This waterfall is super cool. It's the tallest and most popular one in the Faroe Islands, but it's pretty easy to still have it all to yourself (read below). Full-disclosure: I was there in the off season (October) so I can't guarantee it isn't more popular in the summer.
The thing that makes Fossa extra special is being able to climb up to the second cascade. Hardly anyone seems to go up there, but let me tell you, it's so worth it!! Maybe it is because the trail isn't officially marked at the bottom.
From the second level you can walk and explore behind the waterfall. It's peaceful and amazing!
I loved it so much I did it twice. Also, there's one picnic table at the bottom where you can sit and enjoy your meal.
Waterfall Breakdown
The waterfall is divided into three sections. A lower (street level) section, a middle section and an upper section. The upper section is a big plateau.
How "big" the waterfall will be is going to depend on how much rain and melting water has been coming down from the mountains (by big I don't mean height, but amount of water flowing over).
When I first visited the waterfall it was smaller than I had seen in photos and videos. I went back a few days later after a lot of rain and it was twice as big as a couple days before.
Getting good photos is possible from the base of the waterfall. From the parking lot it is only a 30 second walk from the street. You can go up to the "top of the ground level" within 5 minutes.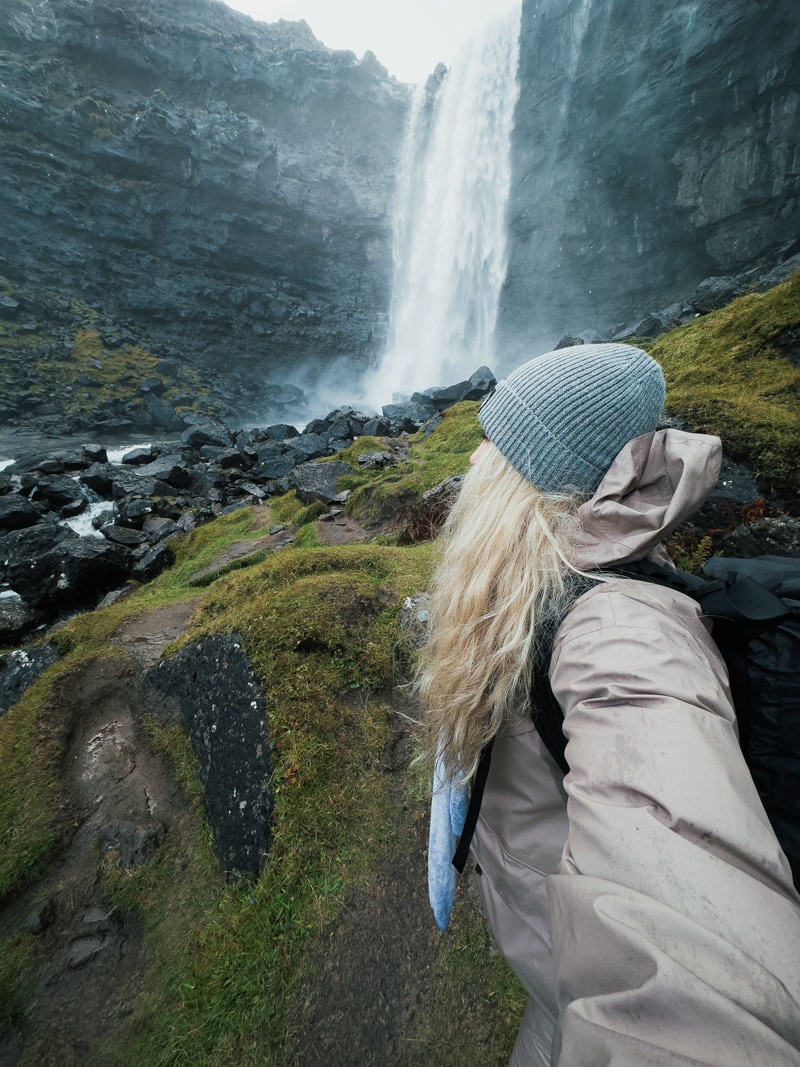 Climbing to the base of the waterfall (Ground level)
The first level itself which can be climbed within 5 min.
It is an easy climb to the base of the waterfall. Even if you don't hike up to the second level, I still very very much recommend waterproof boots and clothing. You will get wet if you head near the waterfall.
I wore these Salomon hiking boots and they were great in rough conditions.
Level Two of Fossa Waterfall (Small hike required)
You absolutely must see the second level of the fall. The path up is on the right side of the waterfall (right side if you are facing the falls).
It takes like 15 minutes to get to the second level and omg it is worth it! There is a small climb on the way up but nothing too difficult. It is just wet and muddy so be prepared.
I had the upper deck to myself both times I went up. It was pretty amazing and rare to have such a beautiful spot all to myself.
Getting behind Fossa Waterfall
To get to the back of the waterfall you simply walk there (on the second level). I didn't really see a super obvious path to the back. You kinda just have to be careful and make your own way back there.
Your biggest risk here is twisting an ankle as you have to climb on a lot of slippery rocks and mud to get back there.
Warning – you will get soaked behind the waterfalls just be prepared for that.
Photographing Fossá Waterfall – Tips and best photo spots
It is possible to get an image of the entire waterfall like the one I featured below without a drone.
To do this you will have to back track a little and cross the bridge at Norðskála and photograph it from the island Eysturoy.
At this location a telephoto lens really comes in handy. I have the Sony Alpha 7IV with the 70-200 Sony alpha lens. I never travel without this combo.
I also highly recommend bringing a travel towel with you like this one here. My gear got so wet and while most of it is water resistant I just didn't want to push my luck. Having a towel to dry off my gear really helped keep my anxiety at bay.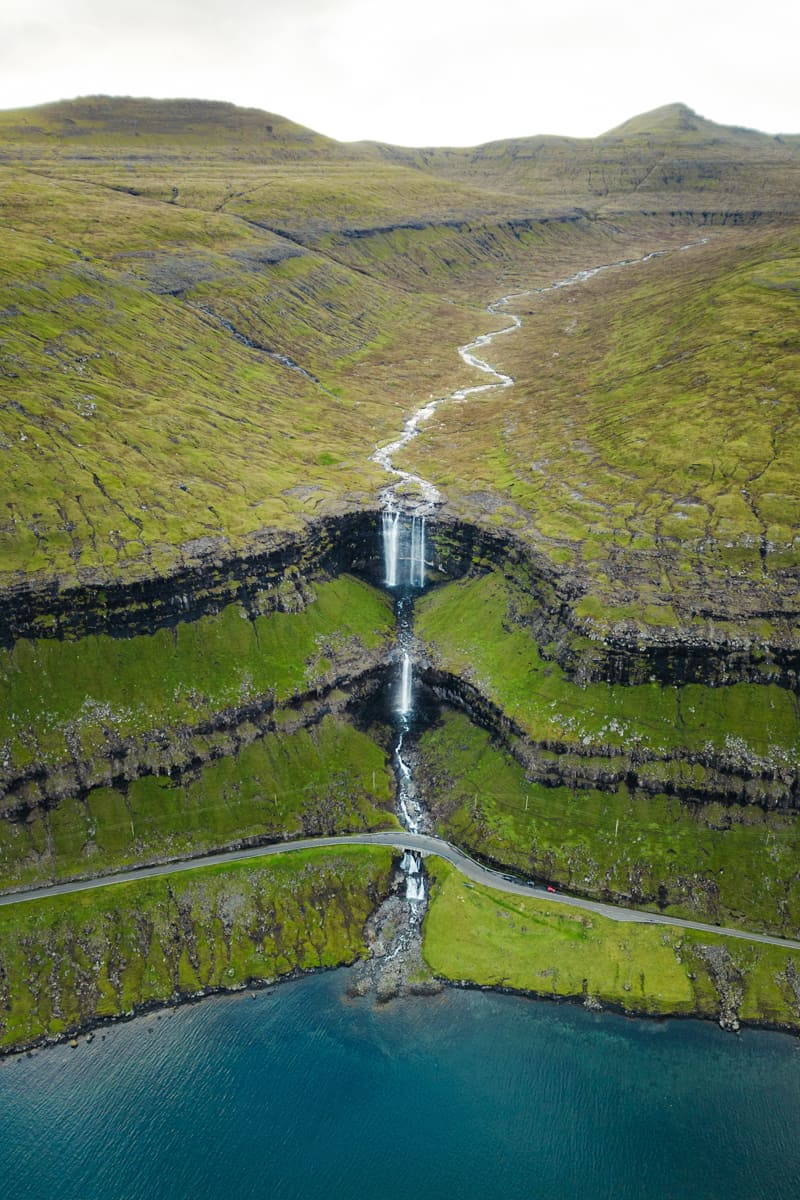 When photographing behind the waterfall I only brought my iPhone and my Go Pro. Everything got soaked!!
Reverse Waterfall Faroe Islands
A reverse waterfall is a unique phenomenon that occurs in the Faroe Islands. This happens when the wind blows so hard against a waterfall that it blows the water up. The unique geography of the North Atlantic Ocean creates extra wind that makes this happen all the time.
While I was up on the second deck on a windy day all of a sudden all of the water from the cascade below blew upward and drenched me. I looked like I had been swimming!
You can read more about this phenomenon here (reverse waterfall). It happens when the wind gusts are extra strong.
This is especially common in the autumn and winter months when the weather is windier and stormier. I was there in October and I saw it happen almost every day I was there.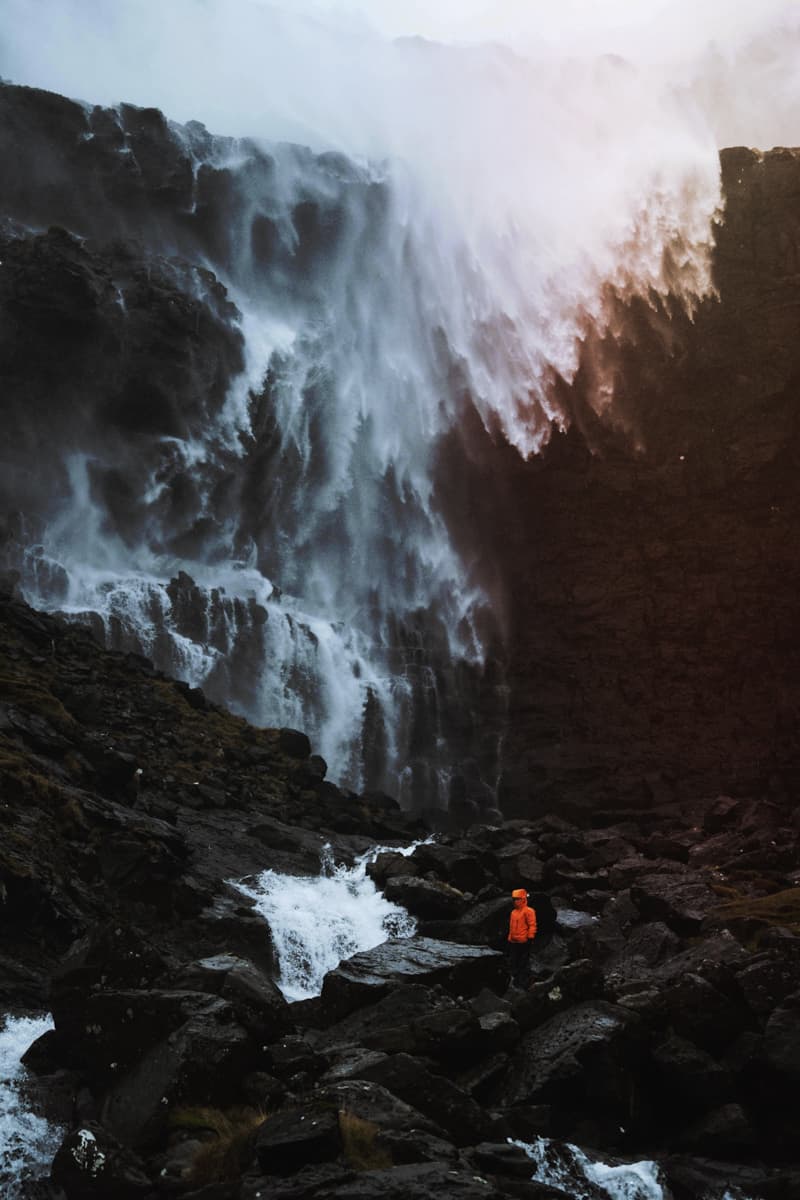 Things to do near Fossa Waterfall
Tjørnuvík – You have to make sure to visit the nearby village of Tjørnuvík. It was one of my favorite places I visited while in the Faroe Islands and it is only a 10 minute drive from Fossa! So convenient.
Saksun – The village of Saksun is just a 25 minute drive from Fossa.