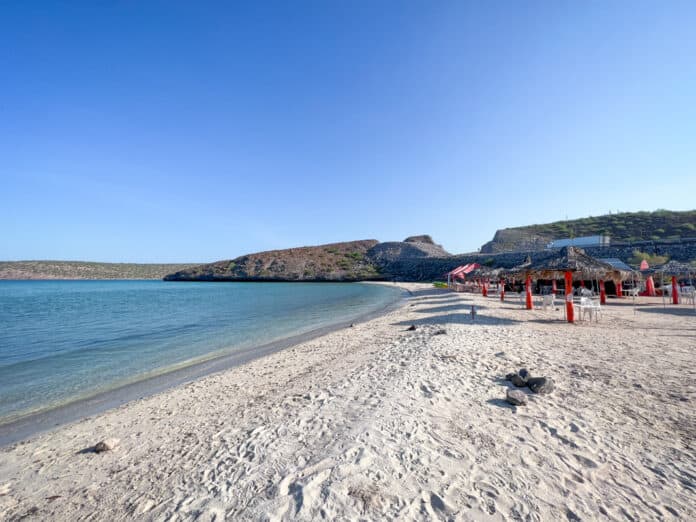 Playa El Tesoro (A Good Playa Balandra Consolation)
Trying to get into Playa Balandra but didn't line up in time to be admitted? Don't give up, there are some other good beach options you can enjoy instead, or even until you wait for the afternoon admission time.
Playa El Tesoro is less than 10 minutes away and offers a good experience at no cost and almost no difficulty.
This pretty beach has a stretch of sand that backs up to the gorgeous waters of the Gulf Of California. This beach even has something that Playa Balandra doesn't, a restaurant and bar immediately on the sand!
Full disclosure: Playa El Tesoro is a cool beach, but isn't actually a substitute for Playa Balandra.
Playa El Tesoro Info:
Other Names: Tesoro Beach
Where: 15 minutes north of La Paz
Facilities/Amenities: restaurant, bars, water rentals like kayaks etc
Best for: proximity to Balandara / drinks on the beach
Not So Good For: large stretches of sand/avoiding crowds
Playa El Tesoro Location
Getting to this beach is quite easy. From the heart of the La Paz male con it will only take you 15 minutes to get here, and you don't even have to make any turns along the way.
You drive straight north and will see the turn in directly off of the main road. Don't get dissuaded by the turn in though since it looks like an aggressive dirt off-road path. It's actually manageable in a regular rental car and is only about 100 feet long. It descends down a mini hill and into a parking lot.
Driving distance to Playa Balandra: 10 minutes (Read more about visiting Playa Balandra here)
Amazing Landscapes on the Drive
You will pass some absolutely stunning cactus and mountains on the drive here. I couldn't help but stop and take pictures directly off the side of the road ahead of and after the beach turn-off.
Playa Balandra Alternative Access
You might be able to kayak around and into Playa Balandra if you couldn't get in at one of the admission times, but obviously do that at your own risk.
We didn't try this but they are close enough to make it work.
Parking
There is a large dirt lot at the bottom of the mini hill. Even when the beach gets crowded there is usually space for the cars to squeeze in on.
If the lot fills up, or you are uncomfortable driving your car down the hill you can park along the side of the road just ahead of pull-in. There is no cost to park in either location.
Warning – the parking lot is ugly and has piles of trash. Don't let this deter you from passing by and getting directly onto the sand.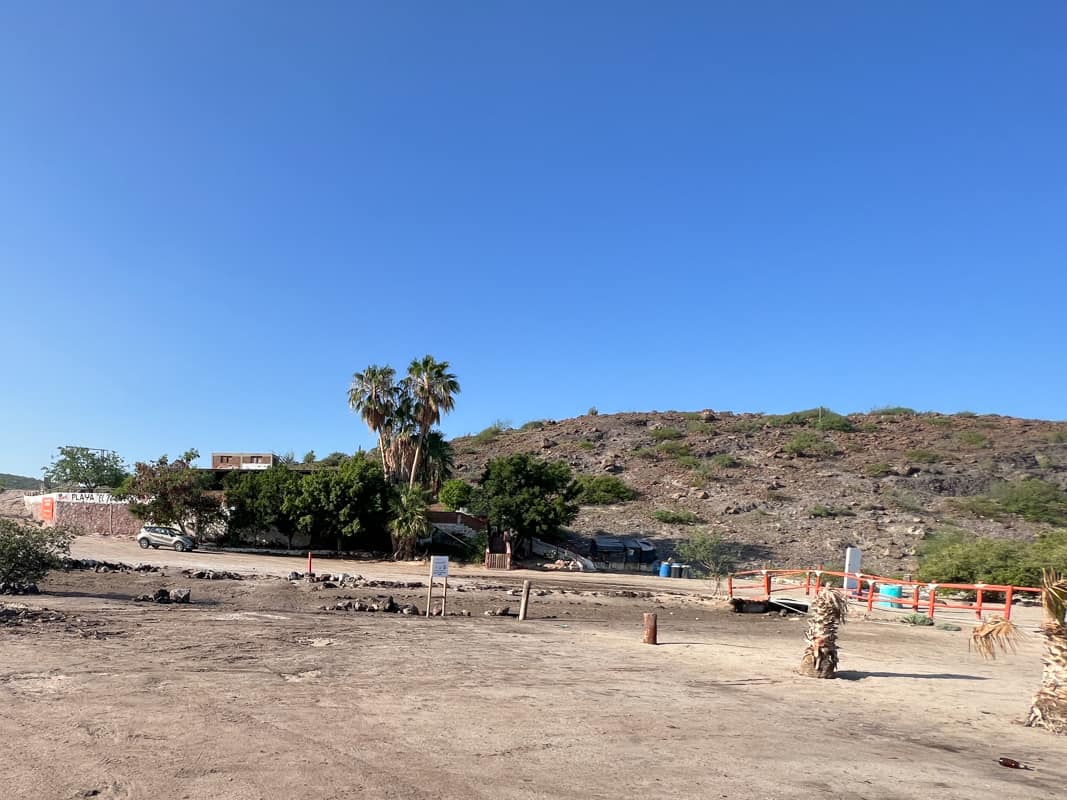 What To Expect at Playa El Tesoro
The stretch of sand isn't that long, only about 75 yards. While it is kind of small, it is still really pretty and compact white sand. The real treat is the calm waters of the gulf. There are almost always a clear blue and super calm.
Seriously the amazing waters are so piercing they almost look electric.
Amenities
The real treat of this beach is the restaurants and bars directly lining the shore. You can enjoy a relatively cheap meal and drink directly on the sand.
There are no restrooms or showers, other than the ones affiliated with the restaurants and bars that you have to be a patron to use.
There are kayak and paddle board rentals available directly on the shore as well.
Playa El Tesoro Cost
There is no cost to access or park at this beach.
What should you bring to El Tesoro Beach?
Sunscreen: LA Paz sun is HOT with very little shade! I recently have been loving SKIMS rash guards and will never go back. And of course, reef-safe sunscreen is a must.
Beach towel: I'm a huge fan of these quick dry travel towels. They pack up super small and dry super fast.
Goggles or snorkel gear: I bring a pair of snorkeling googles and these travel fins with me everywhere.
GoPro: I never snorkel without my GoPro. They take amazing underwater photos and videos!
Water and snacks: While you can buy water and snacks on the beach, you'll save money by bringing your own! We went to the gas station and bought a styrofoam cooler for a couple bucks. It worked SO well! It was so worth the extra effort to have ice cold drinks on the beach.
Where to stay in La Paz
There are plenty of accommodation options in La Paz, that will suit any budget. To be honest, it's more difficult to find an expensive hotel than it is a cheap one. If you are looking for luxury, many grand hotels also await. Explore all the top rated hotels in La Paz here.
For snorkeling – The La Concha Beach Hotel & Club is one of the best hotel picks for those who love easy access to snorkeling. The resort offers snorkeling, diving and canoeing tours. You can rent all your snorkeling great from the hotel! There is a reef you can access from either the beach or at The Cortez Club Dive Shop. Check prices here.
Conclusion
While it doesn't compare to Playa Balandra, it along with Playa El Tecolote can each serve as a decent consolation prize. If you are looking for a spot where locals will come to relax and party, this could be a good choice.