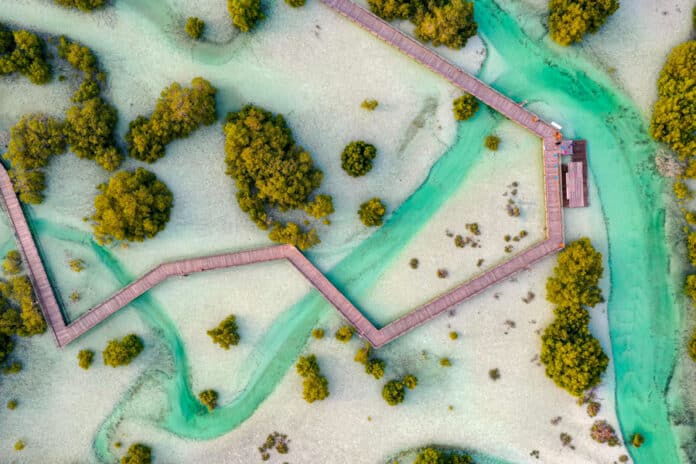 Abu Dhabi is an amazing city to visit. The reason people usually want to visit though is to see the incredibly brand new skyscrapers, world-famous luxury hotels, or even to catch one of the races on the Formula One circuit. What most people don't realize is that even on a city built off of oil money, there are still some incredible nature escapes.
Some visitors know that Abu Dhabi features amazing white sand beaches perfect for getting a tan. What most people have no idea about are mangroves Abu Dhabi offers the amazing Al Jubail Mangrove Park and boardwalk. When Prince William took his first official trip to the Emirates, he stopped at the park.
Jubail Island Development and the Mangrove Village Abu Dhabi
This island is located immediately across from the mainland that Abu Dhabi sits on. It's recently begun to be developed with high-end homes and commercial spaces. Rather than maximizing the amount of homes on the island, developers have sought to have their designs merge and enhance the existing natural beauty.
The result is a mangrove village Abu Dhabi style that doubles as residential neighborhoods as well as a nature reserve/park. This island sanctuary really feels like an aberration compared to the rest of Abu Dhabi with so much greenery.
Mangroves Abu Dhabi
If you aren't familiar, mangroves are trees/bushes that grow in salty/fresh water. These plants have special features that allow them to filter out salts in brackish waters. They are home to tons of marine life and protect coastlines from storms and erosion.
The gorgeous coastlines of mangroves Abu Dhabi offers are a unique feature that protects the shores. The Jubail Mangrove Park does exactly this, but developers added features that allow visitors to peacefully observe and explore these complex ecosystems.
Everything you need to know before your visit to the Al Jubail Mangrove Park
If you haven't previously heard of the Al Jubail Mangrove Park, it's probably because it is so new. It only opened in January of 2020, and we all know what happened to the world soon after that. Needless to say, not as many visitors have had the chance to visit as I'm sure were originally expected.
Even though their haven't been as many tourists as expected, the word is now getting out about this island sanctuary of mangroves Abu Dhabi offers. There are so many cool things to do here that it won't just be enjoyed by local residents for long.
Where is the Mangrove Park Abu Dhabi located?
Jubail Mangrove Park is on Jubail Island, which is immediately across from the mainland that Abu Dhabi sits on. The mangrove park Abu Dhabi offers is about a 22-minute drive from Abu Dhabi International Airport and less than 25 minutes from Yas Island. If you are driving from Dubai it is a 60-minute drive from Dubai Marina.
What to do at Jubail Mangrove Park
There are a lot of different mangrove Abu Dhabi activities you can do. Whether you want to learn about the local ecosystem or do something more adventurous, this park offers it.
Kayak Through The Mangroves
Who doesn't love a peaceful kayak excursion? Want to glide peacefully through the mangroves taking in nature and also gawking at some million dollar homes? Guides will show you the way through the mangroves while teaching you about the local ecosystem. I highly recommend this 2-hour Guided Kayak Tour. The whole excursion only costs between $30-$40 USD.
Bottled water and a fruit salad will be provided. However, towels are not included. I recommend these travel towels that dry really fast and don't take up a lot of space in your suitcase. I have 3 of them because I use them so much (I use them at the gym as well as for travel).
Walk Along the Boardwalk
Want to explore at your own pace while on a leisurely stroll? Probably the most popular attraction is the miles of boardwalk built up and through the mangroves. There are different paths you can take that will have your walk be really quick, or a bit longer. The longest mangrove Abu Dhabi trail is just over a mile though, so it won't take you too long.
Children aged 6 and under are free for the boardwalk experience.
Check out the wildlife
A marine ecosystem like this is bound to feature its own unique wildlife. For those that want to check out the local wildlife they can expect to see various types of birds (including my favorite flamingos) as well as some unique fish.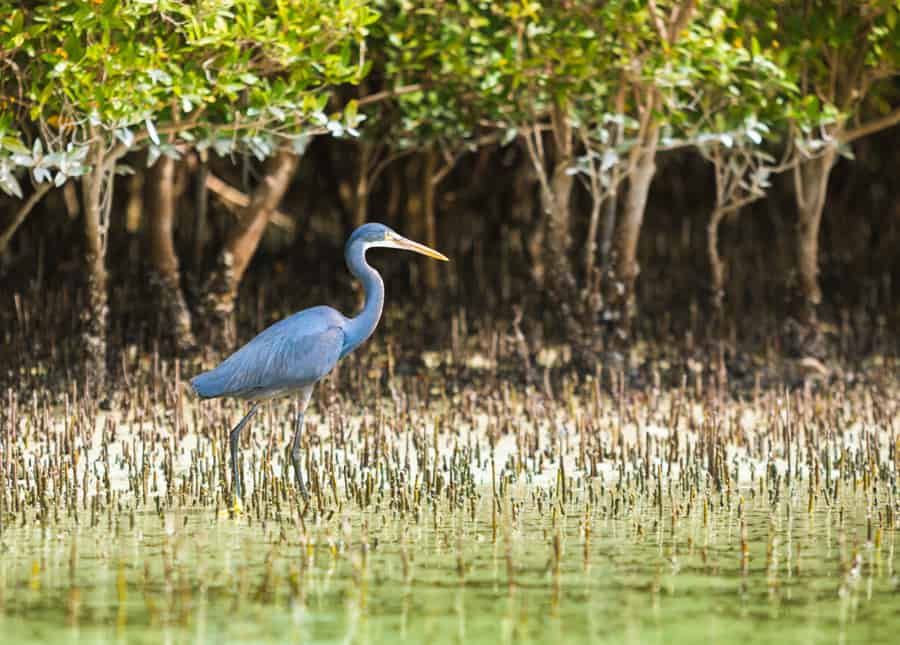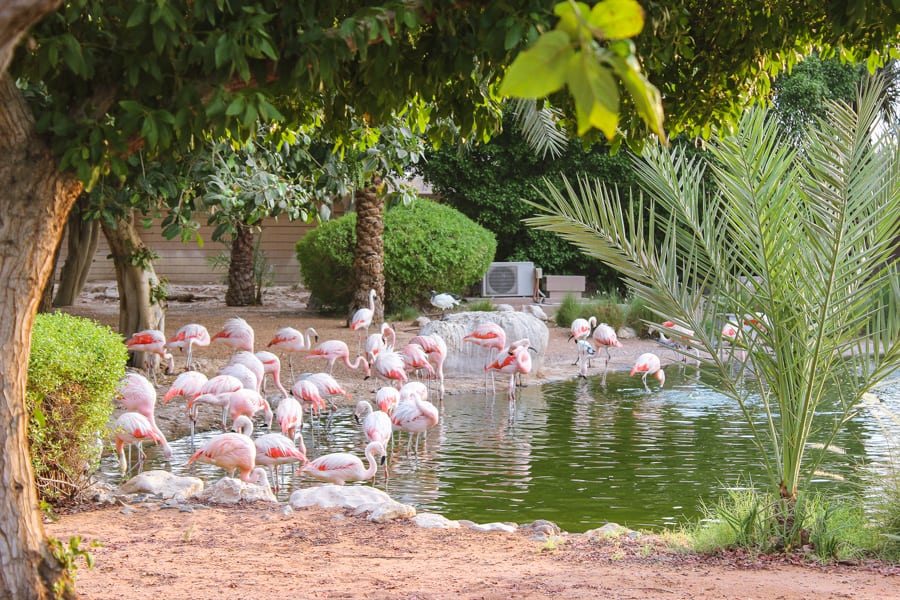 Electric dragon boat experience
Want to explore the mangroves but not have to row yourself? Electric dragon boats (think of the shape) can guide you through the trees without tiring out your arms.
Yoga
Working on your flexibility and mindfulness? What better place in the UAE than in this nature retreat. You can book a yoga class on the boardwalk directly amongst the mangroves.
Amenities
There is a visitor's center with a bathroom and a shower. You can also eat at the park cafe that serves baked goods, tea, and coffee.
Hours: The park is open daily from 7am, with the last entry at 9pm. It closes at 10pm.
Parking: Free parking is available on the site.
Cost: The cost to enter the boardwalk starts at Dh5 (about $1.50 USD). Children 6 are free.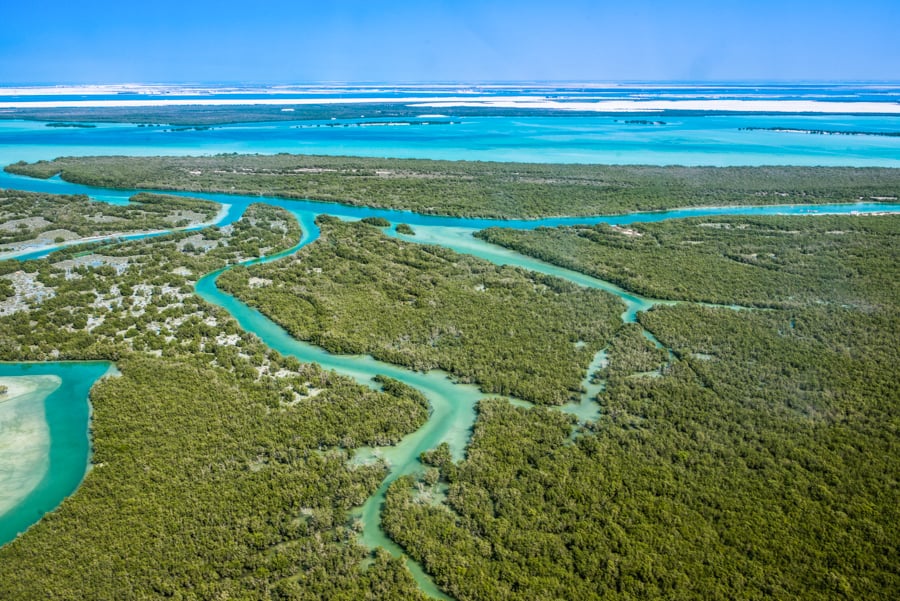 Have you ever been to Jubail Mangrove Park in Abu Dhabi? If so, what tips do you have? Comment below!