If you go to the Abu Dhabi then you would be silly to not go to Yas Island. This island has ton of the most fun things to do in Abu Dhabi and is located just seconds away from the downtown area.
It features an amusement park, marina, a waterpark, a mall, a stunning beach, a world famous Formula One racetrack and so much more.
Thankfully, it's not hard to access all of the fun things as there is a road that connects it to the mainland.
13 Things to do in Yas Island
Read on to see what delights await you on Yas island.
Ferrari World
This name confuses a lot of people. It is a Ferrari themed amusement park. Think Six Flags or Busch Gardens, but with a Ferrari vibe.
If you are coming from Dubai I highly recommend this tour that will take you from Dubai to Abu Dhabi, including tickets to Ferrari World and a visit to Sheikh Zayed Mosque and admire the imposing domes of the Emirates Palace before experience the thrilling rides at the Ferrari World.
Ferrari World Tickets: There are a few options when it comes to tickets. You can get a one day pass or a two day pass.
Skip the line and reserve your ticket in advance here.
Ride Formula Rossa (Fastest Roller Coaster in the World!)
Of course with it being Ferrari themed they would have to have the world's fastest roller coaster. It supposedly goes 150 MPH!
Formula Rossa is the fastest roller coaster in the world. Definitely a must see. f you are coming from Dubai you can book this tour and it includes tickets to Ferrari World, including riding the Formula Rossa coaster, and transportation from Dubai. With this pre-booked admission ticket, you will be able to bypass ticket lines at Ferrari World in Abu Dhabi.
Skip the line and get your ticket Formula Rossa Rollercoaster Ride here. You can also drive your Ferrari dream car with a trained instructor!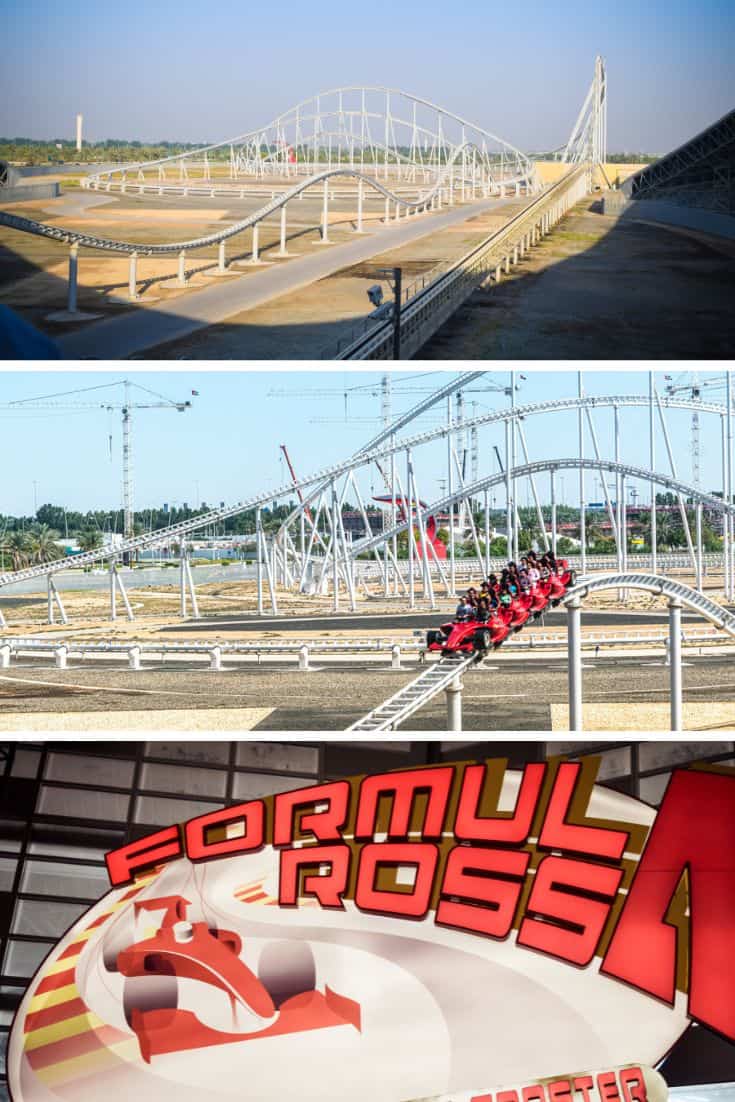 Yas Marina Circuit (Formula 1 Racetrack) – Watch or Drive Yourself!
If you aren't familiar with Formula 1 cars, just understand that they are basically the fastest and most intense racecars in the world. While other cars could go faster in a straight line, the speeds they take these tracks with is insane.
There are only a number of Formula 1 tracks around the globe, and the Yas Marina Circuit is one of the chose few. The area will be PACKED on the actual race day, but outside of the race season you can bike around the 3.5 mile track, or you can book a tour to have your own race car experience on the track!
Aston Martin Track Racing Experience
I still can't believe that the Yas Marina Circuit: Aston Martin GT4 Driving Experience is actually an option. If you want to race a supercar around a Formula 1 track… YOU ACTUALLY CAN! Instructors will teach you how to drive on a track, and then you can apply those skills. Times sell out so make sure you book ahead of time.
Formula 1 Race Car Driving Experience.
Want to take it a step further and fuel the adrenaline junkie in you? Want to race in what the pros actually drive on this track? You can also do the Formula Yas 3000 Driving Experience. You will meet with an instructor to gauge your driving skills and then be allowed to drive (or ride along) depending on your driving skills. The thrill is unreal!
Yas waterworld at Yas Island, Abu dhabi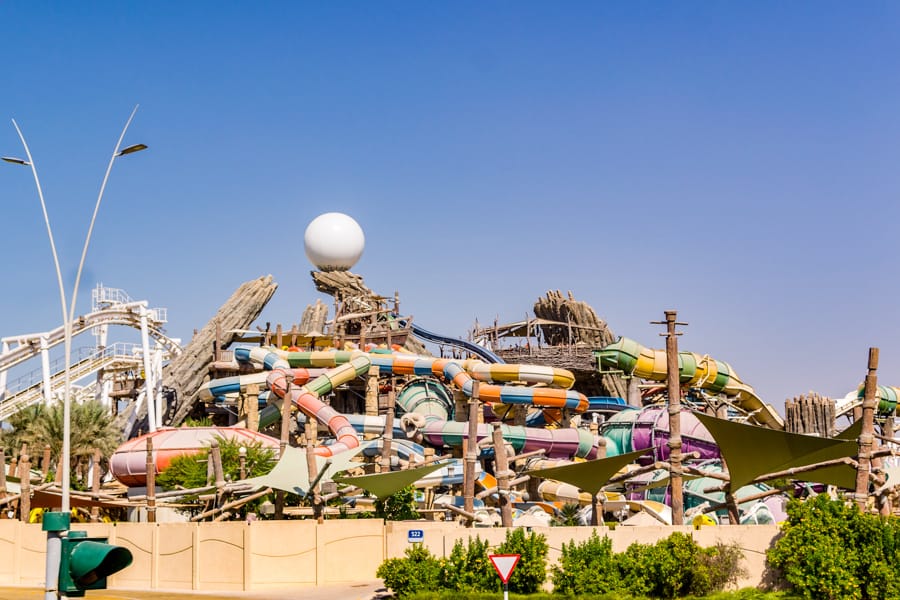 Looking to escape the scorching heat of the desert? You can do exactly that at Yas Waterworld. There are exhilarating slides and more moderate ones for the kids. As with lots of things in the Middle East, authorities have gone out of their way to make their attractions bigger and better than most!
It is obviously popular so make sure to book your tickets to the exciting water park in advance.
Visit Jubail Mangrove Park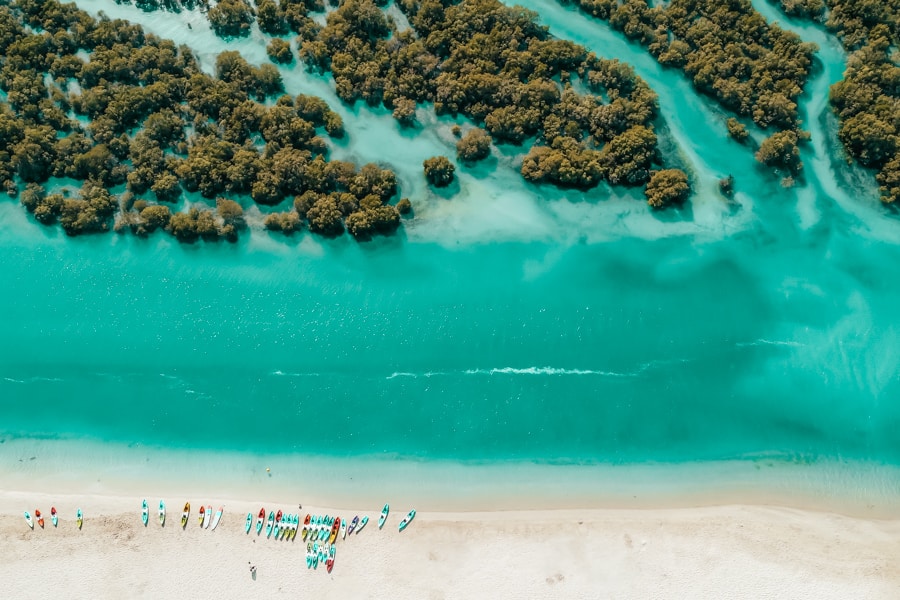 Mangroves are the amazing sea trees/bushes that grow in salt water. It is always nice to take a tour to see these unique plants and the wildlife that live in this unique ecosystem.
Yas Beach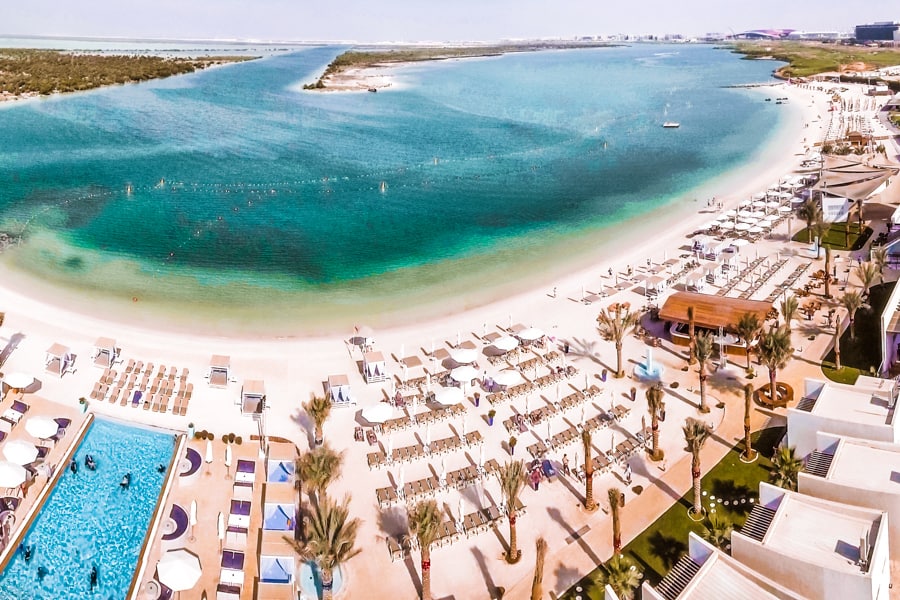 Looking to take a dip in the Persian Gulf? The waters of Yas Beach are perfect for a quick swim to cool off from the scorching sun. This beach also has all the other amenities you would want from beach loungers to cold drinks!
Yas Mall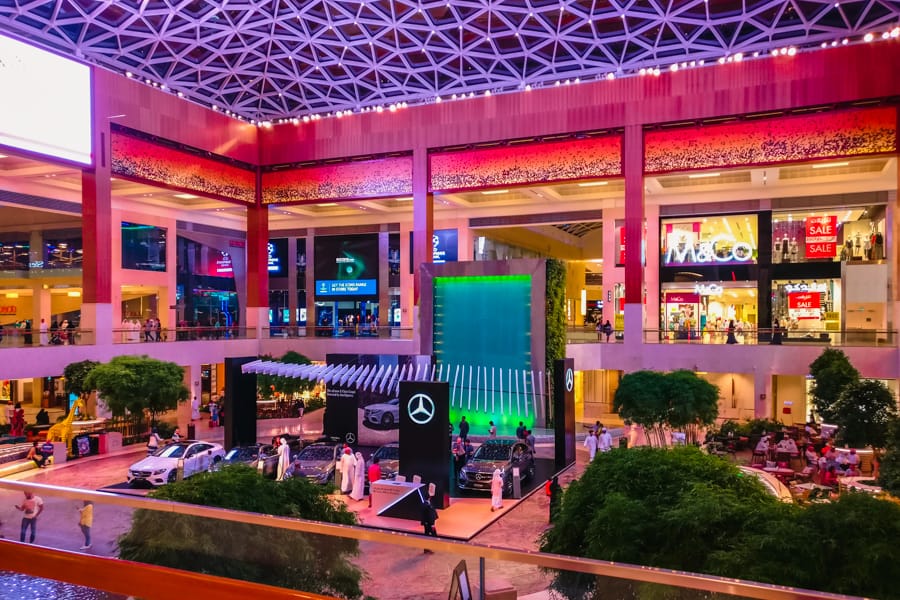 A gigantic shopping mall is also on Yas island. This mall features stores from all around the world, including all the western chains that you are used to.
Warners Brothers World
Ferrari World isn't the only theme park on the island. There is also a Warner Brothers Theme Park. Learn more about this park here. It is perfect for the kids to go on rides and have the opportunity to meet their favorite characters – Bugs Bunny, Scooby Doo, etc.
Don't expect the exhilarating rides of Ferrari World, but it is 100% indoors which is nice in the sweltering desert heat. Book your tickets in advance to guarantee admission with free cancellation here.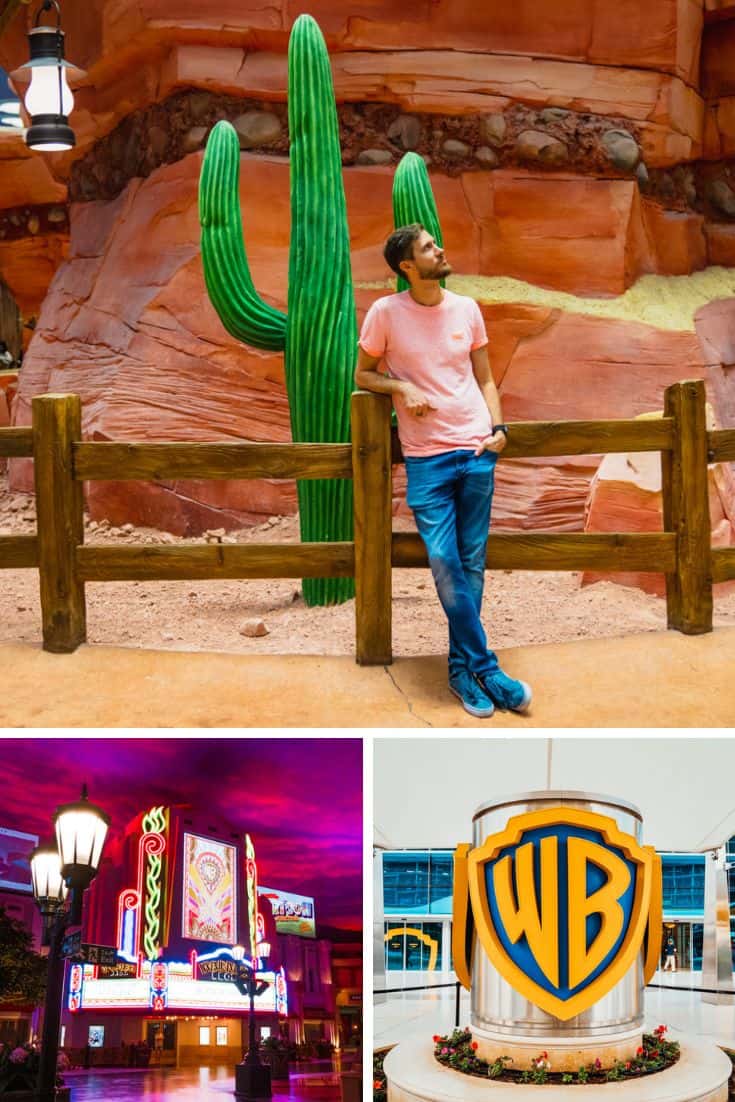 Take a Boat tour to see the sights
This tour is a One-Stop Shop for all things in Yas Island!
The Abu Dhabi skyline is one of the most striking in the world. There is no better way to see it than via boat from the water. I HIGHLY recommend you view the city from this perspective!
Click here to read more about 45 minutes Yas Experience in Abu Dhabi.
Yas Marina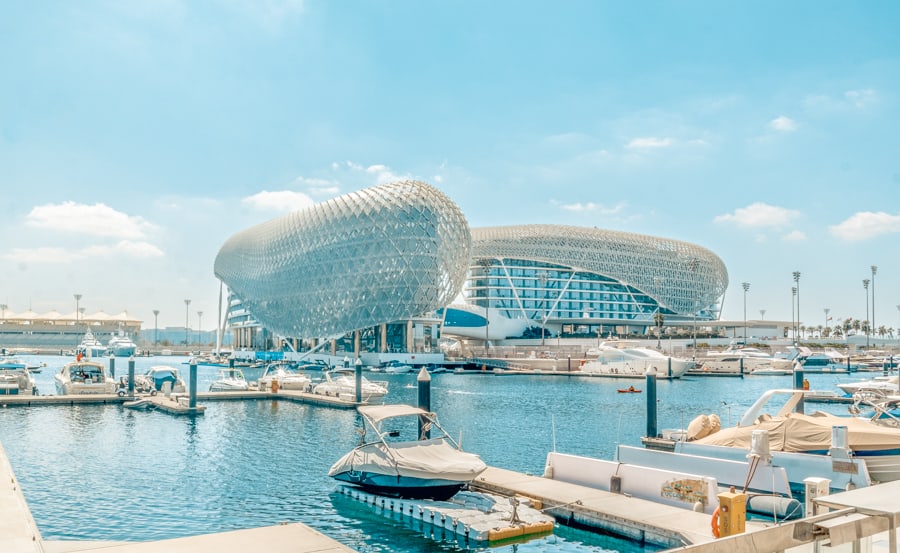 Want to see where the rich and famous park their yachts? Pure opulence will be on display in the Yas Marina.
If you aren't up for the Formula 1 race car driving experience but still want to motor around, you should consider the Yas Go Kart racing experience. This is fun for a group of people to do together all racing around the track. It is located in the Yas Marina. Book your spot ahead of time to make sure you can all get on.
Yas Links Golf Course
Want to get a few holes in? Of course there is also a top notch golf course!
Turtle feeding at Jumeirah Al Naseem
Who doesn't want to feed hungry turtles?
Conclusion
This island is awesome! It is so easy to access from downtown Abu Dhabi or even Dubai that you should most definitely visit!
Sir Bani Yas Island Is a Different Island!
One note to avoid confusion – There is another Yas Island; Sir Bani Yas island is a different place though. Sir Bani Yas Island is known for its archeological sites and geology, not roller coasters and adventure rides.