Yes, I'm a camera nerd, but no, I'm not a professional photographer. This means that my experience is much closer to the average user. Given my frequent travels, I've had plenty of opportunities to experiment with new equipment to see what works well, and what doesn't.
Last year I made it to 22 different countries, and was planning to beat that record this year, but the coronavirus is doing its best to keep me locked in place. Lucky for you, this gives me time to offer a detailed review of the GoPro Hero 8 to help you plan your next vacation/adventure.
GoPro 101 for Beginners
If you aren't familiar with the insanely popular GoPro series of cameras, you need to get a quick understanding of what the big deal is. After this high level introduction, I'm going to assume that you have some familiarity with the basics of the GoPro series.
The best current GoPro models are: Hero8 Black, GoPro Max, and Hero7 Black.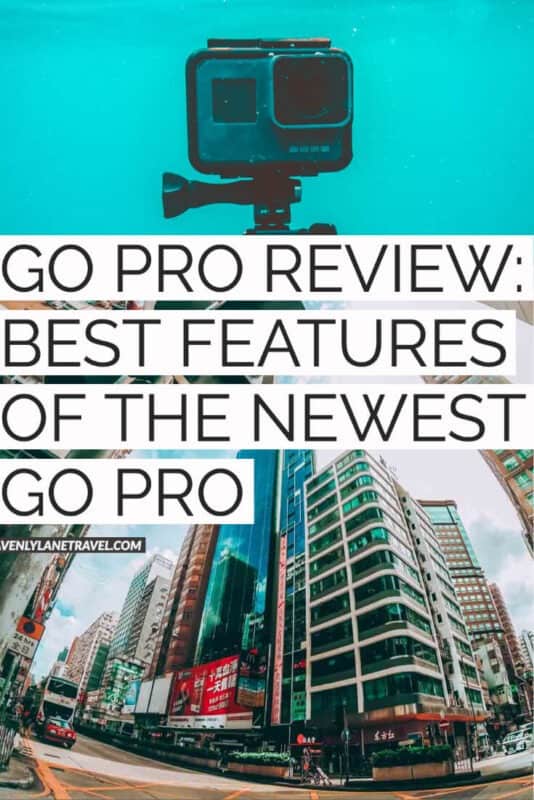 Should you upgrade to GoPro Hero 8, or save money with a previous generation?
I'm a big fan of trying to save a buck by buying the previous iteration of any item, and you may be wondering if you can get away with doing that here. What features will you miss out on if you don't upgrade to the newest model? The short answer is YES, I actually recommend the upgrade! Keep reading to find out why.
Is the GoPro the Best Camera for Travel in 2020?

My husband makes fun of me because I've found that the best camera for travel is actually 6 different cameras. Don't believe me? The 6 are an iPhone, a DSLR, mini drone, vlogging camera, an Insta360, and a GoPro. Plain and simply, this is too many cameras (at least that is what my husband tells me when I use his suitcase to pack my camera gear). This doesn't even take into account all the extra accessories that go with each of those cameras: chargers, lights, microphones, memory cards, carrying cases etc.
We almost always fly standby. This means that we can book a flight with open seats on an hours notice, but one of the drawbacks is that we almost never check bags. When you don't check bags, this means that luggage space is at an absolute premium…i.e. one of gopros historic best selling points, but the benefits go even beyond that.
Why upgrade?
The biggest reason to upgrade to the GoPro Hero 8 is that it eliminates the need to take as many cameras. It is versatile enough through upgrades and the new ability to add on accessories to now serve the function of multiple different types of cameras.
The New GoPro Accessories
Accessories give me the ability to not travel with as many cameras, i.e. saves tons of my precious backpack space. Full disclosure, this probably doesn't change much for me, but does give my husband the ability to actually get to pack some more clothes. Don't believe me, go and look at some of our trip pictures and you will see his outfit often stays the same from destination to destination. This is the result of me stealing his bag space for camera equipment
1. Display Mod – Flip Out Screen aka GoPro for Vlogging

Historically one of the cameras I carried was a vlogging camera (for self explanatory reasons). My vlogging camera didn't really have any unique benefits other than the ability to flip screen out so that you can see yourself while recording. With GoPro adding this exact type of screen accessory for the Hero 8 it immediately made my need for a blogging camera obsolete. Not only do I save camera space, but the GoPro accomplished exactly what my vlogging camera did while being lighter, cheaper, compact, and more sturdy.
The Go Pro Hero 8 is now available as a vlogging camera, and immediately one of the more affordable options independent of the other purposes.
Microphone aka the GoPro 8 Media Mod

Buy here. (Sells out fast)
Another huge reason I carry clunkier cameras was the need to be able to record audio. If you don't attach a microphone, any small amount of wind or movement can destroy the audio quality. If you do attach a microphone to your camera, you have to deal with having a fragile fluffy thing on top of your camera. My husband says our microphones look like raccoon tails.
The GoPro 8 Media Mod now has an optional microphone attachment. In traditional GoPro style, it is extremely compact. To me it is a game changer to not have to walk around with a racoon tail. Not only did the racoon tail microphones take up a lot of space, and often got smashed in a backpack. An unexpected benefit of this upgrade was that the new microphone doesn't draw as many stares from people in foreign countries.
It also features an HDMI out port, though that's a feature I haven't really used.
Camera Light aka helping the GoPro in low light

Historically one of the biggest drawbacks of the GoPro in low light was that it just didn't work very well. It seems like developers finally listened to complaints and added the ability to purchase an add-on GoPro light to help with night photography. The light is fairly bright and dramatically improves the quality of low light GoPro photos.That being said, I'm not ready to sign off on this feature changing the GoPro into a camera that excels at night, but it is serviceable.
While the GoPro light is a dramatic improvement, make sure to adjust the factory settings to make sure you fully realize the benefits. The GoPro low light settings I recommend you adjust are…
GoPro Low Light Setting Recommendations
This is a great article on the GoPro low light setting recommendation if you are interested.
Shop GoPro Accessories and Mods

New Camera Features in GoPro Hero8
For the most part the camera features are similar, but the one feature that stands out as a clear upgrade between the 7 and 8 is…
Timewarp 2.0
Do you know what timelapse is? Basically, you hold the camera and it makes a short video from a longer amount of time – i.e. you can film a whole hour hike and have the length of your video only be about 2 minutes long. This is a great way to see the entirety of some event in a condensed amount of time.
Even though the Timewarp feature existed before, the upgrade on the 8 is the ability to go back and forth from timewarp to regular video, and then back again. This saves tons of time, is simpler to operate, and and makes editing a breeze.
Here is an example, note how the video can go from the fast timewarp to regular speed and then back again. With the older GoPros, a video like this would have to be made in editing.
Drawbacks: GoPro Battery Life
The only remaining feature on the GoPro that is worth complaining about is the battery life. It still isn't great, and it is a bit of a pain to change batteries. To get through a whole day's worth of adventures, I have to take three different batteries as I drain one in about four hours.
That being said, I do use my cameras far more than most travelers, but regardless it is worth noting.
Is it worth investing in the GoPro Hero 8?
So is it worth investing in the GoPro Hero 8? Yes, given the new features it is worth the upgrade. The new accessories make it so much more versatile. Your camera can now be a low light GoPro, a vlogging GoPro, and can even pick up better audio with the GoPro 8 Media Mod microphone.
If you are looking for a great all around adventure camera, a cheap vlogging camera, or compact camera to help you save space the GoPro Hero 8 and accompanying accessories can't be beat.
Have you tried the new GoPro mods? Have you liked them as much as I have?