Poland might not be the first place you think of when planning a European vacation; many people only remember Poland as being stuck between what were once two bully nations – Germany and Russia – with the Nazis and the Soviets attacking and building concentration camps and ultimately forcing communism on the country for 50 years. We get it, it doesn't sound like the dream holiday – but a lot has changed.
Yes, there is still a huge somber part of Poland with plenty of tear-inducing attractions. But these historical things to do in Warsaw are an important part of Poland's history. Visiting the top Polish museums and monuments, like the Uprising Warsaw Museum, is undeniably fascinating, and something I think everyone should do in their lifetime.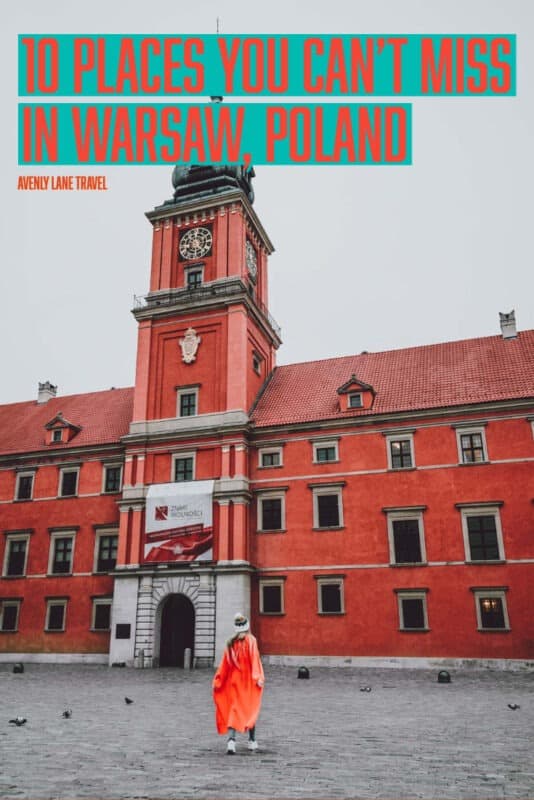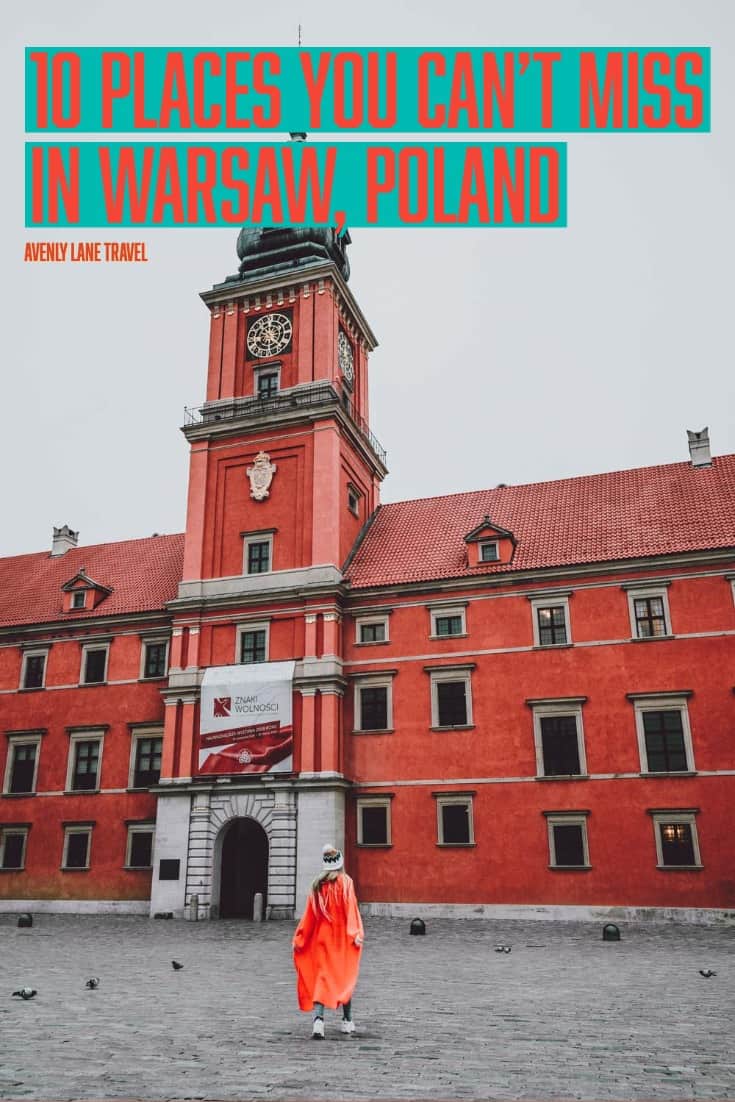 Top Things to See in Warsaw, Poland
Warsaw, the capital of Poland, is a great city to explore. It's also the biggest city and the country's cultural center. It started growing in 1989 when communism failed there, and it's still developing today.
The city is clean and modern. Most of it was rebuilt after the Nazis destroyed just about the entire city during World War II. I was shocked at how much I enjoyed Warsaw, despite its important and tragic history. It has a real European charm about it that's truly underrated. We felt like we were in Amsterdam, only at a fraction of the cost!
Related: 7 Best Cities in Poland
Getting there and how long to spend in Warsaw
The capital is Poland's main tourist hub. There are plenty of cheap flights to and from Chopin Warsaw Airport. It's so easy to pass through the city on your European vacation.
We visited on a whim as our flights changed at the last second, so we ended up with three days in Warsaw as part of our Euro trip. This was the perfect amount of time for us, and the way I'd definitely recommend doing it.
Where to Stay in Warsaw
We wanted a hotel close to the airport so we could crash after a brutal travel schedule and we found the perfect hotel! We stayed in the Courtyard by Marriott Warsaw Airport, and it was a 1 minute walk across the street to from the airport to the hotel. It was amazing! No bus rides, no Uber's and Taxi's. We walked out of the airport and stepped into our hotel.
If you want to stay closer to the Old Town then the map below is for you! You can click the map below to see hotel deals centered around Warsaw, Old Town (The best place in Warsaw to stay if you are sightseeing.)
Warsaw Map – Find a Hotel by the Old Town
The best day trips from Warsaw
While Warsaw is a spectacular city to visit on its own, and you could easily fill a long weekend with activities, you could also combine it with a visit to a few other Polish cities – there are loads of excellent day trips from Warsaw.
The Auschwitz concentration camp is one of the most popular day trip attractions, as it's located about four hours from Warsaw, and there are lots of transportation options to get there. Exploring Poland is totally safe for tourists, and many people speak English, so you shouldn't have much of a language problem.
Wondering what to do in Warsaw? Here's why you should visit this Polish capital
10 Amazing Things to Do in Warsaw
There are so many things to do in Warsaw Poland besides Auschwitz. While this is undeniably the most famous historical attraction in Poland, there are many more places to visit in Warsaw that you may not have heard of yet.
1. Old Warsaw Town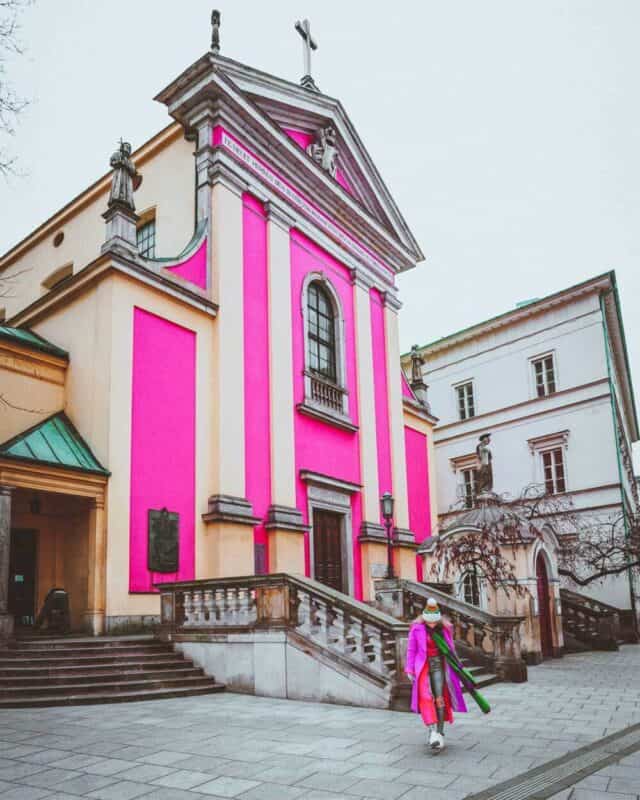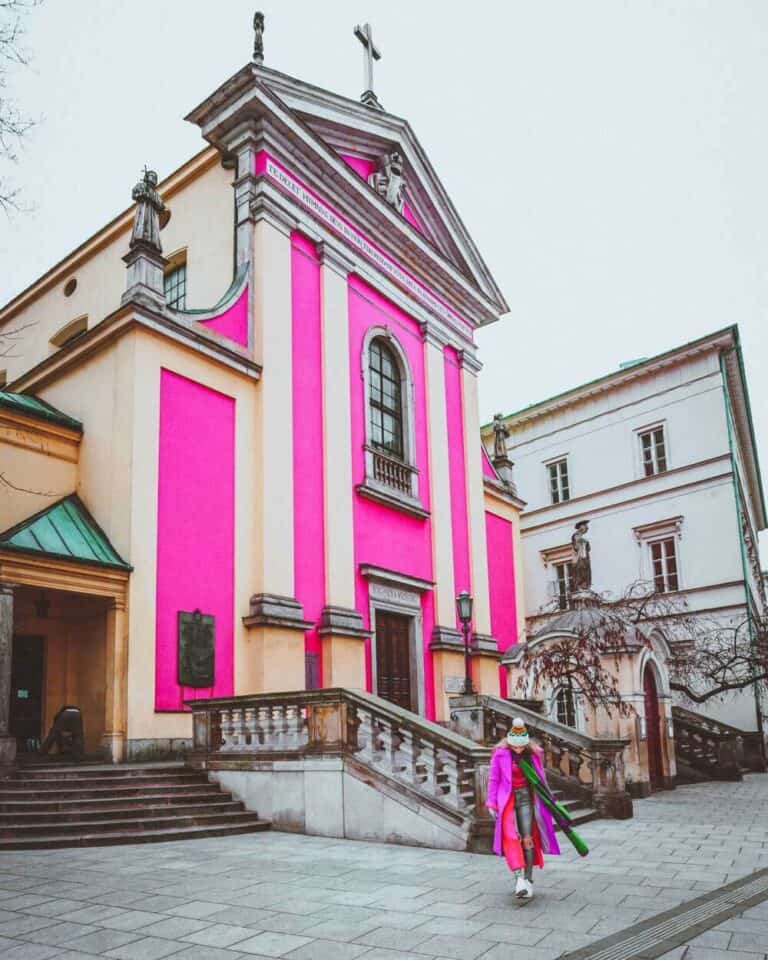 Originally built in the 1200s, the original old Warsaw was destroyed in World War II. It's been rebuilt, so you'll be able to experience the classic beauty and charm of this old town with its winding streets, striking houses, palaces, market square, and museums all in one compact area – it's easily walkable!
There's so much happening here. Take a seat at a cafe or traditional Polish restaurant and people watch. There are loads of professionals scurrying about their day, and it's a city not yet overrun by tourists. Some of the attractions we mention below are in the old town.
Find all: Hotels in Warsaw
2. The Royal Castle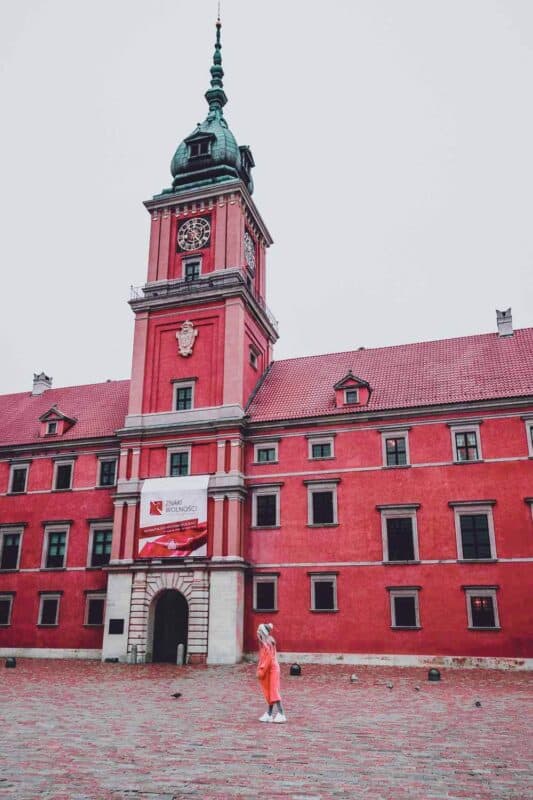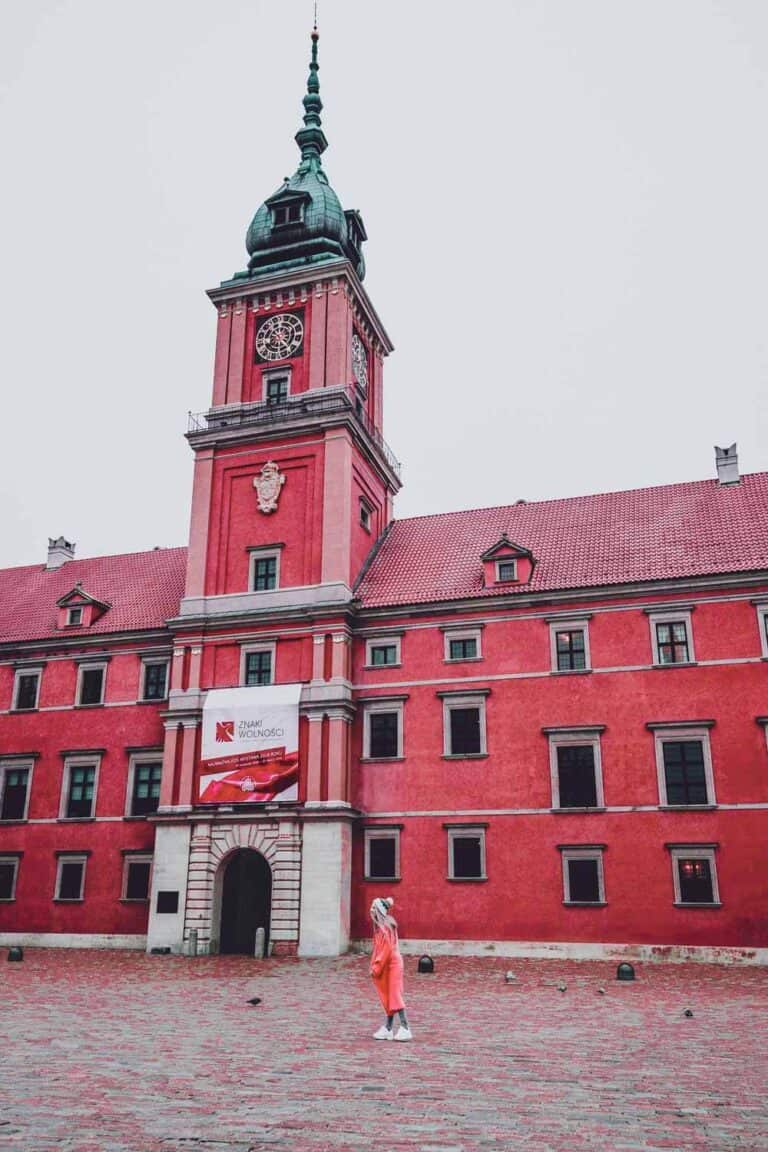 The Royal Castle is a perfectly peach-colored building right in the middle of the old town. Dating back to the 14th century, it once served as the Polish king's royal residence and has since been restored to its former grandeur after parts of the castle were destroyed in the war.
Tours are available for those who want to see how these Polish royals once lived. Many of the original details can still be seen, such as the Ballroom with its impressive ceiling fresco, columns and chandeliers, the Throne Room which still has the original flooring, and the Marble, Knight's, and Canaletto rooms with their extraordinary works of art.
3. Taras Widokowy Na Stare Miasto (Viewing Platform in the Old Town)
Taras Widokowy offers a panorama of the old town and is the best place to take pictures. The catch is that you have to climb 150 stone stairs to reach the viewing platform.
Located at the top of St. Anna's church bell tower immediately off the square, this observation deck should be on any traveler's 'Warsaw what to see' list, as it offers views as far as Tarchomin and Kawęczyn on a clear day.
It's also open until late in the summer months, so it's really romantic watching the sunset and the city lights flicker on below you. FYI – the platform isn't open in winter (which is when we went), so we didn't get the absolute best angles with some of our pictures.
4. The Warsaw Uprising Museum
It's often said that Poland put up the fiercest resistance against the Nazis, which is ultimately why they suffered so much devastation during the war. It wasn't only the Jewish residents that fought during the 1944 uprising against German occupation though – many non-Jewish residents did too. The Poles are justifiably proud of their stand, but despite all they did, they were ultimately occupied by the Soviets for 50 years. To get a better idea of precisely what happened during the war, we definitely recommend visiting the Uprising Museum Warsaw.
The Warsaw Uprising Museum is one of Poland's best museums as it commemorates their struggle in a way that really hits home. There are photographs, videos, and replica radio stations to show what it was like living under Nazi rule. Two million Polish people died in the struggle, and 150,0000 civil casualties are commemorated in the museum of Warsaw uprising alone.
5. The Wilanow Palace Museum and Park
The Wilanow Palace Museum and Park is a beautiful display of Polish-style Baroque architecture. The palace once served as a Polish king's summer residence – notably King John III Sobieski, one of the most famous Polish monarchs – until it became a museum in 1805. Today, it's home to some incredible European and Oriental artwork.
I loved walking around the landscaped grounds; they're similar to the French-style gardens you'd expect to see in Paris. Within the gardens, you'll come across all sorts of styles, from English-Chinese gardens to beautiful rose gardens.
Find all: Hotels in Warsaw
6. The Palace of Culture and Science Warsaw
You can't miss the Warsaw Palace of Culture and Science – literally – it's the tallest building in Warsaw and can be seen from anywhere in the city! At over 777 feet (237 m), it's also one of the tallest buildings in the European Union.
The Palace of Culture Warsaw was supposedly a gift from Stalin to the people of Poland as a symbol of socialist power. As a result, many locals hate it, and they're doing everything they can to remove any reminders of Stalin's rule. While this hatred is justified, it's still an iconic marker of the city. It currently houses theaters, libraries, university offices, museums, a cinema, and even some popular pubs. A free ice rink is held at the base in the winter months.
The Palace of Culture and Science is worth seeing for the Soviet architecture alone. If you have time, definitely pop up to the observation deck on the 30th floor for some astonishing views of the capital.
7. Soviet-Style Apartment Blocks
I don't need to mention a specific spot; you can't miss these Soviet-era high rises when you're in Warsaw. It can be tough to look at the rows and rows of dreary and depressing gray apartment blocks that people had to live in, which is probably why it doesn't top most 'Warsaw what to do' guidebooks. But I think it's important to see how communism actually worked (or rather, didn't work) in Poland. These communist-style towers are really quite ugly and interesting at the same time!
8. Lazienki Park Warsaw and Palace on the Water
Dating back to the 17th Century, Lazienki Park and Palace was the private summer residence of the last king of Poland, King Stanisław August Poniatowski. It's tucked within a famous park – the largest park in the city of Warsaw – slap bang in the center of the capital.
There are heaps of architectural wonders in the 188-acre park, but the Palace on the Water is the most famous for its example of striking Polish architecture. It's worth exploring the park on foot. With cafes, summer houses, pavilions, lakes, monuments, and theaters, it's an excellent place for a picnic and enjoying open-air piano concerts on summer Sundays. I love that there are peacocks wandering around!
9. The Royal Route Warsaw – Krakowskie Przedmiescie
The Royal Route Warsaw, or the Krakowskie Przedmiescie in Polish, travels from the old town to the business center of the city. This scenic cobblestone route connects the three royal residences of Warsaw, from the Royal Castle to Łazienki Park's Palace on the Isle and finally to Wilanow Palace.
It's a charming seven-mile (11 km) walk. I enjoyed the gorgeous views along the way, such as the architecture of various churches and monuments. Not to mention the gorgeous landscaped parks filled with meticulous flowers.
10. Kipper Powstania Warszawskiego
The Kipper Powstania Warszawskiegois another monument and park that commemorates the lives lost due to the oppression of the Soviet Union. I really enjoyed the Soviet iconography here – I think it must have been these monuments that really gave the Polish the hope to fight the oppression.
And that's it!
We've listed the top things to do in Warsaw in our opinion, but there are so many other gripping reasons to visit this historic Polish capital. If you're still curious about what to see in Warsaw's surrounding cities, read our guides here.
Read next: 7 Best Cities in Poland