Planning a trip to Yellowstone? Keep reading to learn about the best things to do in Yellowstone…
Bison and geysers and camping – oh my!
Yellowstone National Park is a treasure trove of wildlife and natural beauty. With over 4-million annual visitors and 2-million (yes million) acres to explore, this is the ultimate outdoor adventure.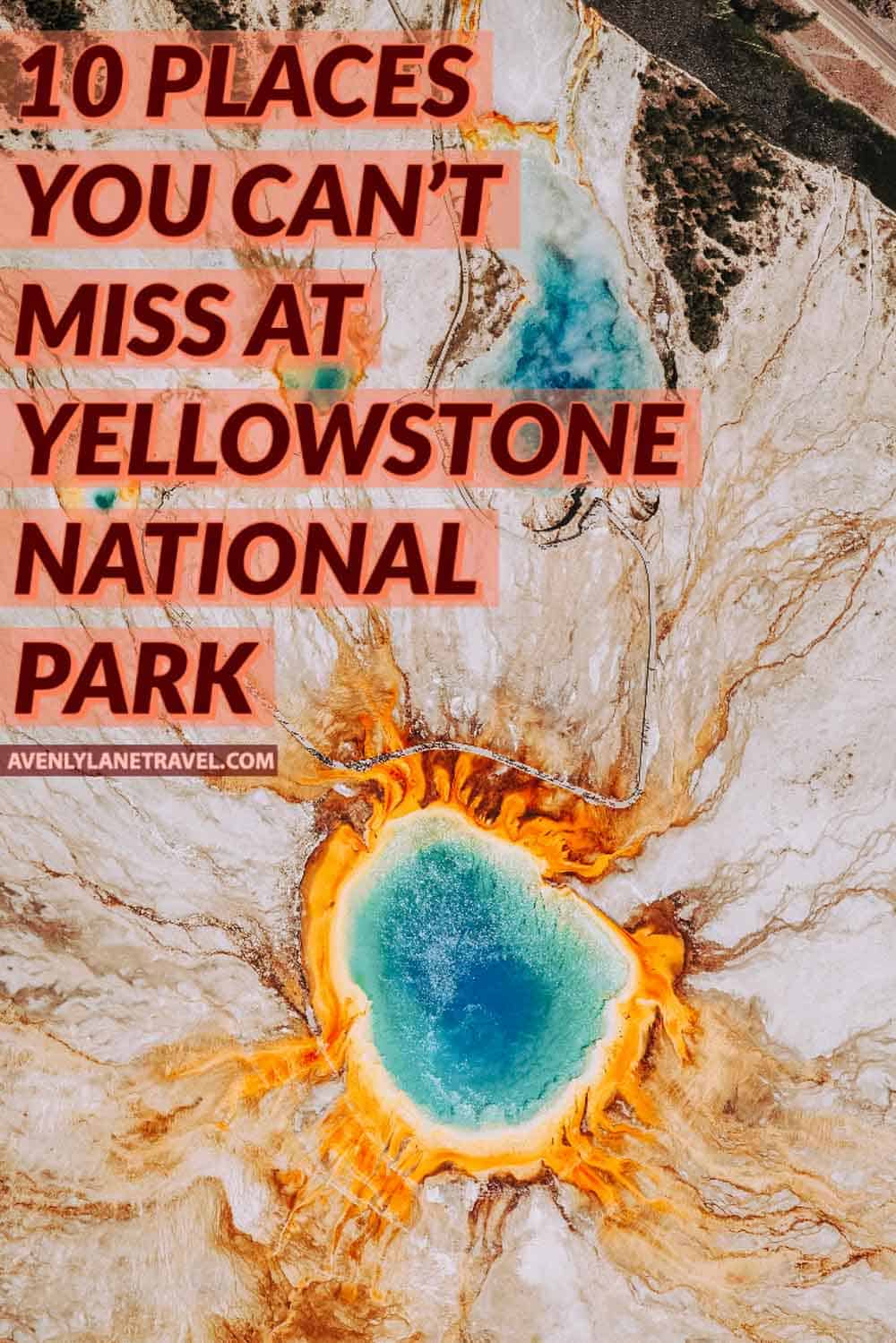 Where to stay in Yellowstone
Before we get into the best things to do in Yellowstone, let us talk about Yellowstone lodging. When deciding where to stay in Yellowstone NP, there are a few things to consider. Those things include: season, location, and type of accommodation.
Below are all the lodging options available in the park. They are split by season, with location and type of accommodation (hotel, cabin, or campground) noted, check it out…
Best Places to Stay in Yellowstone
Spring and Summer
Canyon Lodge & Cabins
Fishing Bridge RV Park
Madison Campground
Lake Yellowstone Hotel & Cottages
Grant Village Campground
Bridge Bay Campground
Mammoth Hot Springs Hotel & Cabins
Grant Village (Hotel)
Old Faithful Snow Lodge & Cabins
Old Faithful Inn
Canyon Campground
Lake Lodge Cabins
Roosevelt Lodge & Cabins
Old Faithful Lodge Cabins
Winter and Fall
Fishing Bridge RV Park
Madison Campground
Lake Yellowstone Hotel & Cottages
Roosevelt Lodge & Cabins
Old Faithful Lodge Cabins
Lake Lodge Cabins
Mammoth Hot Springs Hotel & Cabins
Old Faithful Inn
Grant Village (Hotel)
Canyon Lodge & Cabins
Mammoth Hot Springs & Cabins (Winter)
Old Faithful Snow Lodge & Cabins
Grant Village Campground
Bridge Bay Campground
Canyon Campground
Old Faithful Snow Lodge & Cabins (Winter)
Note: There are only two accommodations available in the Winter. They are noted in the "Winter and Fall" list.
Best things to do in Yellowstone
Keep reading to check out 12 amazing things to see in Yellowstone.
Best Geysers – Old Faithful Geyser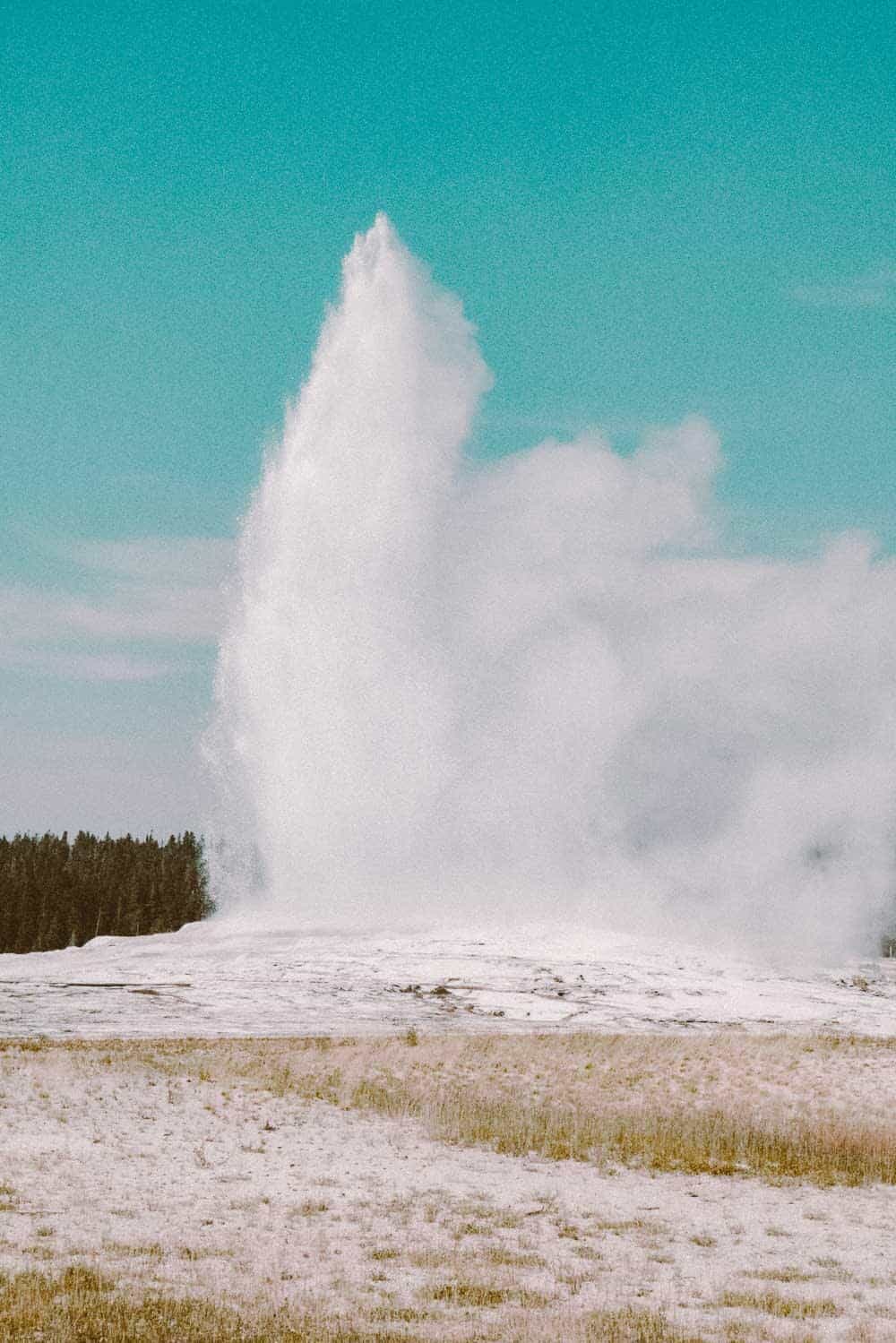 Why not start with the most famous on the list – Old Faithful Geyser! A geyser is a hot spring that irregularly ejects water and steam. This one just so happens to erupt fairly consistently. And that is how the members of the Washburn expedition of 1870 named this one.
The eruptions happen about every 90 minutes. Ranging between 50 to 120 minutes. There are actually countdown clocks located in all the surrounding buildings and even some outside. If you cannot find one, a friendly employee will happily find out for you.
You can easily view Old Faithful from just about any location in the Old Faithful Historic District. There is a deck that wraps around the entire hot spring. But if you would rather be inside a favorite spot to sit and watch is in the dining room of the local inn.
Old Faithful Inn
Speaking of the Old Faithful Historic District, you have to see the Old Faithful Inn.
Built in 1904 from wood and stone. This Inn is a historical landmark and considered the largest log building in the world. It is also one of the most popular places to stay in the park.
Enjoy a meal in their dining room and while you watch the most famous geyser in the world.
Yellowstone Hot Springs
Mammoth Hot Springs
The Mammoth Hot Springs in Yellowstone are like nothing you have ever seen. Many say they look like an inside out cave or even stairs.
They were formed as very hot water from the spring raised to the surface. Then this liquid cooled as it mixed with carbon dioxide and deposited calcium carbonate from the limestone. They took thousands of years to form. You have to check them out.
Upper Terrace Loop Drive
Take the Upper Terrace Loop drive to the top of the Mammoth Hot Springs. This route will take you into wooded areas. This loop switches back and forth. There you will be able to see thermal hot springs not visible on the main roads.
Be sure to have your camera ready. There are many picture perfect areas to capture.
Upper Terrace Mammoth Hot Springs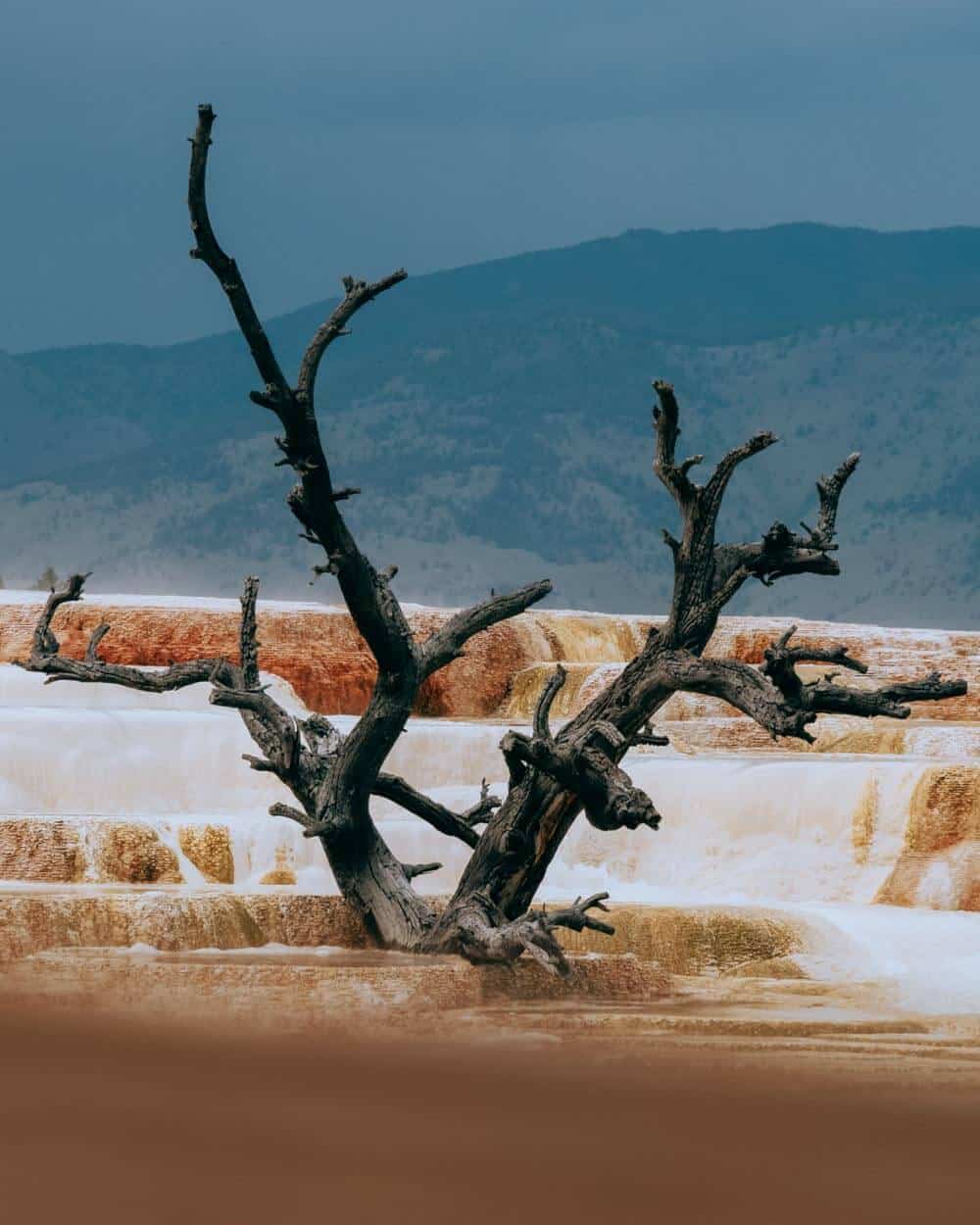 Once you have made your way to the Upper Terrace Loop Drive, you can explore the Upper Terrace Springs.
There are six different Upper Terraces to explore. Those terraces include: Bath Lake, Prospect Terrace, Orange Spring Mound, Angel Terrace, New Highland Terrace, and White Elephant Back Terrace.
The two most beloved terraces are the Orange Spring Mound and Angel Terrace.
Grand Prismatic Spring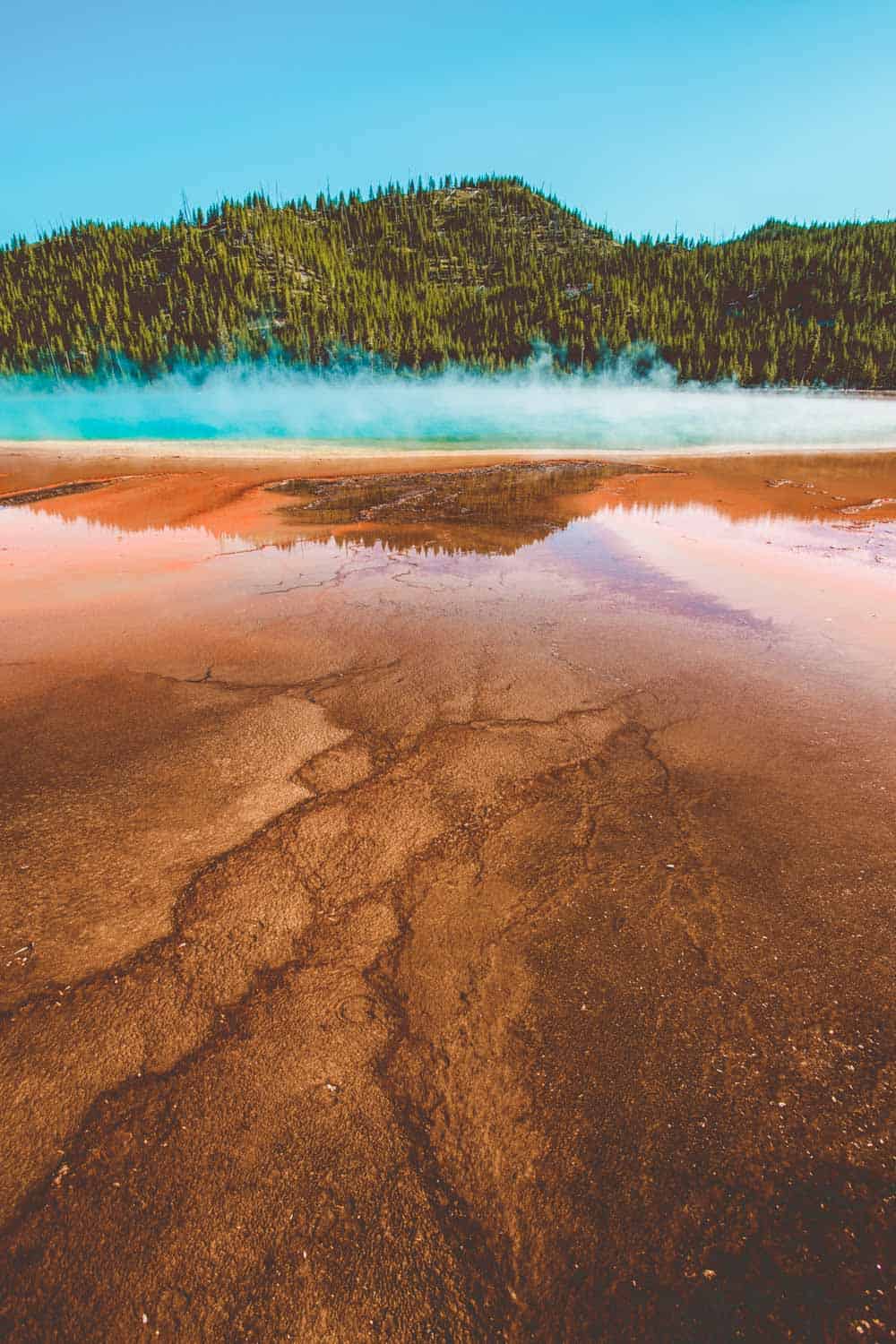 You have to put the Grand Prismatic Spring on your Yellowstone itinerary.
This gorgeous hot spring has a rainbow of colors throughout. There are rings of orange, yellow, and green surrounding the stunning blue interior water.
The colors come from bacteria that accumulate around the water. The water becomes cooler as you get closer to the center.
Opal Hot Springs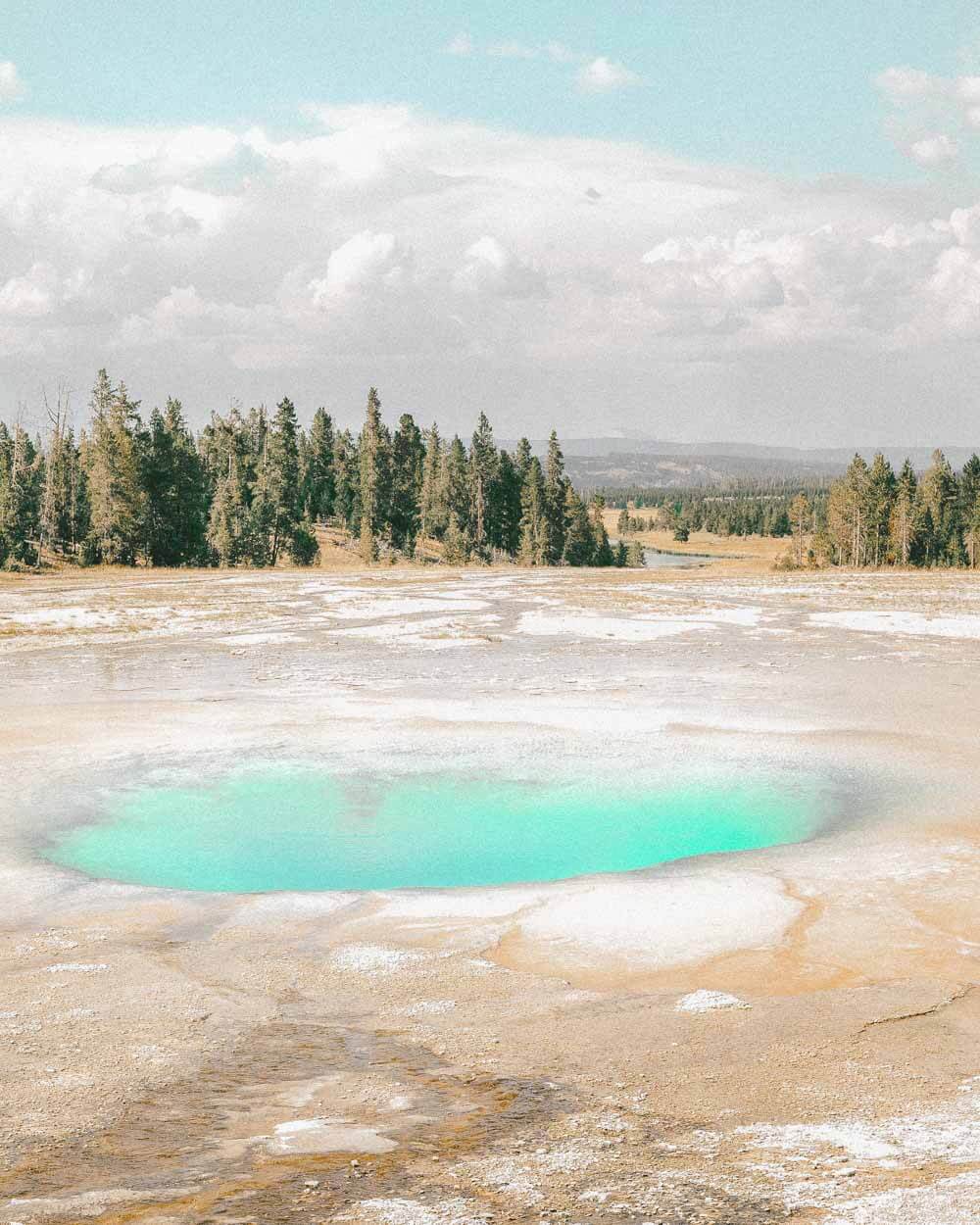 Opal pool is a small spring right next to the Grand Prismatic.
While this geyser rarely erupts, when it does it is spectacular. It bursts 20 to 80 feet into the air. It is considered the largest active geyser in the Midway Geyser Basin.
When not active the teal colored water is still worth your time.
Norris Geyser Basin
Considered the warmest and oldest geyser basin in all of Yellowstone, Norris is a fun area to explore.
Take a stroll on the boardwalk that winds through the geothermal hot spots. There are no railings which make this an exciting walk.
Be careful as the orange colored waters are actually made of poisonous arsenic compounds iron oxides. The milky blue colors are due to silica. While the green colors you notice are a mixture of yellow sulfur mixed with blue refracted light. How cool!
Blue Hot Spring Geyser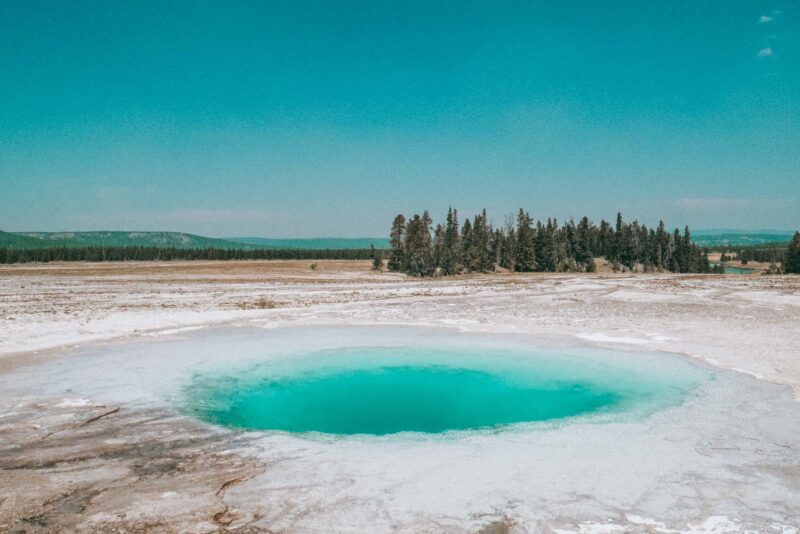 Within the Norris Geyser Basin are two basins. The Porcelain Basin and the Back Basin. Porcelain Basin holds over 20 pools, hot springs, and vents. Including the Blue Geyser.
Perhaps this area is not as well noted, but worth the trip. Do yourself a favor and explore the area.
West Thumb Geyser Basin Trail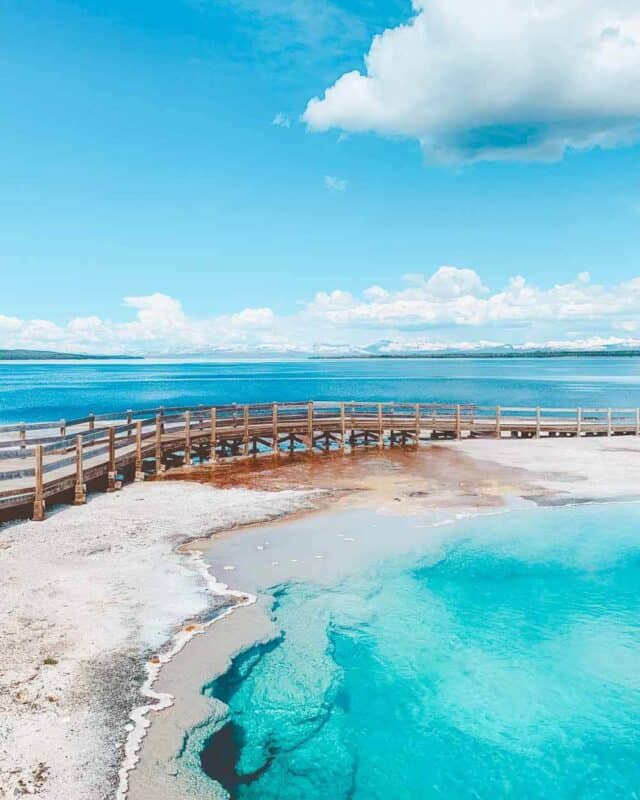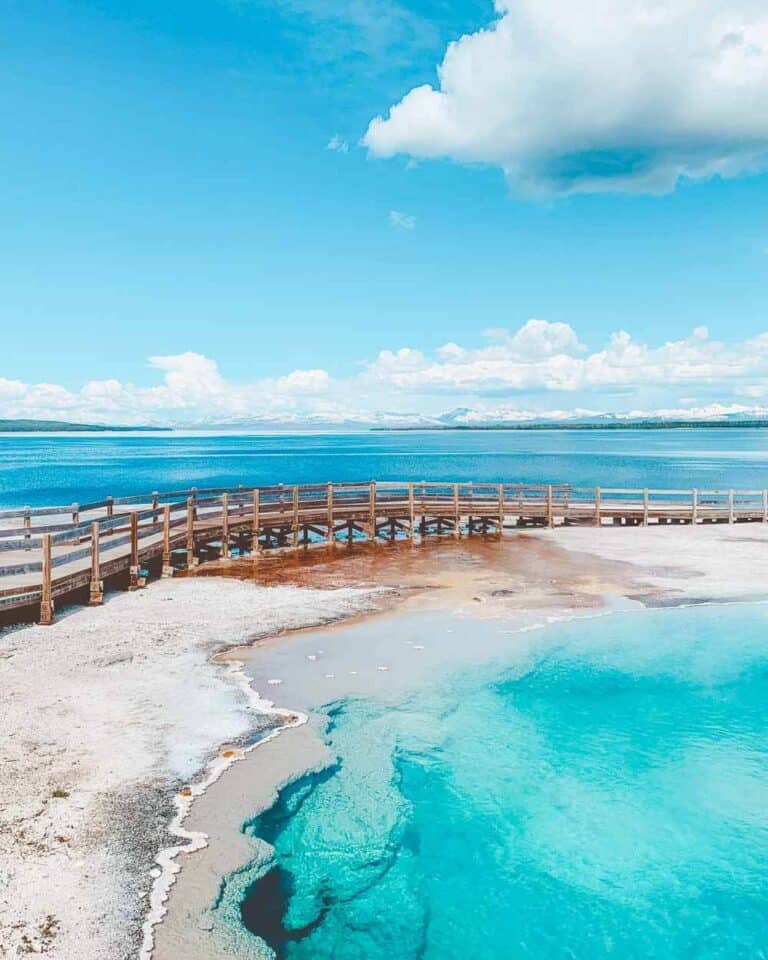 How about strolling along the West Thumb Geyser Basin? A geyser basin of colorful hot springs and dormant lakeshore geysers situated on the scenic shores of Yellowstone Lake.
This is a boardwalk trail along the shore of Yellowstone Lake, and one of the few hikes that's wheelchair-accessible (you might need assistance on part of the incline, unless you've got a strong pair of arms). All in all, you're getting great views of the geyser basin hot springs, for a fairly small investment of time and effort.
Hiking Yellowstone
With over 900 miles of hiking trails, there is no shortage of paths to explore. They range from a few minutes to a couple hours.
Trails range by difficulty. But there are day hikes for everyone in your group. The Lone Star Geyser Trail is a great option. There are paved areas so it is even wheelchair accessible!
Stop by the ranger station for more information about trail lengths, weather, and safety tips.
Fishing Yellowstone
If there were ever a place to do some fishing – Yellowstone is it!
There are over 20 lakes, streams, and rivers for you to cast your line. Check out the renowned Firehole River. It twists and turns throughout geysers and meadows. You will find yourself angling in one of the most unique settings anywhere.
Time to pull on your waders and do not forget your permits!
Lower Falls
Pouring from 308 feet high, Lower Falls is an absolutely breathtaking view.
It is the largest fall in all of the park. And the greatest volume waterfall in the Rocky Mountains.
To view this beauty, you can drive the Canyon loop. It has several places to park and get out of your car to take photos. Or, if you are an adrenaline seeker – there are very steep stairs attached to the mountain. Uncle Tom's trail is not for the faint of heart. But it is a experience you will surely not forget.
Tower Fall Yellowstone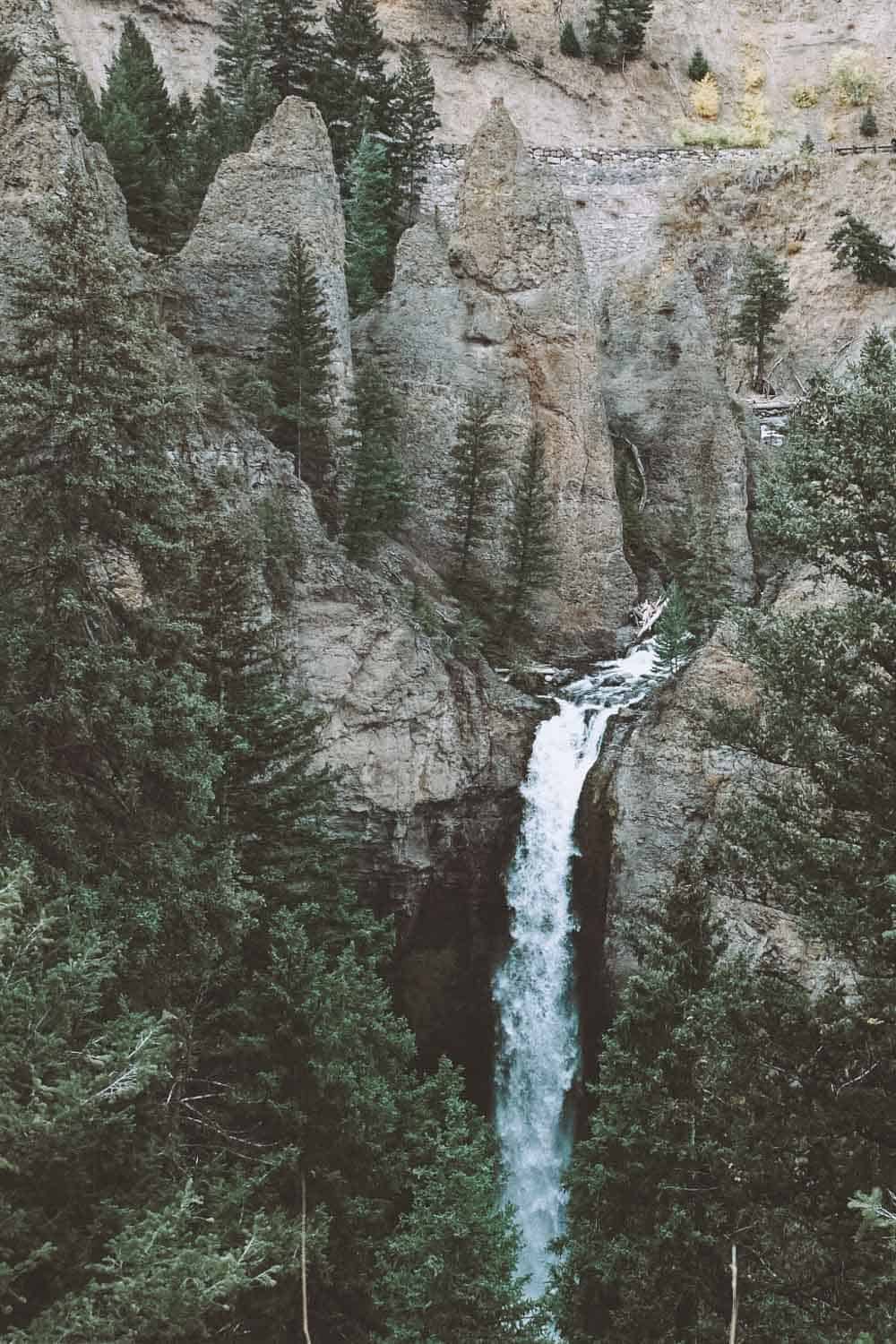 The second most visited waterfall is Tower Fall. This very accessible spot is available in both the Winter and Summer.
You can reach it by skiing in the cooler months. And in the warmer months by taking a short walk from the behind the general store.
Its name comes from the unusual rock formations on the top of the fall. They were created by flowing lava that cooled then split. Go check it out for yourself!
See the incredible Yellowstone Wildlife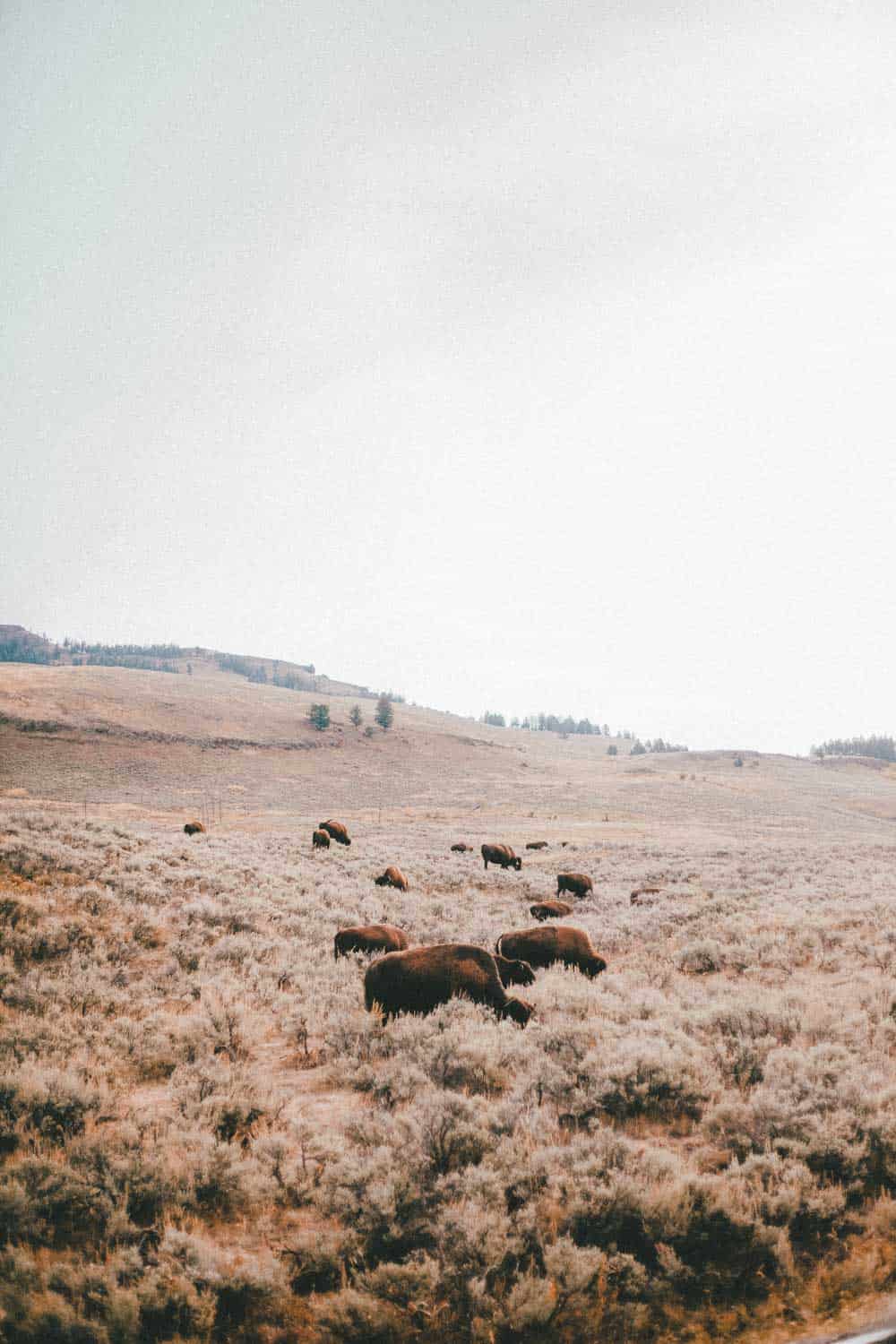 Last on the list but possibly the most popular thing to do in the park is wildlife spotting.
There are over 200 species of animals in Yellowstone. And many areas to view them. However the largest variety has to be in Lamar Valley. There you will find everything from bison to black bears, pronghorn, bighorn sheep, elk, grizzly bears, mule deer, and even wolves.
If moose are your favorite then try the Northeast and South entrances. Make sure to give all animals the distance they need!
So where are you going first? Let me know in the comments below!