25 Places to Visit in Moscow
Do you know what the most populous city in Europe is? Most people wouldn't guess that it is actually Moscow. There are approximately 13 million people in the Moscow metro area, which amounts to approximately 1/10th of all Russians.
This former capitol of the Soviet Union is still the political and financial center of Russia. Just because it is a current business and government city, in no way means that it is boring and not worth a visit. Assuming the political tensions get solved, Moscow is a fascinating city you need to visit.
While lots of people can't explain the nuances of Russian architecture, most can spot and appreciate it immediately. One of the best ways to see the historic sites is by taking a boat tour down the Moskva River that meanders through the city.
Overall, navigating the city isn't difficult as there is phenomenal and cheap public transportation (roughly 30 rubles/35 cents per ride). You can also use a cheap Uber on the three ring roads that circle the city at various distances from the center.
Still wondering why you should visit this historic masterpiece of a city? Read on to see the top 25 things you need to see in Moscow.
The House with Animals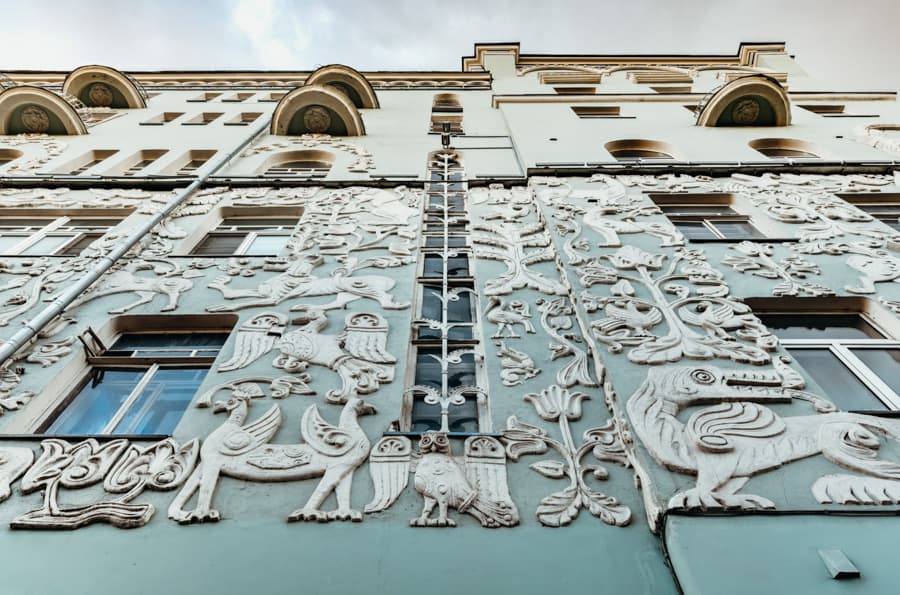 This former church is famous for the terracotta reliefs of animals that adorn the front of the building. It is a favorite of locals, and famous around the world. It was built in approximately 1900.
Resurrection Gate or Iberian Gate and Chapel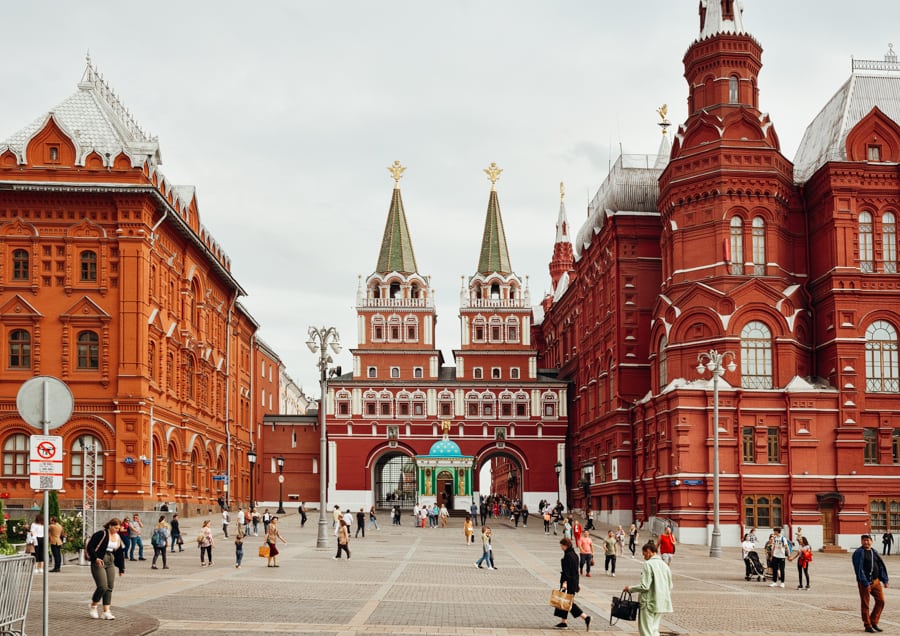 The Resurrection Gate is now one of the most common ways to enter Red Square. This gate is also the only standing part of the wall that was the entrance to to Kitai-Gorod, or Moscow's historic central business district.
Book your tour: Moscow Kremlin Armory Chamber Entrance Ticket
St. Basils Cathedral
Probably the most famous of the Red Square attractions is St. Basil's Cathedral. I don't know if the legend is true or not, but supposedly Tsar Ivan IV poked the eyes of the architect out after completing it so nothing as pretty could be made again. What an awful boss!
Book your tour: Moscow: Saint Basil's Cathedral and Red Square Private Tour
Book your tour: St.Basil's Cathedral and Red Square: Private Tour and Ticket
The State Historical Museum
If you are like me then you can't help but find all the twists and turns of Russian history fascinating. The State Historical Museum at Red Square is a fantastic place to learn and study the Russian Relics.
Book your tour: Kremlin, Red Square, and Metro Tour with Pick-Up
Moscow River Cruise
The Moskva River cuts directly through the heart of Moscow. Want to see it all but rest your feet? One of the best things to do in Moscow at night is float along on a dinner cruise. The lights of the city are so beautiful. Of course, dinner in included.
Book your tour: Night lights Moscow Cruise (with Dinner option)
Museum of Soviet Arcade Games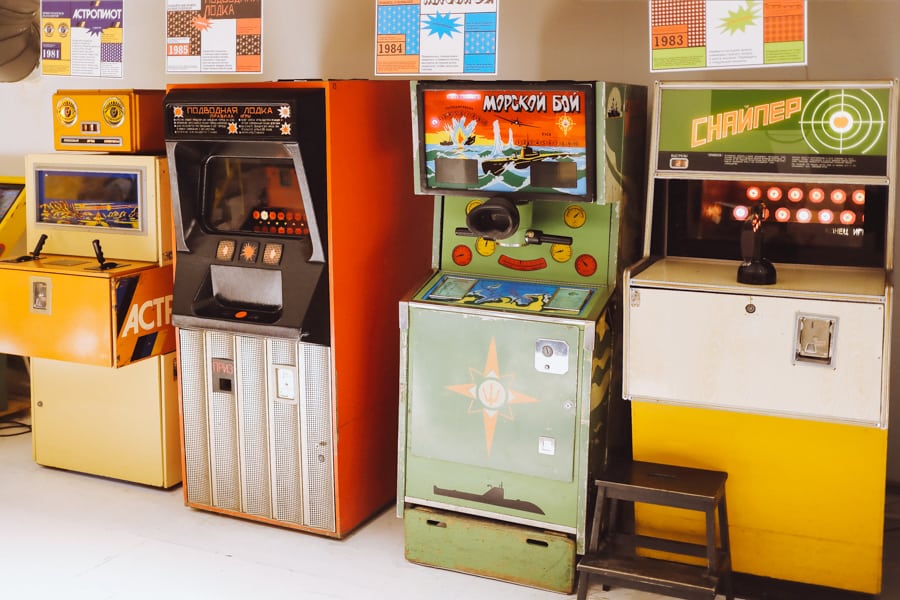 This is one of the most unique things to do in Moscow. If you know that many American video games paint the Russians as the bad guys, then it's probably not surprising to learn that you can find an entirely different variety of video games in Russia. This isn't a recent phenomenon; even historically the video games were different. If you are a video game buff then this stop is for you!
Main Church of the Armed Forces in Park Patriot near Kubinka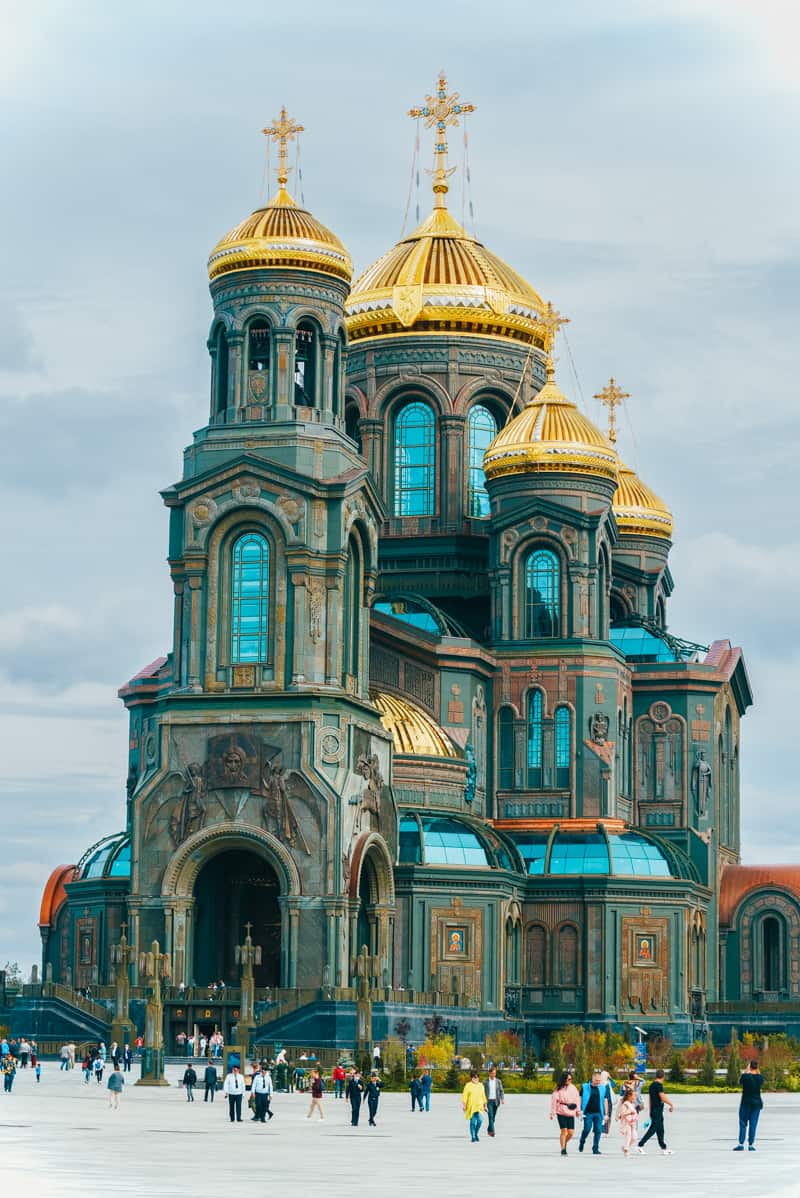 This church attempts to commemorate the resurrection of Jesus Christ as well as Russian military leader. Yes, it's an awkward amalgamation. It caused quite a controversy when there were plans to create murals of Vladimir Putin and Joseph Stalin to go along with the ones of Jesus Christ (those plans were scrapped).
Bunker 42 (Cold War Museum)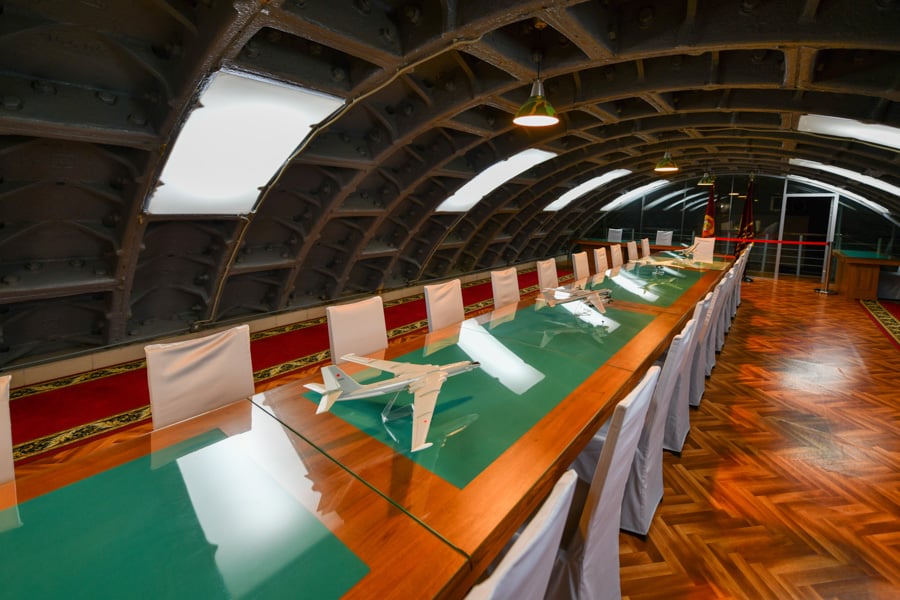 Tunnel at Bunker-42, anti-nuclear underground facility built in 1956 as command post of strategic nuclear forces of Soviet Union.
Americans weren't the only ones afraid during the Cold War! You can now discover the most secret and secure Bunker of the USSR, Bunker 42. Also known as the Cold War Museum. This former military communication center is now a museum. I recommend this tour that will take you on a private two hour visit of Bunker 42.
If you aren't interested in a guided tour you can book your tickets in advance here.
Get your tickets: Bunker 42 Admission Ticket and Cold War Tour
Tank Excursion and Bazooka Shooting in Moscow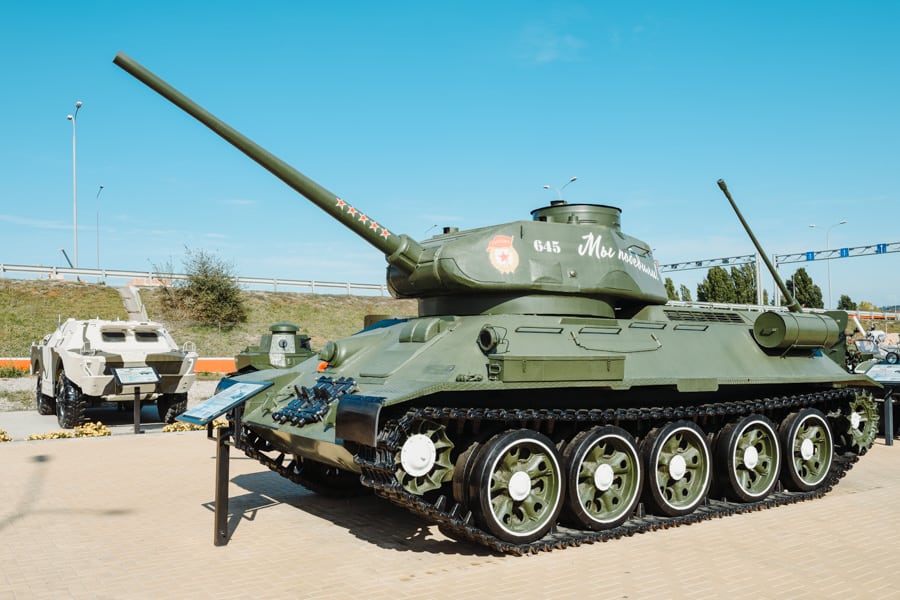 For real – you can book this tour and actually ride in a tank and shoot off military grade weapons. While that's not my cup of tea, I know tons of guys would absolutely love to shoot a bazooka!
Book your tour here.
Dormition Cathedral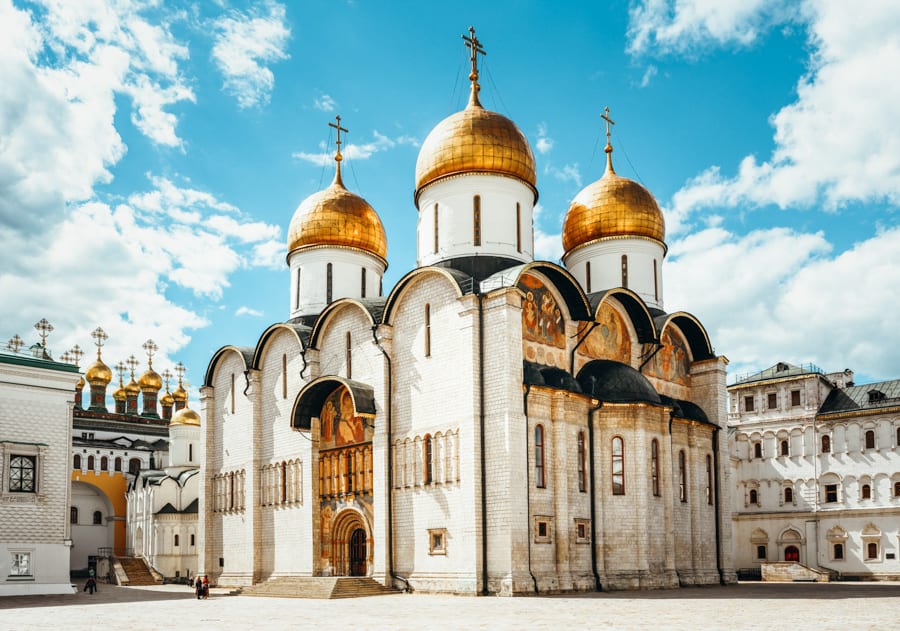 This is another Russian Orthodox cathedral that is located inside the Moscow Kremlin. It is another famous landmark of Moscow. The inside is decorated with ancient frescoes.
The Cathedral of the icon of the Mother of God "Sign"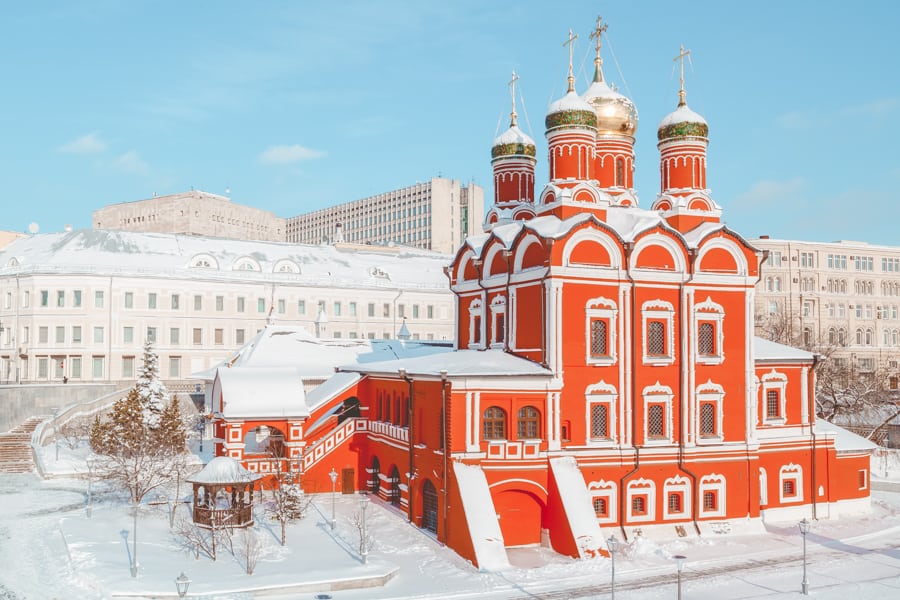 This cathedral is located in Zaryadye Park (adjacent to Red Square). It is also on the Moskva River. The Cathedral of the icon of the Mother of God "Sign" previously was a monastery.
Komsomolskaya Metro station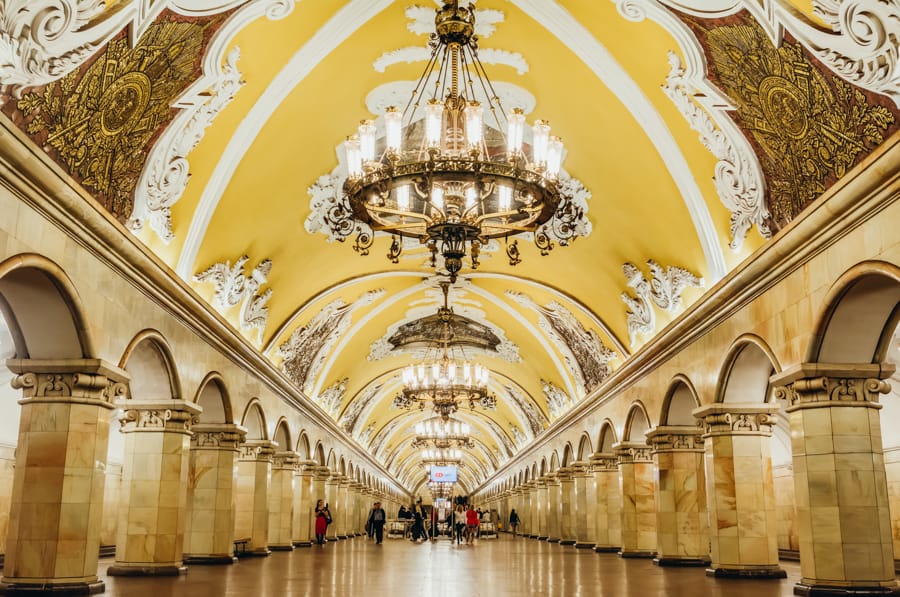 So many of the metro stations are breathtaking works of art. The idea was to create something beautiful that all the regular people could enjoy, or if you are more cynical you could say it was to attempt to show off how well they were doing.
Book your tour: Moscow: Small Group Metro Tour
The Round houses at Dovzhenko Street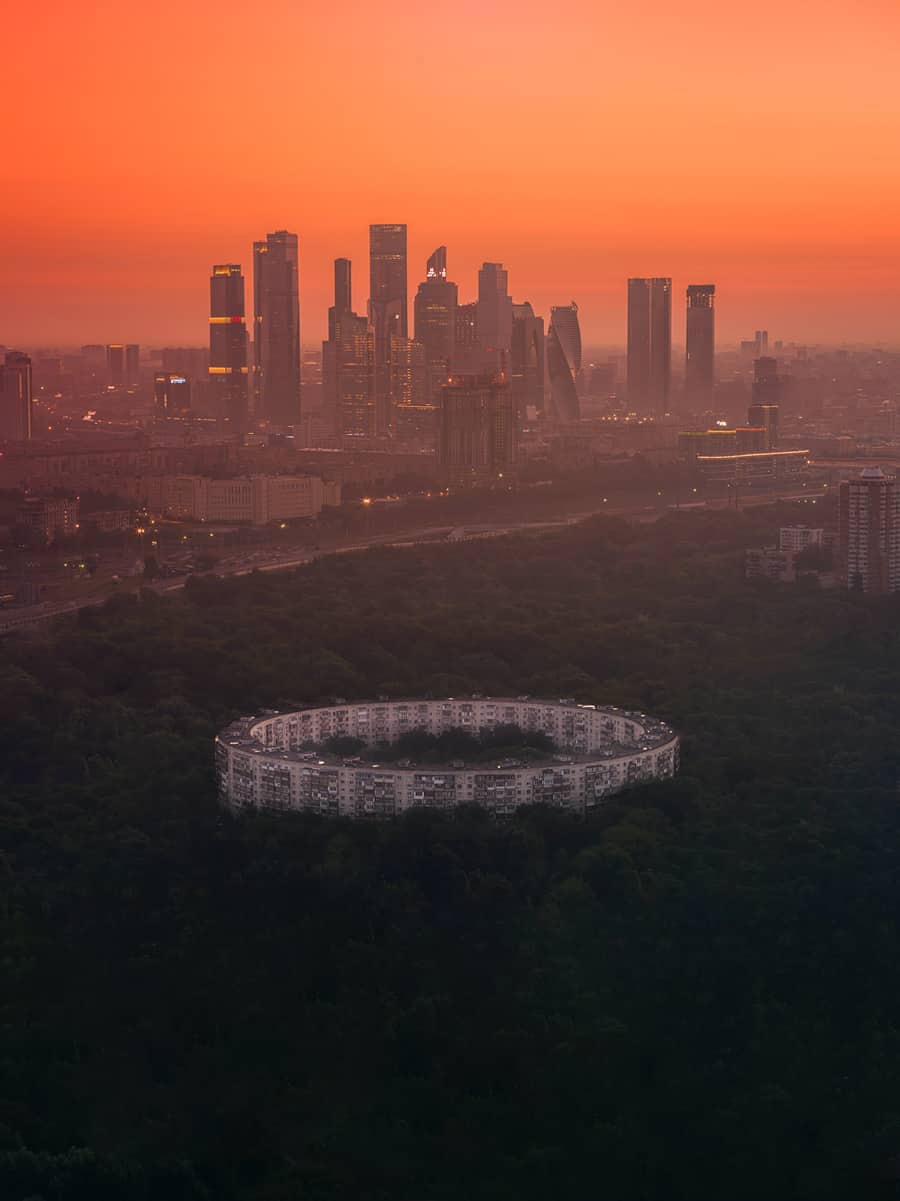 The Round houses at Dovzhenko Street look super cool and futuristic, except like many communist projects didn't actually work that well. They were supposed to be something new and different from the standard "Soviet Blocks."
There are a number of problems with this design. Supposedly the acoustics are awful making the apartments perpetually noisy. The inner circle becomes a wind chamber even when it's not that windy. My favorite weakness is that the trapezoid shape of apartments is hard to decorate and even harder to do maintenance on.
Izmailovo District and Izmailovo Kremlin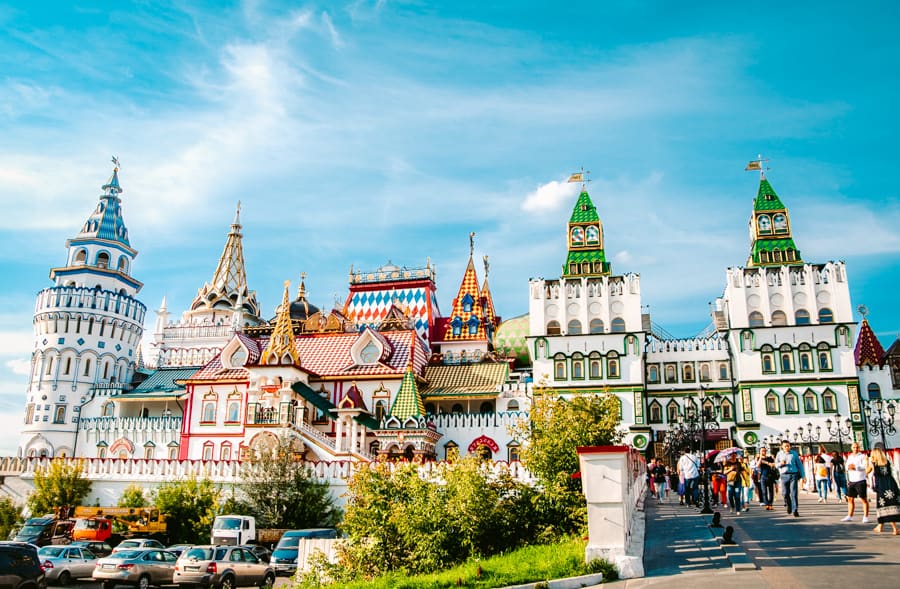 This area has to be one of the coolest places to visit in Moscow. It features a park in the middle of Moscow that is over 3x the size of New York City's Central Park. The Kremlin in Izmailovo is a complex located in the Eastern Administrative District of Moscow that is known as the center of culture and entertainment. The wooden buildings are in Russian architecture of the XVI-XVII centuries (not original).
Izmailovo Kremlin on Google Maps.
Tretyakov Gallery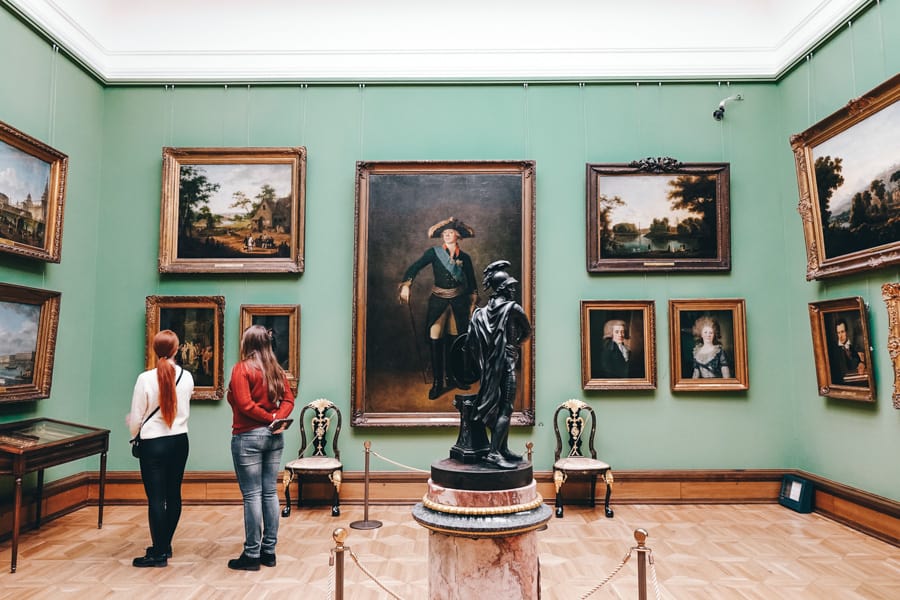 For those that appreciate fine art this is where you have to go. The State Tretyakov Gallery in Moscow Russia is the best collection of Russian fine art in the world. The museum previously hosted worldwide chess tournaments (I can't help be think of the Queen's Gambit).
Book your tickets in advance here. Tickets cost about $13 per person.
Kolomenskoe Estate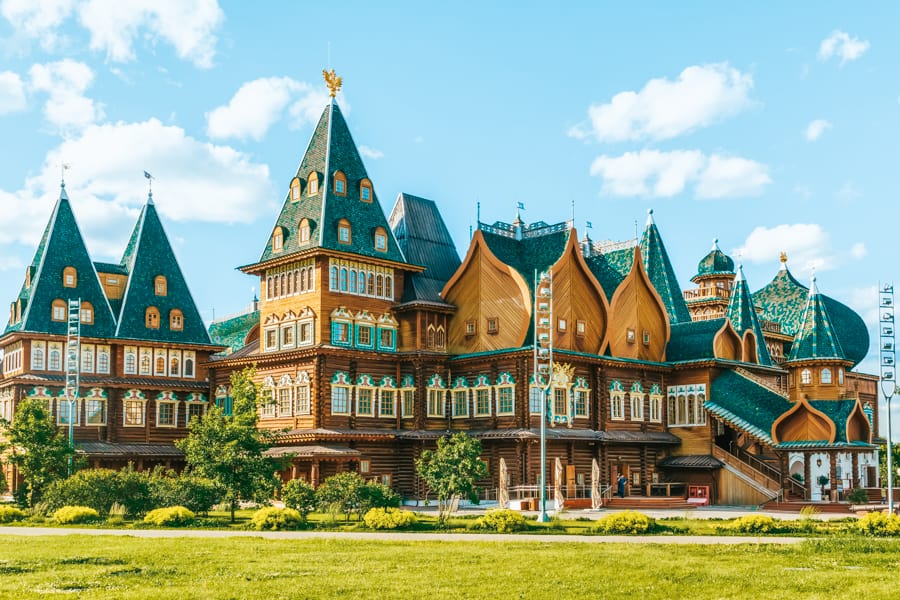 This reconstruction of a former royal estate is just a few miles southeast of the Moscow city center. Supposedly really detailed historical plans survived, so the reconstruction and current museum is incredibly authentic. It was completed in 2010.
Old buildings of Arbat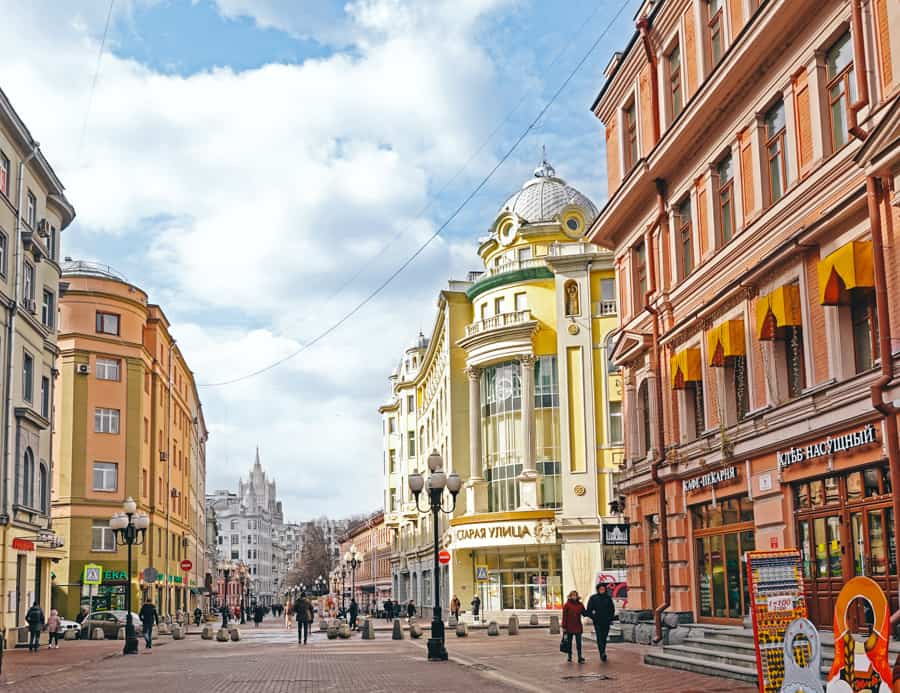 Arbat is an old street, and was previously the "nicest place to live in Moscow. Even though it fell into disrepair, it's location, it's historical buildings, and the fact that it is a pedestrian street are quickly making it a top place to live again.
The Melnikov House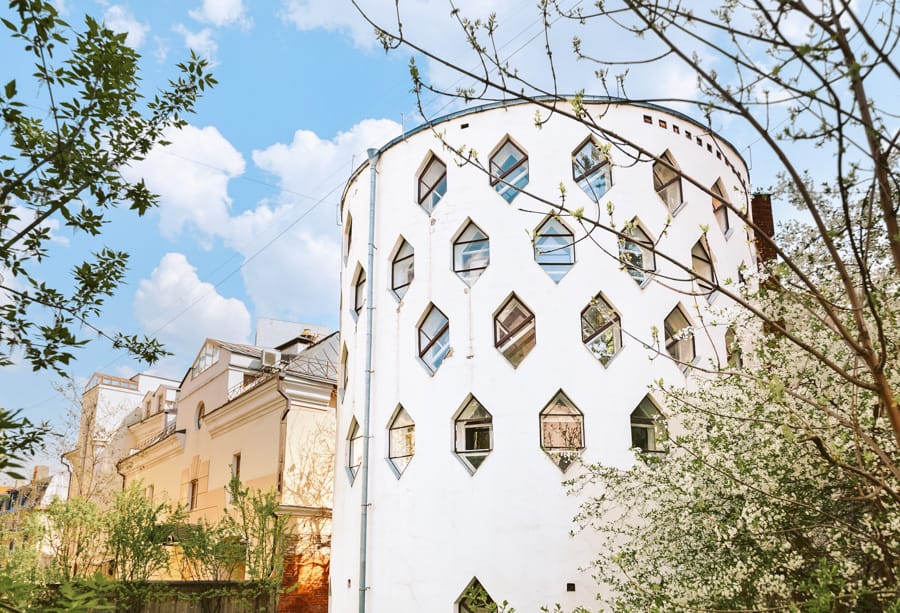 Located on Arbat street, the Famous house of architect Melnikov designed this house (and Lenin's sarcophagus). Melnikov designed it at a time when private ownership was outlawed, but got around this restriction by saying it was an experimental design to maximize space. Even though others weren't built, he was able to keep it.
The New Maiden Convent
The New Maiden Convent, built was built to resemble a mini-Kremlin. It stands out to me because this "convent" was the place where women who were no longer welcome in the royal court were banished to.
Monument to the Conquerors of Space at the Memorial Museum of Cosmonautics in the Cosmopark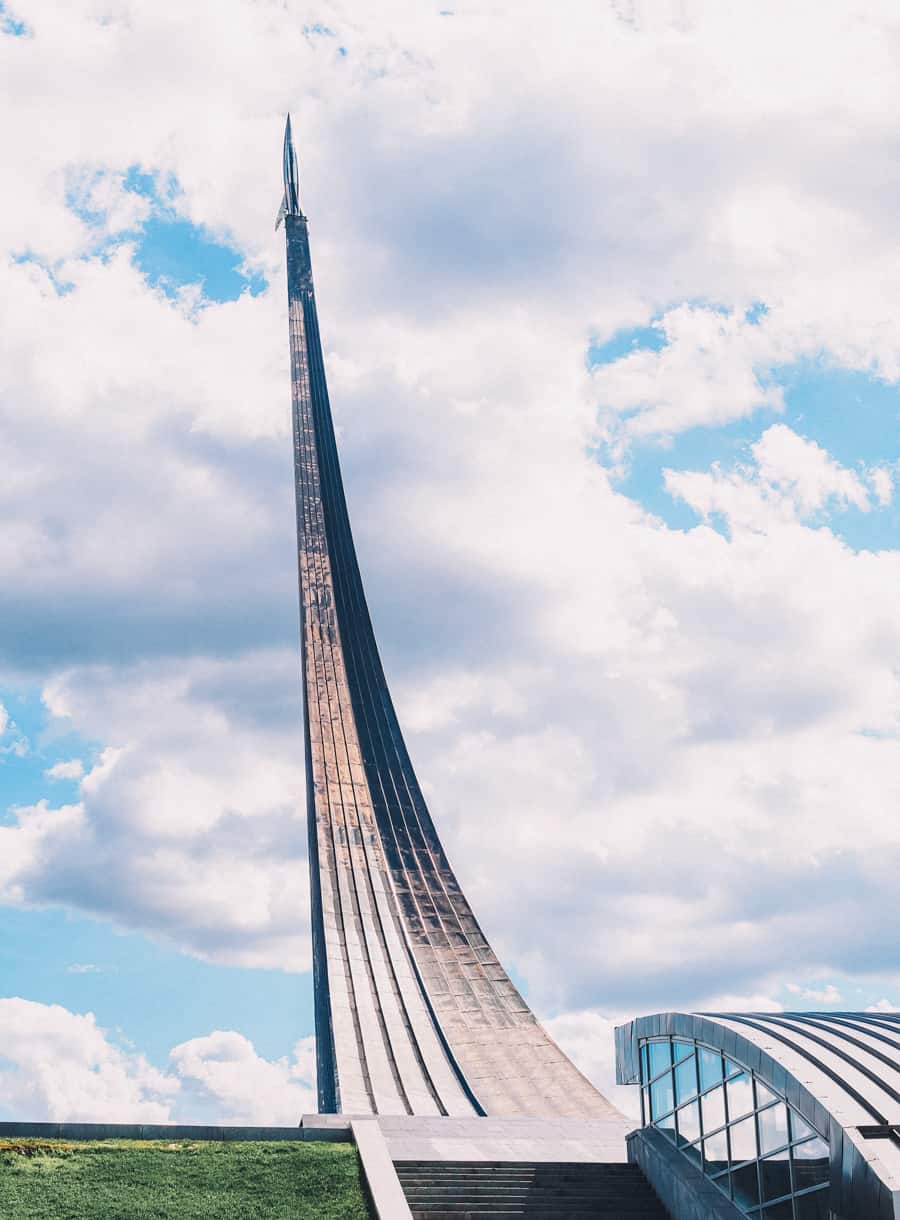 The Americans may have made it to the moon first, but the Russian cosmonauts were first in a number of other achievements. This gigantic obelisk pays homage to their accomplishments.
Tsaritsyno Museum Reserve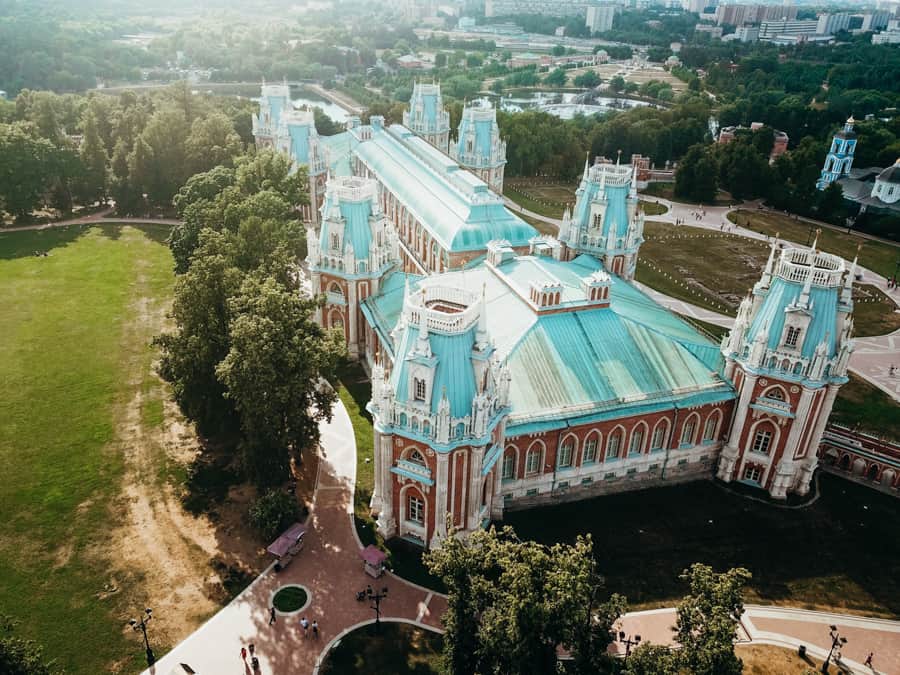 This royal estate was founded by Catherine the Great. She was Russia's longest serving female leader. It is now a gorgeous museum!
Stalinist Skyscraper tour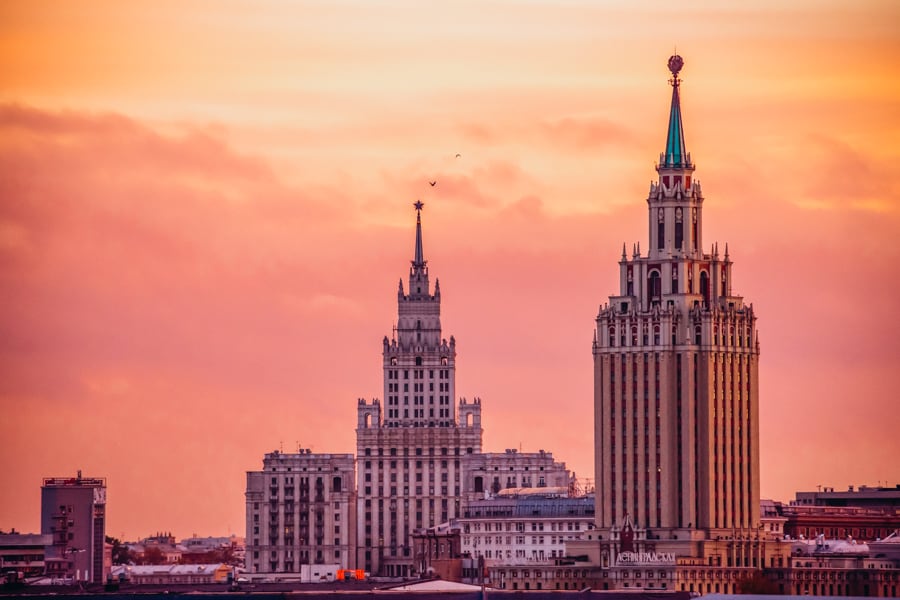 This group of seven skyscrapers are called the Seven Sisters. They were all made in the Stalinist style, and one was previously the tallest building in Europe. If you want to tour them all while learning about their history book here.
Cathedral of Christ the Savior
It's ironic that a country that was so anti-religion for so long has so many great churches. The Cathedral for Christ the Savior was made to thank Jesus for saving Russia. If you are interested in visiting this and so many other cathedrals in Moscow I recommend this tour that will take you to The Cathedral of Christ the Savior many other popular churches in Moscow.
Cathedral of the Kazan Icon of the Mother of God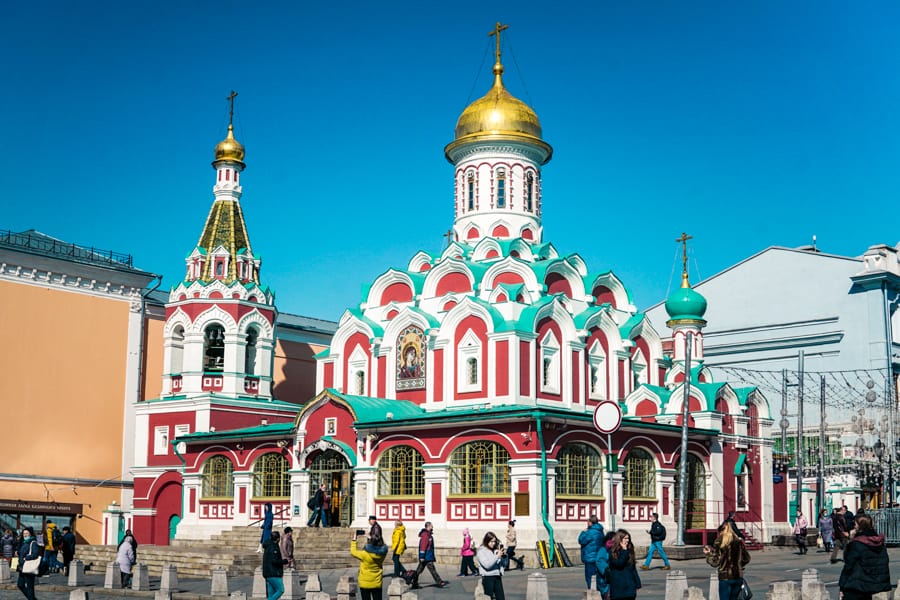 This church on Red Square is reconstruction of what was previously there but ordered to be destroy by Joseph Stalin. It is a travesty thinking of all the beautiful things that Stalin destroyed to attempt to implement his vision.
Zaryade Park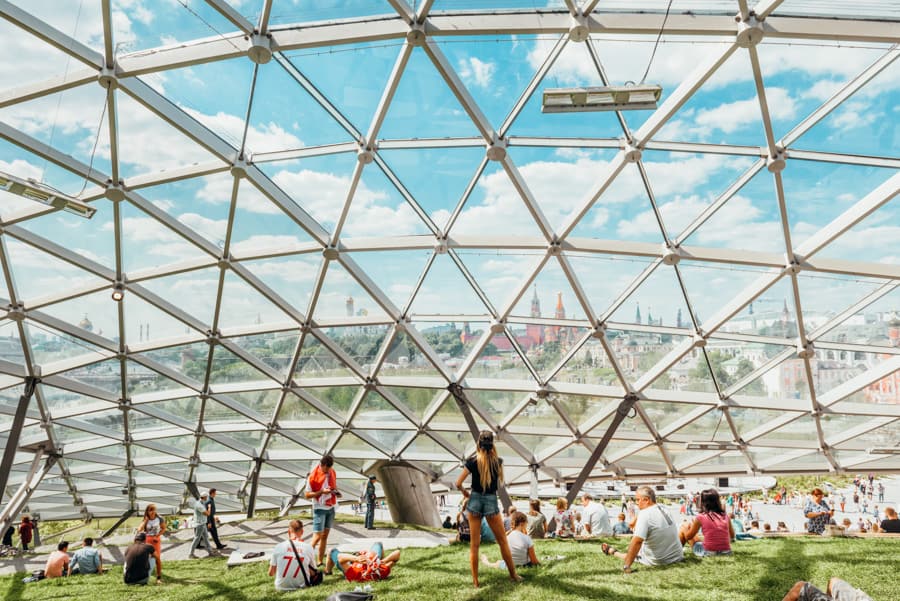 Zaryadye Park is one of the main tourist attractions in Moscow. It is located directly next to the Kremlin, and offers truly amazing views. It is also famous for its "floating bridge" and the fact that there are so many unique features underneath it.
Church of Sign of Blessed Virgin in Dubrovitsy Znamenskaya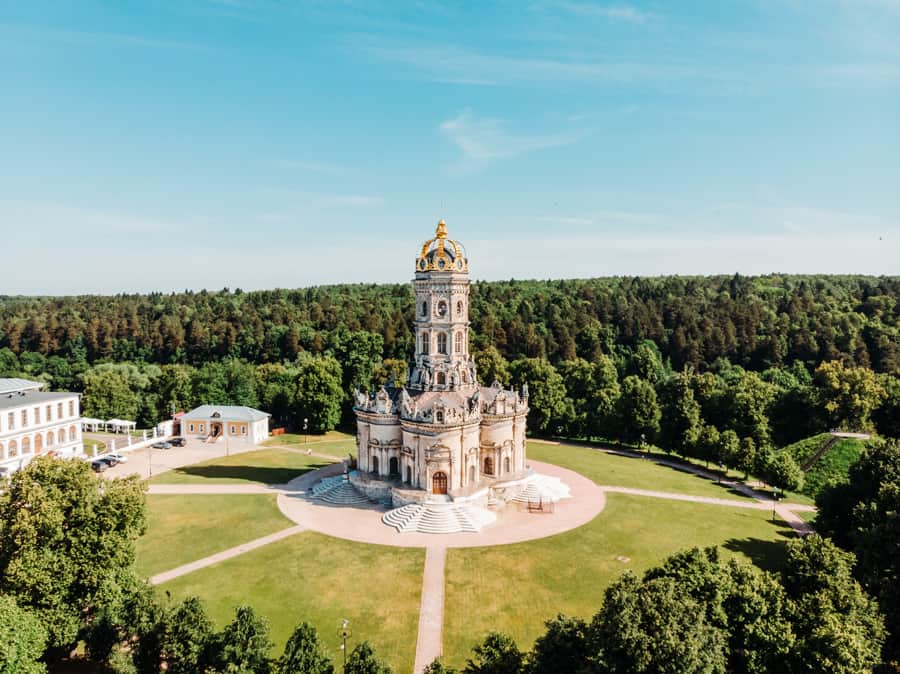 The Church of the Theotokos of the Sign (Dubrovitsy), or The Church of the Holy Sign of the Mother of God is located in a village amed Dubrovitsy about 20 miles south of Moscow. It is another Russian Orthodox church, but what makes this one unique is that we aren't 100% sure who made it, or why is has a style that is completely different than other churches of the time.
The Church of Nicholas The Wonderworker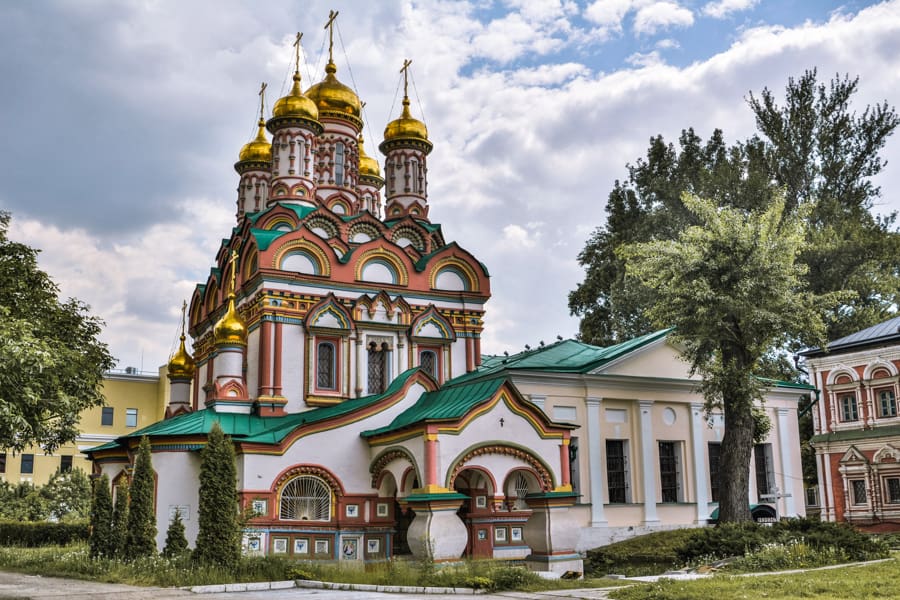 I love the unique style of the Russian Orthodox churches in Moscow. The golden onion domes stand out across the globe. This church dates back to 1657, though it has been partially destroyed a few times since then.
Moscow University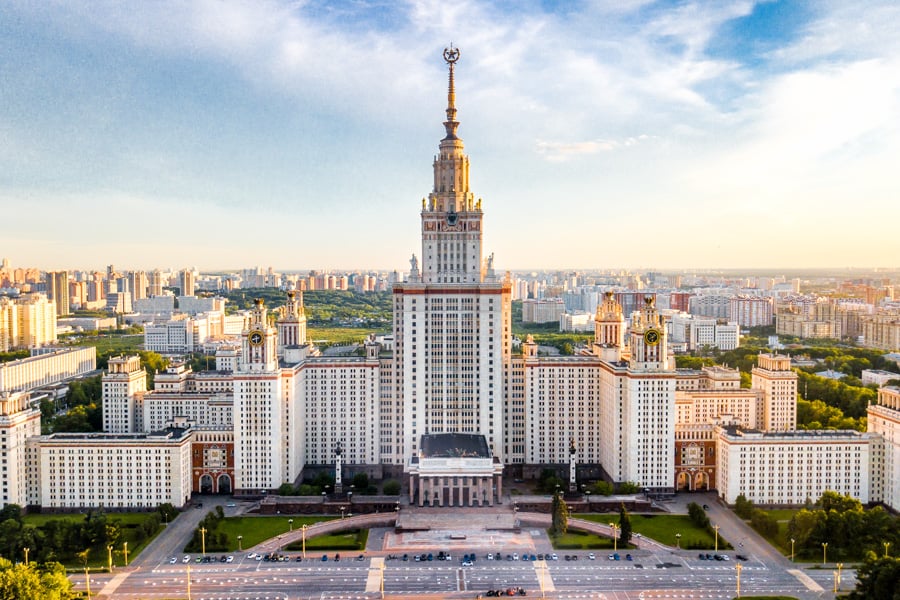 Moscow University is one of the Seven Sisters that are the "Stalin Skyscrapers." Previously it was the tallest building in Europe. Though it has lost that title, it is still the tallest "educational building" in the world.
So what do you think? Next trip to Moscow?