The Linq Zip Line
Who doesn't love a zipline? For me, the rush of careening down a cable will never get old. What can potentially make the experience even better is doing the Linq Zip Line where you zoom along the amazing backdrop of the Las Vegas Strip.
The Linq Zip line, aka the Fly Linq Zipline is the ONLY zipline on the Las Vegas Strip (according to their promotions). While this technically is true, there are a couple of other ziplines located just off the Strip for you to ride if you like.
There is one at the Rio Hotel and Casino as well as another that goes down Fremont Street in Old Vegas. Don't think that the marketing is trying to trick you though, the Linq Zipline really is a rush!The Linq Zipline is located at the Linq Promenade.
This entertainment district sprawls between the Linq Hotel and Casino and the world famous High Roller observation wheel (read more about it here).
The Linq Promenade offers so much to do and see. It's free to explore, but you will immediately be tempted to take in a show, sip a drink in one of its super unique bars or restaurants, or people watch the performers in the area for hours.
Ready for the adventure? Book your tickets ahead of time here.
Take a 12 Story Plunge on the Linq Zipline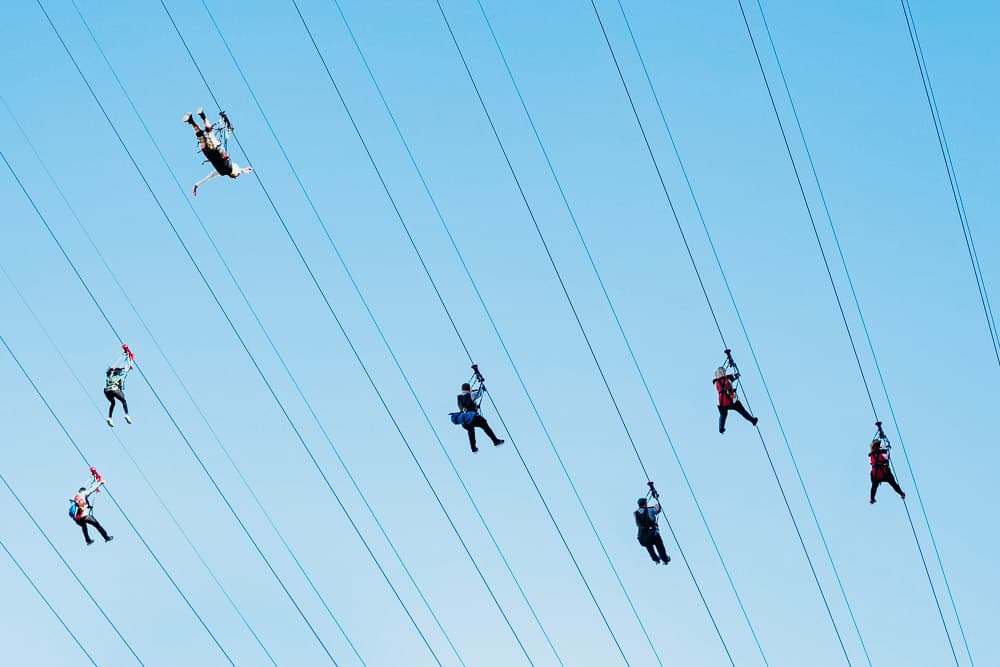 Do you have a sense of adventure? Are you willing to plunge off of 12 stories down over 1,000 feet? That is exactly what you get to do with the Fly Linq experience.
This zipline is relatively new to Las Vegas, which explains why it is often missed. It cost over $20 million to construct, and was completed in November of 2018. Given the COVID shutdowns, the ride hasn't been open that long. There are 3 main ziplines in Las Vegas. They are all exhilarating. I love the unique vibe offered on Fremont Street, the Rio's zipline is known as being slightly more intense, but the FlyLinq Zipline is perfectly located at the heart of the Strip. You are almost guaranteed to walk by the Linq Promenade and the entrance to this zipline on your Vegas vacation, and it makes for a perfect pitstop on your way to the High Roller.
FlyLinq Zipline – The Best For a Group
One thing that makes this zipline unique from others is that there are 10 different cables that riders can go down simultaneously. This means that the FlyLinq Zipline is perfect if you are with a group and each of you wants to zoom down simultaneously. You can do it at the same time and not have to wait for each other. None of the other ziplines in Vegas offer the ability to go 10 at a time.
Linq Zipline Tickets
Want Linq Zipline tickets? While 10 people can go at once, it's still not enough to avoid a line or sellouts at peak times. It's smart to get them well ahead of time since you could get caught with it being fully booked.While prices vary depending on what time you go, they generally start at about $25 per person.
You can book directly with ticketmaster, but I recommend booking here to allow you to have free cancellation up to 24 hours ahead of time.
The Linq Zipline Weight Limit
The Linq Zipline weight limit says tha you must weigh at least 80 pounds and not more than 300.
Most people will fit within these limits, but you can obviously tell that it will limit the participation of a lot of kids.
Also, if you are super tall and over 6'8'', then you also can't go. Sorry, I guess this is payback for tall people getting picked first for the basketball team every time.
FlyLinq Zipline Video
Check out a FlyLinq Zipline video on YouTube to get a sense of what the experience offers, or better yet go in not fully knowing what to expect for an extra rush.
So, are you up for this thrill? Anyone ridden all 3 Vegas ziplines and have an opinion on which one is best?
More posts on Las Vegas:
I lived in Las Vegas for almost 10 years and loved it there! Here are a few of our most popular Las Vegas posts that will help you plan your trip.