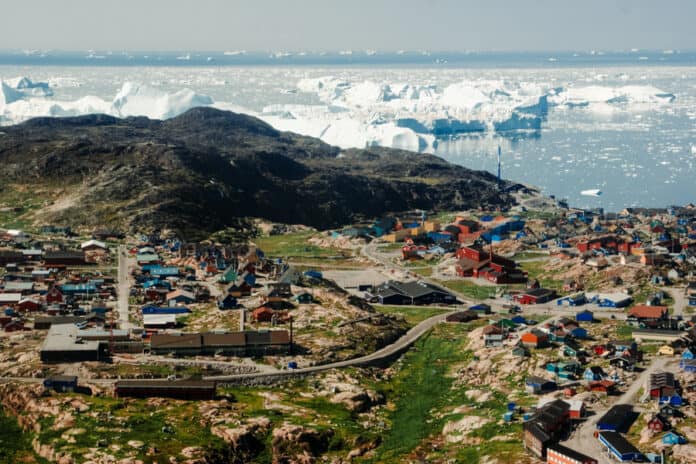 Wondering what to do in Ilulissat?
Okay, you've got to accept the fact that Greenland is an emerging tourist hot spot! Yes, it sounds absurd to use the word hot in the same sentence as this arctic ice island, but trust me.
For the adventure traveler Greenland is only going to become more and more appealing.
As the biggest island on earth, Greenland is easy to locate on a map, but unfortunately most people don't know a lot beyond that.
Want to familiarize yourself with more of the basics of the country/not country and why you should go? Read our Top Reasons to Visit Greenland post here!
The general lack of knowledge about Greenland excursions helps make it an unspoiled arctic paradise!
When you are ready to plan your trip to Greenland, you are likely to want to visit Ilulissat. Maybe you've seen the famous Ilulissat Icefjord, but there are so many more reasons why you should plan your next adventure there.
Read on to see why you should visit and some of the mechanics of trip planning for visiting Ilulissat.
Interesting Facts about Ilulissat
Ilulissat literally means "icebergs".
Approximately 85% of Greenland is covered in a humongous ice sheet. Even though climate change is melting the island, it is still over a mile and a half thick in most places.
Greenland is far enough north that in the summer (roughly May 21-July 24) the sun will not set – i.e. you will get to experience the midnight sun.
Some people mistakenly say that there aren't hotels in Ilulissat, but that is definitely not the case now. While they are likely to be more expensive than other destinations, there are a good number of fairly decent hotels.
Where is Ilulissat Greenland?
Ilulissat is located on the west coast of Greenland, 150 miles (250 km) north of the Arctic Circle.
How to get there
There are starting to be more and more commercial flights to Greenland. Most flights take off from Iceland or mainland Denmark, but there are also a few cruise ships that make stops at various places along the island.
Ilulissat has an international airport with direct flights to Iceland and Denmark, but also to the other main towns in Greenland.
Flights are expensive due to the lack of competition. Hopefully this will change in the future.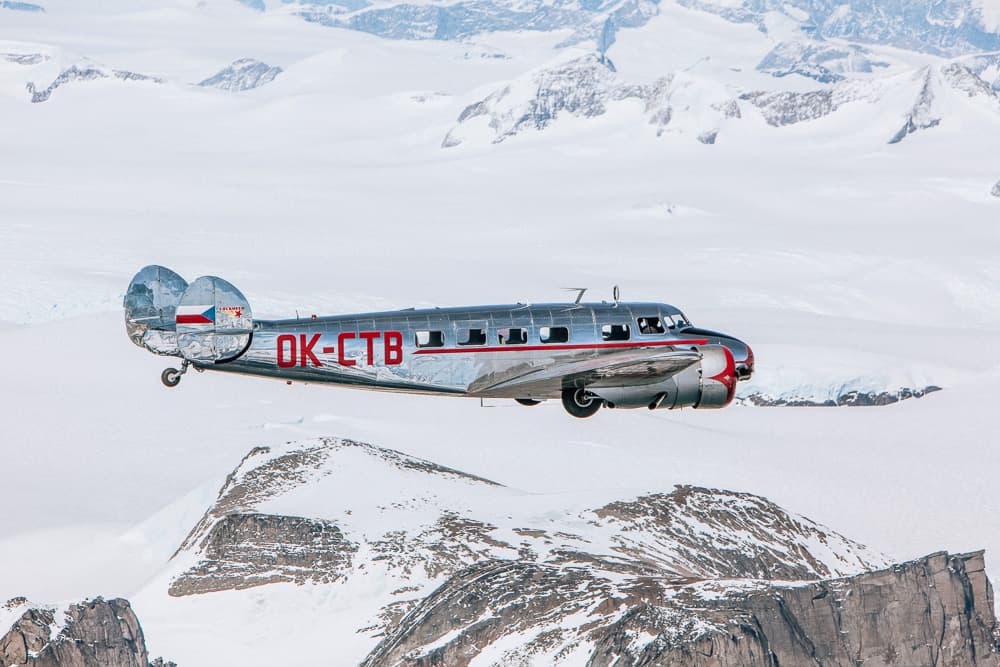 When to go to Ilulissat
You can go at almost any time of year, but be aware of the drastic differences.
Summer is a season of the midnight sun, while winter is for dog sledding, northern lights and star gazing.
Obviously the winter is going to be freezing cold and feature almost no or no sunlight at all.
Ilulissat Weather: What to Expect
Ilulissat is located about 220 mi (350 km) north of the arctic circle.
No surprise here, but in Ilulissat even the summers are cold. Also not suprisingly the winters are frigid, snowy, and windy. You can expect clouds and gusts of wind year round.
Throughout the year the temperature typically varies from -3°F to 52°F. It is rarely below -24°F or above 58°F.
July is the hottest month with temperatures in the 40's and 50's.
How to get around
Do not expect to rent a car and cruise around on interstates. Most of the cities don't even have roads that connect them.
Instead, locals get around by boats, helicopters, airplanes, and dog sleds. A unique network of transportation options are represented in Greenland.
When in Ilulissat try and stay at a hotel that offers shuttle service (Like these here) into town to save you walking time. The town is walkable but it is still fairly big.
The airport is located about 3 miles outside of town so you will need to arrange a shuttle to take you to your hotel. A lot of hotels in Ilulissat offer free airport transfers. Make sure to check for this when booking your hotel.
Read my Ilulissat hotel guide here.
Where to stay in Ilulissat
There are a few hotels in town, but as the area increases in popularity they are getting booked up earlier and earlier. Make sure to book one when you book your flights so you don't get stuck without one.
A perk of the town being so small is that most of the hotels are really close. All within walking distance to the town center.
The best Ilulissat hotels I recommend are listed below.
Most rooms at the Hotel Arctic include a picturesque view over the Icefjord.
Hotel Arctic is Ilulissat's nicest hotel (4-star).
It is located just out of town, and features the nicest "conference center" in Greenland. How awesome would it be if your work booked a conference for you to attend there? Even if you don't stay here the hotel bar and restaurant are a spectacular place to hang out.
While the location is not directly in the city center it is still easily walkable to get there.
Hotel Icefjord
All rooms at Icefiord Hotel feature views of Disko Bay and its icebergs. What more can you ask for in a hotel room?
Eqi glacier and lodge cabins
Want to be a little more on your own?
You can go to Camp Eqi at Eqip Sermia Glacier. It is one of the best places to stay in Ilulissat. Eqi glacier is also called Jakobshavn Glacier. The glacier itself is one of the top tourist destinations in the country. Climate change continues to transfom this glacier.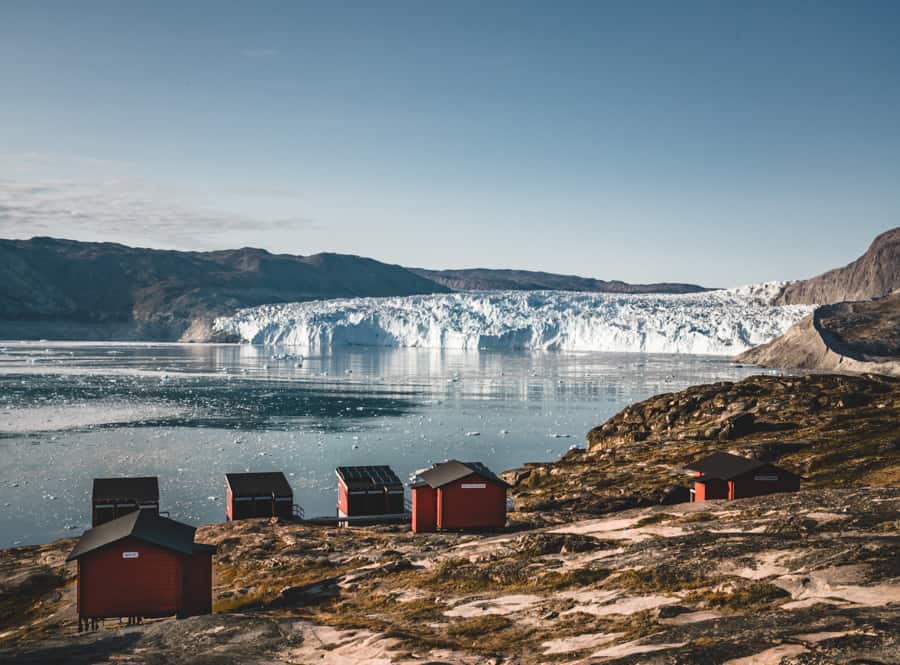 13 Amazing Things to do in Ilulissat
Take a boat tour of Disko Bay
How does an evening boat ride while enjoying the glow of the midnight sun sound? Boat tours give you the opportunity to explore glaciers and ice fields up close and personal.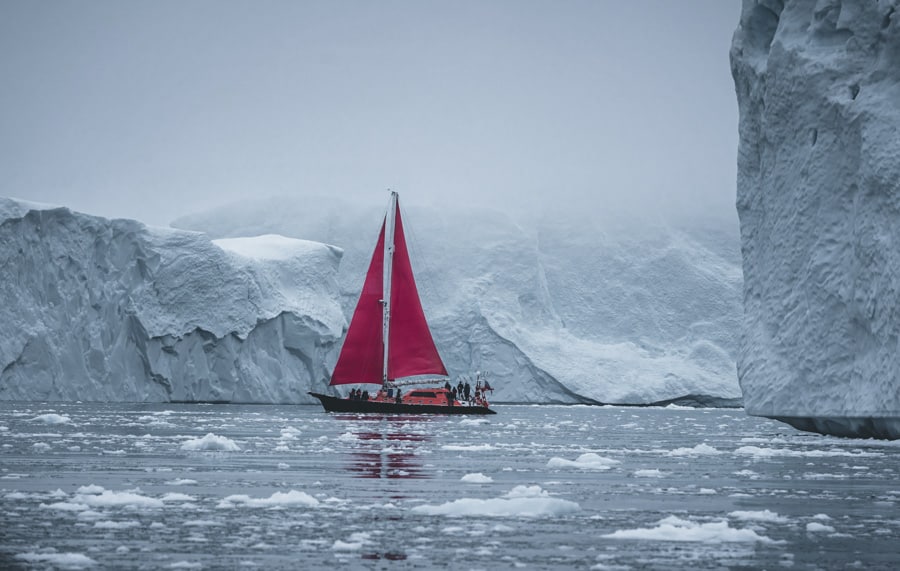 Zion Church In Ilulissat Greenland
Even if you aren't religious you might want to take in a service. Can you imagine going to church every week with these views!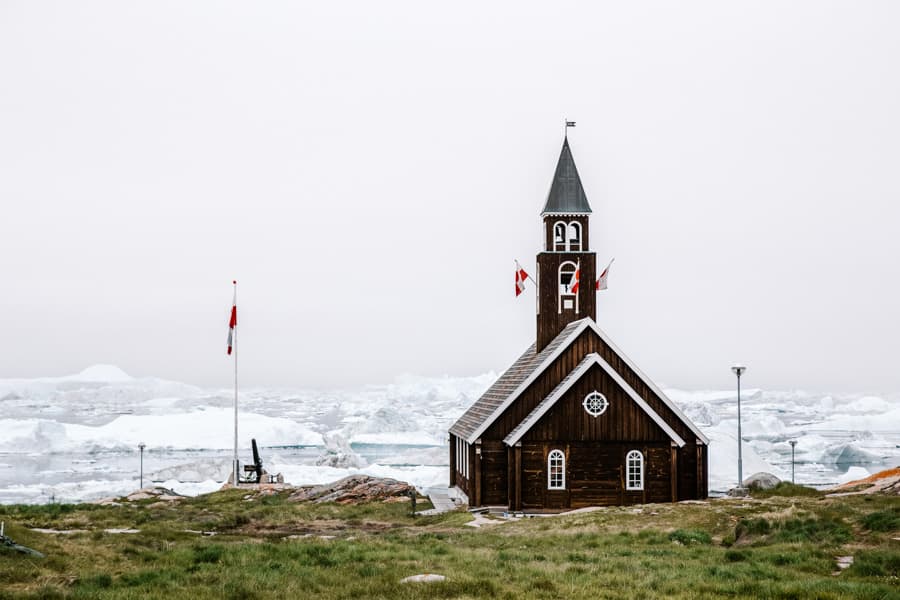 Whale Watching
I'm sure you aren't surprised to learn that Greenland is one of the best places on earth to go whale watching. You can see up to seven different species of whales in the area.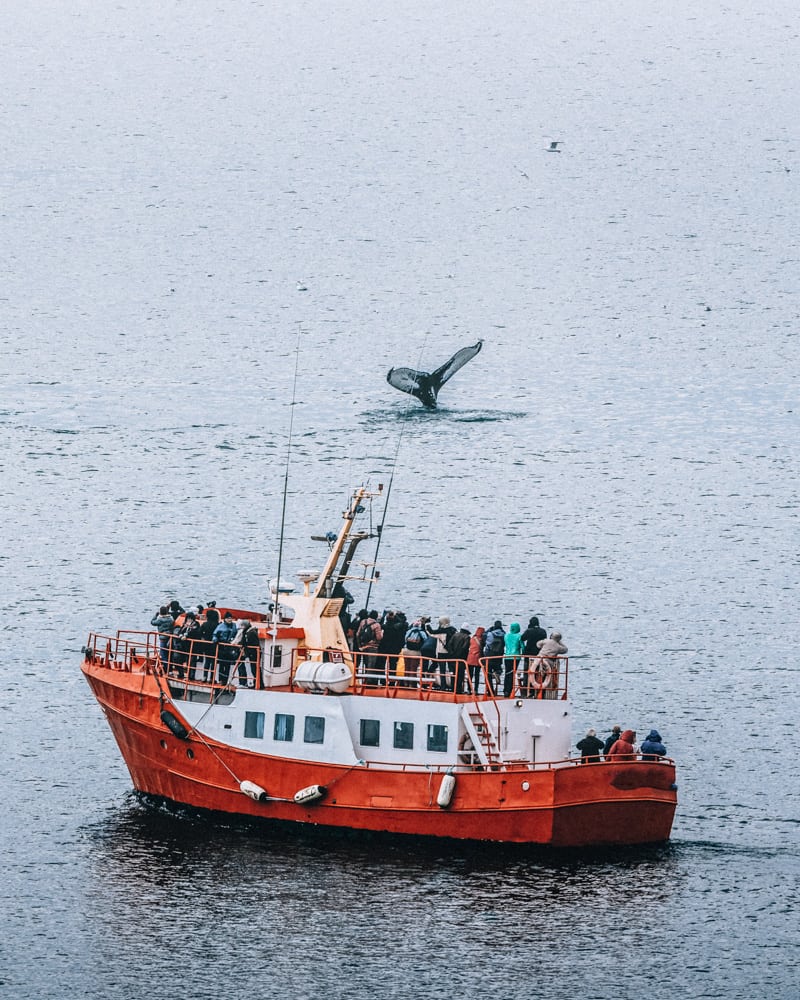 The Ilulissat Ice Fjord
Aren't shots of this icefield breathtaking?
Pictures like the one above single handedly made me decide that I had to visit. I'm not the only one as the Ilulissat Icefjord was declared a UNESCO World Heritage Site in 2004.
Make sure you bring proper hiking boots to Greenland. These Colombia boots are my favorite. They are waterproof, affordable, stylish (IMO) and most of all comfortable.
Read our full guide on visiting the Ilulissat Icefjord here.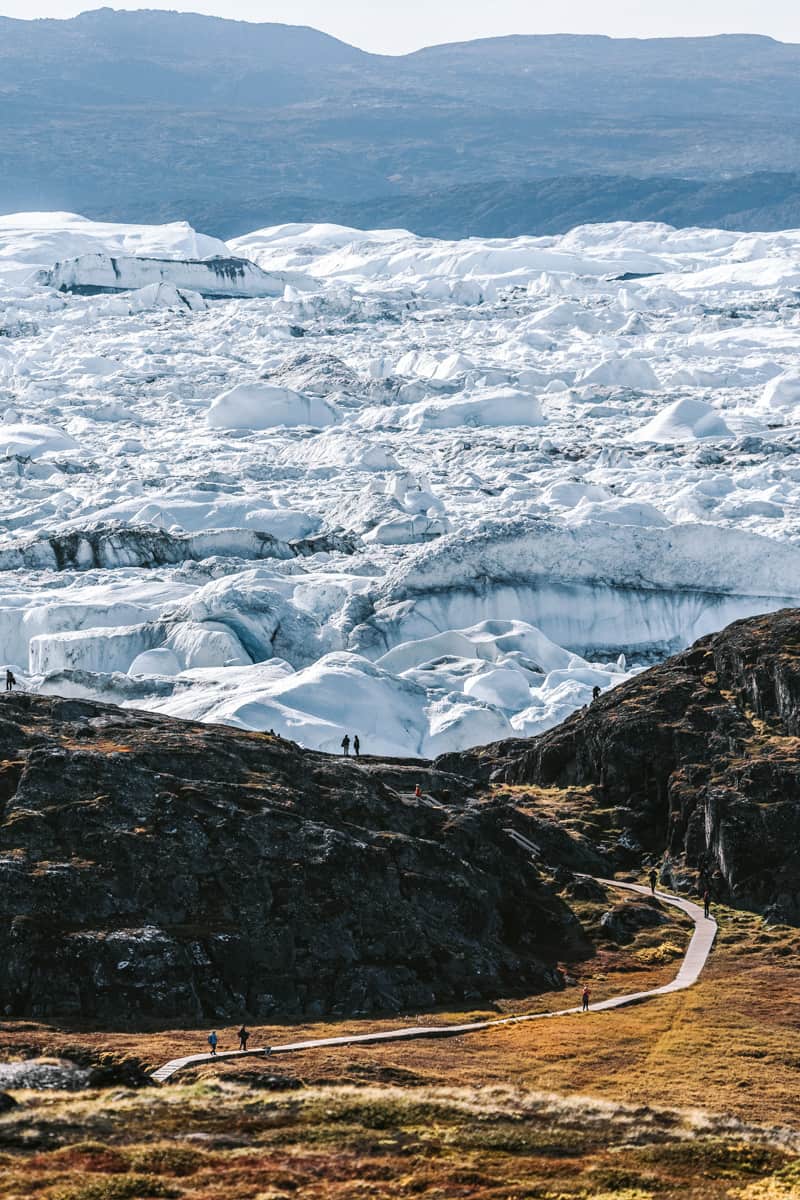 Travel tip – Make sure you bring a steady tripod that won't blow over with windy conditions. I recommend the Peak Design travel tripod. You can hang your bag on a hook to keep your tripod from blowing over! I have used many different travel tripods and this one is the only one I have ever not hated.
Arctic Kayaking in Greenland
No trip to Greenland would be complete without kayaking through icebergs, glaciers, and the wildlife present in the sea.
Must know – Kayaking is only available in the summer. (June through September)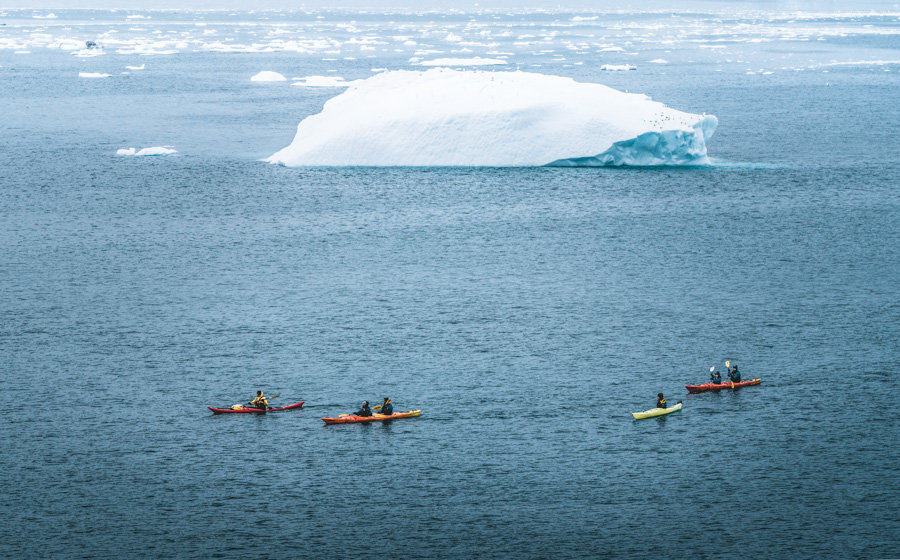 Marvel at the Northern Lights
Seeing the Northern Lights in person has to be on everyone's bucket list. The enchanting colors of the aurora borealis will never get old to me.
The phenomenon of the Northern Lights occurs above Greenland all times of year. The problem is that you can't see them if the sun is up. This is especially frustrating in the summer when the sun doesn't really set. The best times to see them in Greenland begins in the fall and goes until spring.
There are a number of popular tours available that will take you to the best viewing spots.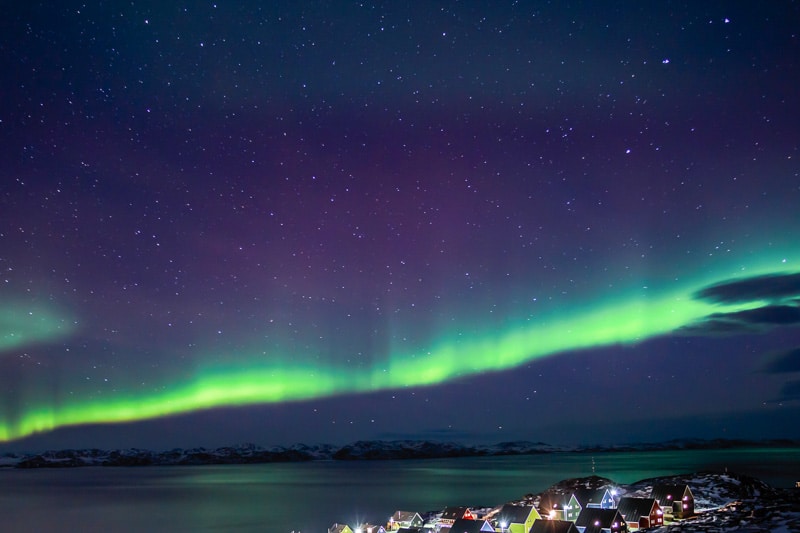 Check out the Glaciers
You don't really have to "go check out" the glaciers. By simply being in Ilulissat you are not going to be able to avoid taking them in.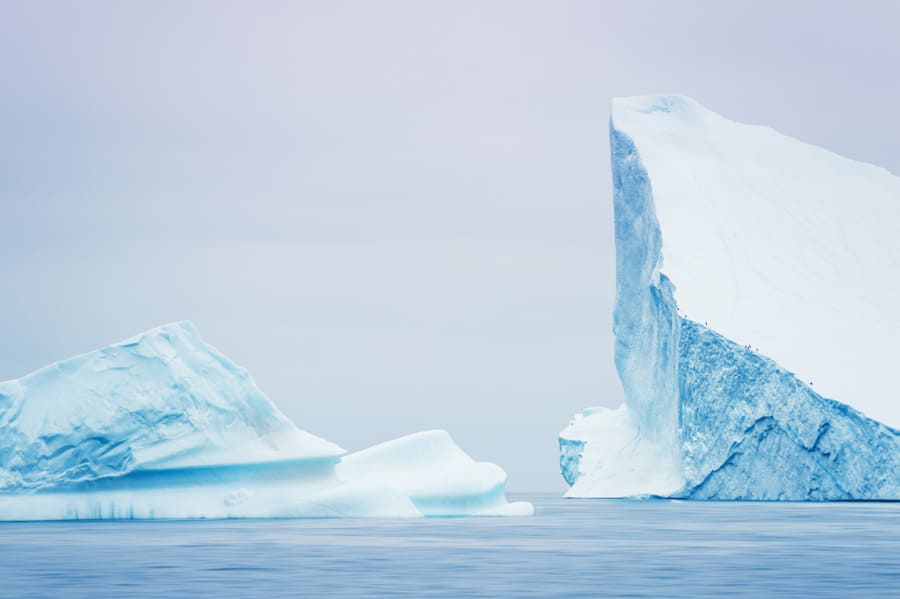 Taste the local cuisine
I have never eaten whale meat and likely never will, but I include it because many visitors want to experience what the locals do. The national dish of Greenland is often said to be suaasat. It is a soup made out of whale, reindeer, or local birds, as well as rice and onions.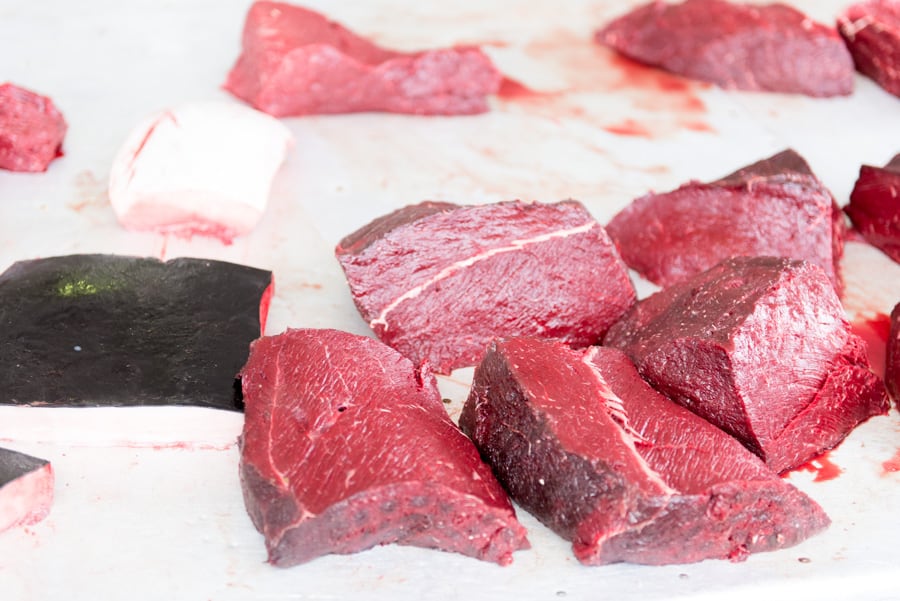 Meet the Greenlandic Husky
These are the huskies that are used as sled dogs. They are incredibly important to the locals, though now they are often replaced with snowmobiles. They are supposed to have been brought to Greenland over 1,000 years ago.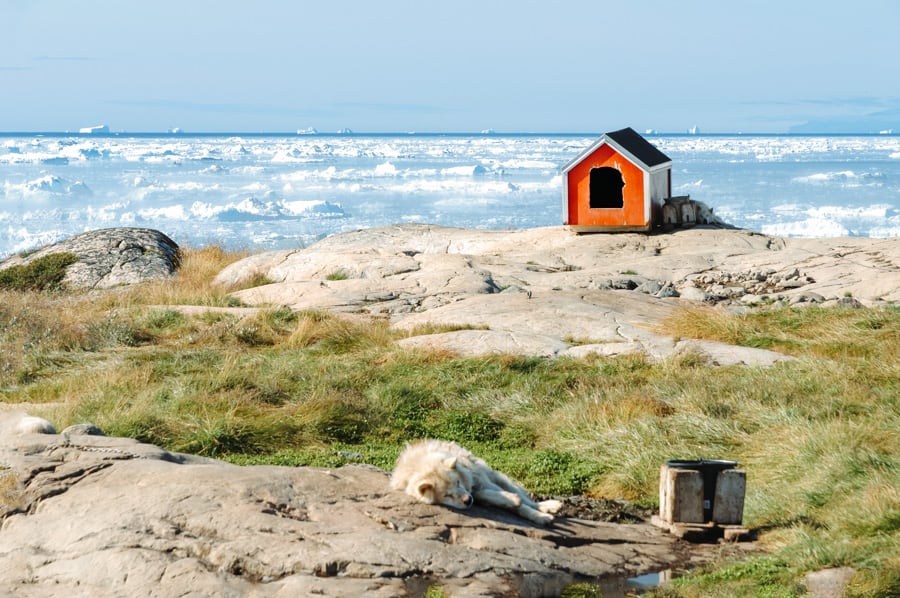 Dog Sledding
Dog sledding has been on my bucket list for years! Can you think of a more epic place than Greenland to go dog sledding? It is a once in a lifetime experience that can't be missed and is perfect with the Greenland Husky!
In order to go dog sledding in Greenland you have to go on a guided tour. I highly recommend this one here.
Take an Ilulissat walking tour
It may sound silly to go on a walking tour of a town so small, but trust me, there is no way you can pick up on everything going on in the town without.
Living in the arctic is likely completely different than where you are from. The extreme weather conditions caused locals to make all sorts of unique adjustments and develop with a fascinating history.
In the best of Ilulissat walking tour a local guide will cover the history of the town as well as taking you to all the best photo spots and view points.
The tour lasts about 2 hours so you will still be left with time to fit in everything on your itinerary. Book your tour here.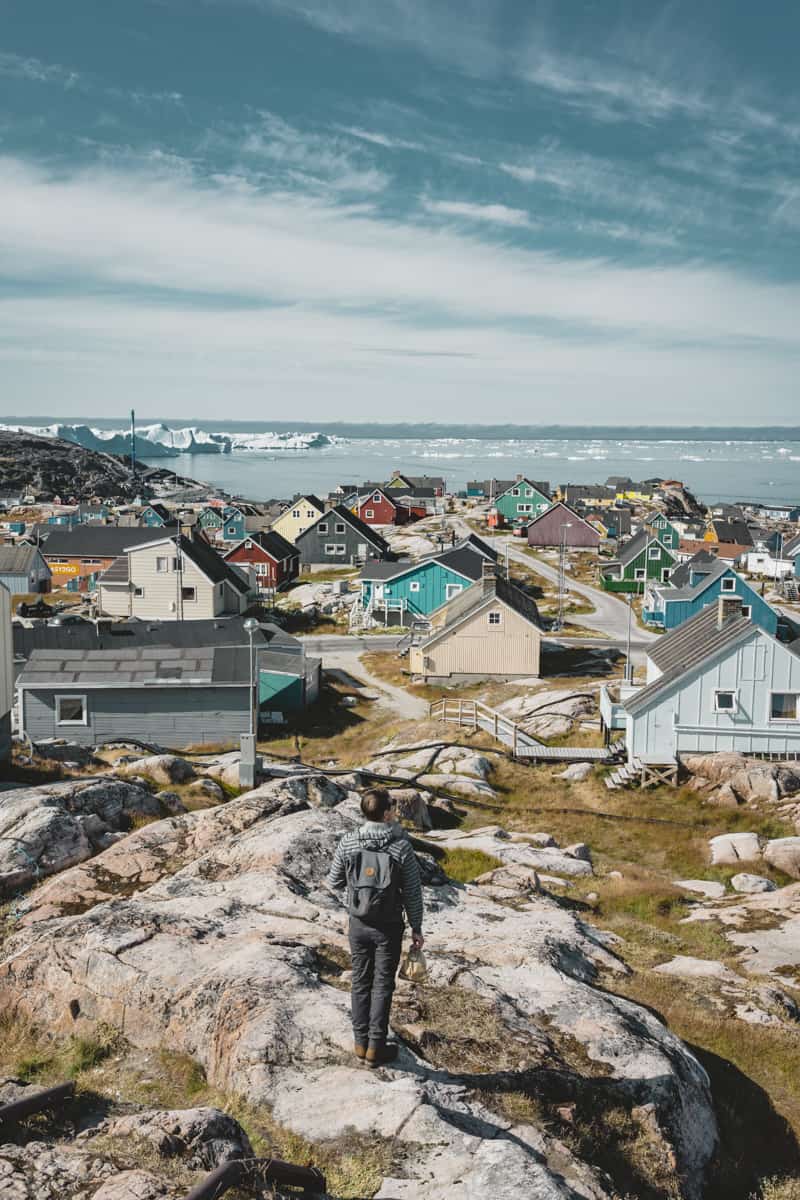 Traveling to Greenland as a couple? Why not make a stop at the most romantic places in Ilulissat. Book here. Once again, you may not realize that without help you may pass up some of the best places and attractions in the city.
Book your tour: Romantic tour in Ilulissat
Marvel at Eqi Glacier
Eqi glacier is another specific glacier that is famous around the world. The ever changing face of the glacier offers the perfect place to explore.
For the best views of Eqi Glacier I recommend staying in the Glacier Lodge Eqi. If you want views of icebergs and glaciers I recommend Hotel Arctic. We stayed here and LOVED it.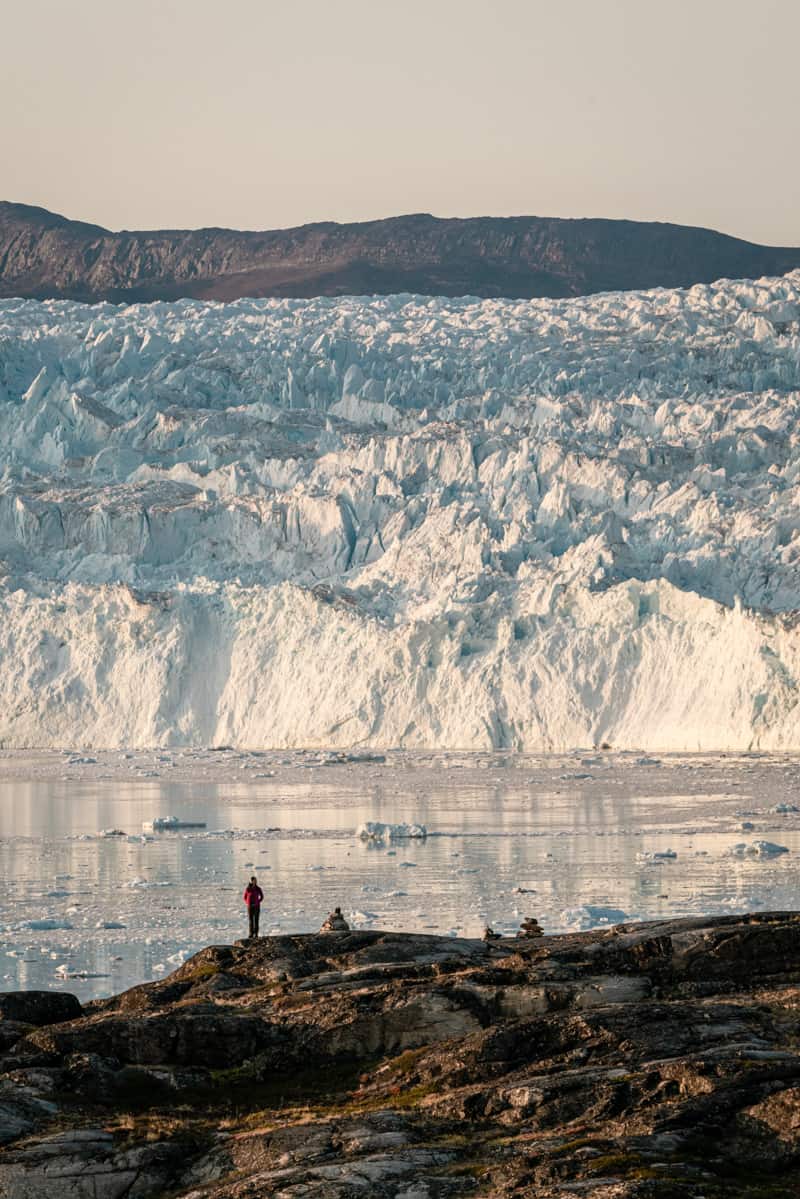 Go Ice Fishing
Want to catch your own dinner? There are all kinds of excursions or guides that will let you ice fish and ultimately get to eat what you catch.
In order to go ice fishing in Greenland you will definitely need a guide. I recommend this tour here.
Seasonal – Ice fishing is only available in the winter.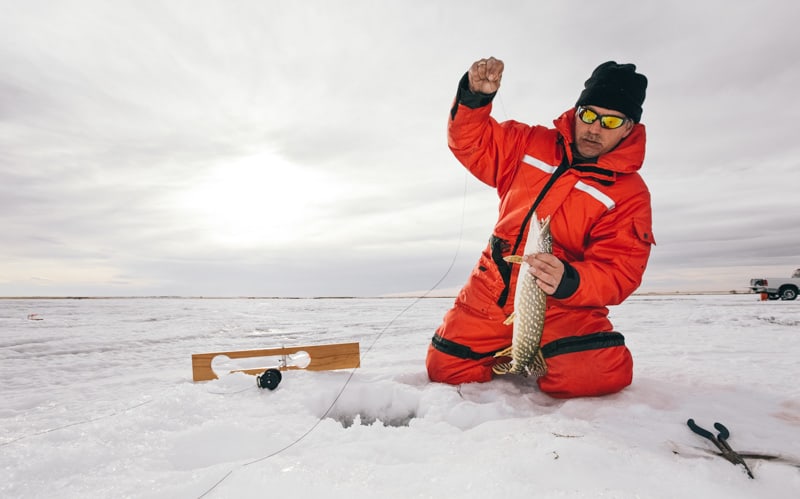 Enjoy 24 hours of daylight with Midnight Sun Greenland
Night owl? Looking for an excuse to explore all night without the sun setting?
From May 21st to July 24, Ilulissat will experience the midnight sun. As someone with chronic sleep issues I love the idea of being able to be up all night and sleep all day.
When to see the midnight sun in Greenland?
May 21st to July 24.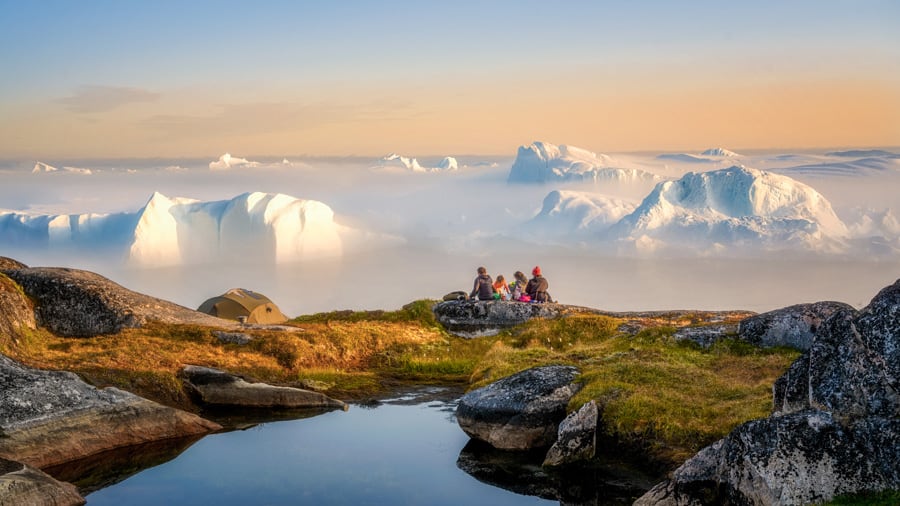 Have you ever been to Greenland? What was your favorite thing to do in Ilulissat?