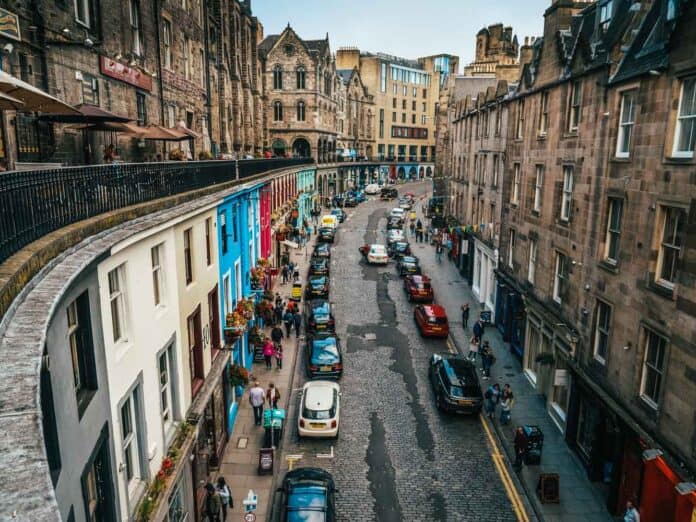 The Absolute Best Edinburgh Harry Potter Tours!
Edinburgh is such a special place for Harry Potter fans.
Most notably, the city of Edinburgh was the home of J.K. Rowling when she wrote the majority of the Harry Potter books.
In fact, you can visit the exact shop she went to to write, right here in Edinburgh.
Check out the best Edinburgh Harry Potter Tours available right now, including where to stop on a self guided tour.
1. Harry Potter Magical Guided Walking Tour
There are plenty of themed tours helping visitors discover the delights of Edinburgh's Old Town. To revel in the magic and mystery of the Harry Potter world I recommend taking a guided Harry Potter walking tour to discover the place where the famous character was 'born'.
2. Take a Hogwarts Express tour from Edinburgh (aka Glenfinnan Viaduct)
This Harry Potter themed excursion leaves from Edinburgh (round trip included) and takes you into the magical Scottish Highlands.
You will ride on the famous Jacobite Steam Train (aka the Hogwarts Express) and travel along the Glenfinnan Viaduct, made famous in the Harry Potter films.
Finally, see Glencoe's dramatic scenery before your return trip to Edinburgh.
Read more about Scottish Highlands and Hogwarts Express Tour here.
I definitely recommend taking a ride on the Harry Potter Train in Scotland!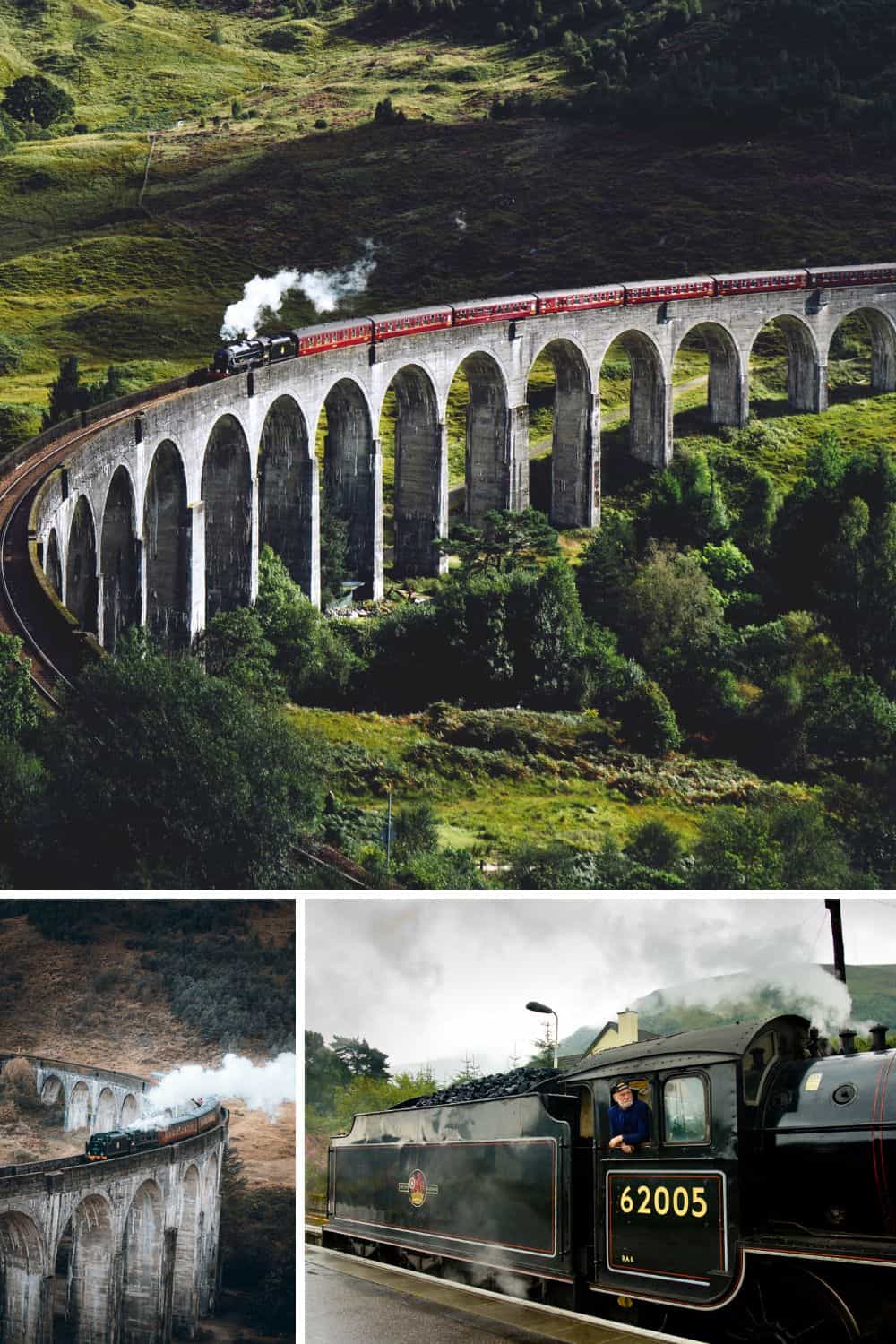 3. 3-Day Isle of Skye & Scottish Highlands Tour (Hogwarts Express ride)
The most expensive tour on the list but also the best option if you want to visit the Scottish Highlands while in Edinburgh. It includes 3 days and 2 nights in the Isle of Sky! As well as a ride on the famous Hogwarts Express train!
Check out this page for more details.
Book your tour: 3-Day Isle of Skye and Scottish Highlands Tour Including "Hogwarts Express" Ride
Best Harry Potter Sites in Edinburgh for a Self Guided Tour
Of course doing a self guided tour is always an option if you prefer. Here are some of the popular Harry Potter sites around Edinburgh to include.
The Harry Potter Cafe Edinburgh (Elephant House)
The Elephant House has not only established itself as one of the best tea and coffee houses in Edinburgh, but is also more famously (and falsely) known as the "birthplace" of the Harry Potter novels.
It has come out that while yes, she did write some of the books there, it was not the birthplace of Harry Potter.
Address: 21 George IV Bridge, Edinburgh, EH1 1EN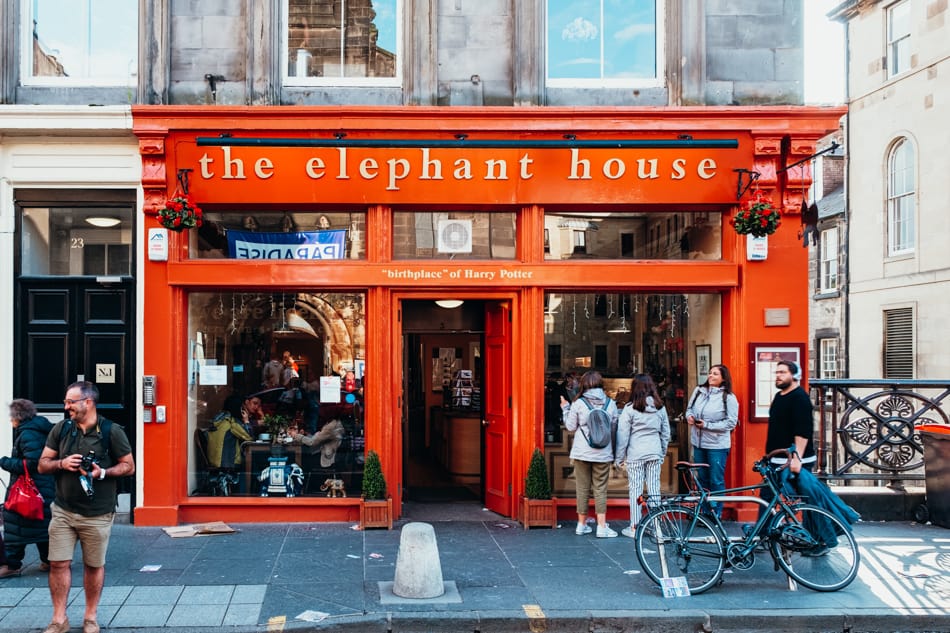 Diagon Alley Edinburgh
Is Diagon Alley really in Edinburgh? Technically no. It is a made up place, but, Victoria Street in Edinburgh looks very Diagon Alley esque. Perhaps it was the inspiration? What do you think?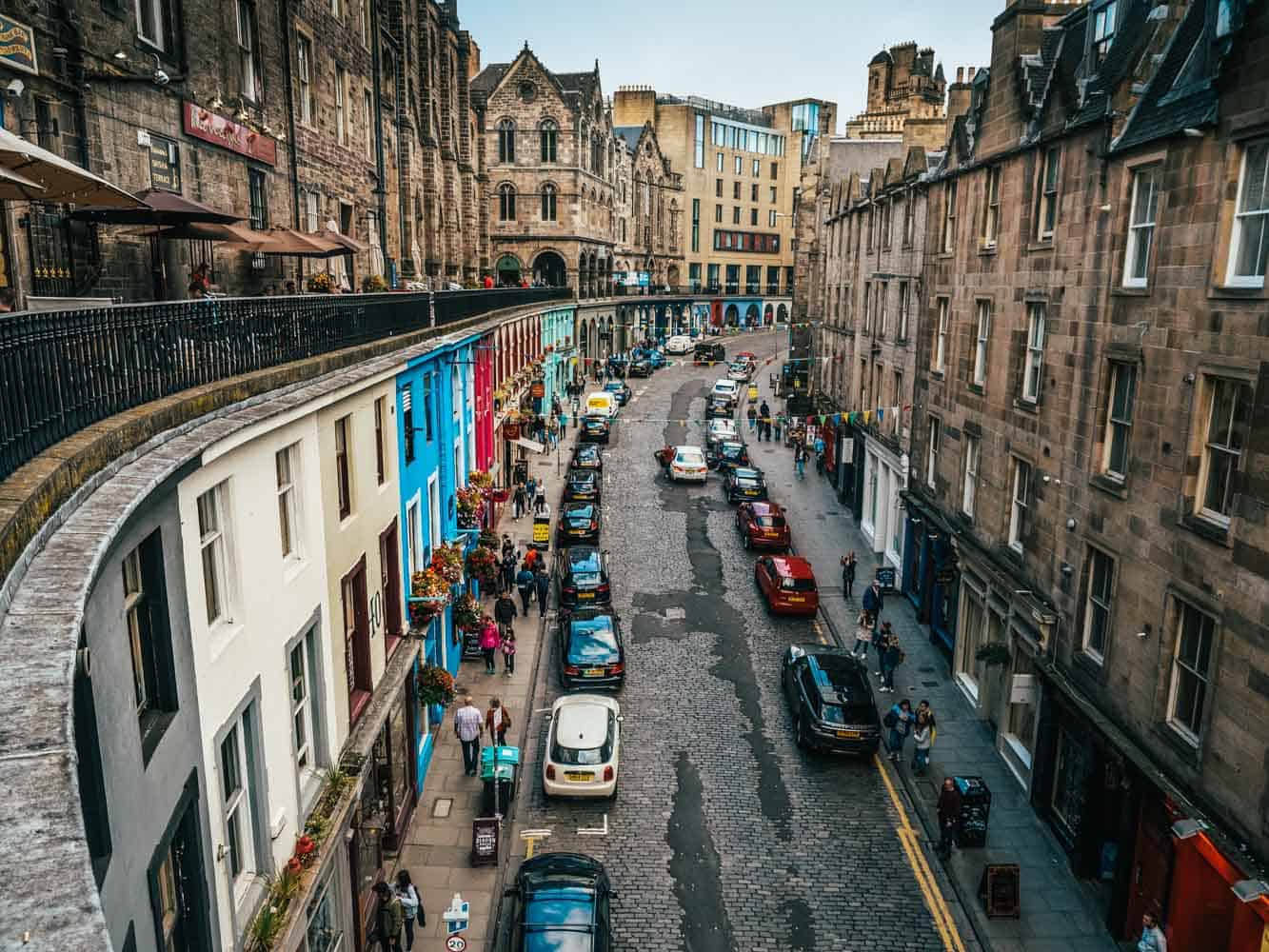 While you're on Victoria Street, make sure to make a stop at the Harry Potter themed shops! My favorite are The Great Wizard (formerly The Boy Wizard) and Museum Context. These shops are a lot of fun to explore and something that is harder to find in other cities.
The Witchery Pub (Tolbooth Kirk in the background)

Greyfriars Kirkyard (Harry Potter Graveyard Edinburgh)
Looking for a Harry Potter graveyard in Edinburgh?
Because of the location, Greyfriars Kirkyard (close to some of J.K. Rowlings favorite cafes where she wrote her books) it has been said that some of the gravestones here may have given Rowling inspiration for some of her famous Harry Potter characters.
The most famous gravestone is probably that of Thomas Riddell.
General Information: Greyfriars Kirkyard Harry Potter Edinburgh
Address: 26A Candlemaker Row, Edinburgh EH1 2QQ
Hours: Monday through Friday – 10:30 am to 4:30 pm | Saturday 12 pm to 4 pm | Sunday – Closed
Website: https://greyfriarskirk.com/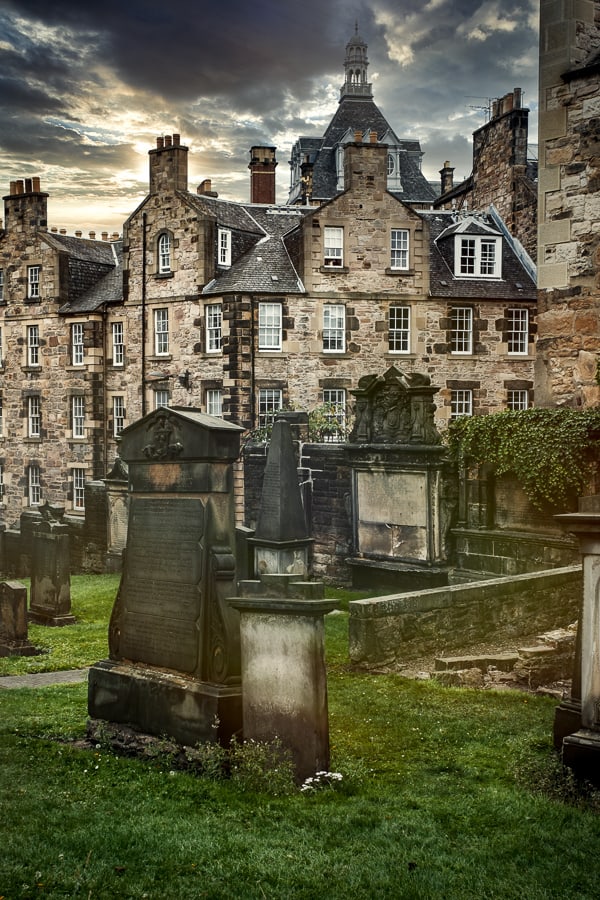 Nicolsons Cafe
The Best Harry Potter Cafe in Edinburgh!
Nicolsons is the JK Rowling cafe Edinburgh as it was here, according to her tweet, where she wrote an entire chapter in one sitting without barely changing a word.
She said that she liked Nicolson's because there were a lot of tables so she didn't feel guilty sitting and writing for long periods of time. It helps that her brother in law was also one of the owners.
She said she used to joke with them and say "Well you know when it gets published I'll try and get you loads of publicity". At the time no-one could of ever dreamed what was going to happen.
Read more about Nicolson's Cafe here.
The Balmoral Hotel
Balmoral Hotel – The Balmoral Hotel is a 5-star luxury 19th century hotel in Edinburgh, and it was here that Rowling finished her final Harry Potter book, Harry Potter and the Deathly Hallows.
At the Balmoral Hotel J.K. Rowling famously wrote "JK Rowling finished writing Harry Potter and the Deathly Hallows in this room (552) on 11th Jan 2007." Pretty cool. Could you imagine staying in the same room! Check it out here.
Address: 1 Princes St, Edinburgh EH2 2EQ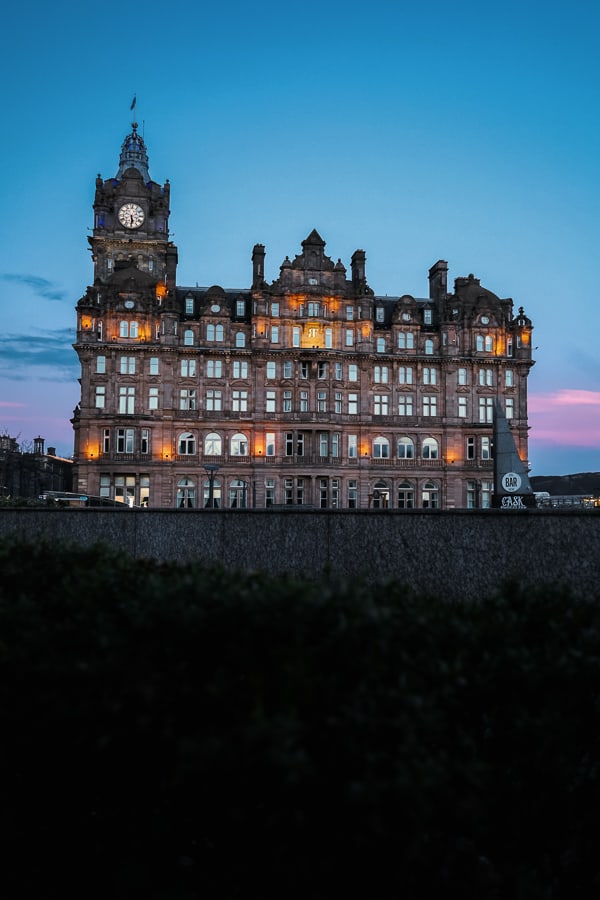 Other famous Harry Potter sites in Edinburgh:
National Museum of Scotland – Here J.K. Rowling could have drawn inspiration from The Lewis Chessmen, The Queen Mary Harp. Address: Chambers Street, Edinburgh, EH1 1JF
Stay in Harry Potter Edinburgh Accommodation
West Bow – Magical Harry Potter-Inspired Flat near Edinburgh Castle – Stay in this Harry Potter inspired apartment near Edinburgh Castle! Located 250 ft from the city center, the location couldn't get any better than this! You are right in the heart of the city.
Find your own accommodation in Edinburgh to easily access the Edinburgh Harry Potter sites by searching below!
READ MORE ON SCOTLAND:
Traveling to Scotland was a dream come true. These are my most popular blog posts on Scotland to help you plan your trip.