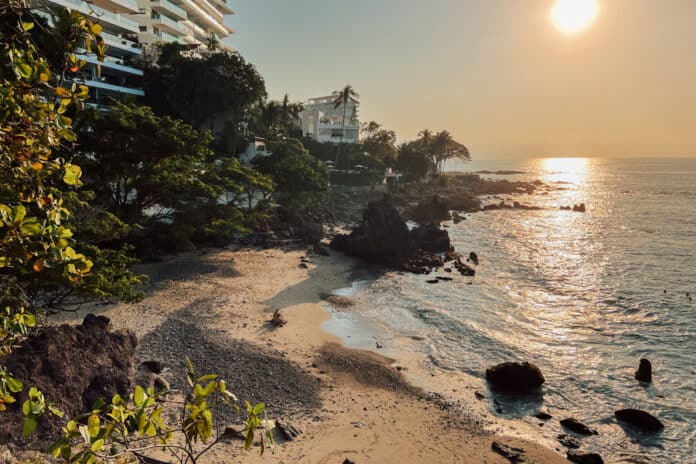 Playa Amapas
Playa Amapas translates to "At Least Beach." I'm not sure how this Puerto Vallarta beach earned its name, but perhaps it is because of its diminutive size.
This mini beach just might be a hidden gem, or possibly it can be an extension of Los Muertos Beach.
Amapas Beach is just south of its big brother Playa Los Muertos. The best way to access this beach is by walking from Los Muertos.
The border between the two is actually a gigantic rock with stairs carved into it. You go up and over. As you descend on the far side you will see a gorgeous mini cove beach.
Feels Farther Away
The hike up and over the rock is probably less than 100 yards, yet somehow the rock is big enough to keep most of the crowds away.
One of the biggest downfalls of Los Muertos Beach is that it gets packed.
The two times I've been to Playa Amapas it was a ghost down, which was especially shocking considering the rocking party going on just over the gigantic rock.
Even if the beach is crowded with people, it is still worth a visit because the views from the top of the rock in either direction are amazing.
Puerto Vallarta features a stunning coastline of rocky mountains and sandy beaches. When the sun hits right you will also have the added perk of clear blue water.
Book your airport transfer shuttle here that will take you from the airport directly to your hotel. (Free cancellation 24 hours ahead)
Playa Amapas Quick Tips
Also Known As; Amapas Beach
Best for: proximity to Zona Romantica without the crowds
Famous for: a small rocky cove beach
Day & time I visited: Two times over a weekend, once in the afternoon and once in the evening
Facilities: none, except trash cans (and sadly a lot of other beaches don't even feature these)
Lifeguard: none
Cost: free
Parking: plenty of street parking
Entrance: Climb over the big rock coming from Playa de Los Muertos (you could also come through one of the homes/hotel properties, but it is much easier to come from the mini-trail. You could also come north from the trail that leads from Playa Conchas Chinas
Location
The location of Playa Amapas beach immediately adjacent to the Zona Romantica of Puerto Vallarta helps make it a great choice to visit. If you are staying there you don't need a taxi or your own car. I really like being able to walk places if I can.
What To Expect at Playa Amapas
Playa Amapas is fairly small. While a lot of people don't venture to the far side of the rock, if a few do the beach can feel full pretty quick.
The beach is fairly rocky, but there are still stretches of sand. I like the blending of the two. It makes for a cool and unique look.
Sometimes the water will be a gorgeous clear blue, but more often it is still pretty and blue, but with a more opaque feel. The waves are consistent and generally not too strong. The sand isn't white like in Cancun, but the light brown sand is still fairly soft and great to lay on.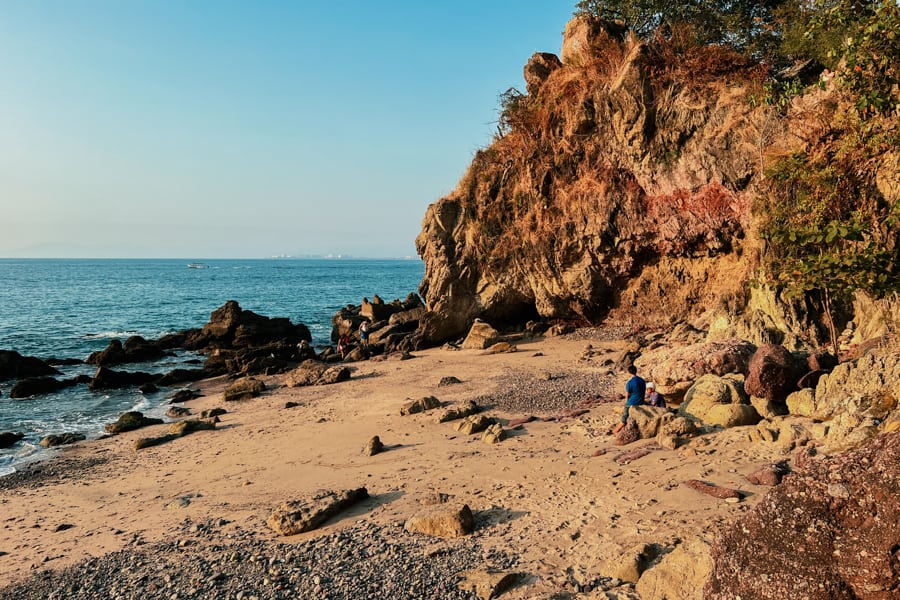 Continue On the Trail
If you keep going on the trail from Los Muertos Beach beyond Playa Amapas you will run into my favorite walkable beach from the Zona Romantica, Playa Conchas Chinas.
The entire walk starting from the Zona Romantica is only 15 minutes and is extremely easy to follow. Even though there are elevation chances, a nice path is carved out, or even paved most of the way.
Conclusion: Is Playa Amapas worth visiting?
If you are in the Zona Romantica and are looking for some space, it is worth going all the way to the south end of the beach and then up and over the large rock outcropping. Y
ou might find a gem of a cove beach just on the other side. Even if others have already discovered it ahead of you, it's worth a trip to the top to snap a pic of some of the best views in all of Puerto Vallarta.
I love this little beach, but if you are already walking I recommend you keep going a little bit further to visit Playa Conchas Chinas.