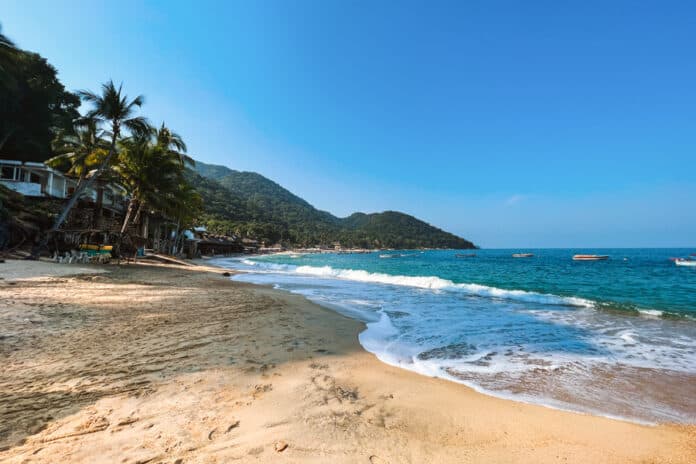 Las Animas Beach is one of Puerto Vallarta's best kept secrets.
This big beach is known, but not known enough for how great it actually is.
The reason it isn't even more popular is that it is about an hour south of the Puerta Vallarta hotel zone. It's not that it has a lack of amenities l, amazing sand, or clear blue water!
To further complicate matters, you don't drive to Playa Las Animas.
Getting there requires a drive and a boat ride, or possibly a longer and more expensive boat ride, or one of the most gorgeous but strenuous hikes there is.
Book your airport transfer shuttle here that will take you from the airport directly to your hotel. (Free cancellation 24 hours ahead)
Quick Facts: Playa Las Animas
Other Names: Las Animas Beach
Known For: bring the end of a fabulous 3 mile hike, or the drop off point of a water rack.
Facilities: restaurants, bathrooms, bars, umbrella rentals, etc.
Lifeguards: yes
Parking: NA
Cost: Free, but you likely are going to have to pay at least 10 MXN pesos to get here. Water taxis generally cost 100 pesos each direction.
Other: the last water taxis leave between 5 and 6, make sure you don't miss them because the hikes back would be brutal once the sun sets!
Playa Las Animas Location
How to get to Las Animas Beach
There is no road that goes all the way to Las Animas Beach, or at least not one you are allowed to drive on.
This means that you will need to book a tour (I recommend this one here) leaving from the hotel zone, or you can do the more adventurous way by first going to Boca de Tomatlan.
You can read my full post about getting to Boca de Tomatlan here, but the summary is that you can take a super cheap bus to Boca de Tomatlan, an Uber, drive yourself, or take a tour.
This is my favorite tour that I recommend because it takes you to 3 beaches that you can only access by water. Book here.
Once you are in Boca, you can take a water taxi down for a 15 minute ride to the beach, or you can do the 3 mile hike passing other gorgeous but small beaches on your way.
Securing a water taxi is easy, you just walk up to the various boat captains and ask. I talk more about the process here.
What to Expect On The Playa Las Animas Hike
The hike is not easy. You may think that you can complete a 3 mile hike quickly, but you should plan for it to take about 2 hours, and this isn't counting the time you take stopping at the other gorgeous beaches.
The hike goes up and over mountains, has really steep steps, and at times requires you to grab tree branches and roots to hang on. It is definitely not a hike you want to attempt in flip flops.
While it is moderately difficult it is very rewarding. The trail follows a rocky coast that has amazing views the for a lot of the time. You will also pass by mini beaches that are great to stop at.
The first you will run into is Los Colomitos, a mini cove beach with a restaurant. It's only 1.43 miles to here from Boca de Tomatlan.
The second beach is Playa Escondida, or Madagascar Beach.
Playa Hacamiya, which is basically attached to Escondida Beach.
Then La Troza beach which is best known for a fancy resort backing up to the beach.
Then the dinky Playa Iguana that I somehow walked passed thinking it was part of Caballo Beach. Caballo Beach is great in itself but keep going the rest of the way to Las Animas Beach.
Once you get to the beach there is tons to do. You can stretch out and relax, rent an umbrella, or even sip a drink or have a bite to eat in one of a few restaurants and bars lining the shore.
When you are ready to leave you can ask a boat captain to take you back, or you can begin the hike.
The last time I was there I hiked in but took the 100 peso water taxi back to Boca. The 15 minute ride back was a relief after the arduous hike.
Conclusion: Is Playa Las Animas Worth Visiting?
Las Animas Beach is amazing, but if you aren't interested in the hike or seeing the mini cove beaches along the way then you might want to try another beach as there are a number of other similar beaches that aren't as hard to reach.