Colomitos Beach
This is one of the best beaches in all of Puerto Vallarta! It just might be my favorite!
This small cove beach is in the middle of a mountain valley.
It is gorgeous to look at and is a perfect place to lounge on, swim at, or even enjoy a meal at the 1 on site restaurant.
Even though Playa Colomitos is small, it isn't likely to be crowded because it takes a little bit of sweat effort to access.
And side note, in case you don't speak Spanish, playa is the spanish word for beach.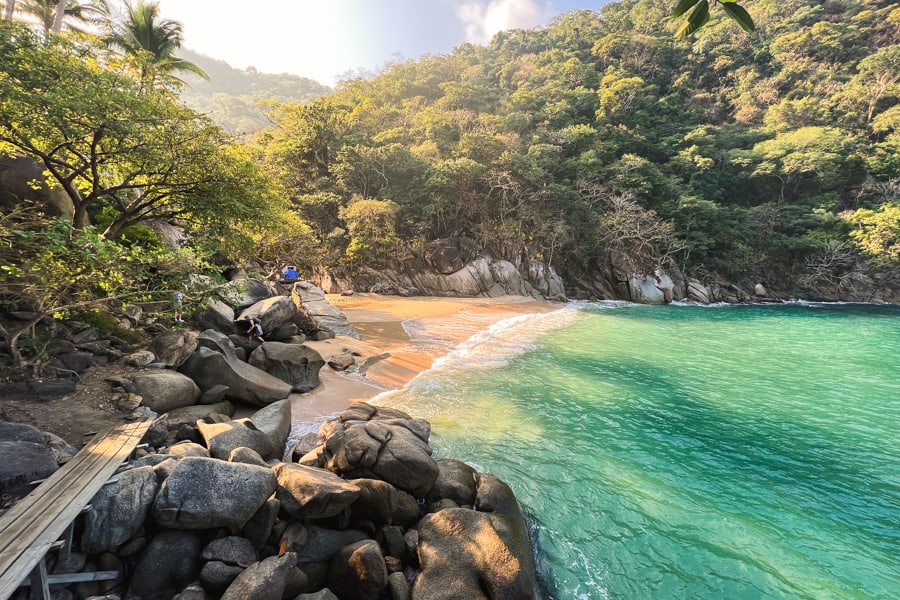 Playa Colomitos Quick Tips
Best for: Intimate cove feel with stunning mountain views
Famous for: trail leading to and from the beach, or water taxi access only
Access Hike Length: 1.43 miles each direction
Day & time I visited: I've been twice, one weekend morning and one weekend afternoon
Facilities: only 1 restaurant
Lifeguard: no
Cost: free
Parking: n/a access only via hike or water taxi
Entrance: / beach access – trail from
Book your airport transfer shuttle here that will take you from the airport directly to your hotel. (Free cancellation 24 hours ahead)
Location: Colomites Jalisco
Two Ways To Access Playa Colomitos
You don't just drive to this beach!
Before you groan at it being more difficult, realize that the difficulty of access is an awesome process on itself, and it keeps the crowds away.
The small beach generally doesn't fill up, so think of the hurdles to getting there as an advantage.
Water Taxi or Hike to Colomitos Beach?
The two main ways to get to Colomitos Beach are either by water taxi or hiking in from Boca de Tomatlan.
If you don't want to get down to Boca, you can book a tour from Puerto Vallarta, but it will be more expensive and involve a longer boat ride.
The water taxis are little motorboats that you can unofficially negotiate a price with locals captains. Most don't actually stop at Colomitas, but supposedly the captains generally will if you ask.
I've only hiked to and from this beach, or continued on and taken a water taxi from another beach.
How much will a water taxi cost?
Generally, you should expect to pay about 100 pesos each way, which is about $5. Yes, this is a standard tourist and local rate, this isn't one of the places where you can expect to be overcharged for being foreign.
You can read more about getting a water taxi in Boca or getting there from the hotel zone in my post here.
Trail to Colomitos Beach
Here is everything you can expect on the Colomites Beach hike.
Difficulty: Moderate
Time: 1 hour
Distance: 1.43 miles
What to Expect: Be prepared to go up some pretty steep steps. Wear tennis shoes or hiking boots.
Finding The Trailhead
The trail starts just south of the river inlet in Boca de Tomatlan.
It's easy to see the trail across the river, but crossing that river is tricky.
There is a suspension bridge or stepping stone access. Don't get aggressive and try to wade across. It is too deep.
To find the bridge and the start of the trail all you have to do is follow the river. It's only a couple hundred yards to the suspension bridge.
Also, I started my AppleWatch from the bud drop off and the total distance to Playa Colomitos was 1.43 miles, so don't worry that tracking down the bridge will add a lot of time.
Once you've crossed the bridge it is a little bit tricky to find the trail. There will be locals you can ask, but turn right and folllow the shoreline.
When the trail forks, you will see signs that say to Las Animas (last beach on the trail) or just trust that the one that goes closer to the shore is correct.
Following the Trail To Playa Colomitos
The total hike is only 1.43 miles, but it is definitely itself not a flat path.
You will go up and over mini mountains and have to dodge and step over trees. At times you will be able to see the shore. The views along the way are gorgeous.
Generally the trail is easy to follow, but there are a couple spots where you can get turned around.
Supposedly a big storm washed away some of the boardwalks/bridges in parts of the trail in 2021, but they've since been rebuilt so you do not need to worry.
The most confusing part was a drawbridge type of door that goes up and down over a boat cargo lift. When I got there the drawbridge door was up, so I had to climb down and around.
Once I realized it was a mistake and I was still on the correct trail it was an easy fix. Thankfully this is the one time I ran into someone else on the trail.
Be prepared to go up some pretty steep steps, and know that there are private properties along the way that you will want to avoid. It is not a hike that I would want to do in flip flops, though tennis shoes were fine.
How long does the Colomites beach hike take?
The hike took me about 40 minutes doing it at a pretty quick pace. While it seems slow I think most people take about an hour to get there given the trail difficulty.
Once again, the most helpful tip is that when in doubt remember trail follows the shore.
At The Actual Beach
At the mini beach the swimming is amazing. In December the water was a perfect temperature. It was cool and refreshing but not cold.
I wanted to try the one restaurant on site, but I ended up not having enough time.
There was no one else lounging on the beach, but during my stay a couple other hikers passed through on their way to Las Animas Beach.
Continuing On To Playa Las Animas
If you are willing to go only a little bit further you will get to Playa Escondida, or hidden beach. I also loved this mini beach. I've never seen anyone stop there either time I've visited or when I've passed by in a boat.
To go all the way to Las Animas Beach you need to hike 1.7 miles further.
Conclusion
Not only do I love Playa Colomitos for it's intimate cove feel and soft sand, but I also loved the hike to and from there. It is a perfect escape from the crowds and parties of Puerto Vallarta.