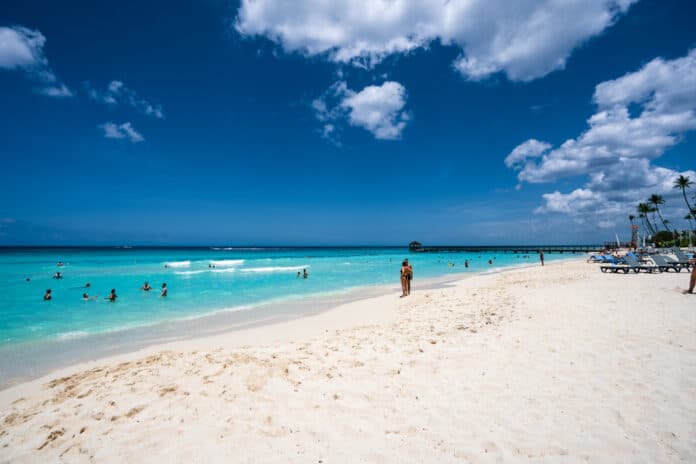 Playa Dominicus is one of the best beaches in La Romana, Dominican Republic. It has crystal clear waters and some pretty good on shore snorkeling.
The La Romana area is only 45 minutes from Punta Cana, but it feels way different. The area features amazing beaches with waters that are typically a little bit calmer than those of Punta Cana (i.e. more 'snorkel-able').
One of the best La Romana beaches is Playa Dominicus. It literally has everything you would want for the ideal beach vacation!
It has the gorgeous clear turquoise waters and wide stretches of soft sand! Some of the best Dominican excursions leave directly from the shore and for some unknown reason, tons of pretty butterflies tend to fly around the shore!
La Romana isn't as big or as developed as Punta Cana, but you will still find plenty of nice all-inclusives, just not the super high end ones.
What I think the best part is that there are a ton of local hotels just off the beach that you can book for less than $50 per night!
Playa Dominicus Info
Where: just outside La Romana and one hour from Punta Cana
Facilities/Amenities: Everything, but they can be difficult to find due to most amenities belonging to a specific resort
Available excursions: my favorite day trip to Saona Island (More on that below)
Cost: free
Other: No pets allowed
What makes Dominicus Beach so special?
This beach is great for swimming, snorkeling and water sports.
There are also an abundance of butterflies, birds, and snorkeling right from the shore.
Where is Playa Dominicus located?
This beach is located on the southeast coast of the Dominican Republic. It is about a 1 hour drive from Punta Cana or about an hour and a half to Santo Domingo.
It is just outside of the small town of Bayahibe, which is just outside the bigger small town of La Romana.
How to get to Playa Dominicus
It is not difficult to get to Dominicus Beach, especially if your hotel is within walking distance. The beach is lined with hotels and resorts. The all inclusive resort we stayed in was located right on the beach so it only steps away from our hotel room.
If you are not staying in a resort on the beach there are a few ways you can get there…
We drove down from Punta Cana.
We rented a car (here is the car rental place we recommend booking from for the best prices) but honestly, if you don't plan on driving around to other parts of the island you can very easily book transportation from the airport to your hotel. A lot of hotels in the area offer this for free. Book here.
If you are driving from Punta Cana there are a couple of tolls on the way. They take USD and each toll was about $2 each. There were two on the way from Punta Cana to La Romana and two heading back. The drive was really easy, basically you stay on the same road the whole time. We felt very safe.
Book airport transportation
If your hotel does not offer free airport pickup and drop off, I recommend booking transportation in advance to take you there. Book here.
Direct flights
If you get lucky you might be able to find a flight directly into the La Romana airport that is only about 20 minutes away from Playa Dominicus.
There are fewer flights into the La Romana Airport than the Punta Cana or Santo Domingo airports. Typically the Punta Cana Airport has the cheapest flights.
Parking at Playa Dominicus
There is a free parking lot located at Playa Dominicus Entrada, 85WF+5HC, Dominicus 23000. Click here for the exact location on google maps.
This is the trickiest part of this beach. There are a lot of all-inclusive hotels that block access points to the beach. All the beaches are public though, you just have to find the permitted access points.
There are a few different streets with side parking that allow you to access the sand. They aren't too hard to find, you just have to know what to look for.
The couple we found looked like alleys, but then we saw cars parked on the side of the road. There was no cost.
What you can Expect at Playa Dominicus
Watch our YouTube short here to see what this beach actually looks like.
Water: Crystal clear turquoise water, calm light waves, stays shallow very far out, easy entry.
Length: 2 km long (1.2 miles)
Sand: Fine white sand (in and out of the water)
Swimming Conditions: Perfect conditions for all swimmers, including kids. There also were lifeguards when we were there.
Cover: There are palm trees that partially cover the beach but honestly, they don't provide a ton of shade.
This beach has everything! The perfect sand and water are just the beginning. It continues into the water. Generally swimming areas are marked off with buoys a ways out, with boats staying beyond the barriers.
Playa Dominicus is also the starting point for so many tours. You can rent kayaks right on the beach. If you stay at one of the resorts on the beach the kayaks are free depending on the hotel. We stayed at Catalonia Bayahibe and the kayaks were free for us. Check out more details on our hotel here.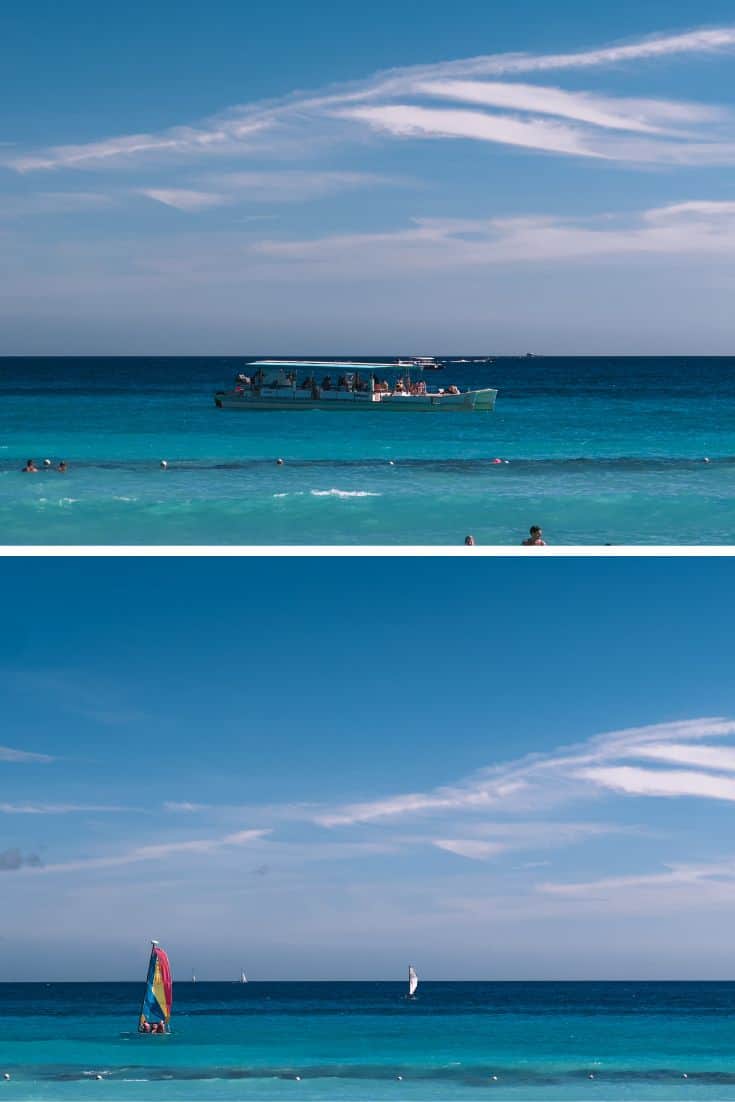 Playa Dominicus Amenities
The ideal situation is you stay at a resort that directly backs up to the beach. Lots of these resorts all all-inclusive, meaning that all the meals, drinks, beach chairs, and most of the entertainment are included in your reservation.
The all-inclusive type of reservation is especially popular in the Dominican. You can still enjoy the amazing beach without, but it is quite difficult to find the amenities that are public.
Without an all-inclusive reservation it can be kind of a pain. You have to walk off the beach to find restaurants, there aren't set showers and bathrooms that we found that don't belong to a resort.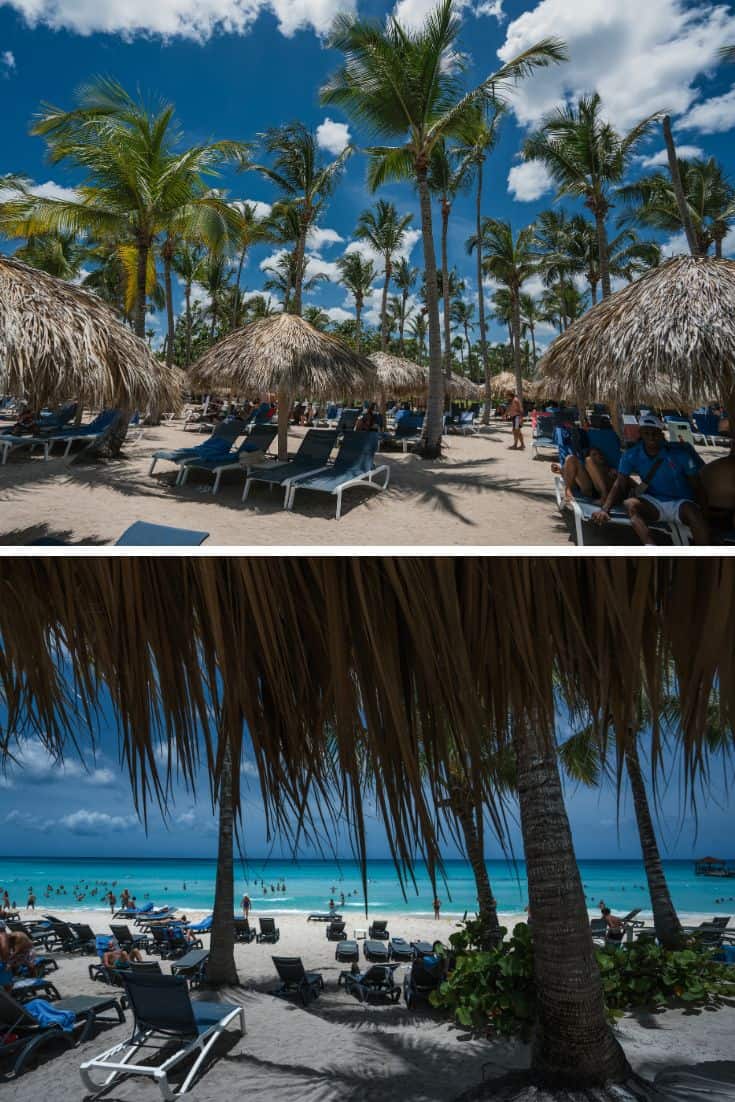 Playa Dominicus Snorkeling
Okay, so this beach might not be known for its amazing snorkeling, but let me tell you, there were so many fish it was insane. But you have to know where to snorkel and what to do.
Step 1 – go to the very end up the rope. There is coral out there (I even saw brain coral!) and these barrel looking things that tons of fish feed off of.
I went beyond the rope barrier because there were so many fish I just couldn't help myself. I have no clue if that is actually allowed or not.
Step 2 – Get a piece of bread and throw little pieces into the water. Within seconds there were like 50 fish all fighting for the bread. It was astonishing to see the fish go crazy.
It went from 3 fish to 50 fish of all kinds feeding off the bread. There were even a bunch jumping out of the water to get it. It was awesome!
There was a man with his son there as well; they were loving it. It's a great activity for adults and kids and it is only a few feet off shore. The water was only about waist deep.
The waters generally being a bit more calm allow snorkeling, though there isn't a set reef overflowing with sea life.
The turquoise waters are generally clear though, which obviously is fantastic for visibility.
Beach Vendors
There are a number of vendors walking down the beach selling all sorts of things. You can get a massage, your hair braided, hats, sunglasses, and even tours to the undeveloped islands like Saona.
Crowds
There will always be people on it, but it doesn't feel nearly as crowded as some of the Punta Cana beaches like Bavaro Beach.
Shade
There are palm trees all over the beach that do provide shade, but honestly, your best bet is to stay in a beachfront hotel and use their amenities.
La Romana Excursions
This beach has piers that serve as the launching point for a number of the best excursions.
The most popular being a day trip to Saona Island.
Quetzal Catamaran Cruise Prestige to Saona Island – Book here.
Where to Stay in La Romana
There are so many amazing all inclusive resorts in La Romana right on the beach.
FAQ:
Is Playa Dominicus free?
Yes, it is free to enter.
What to Pack for the Dominican Republic
Reef safe sunscreen – The sun is strong in the Dominican. You definitely need a good sunscreen. I am obsessed with this one by Shiseido. No one does sunscreen like the Japanese and Koreans. It goes on so smooth and I love that it is a stick, so you don't have to get your hands all gross and sandy when reapplying throughout the day. Buy here.
Swimsuit – Obvs. This one is my favorite from SKIMS. It is more of a sporty look which I love. The only annoying thing is they sell out really fast so stock if definitely limited. Get it while you can. Trust me, it's amazing. Buy here.
Sandals – These Havanas are the best flip flops I have ever used! I have 3 pairs and have used them for years and they are still going strong! Buy here.
Things to do nearby
Playa Bayahibe – This beach is about a 15 minute drive from Playa Dominicus. Highly recommend checking it out if you are in the area.
Conclusion: Is Playa Dominicus worth visiting?
There are so many amazing Dominican Beaches that this one doesn't really stand out! But I don't mean that in a bad way! The all around awesome beach experience can be found in a lot of Dominican Beaches, so I would target this one specifically when it's close to your hotel!
The negatives are the crowds and vendors. I wouldn't say it was unbearably crowded, but you were definitely not ever alone. The vendors will try to sell you things, but at least they aren't pushy.