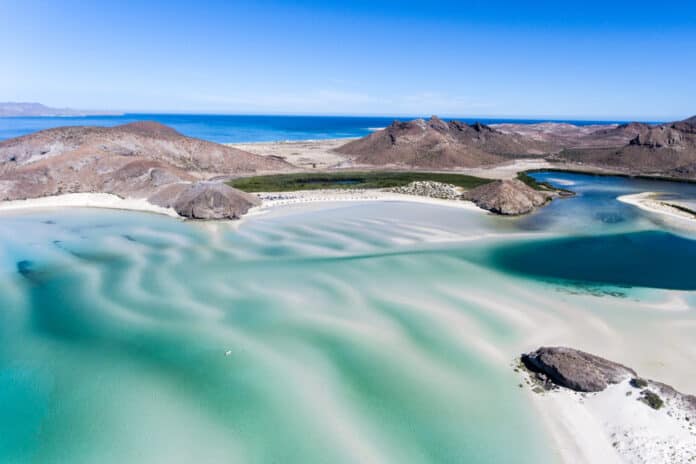 Playa Balandra (Balandra beach) just might be the most beautiful beach in Mexico. It has everything.
Mexico, in my opinion, is one of the most underrated countries in the world. The Media only talks about the bad things, but there is so much more good than bad. And Mexico, is much safer than people think. And within Mexico, La Paz is one of the most overlooked destinations.
It is only a 2 and a half hour drive from Cabo, and yes, it is safe. I know too many Americans that are scared to go or if they go they don't want to rent a car and explore but stay in their all inclusive hotel, missing much of what Mexico has to offer.
Playa Balandra is the reason you come to La Paz Mexico! Quite simply, it is one of the most beautiful beaches on earth!
This gorgeous beach can be a little bit difficult to access given the drive up from Cabo San Lucas and strict entrance and exit times.
Even with the difficulties, you won't be disappointed as this stunning beach lives up to all the hype! This intimate cove offers clear shallow waters and soft sand are absolutely stunning!
Read on to understand the unique restrictions so you can make sure to actually be allowed in.
Playa Balandra (Balandra Beach) Quick info:
Where: La Paz, Baja California, Mexico
Other Names: Balandra Beach
Where: 25 minutes north of La Paz, or about 3 hours from Cabo
Facilities/Amenities: restrooms, kayak rentals, but no restaurants or bars (a couple of vendors just outside the gate selling drinks and renting umbrellas though)
Best for: looking exactly like the amazing picture
Not So Good For: ease of access
Available excursions:
Unique Restrictions: limited to 450 people at a time, with entrance only being granted at 8 am and 1 pm
Cost: free (not $8 as sometimes reported)
Where is Playa Balandra located?
Playa Balandra is about 25 minutes north of La Paz Mexico. In case you don't know where La Paz Mexico is, it is about two and a half hours north of Cabo San Lucas. in Baja California. It is on the tip of a peninsula jutting into the Gulf of California waters.
It is a 4 minute drive from the other popular beach in La Paz, Playa El Tecolote.
Where to stay in La Paz
There are plenty of accommodation options in La Paz, that will suit any budget. To be honest, it's more difficult to find an expensive hotel than it is a cheap one. If you are looking for luxury, many grand hotels also await. Explore all the top rated hotels in La Paz here.
For snorkeling – The La Concha Beach Hotel & Club is one of the best hotel picks for those who love easy access to snorkeling. The resort offers snorkeling, diving and canoeing tours. You can rent all your snorkeling great from the hotel! There is a reef you can access from either the beach or at The Cortez Club Dive Shop. Check prices here.
How to get to Playa Balandra
There are a few different ways you can get here. You can take public transportation, DIVI/Uber, or you can drive.
How to get to Playa Balandra
The drive to Playa Balandra is pretty easy from La Paz. There is a highway that goes straight there, and it will take you through field of cacti growing on rugged mountains.
If you are coming from the airport the fastest way is driving yourself and that will take you on a toll road that will ultimately cost you about $6.50.
Nothing beats the freedom of having your own car and coming and leaving whenever you want. Reserve your car rental in advance here. They are CHEAP. We literally paid $8 for 3 days in June 2023. This also allows you to get to other amazing off-the-grid beaches like Playa El Saltito.
If you don't want to drive or take public transportation there is private roundtrip airport transportation available you can book here.
Capacity Constraints and Entrance Times
They only let up to 450 people into the beach park at a time. Rather than keep a rolling count of entrances and exits, they let a group of people in at 8 am then close the beach to anyone else until 1 pm.
The initial group of people can stay until noon, and then they are forced to leave. Ahead of 1 o'clock cars will start lining up at the entrance to try to get in for the second shift.
The second shift of people are allowed to stay until 5 o'clock.
How Early Do You Need to Arrive at Playa Balandra to Get In?
The general rule is that you should be in line at least 45 minutes before any particular entrance time. This is obviously variable depending on the day of the week and season.
Not surprisingly, a weekend in the winter high season is going to reach capacity quicker than a random Tuesday in the fall.
One of the times when we went in the low season they didn't even reach the full 450 on a weekday, but I've also heard of people showing up an hour early on a busy weekend and not getting in.
There is another reason to show up super early though (the free on beach umbrellas), but these only go to the first 20 groups – see below.
Getting in to The National Park/Beach
When you pull in the first thing you will see will be salesman and saleswomen on the side of the road. Because there are no restaurants or bars inside, you may want to consider taking them up on their drinks or snacks if you don't bring your own cooler.
For context, the umbrella rentals were $17 for the day or they would sell it to you for $70 – except in pesos of course (remember there are 20 free beach umbrella canopies for the first arrivals).
When you ultimately get to the gate you will be waved in so long as they are below 450 people. You will likely see incorrect information online that says that you need to reserve an $8 permit ahead of time. As of September 2023 this is not true!
Playa Balandra Parking
There is a parking lot directly off of the sand. Attendants help direct cars in so they park in a compact manner.
It doesn't cost anything to park, but if you aren't one or the approximately first half of the cars you will have park further back and walk.
Balandra Beach Hours
As previously discussed, there are two time slots when you can enter 8 am and 1 pm. Both slots allow you to stay for 4 hours, so the beach officially closes at 5:00 pm.
---
Most Popular Tours in La Paz
---
---
What you can Expect at Balandra Beach
Water: Crystal clear emerald water, calm, stays shallow far out, easy entry.
Sand: Fine white sand, sandy bottom
Shade: Practically none. Just a few umbrellas you have to get there even earlier to claim, though they are free. We showed up an hour and 15 minutes ahead of entrance time and were able to get a good umbrella.
The beach is in a contained cove that has a super intimate feel. Depending on the tides, there may be sand bars in the middle.
Regardless of the tides, the water is almost always really shallow. This means that you can walk all the way across the cove to the beaches on the other side.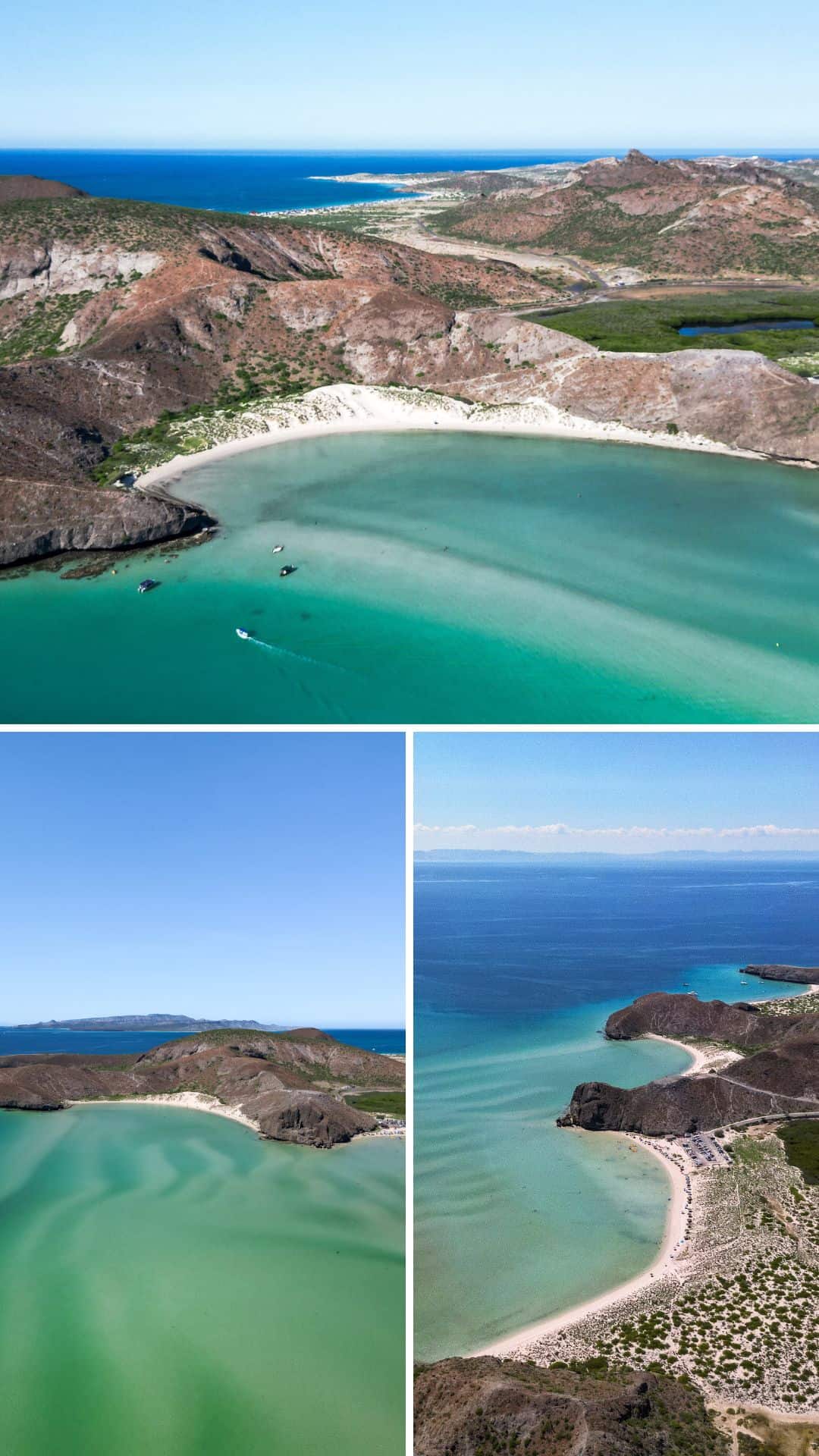 Swimming Conditions
The water is quite shallow so if you want to swim you will probably have to walk further out into Balandra Bay. The water is VERY calm..
Tip – Make sure when walking in the water you shuffle your feet to avoid stepping on any stingrays. They sometimes bury themselves in the sand and can be really hard to see.
The swimming conditions are very family/kid friendly as the water is calm and shallow, no rocks.
Tides Change Water Depth Quick
Within two hours the water switched from waist deep to ankle deep just off the shore. It is a really cool change to experience. We watched people with rented kayaks go from smooth sailing to stuck in the sand.
Water Clarity and Temperature
The water is almost always clear blue. The pictures online don't have to be photoshopped to show the amazing colors you see in photographs.
While the Atlantic Ocean around Cabo can be quite cold, the waters here are almost always warmer. The protection of the Baja Peninsula and the shallow depth help make the water warmer than elsewhere.
Snorkeling At Playa Balandra
The calm shallow waters are great to snorkel in. You will see fish, just don't expect the variety or numbers that you can find at a reef.
The rocky cliffs are an especially good spot to find fish darting in and out of random crevices.
Especially in the summer it can almost feel like lukewarm bath water.
Can you Swim at Playa Balandra
The short answer is yes, but at times when the water is especially shallow you can't swim right off of the sand. This is because the water will only be ankle deep at times.
You may have to wade out into a deeper portion of the cove to find water deep enough to swim in.
Crowds
The beach usually reaches its full capacity of 450 people, so it can feel crowded right at the parking lot. The entire area is big enough if you are willing to walk further and spread out. You definitely can find your own space.
The Famous Mushroom Rock
No doubt you will see pictures of the famous mushroom rock of Balandra Beach. It was a naturally occurring feature. Yes, was but…
…it fell down but has been repaired to look like it originally did. It is an iconic spot to snap a photo.
If you are looking for this rock you can find it by facing the water from the parking lot and entering the water and hiking around the bend. Once you turn right you need to swim or wade straight for a few hundred yards. You will see an abandoned beach to your right that you can lounge on. The rock will be directly in front of you though so keep going straight.
Playa Balandra Facilities
There are bathrooms, umbrellas, kayak and paddle board rentals, but no food vendors. Also, the bathrooms charge for toilet paper.
Playa Balandra Beach Activities
There are kayak and paddle boarding rentals at the beach.
Short Hike For An Expansive Cove View
If you want a bird's eye view of the entire cove and surrounding area you don't need wings or a drone. There is a simple hike that takes you straight up to the top of a hill that allows you to see down all sides.
It really does provide a breathtaking view of the beaches as well as the surrounding rock cliffs.
The hike begins just off of the road ahead of the parking lot. It is only .2 miles up, and the views really are unreal.
Boat tours – There are also numerous boat tours available that will take you to more beaches in the area you can only get to by boat. This one is my favorite as it features a clear boat so you can see all the marine life below! Book here.
Restaurants near Playa Balandra
There are no restaurants or food vendors at Balandra beach. The closest restaurants and bars are at Playa El Tecolote, which is only a 4 minute drive away.
Available excursions in the area
There are a number of excursions available from Cabo or from La Paz, check out the most popular ones here.
Explore Balandra Beach on a guided boat tour in La Paz. Travel in a completely transparent boat as you marvel at the marine life below, and see sights like Lobera San Rafaelito, the El Hongo rock formation, and more.
Swim with Sea Lions in the world famous Sea of Cortes. Umm, yes please! Great for those who don't feel like driving down from Cabo.
See a beautiful lighthouse at San Rafaelito, swim with a small colony of sea lions.
Balandra Beach Hotels
Playa Balandra FAQ:
Is it safe to drive from Cabo to La Paz?
Yes!
Are dogs allowed at Balandra Beach?
Yes.
Things to do near Playa Balandra
Playa El Tecolote (4 minute drive from this beach)
Conclusion: Is Balandra Beach worth visiting?
Yes! You might think you've seen clear water, until you go to Playa Balandra! It is worth the drive or tour you have to book, worth it all.